Enjoy the hot summer days with these cool outdoor bar ideas
Now is the perfect time to organize your garden and get it ready for the summer season. If you have a large garden and you are not exactly sure what to do with it, the truth is there are so many options. Whether you decide on a swimming pool, otdoor kitchen and lounge area or just a garden, these are all great options. The question is what do you need? If you are not ready to commit to a pool or are not really into gardening, we have the perfect idea for you. So, in this article we are going to discuss a few outdoor bar ideas. Not only is an outdoor bar be the great place for a family party, but it will also be perfect for those summer days when you just want to be out and breath some fresh air.
An outdoor bar is the perfect idea for those long summer days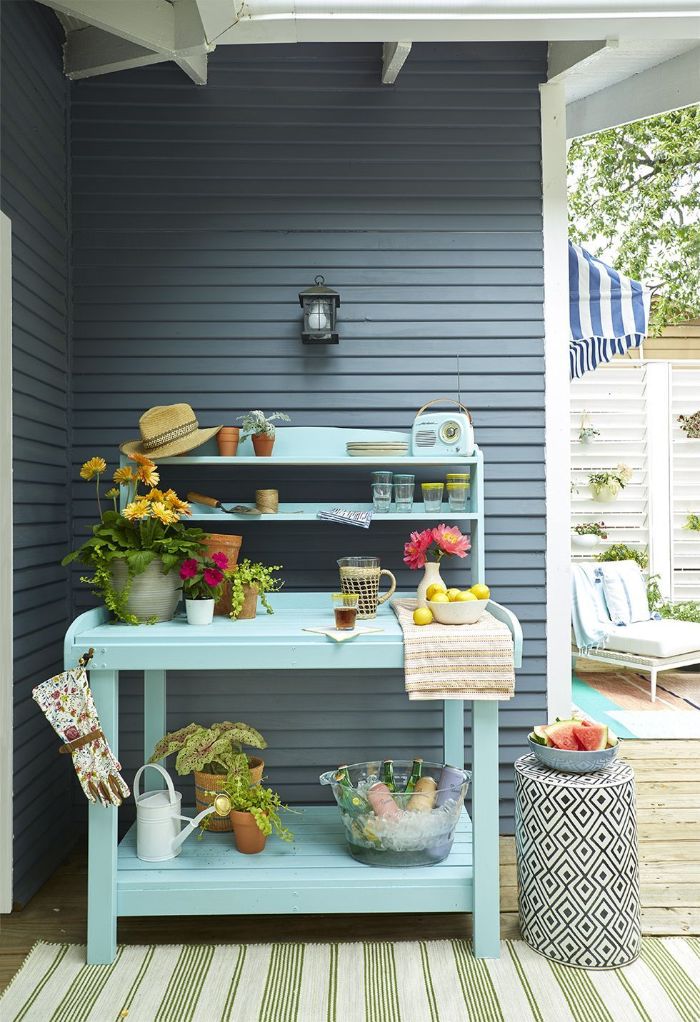 Multifunctional outdoor bar ideas
If you are not willing to commit to an entire outdoor kitchen, a multifunctional bar might be the next best thing. Separate an area in your garden with some nice stone tiles on the floor, then add a free standing bar. Add a gas grill to add to the bar experience and be able to feed your guests while sipping on cocktails. What's more, a sink added to the bar is a must have. Otherwise you will need to go in and out of your house to just wash your hands. And by now we all know how important it is to wash your hands. Add some seating for extra comfort and your bar is all done!
This bar has so much character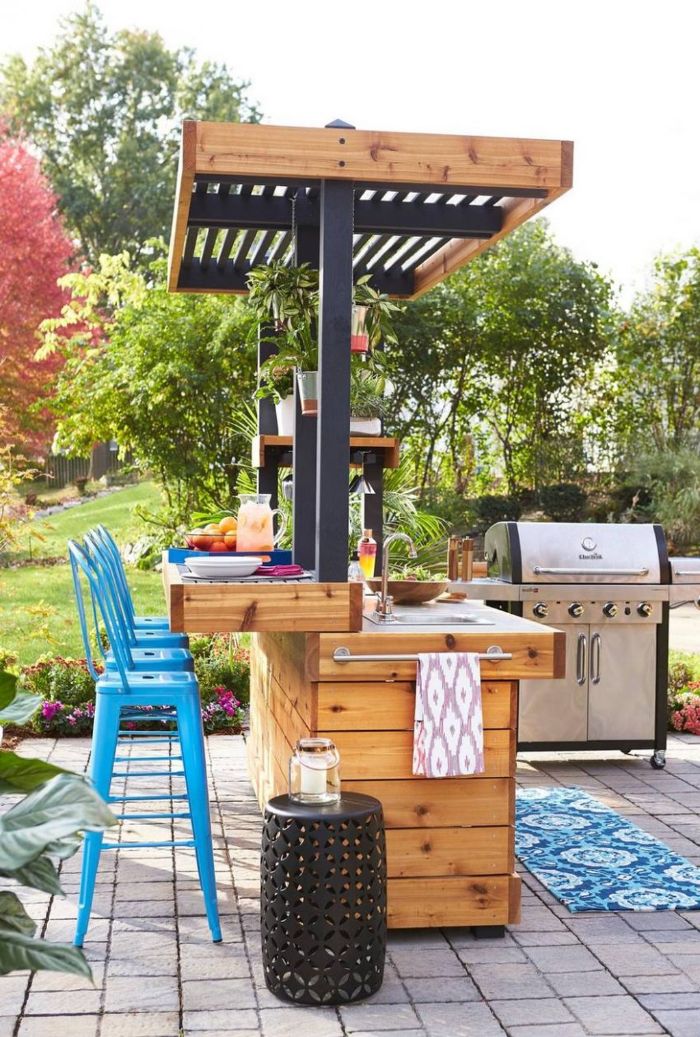 Set up a bar cart
Not everyone is blessed with a large garden with lots of space. So, if you are not one of the fortunate ones, you might be thinking that a garden bar is not for you. We are here to prove you wrong, however. Any back yard will have space for a cute bar cart. What's more, you can totally DIY a bar, especially if you have wooden pallets or crates at your disposal. Another option is to turn an old dresser or cabinet into a bar. Then, decorate it with a few potted plants and just add the liquor.
Look at this super cute bar cart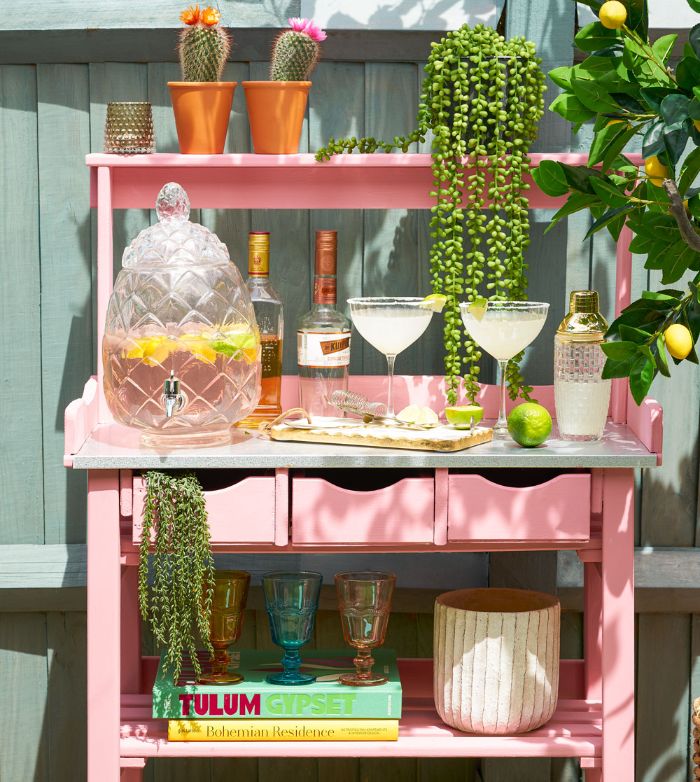 Create the whole bar experience in your back yard
Now if you are someone who loves to throw house parties, this idea is just for you. If you have a more secluded area in your garden, why not turn it into a full on bar experience? Add a bar with shelves, stools and everything a bar needs. Then, add a lounge area where your guests can chat and enjoy the drinks you made for them. Furthermore, if you want those parties to go on all night long, add a fire pit so that you can also keep your guests warm and comfortable. Decorate with lanterns, string lights or solar lamps for the perfect ambience.
If you love house parties, this type of bar is just for you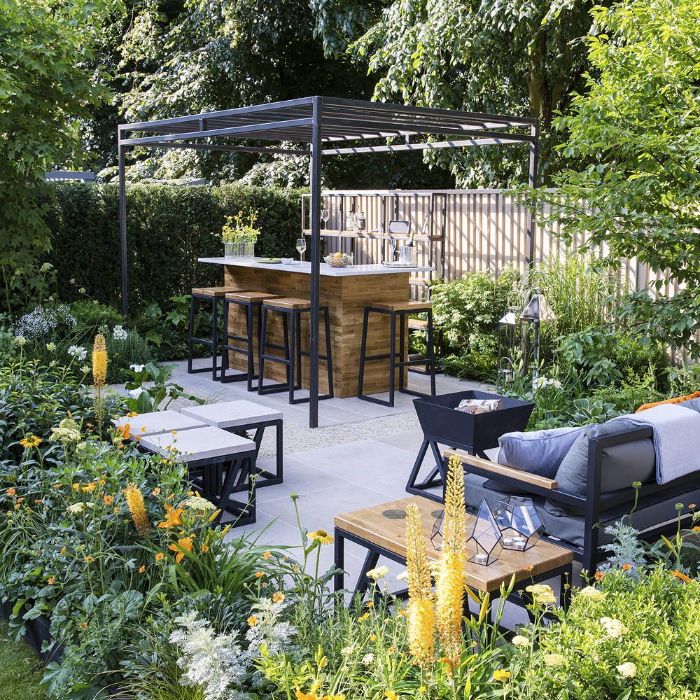 Take the bar with you around the garden
Nothing beats the practicality of a bar trolley. A small trolley on wheels makes for the perfect bar on the move. If you have a big garden with different separated areas, such as swimming pool, outdoor kitchen and lounge area, a bar trolley would be perfect. Just make sure it is stocked with everything you need for a good cocktail – liquor, ice, limes and glasses and you are all set. What's more, place it at an arm's length, so that you don't even have to get up from your seat or even move in order to make yourself a cocktail or pour yourself a drink.
A bar trolley is definitely the most practical idea we are going to share with you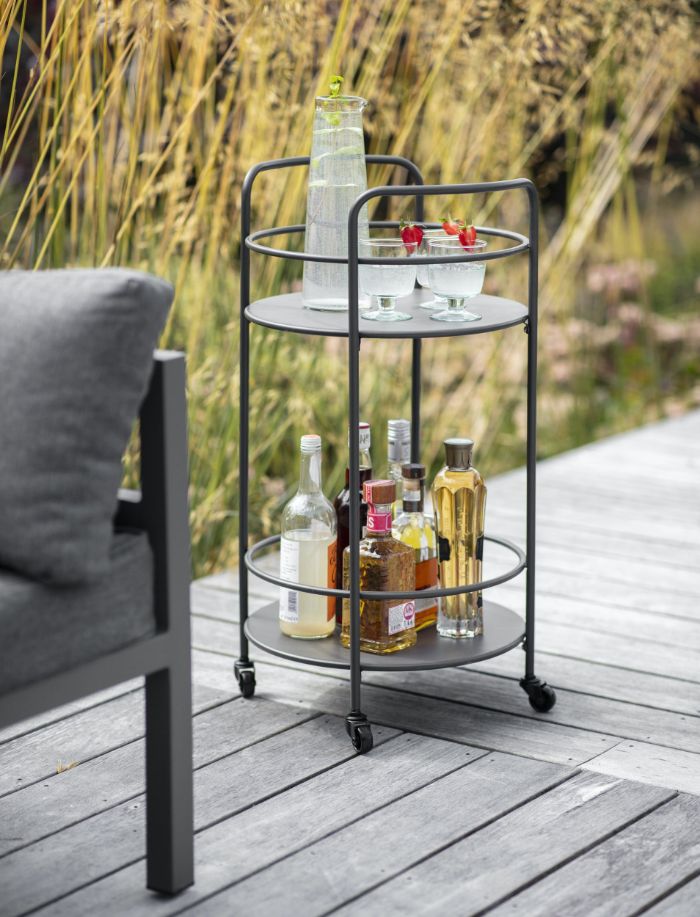 Wall-mounted outdoor bar ideas that don't take up any space
No space, no problem. These awesome wall-mounted bars are such a practical idea for any small back yard. What's more, you can try and recreate the idea yourself. All you need is a wood pallet, a couple of chains which are going to hold the bar together and that's it. Then all that's left to do is attach it to your wall securely and stock it up with nice wine and liquor. Of course, you can choose if you want it to have more storage space, so that you can keep bottles and glasses inside when it's closed. On the other hand, you can leave it empty, decorate it with plants and use it as a place for your guests to leave their glasses.
Not enough space for a bar? No problem!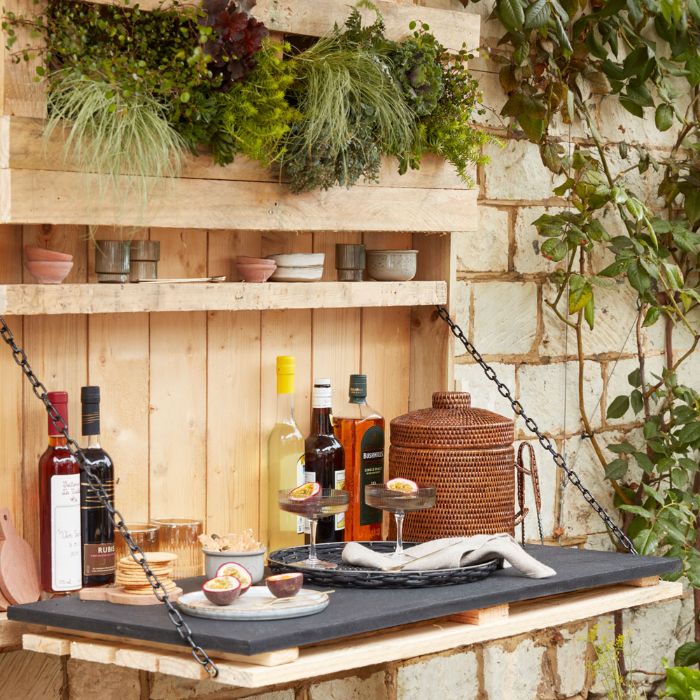 Outdoor kitchen serving as a bar
If you already have an outdoor kitchen which is covered, then you have the perfect setting for an outdoor bar. Add a kitchen island, if you don't already have one, a few bar stools and a few shelves to keep your bottles and glasses on. What's more, a nice wall-mounted TV will be a perfect addition. Especially, if you are into sports. After all, is there anything better than recreating a sports bar experience in your own back yard?
Outdoor kitchen doubling as a bar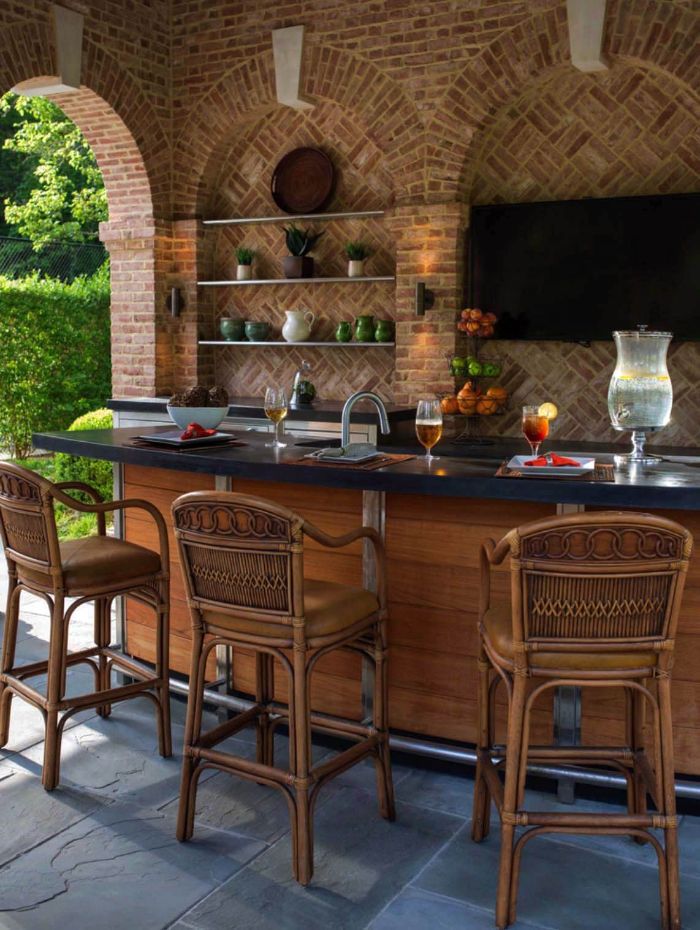 Cocktails by the pool
If you are one of the lucky ones and have a whole pool to yourself in your backyard, you should defintiely use the space around it. After all, there is nothing better than coming out of the pool and going straight to the bar for a nice, icy cocktail to keep you cool. What's more you can always add a full outdoor kitchen for those amazing summer house parties by the pool.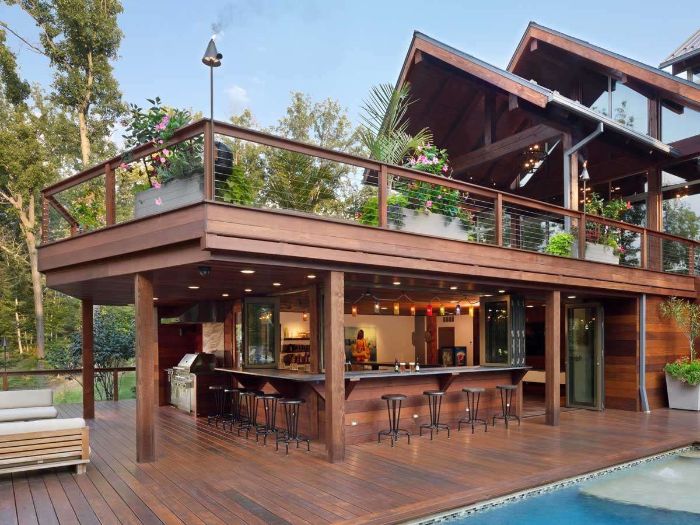 Get a backyard tiki bar
Bring in the tropical vibes with a backyard tiki bar. Everyone knows that tiki bars are so much fun. Plus, there are no clear cut rules as to how they should look as long as they are colorful and build with natural materials, such as bamboo. What's more, if you are an aspiring bartender, there is no better way to indulge yourself. Tiki bars are famous for their elaborate cocktails and mixture of flavors.
A tiki bar will defintely bring the tropical vibes to your back yard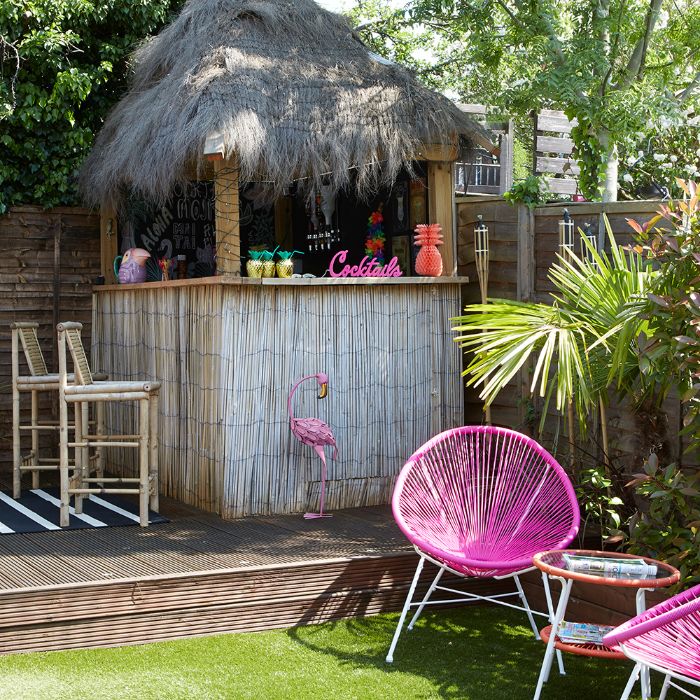 Now keep scrolling to find even more outdoor bar ideas
A bar with a pizza oven? Yes, please!
If you don't have enough space in your back yard, turn your garage into a bar
A backyard pub is never a bad idea
Add some fire to keep you warm even if the nights get colder
Keep it simple and minimalistic
Make sure you have enough lighting
Add a cover so that you can use your outdoor kitchen no matter the weather