Knitting for Beginners: Everything You Need to Know Before You Start
Unfortunately for all of the sun worshippers, summer is gone. Autumn takes its place and it is time to start pulling out those cozy cardigans and sweaters. What's more, it is time to start thinking about ways to spend our time. During the summer, finding things to do is much easier. Going out and doing activities outside is super easy. With the weather getting colder, however, we need to start thinking about all the nights we are going to spend at home. That is why, fall is the perfect time to take up a new hobby. And, today, we are going to talk about a hobby, which is very interesting and can also add to your wardrobe – knitting. So, keep reading to find the ultimate step-by-step guide to knitting for beginners, and get ready to knit the coziest, scarves, sweaters and cardigans.
Knitting should be your new favorite hobby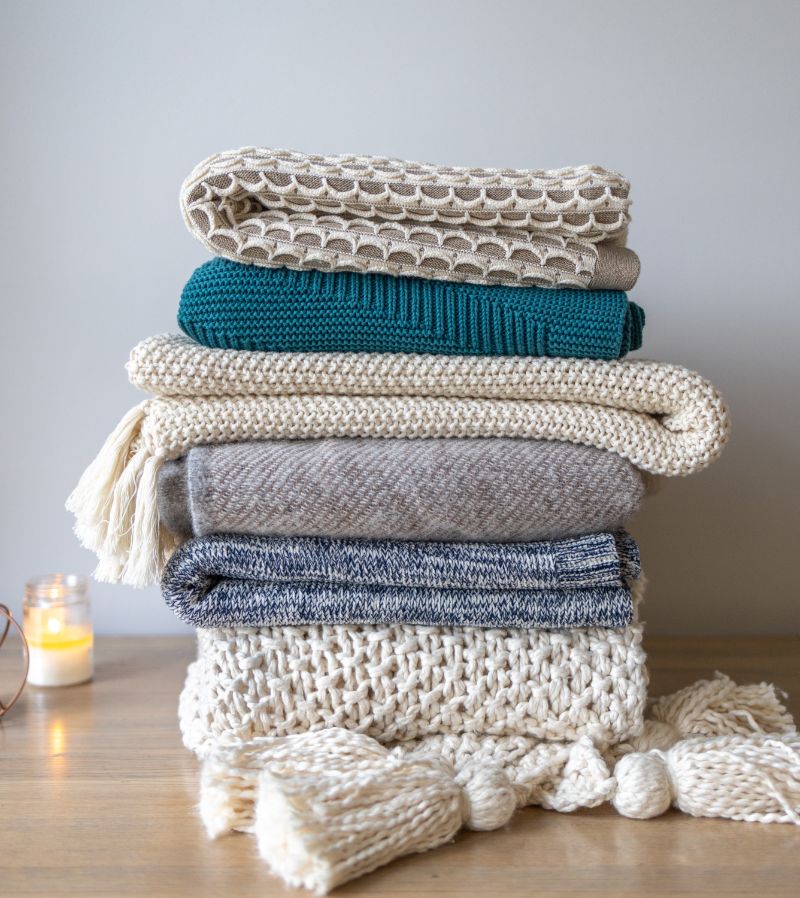 Knitting has been around for many, many years. The first known examples of knitted socks were found in the Egyptian pyramids. Throughout the years knitting has been developed and modernized and turned into a fashion statement.
Knitting is the process of creating a textile or a piece of clothing by manipulating yarn. Knitting itself is the creation of loops of yarn which make up the stitches. It is done with yarn and two or more needles. While knitting you create consecutive rows of connected loops whick make up the garment. What's more, knitting can be done ina many different ways. Therefore, the pieces of clothing you create can differ in color, texture, thickness, etc. Knitting can be done by hand, as well as with a machine.
Time to start learning how to knit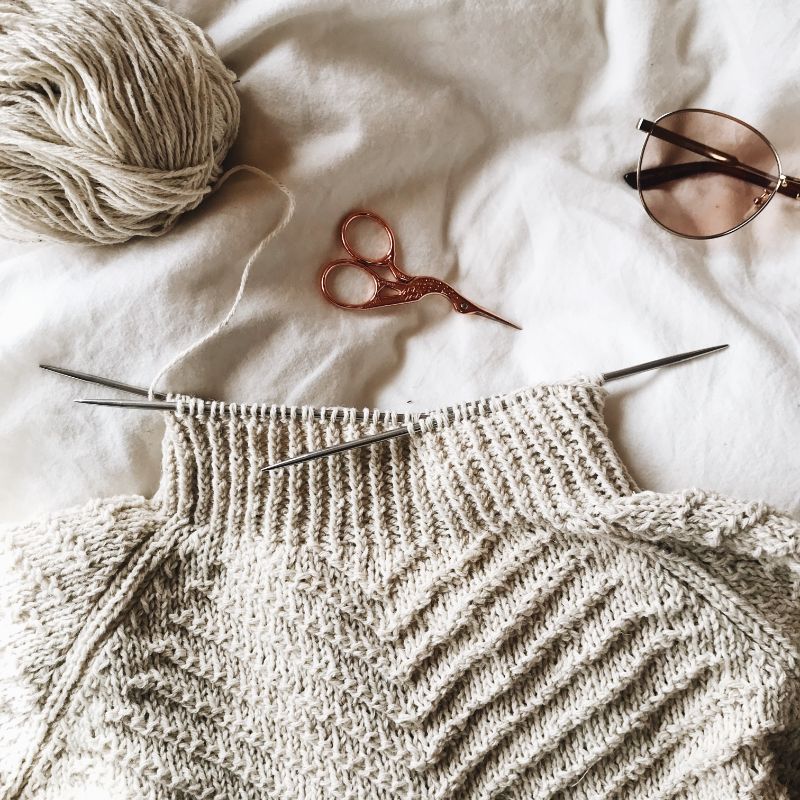 How to knit? Knitting for beginners – step-by-step tutorial
Knitting is done in 3 steps. The first one is to place the yarn onto the needles and create the first stitches. This is called "cast on". Then creating the consecutive rows of loops of yarn – the "knit stitch". Finally, you need to learn how to remove the needles. This is called the "cast off". Now, just grab some yarn with two needles and let's get started. So, without further ado, here is your step by step guide.
Chossing the right needles and yarn for the cast on
Each ball of yarn has different properties. Some are thicker, others are thinner. That is why, you should always look at the packaging. Usually on it, there will be a sign, which shows you what kind of needles you need to use. Now, when it comes to needles, they have different sizes, which is measured in millimetres. It is advised to use bamboo needles to get you started, because they are less slippery than the metal or aluminuim ones, so it will be easier for you.
Here is your step by step cast on tutorial to get you started on the knitting journey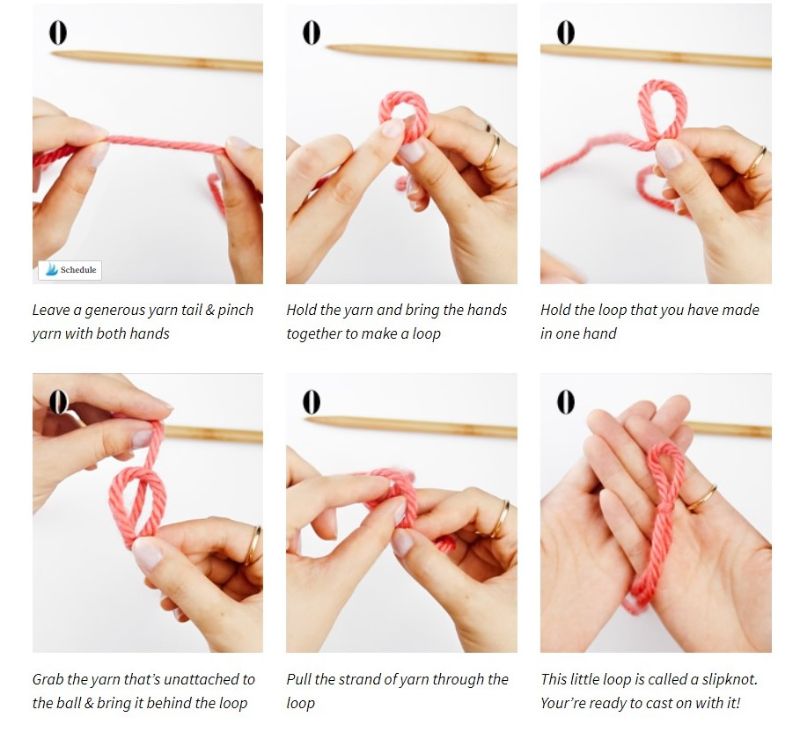 Once you've prepared the yarn, it is time to grab the needle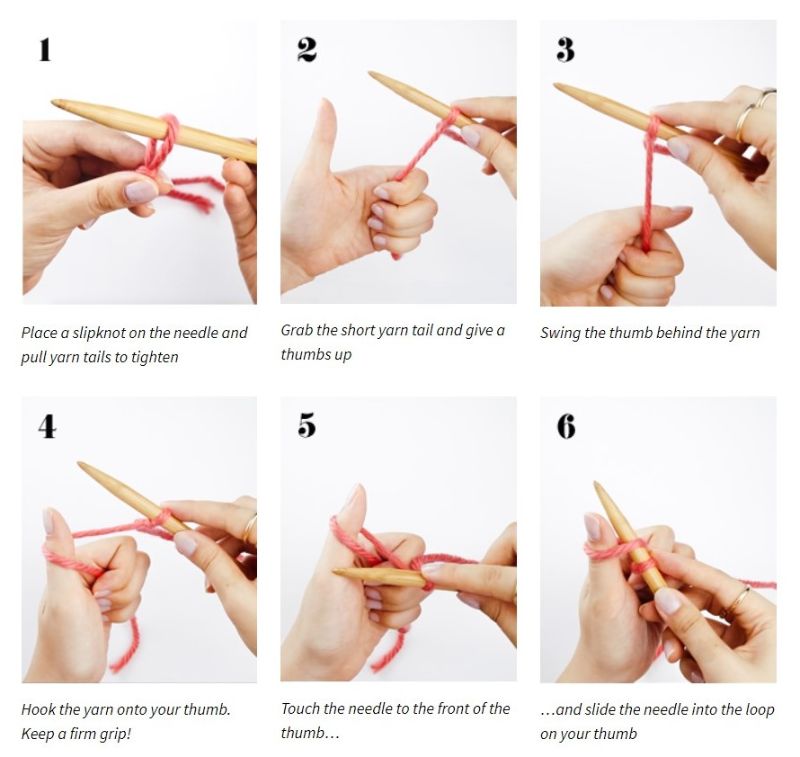 It might look difficult, but once you start doing it and get used to it, it gets much easier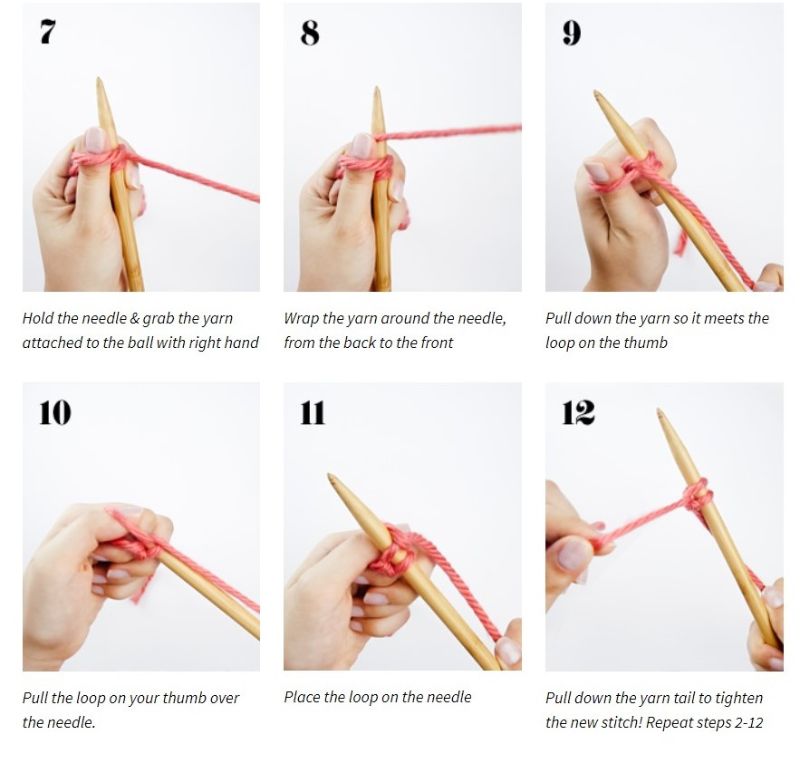 And here is a video tutorial to make it even easier for you
Learn how to knit stitch
Now that you have done the cast on, the hard part begins. Knitting is a great hobby, but it is also a skill. It is not easy to master, but of you really like it and you are keen on learning, there is no doubt that you will become great at it. The knit stitch is the easiest type of stitch in knitting. However, even that takes some getting used to. Don't get discouraged, though. Try and make a couple of rows. If they don't look good, start again. The more you knit, the easier it is going to become. And, trust us, at some point you are not even going to pay attention to what your doing and you will be able to let muscle memory work its magic. Master the knit stitch and after that you can try any other stitch you like. What's more, you can knit entire sweaters with interesting patterns by mixing up the stitches.
Are you ready to begin with the knit stitch?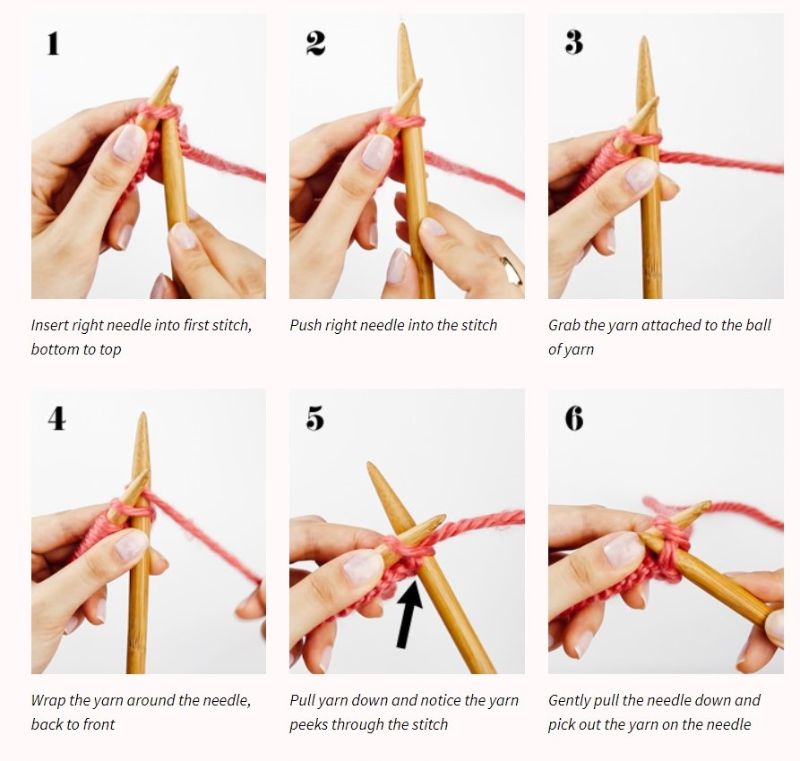 We know it seems difficult, but we believe you are going to get the hang of it

Once you have done the first row, all of the yarn is going to be on one needle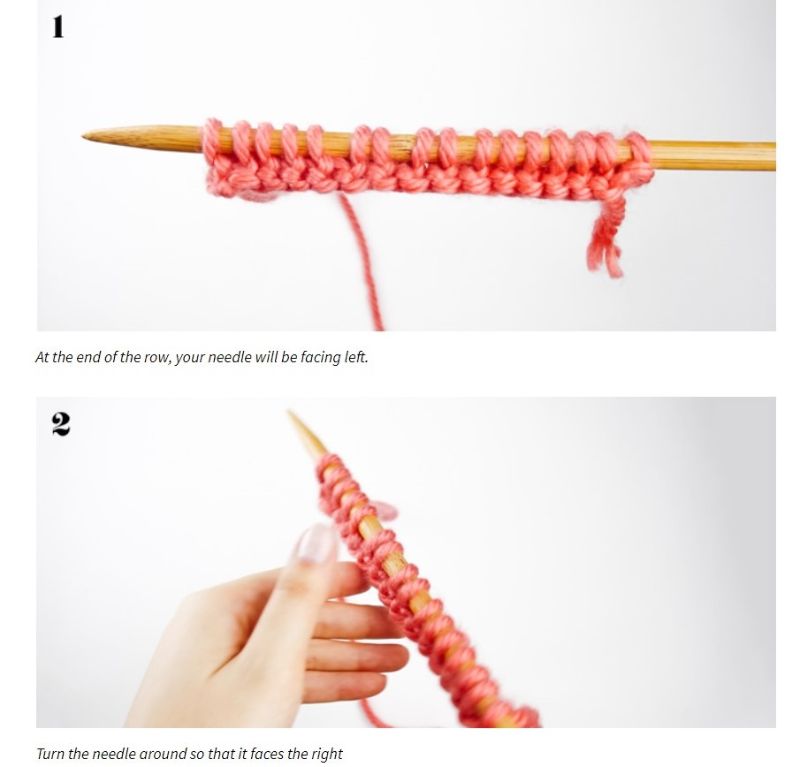 Do that with each row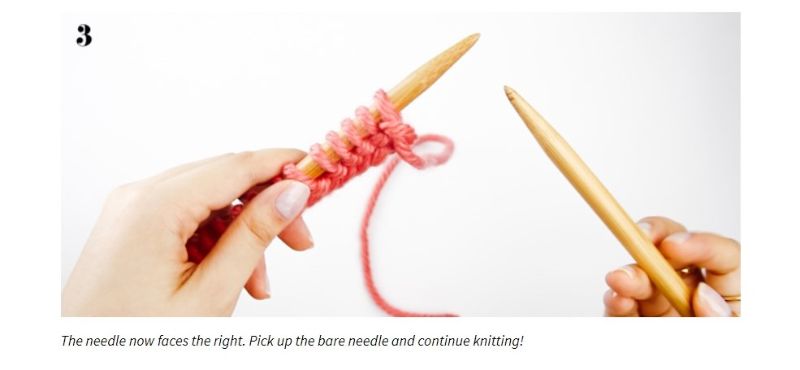 Once again, here is a video tutorial
Knitting for beginners' moment of truth – the cast off
Well, everything that you knit, you are going to want to wear. So, naturally, when you are done, you need to remove the needles. This is the third and final step, as we have already mentioned, now it is time to do the cast off.
And here's how to do it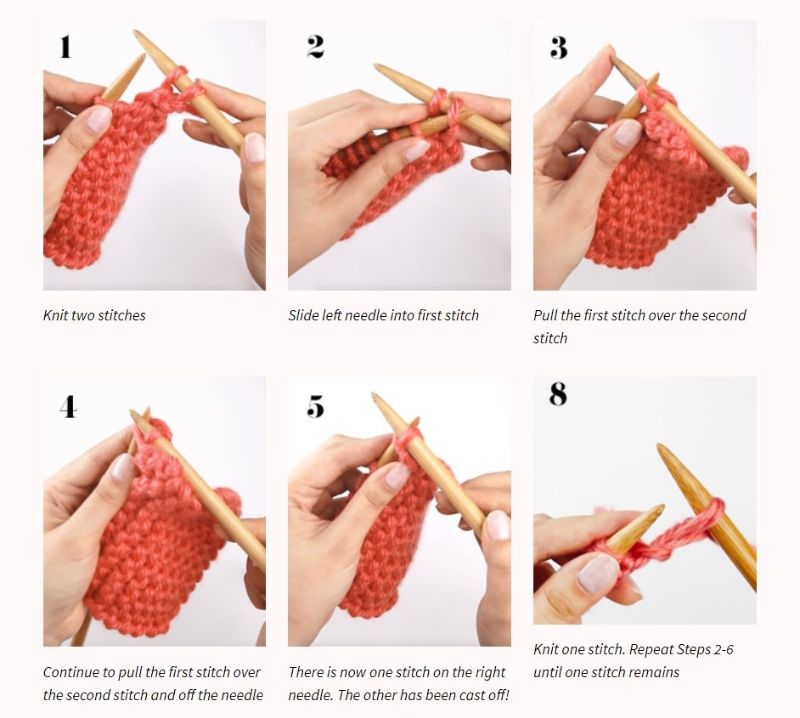 Just a little bit left until you can wear that beautiful scarf you just knitted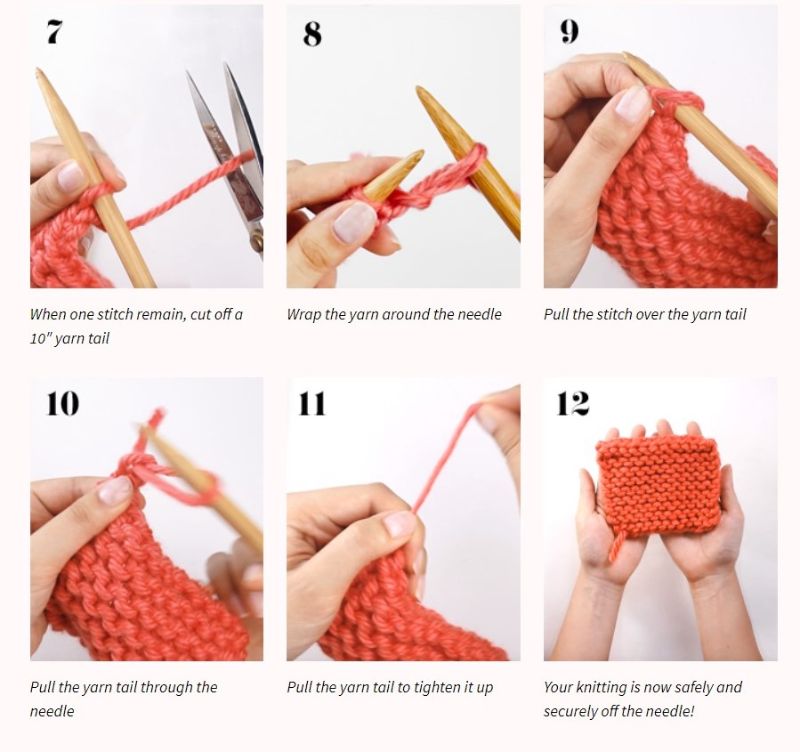 One final video to help you on your knitting journey
Source: Sheep & Stitch
We all need a warm scarf during the coldest months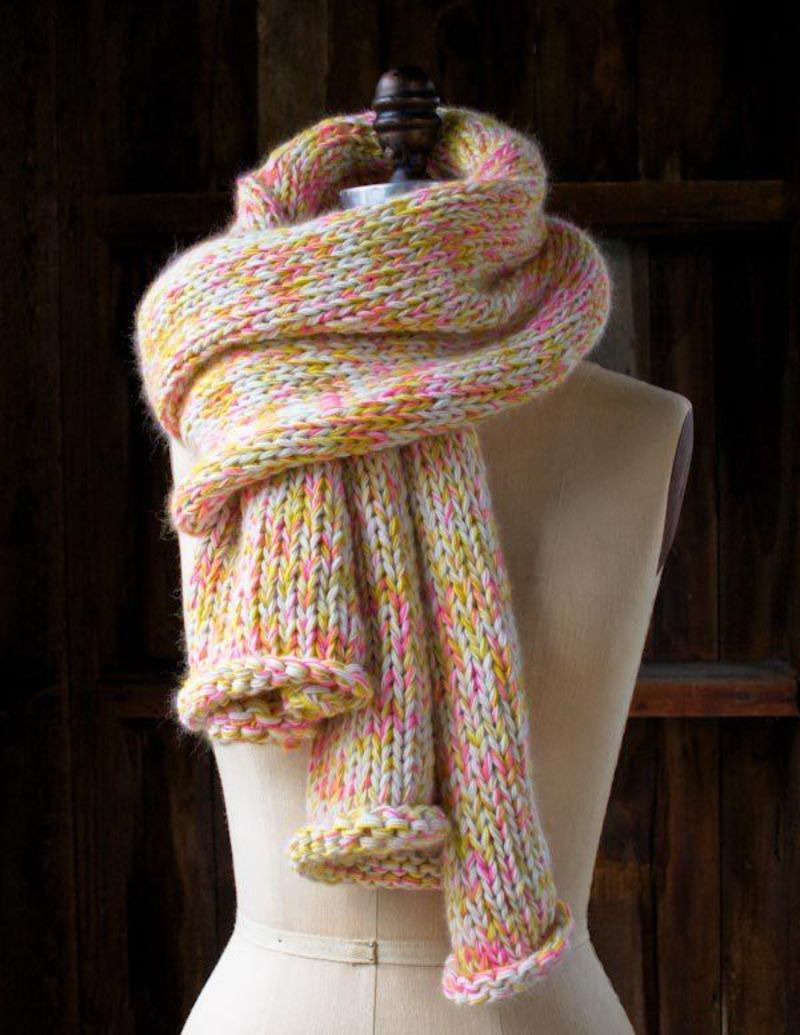 Knit yourself a warm scarf for winter
For this colorful scarf you are going to need:
7 skeins of 100% merano yarn ( 4 white, 1 pink, 1 yellow and 1 mustard, but you can choose any other colors you like)
size 15 US needles
Gauge: 11 stitches – 4 inches in stockinette stitch
Now for the pattern:
Gather all 7 strands together. It might seem a bit difficult at first to knit with all 7, but you are going to get used to it.
cast on 44 stitches
purl stitch row 1
knit stitch row 2
repeat rows 1 and 2 until you almost run out of yarn (you should end on row 1)
cast off loosely in a knit stitch
weave in the ends
Source: Purl Soho
You can even knit your little one something special
Once you pick up knitting, it will definitely become your favorite thing to do
You can create so many beautiful things for yourself and your home once you learn how to knit
You can even upgrade your own wardrobe
Knitting for beginners – the perfect way to spend some productive, quality time in the colder months