DIY Storage Space for Your Garden
It's never enough of storage space. The vicious cycle of: "I have plenty of space to store this (insert a name, like a kiddie pool or lawn tractor) in!" Then you run out of it. Then you create some more and fill it up again. That's the misery of almost every house owner.
Do you think it gets any cozier when you have a home with a garden? Ha! It's a widely misconceived idea. It means non-stop maintenance, uncountable gardening tools, and endless gutter repair.
With a garden, you have even more space to store your things, that's true. But you are not going to keep all the utensils around your house, are you? You need valuable space to store all the toys, landscaping equipment, and a lawnmower. Here we will introduce you to a world of fully customizable storage ideas.
You can always use extra storage, especially in your garden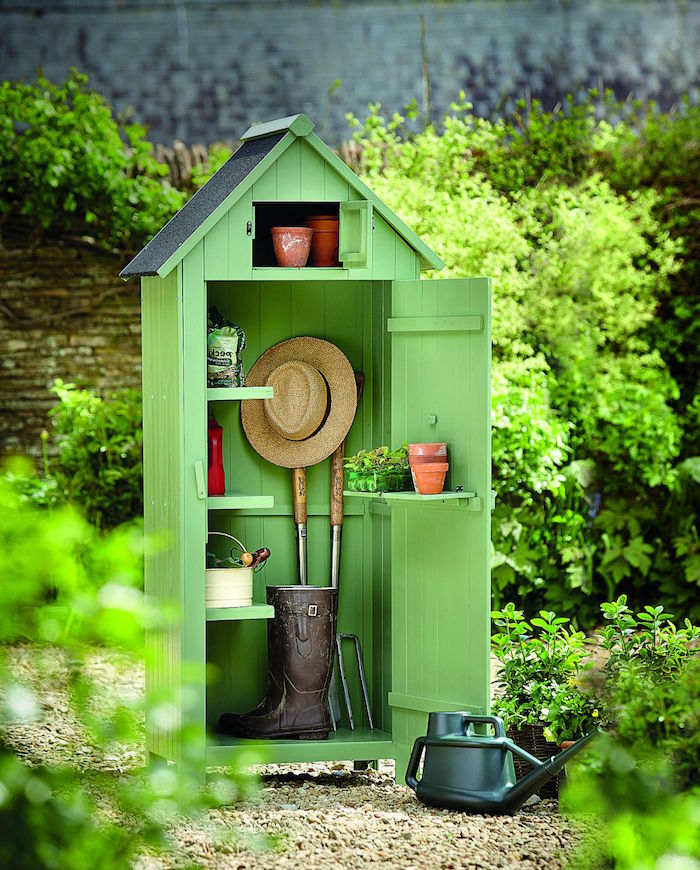 Do I Need Help With Outdoor Storage?
Well, it depends. When you decide to create an outdoor storage space, you can (and should) think about your budget, the amount of time to spare, and your technical skills.
The storage means a lot, really. That's why you should be creative in this matter.
For example, you can drag the old bookcase out of the attic and turn it into an outside storage bench. You can also invest in some hardwood planks, brisk, shed roof, rubber roofing, and BOOM! You have a shed. Well, not so quickly, as it takes time and practice.
The good news is that you have plenty of professional websites to show you tutorials of how deep to dig and how to install the EPDM roofing. In this article, we will talk about more inclusive ideas. The biggest Silicone valley entrepreneurs did start in the garage sheds but let's not jump over our heads.
Even a smaller shed can fit all of your gardening tools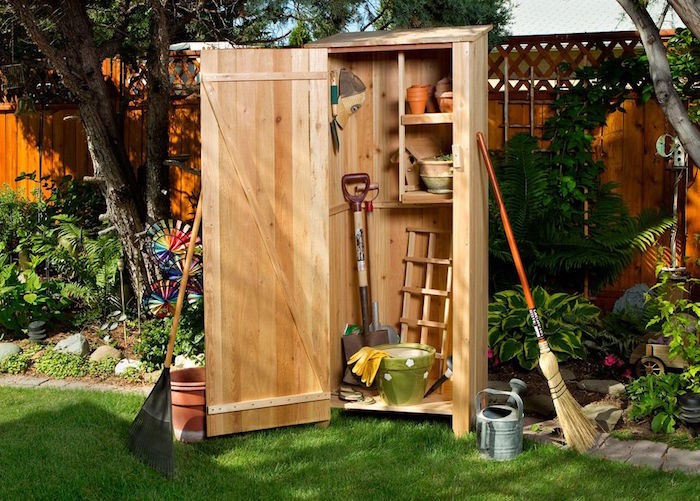 Re-use Home Accessories
The ecological approach is a principle for many people these days. Why buy stuff when you can re-use what you already have at home? For example, your old coffee table can help hide the baskets with gardening tools.
That old hanging organizer for guests in your bathroom (that they don't want to use for some reason) can also be a perfect storage area. Just hang it under the covered area, put your spatulas, seeds, and shears in the pockets, and voilà!
How Much Storage Do You Need?
When we hear "storage", we usually think of a closed space. It may vary in size, but the idea is that storage usually contains something. It is supposed to help you organize all kinds of stuff in your backyard. Take the garden hose, for example. Every house owner tripped over it at least once. Untangling it for the millionth time is also a grueling task, and let's not even start with what happens if you run over it with a lawnmower.
When you think of storage you can also think of your very own home made garden bar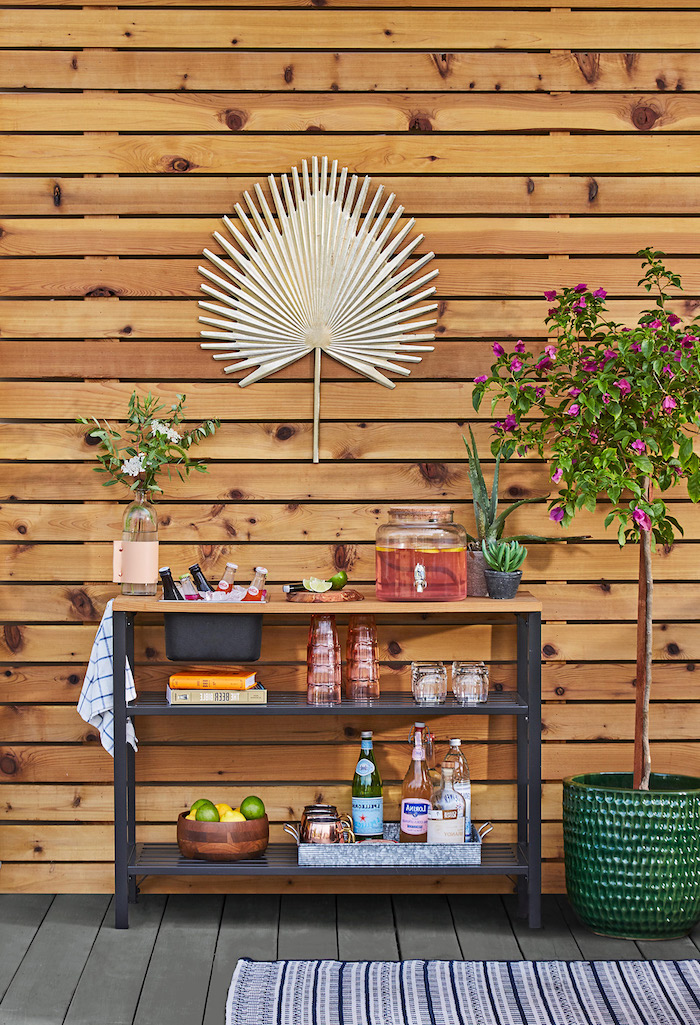 DIY Storage For A Garden Hose
The answer can be a DIY wooden box. You may buy wooden pallets in the nearest supply store or use a wooden skid. If you do not have any, one of your neighbors will certainly have a spare one and will probably be happy to get rid of it. You can also ask about the pallets on Facebook groups for DIY enthusiasts from your community. Once you have them, you will need to make a box with the help of nails and a hammer.
If that sounds like too much work, you can always use an old-fashioned galvanized washtub. Easy and quickly. Drilling a hole in the bottom for more comfortable use can also be the right solution.
If you have enough space and the right tools you can create a shed that is going to fit all of your tools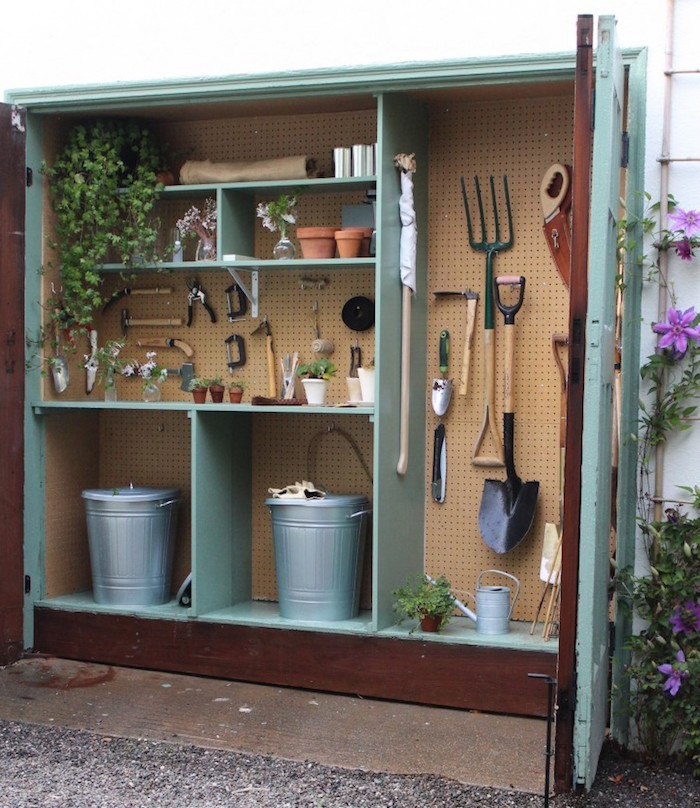 Toys Storage Ideas
As much as tripping over your garden hose makes you lose your mind – falling over tricycles, skateboards, and scooters scattered all over the place is the least pleasant thing. We understand. Children are chaotic and hard to control. But implementing simple-to-keep-up storage ideas will be a great solution to keep your place tidy.
For the children, easy access will do the trick. The storage space should be somewhere accessible, preferably near the house. You can create it using a flat plastic panel, four pieces of PVC pipes, and a curtain. If you don't feel like buying brand new fabric, you can give a second life to your faded kitchen drapes.
Re-use old bookshelves to make your shed more functional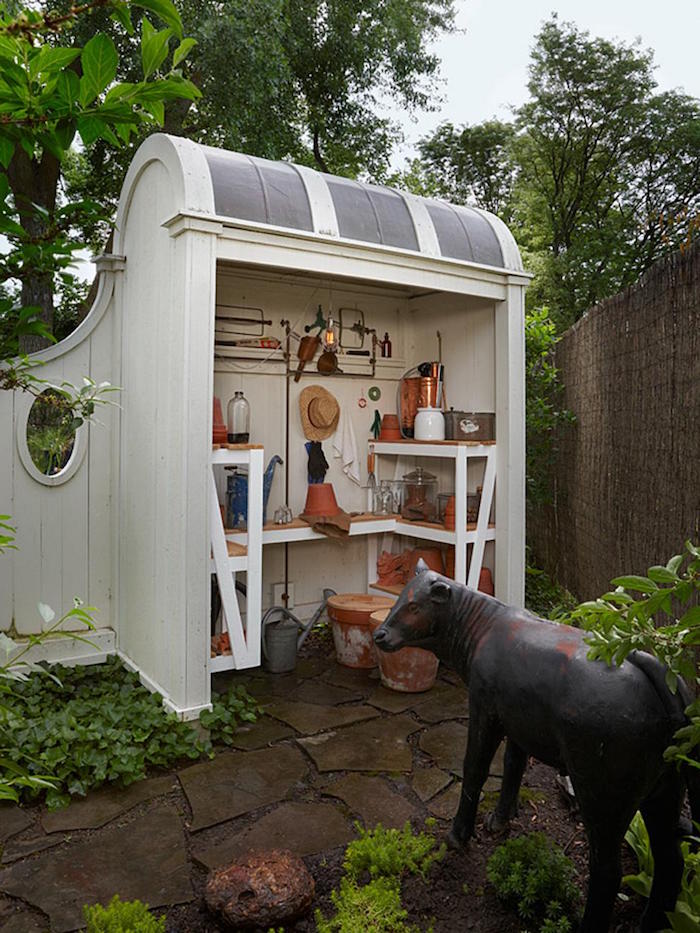 DIY Has No Limits
Above we presented a few storage ideas that will make homeowners' lives a bit easier. As you can understand, you don't have to go on eBay right away. First of all, find things you don't use anymore and then think how you can give them a second life. If you are at the beginning of your DIY journey, consider watching Youtube videos for handymen. These days, you can find so many tutorials on the Internet; use it to your advantage!