DIY Shutters: Plantation Shutters
When renovating and decorating your home, finding ways to keep things cost-effective is crucial, but it's still essential for things to look and function well. Plantation shutters are the perfect mix of form and function, providing sturdy protection and covering for windows you can easily open to let the breeze whisk away that muggy heat. Although you might feel like they're expensive, purchasing DIY plantation shutters online will save you money and help you decorate your house.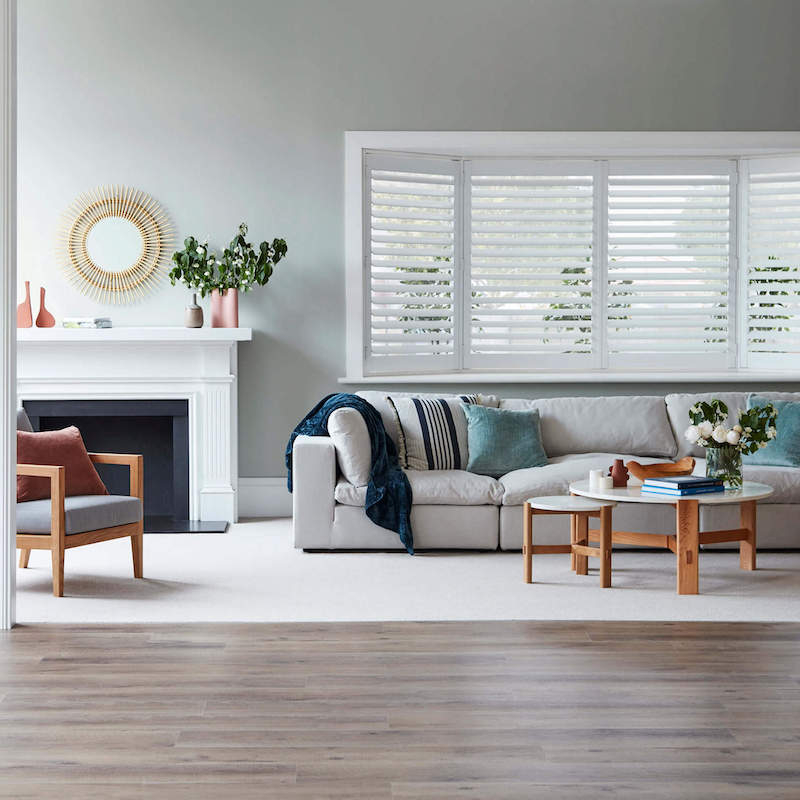 What is DIY?
DIY stands for Do It Yourself. DIY projects are projects where you do the work yourself rather than hiring a professional. This can be for either creating something yourself from scratch or buying home DIY kits that provide you with the parts and instructions you need to install everything yourself. Doing DIY projects can help you save money. DIY online kits are usually more cost-effective than buying individual pieces of wood that you then have to design into blinds yourself. DIY projects can also usually be customized to your home and look so that you have a project that fits seamlessly into your home. You also get to say that you installed them yourself, giving you firm bragging rights.
What Are Shutters?
A window shutter is a solid covering for a window. Instead of gauzy or fabric drapes, shutters are window covers in a frame that is either permanently in place or hinged to swing back and forth as needed. 
Shutters come in a variety of forms, some of which include:
Louvre: This refers to slats of wood inset in a frame, overlapping to block the light and elements. Louvre window shutters are also used in other kinds of shutters, the overlapping wooden slats being a versatile option for many different frames.
Raised Panel: A solid wooden panel with raised portions to create depth and design gives a formal but inviting country garden style.
Board and Batten: Constructed from individual boards joined together with shorter crosspieces, these shutters give a rustic and simply elevated look.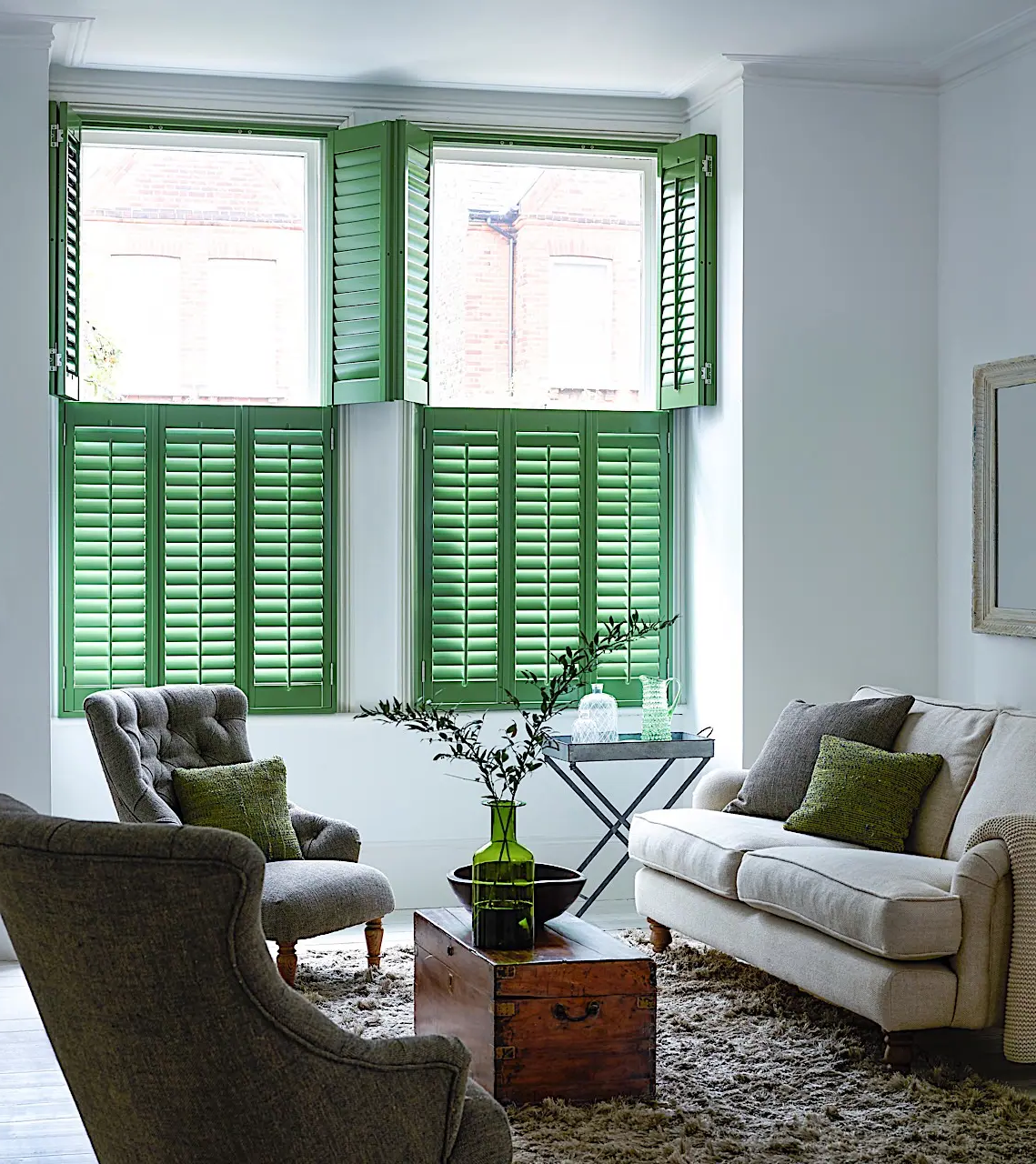 What Are Plantation Shutters?
Plantation shutters are solid frames with wide louvres. Their wide louvres are one of their defining characteristics. The frame is set on a hinge, so the shutters can be closed to keep out bad weather or opened to let the breeze roll through your home. The louvres on plantation shutters are usually all connected. With all the louvres connected, opening or closing, one causes all the others to follow suit.
Why Are Plantation Shutters Called That?
Plantation shutters earned their name from the American South, from the large estates that grew things like coffee, tobacco, cotton, and sugar. These estates were commonly called plantations. While the winters in the south were mild, summers were stifling, humid, and hot. Fabric window coverings were too heavy for this weather, leading to the development of wooden shutters. (Interestingly, this variety of wooden shutters has been used as far back as 800 B.C.) They later became known as plantation shutters due to their popularity on plantations.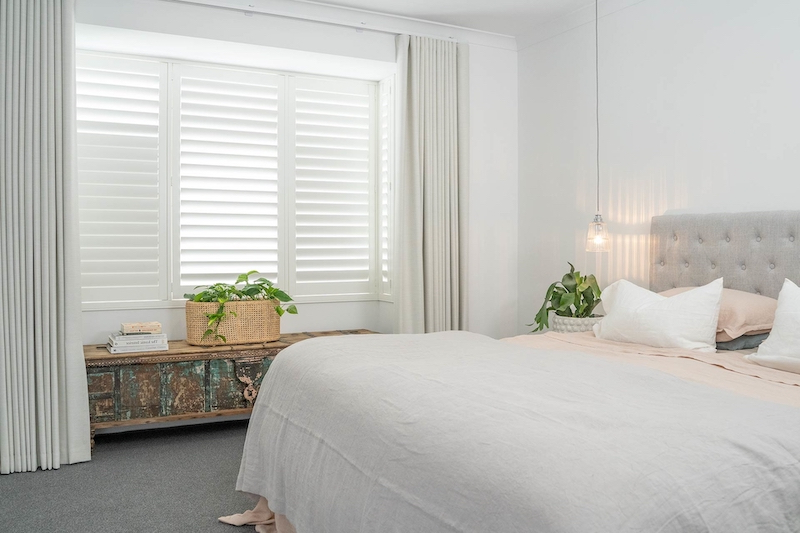 Why Buy DIY Plantation Shutters?
Purchasing DIY shutters online saves you time, money, and effort. By ordering your shutters online, you can configure them to perfectly fit ahead of time, saving you the effort of cutting, sanding, and modifying them when they arrive. Without installation costs, DIY plantation shutters are highly cost-effective. Installation is quick and easy. DIY shutters add to the value of your home while saving you money by keeping it energy efficient. Purchasing online shutters is very popular in Australia at the moment and is an excellent investment in your home because the climate suits plantation shutters.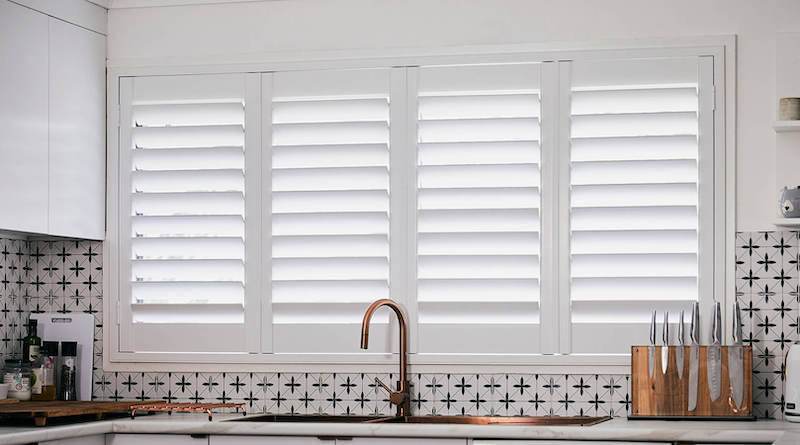 Benefits of DIY Plantation Shutters
Energy Efficient
For a shutter invented hundreds of years ago, plantation shutters are surprisingly energy efficient. They conserve a lot of energy because of their installation right up against the window frame. This seal helps prevent inside air from escaping and inside air from invading. Using online plantation shutters means keeping the hot air out and your air-conditioned air in. 
Save Money
When the word "custom" gets mentioned, those on a budget immediately become suspicious. Tailored sizes have traditionally meant higher costs. However, buying DIY shutters online is the best way to get plantation shutters configured for your needs without spending a fortune. Input your measurements and colors, as well as a few other specifications, to get the online shutters that will be best for your windows. Not only do you save money on the material costs for your DIY plantation shutters, but you also save on an installer. Installation costs can easily double a bill, leaving you feeling like, "I can screw a hinge in. Why did I pay 200$ for that guy to do it?" When you buy DIY plantation shutters online, you make yourself the installer. Equipped with detailed installation instructions, you cut off many costs without cutting corners.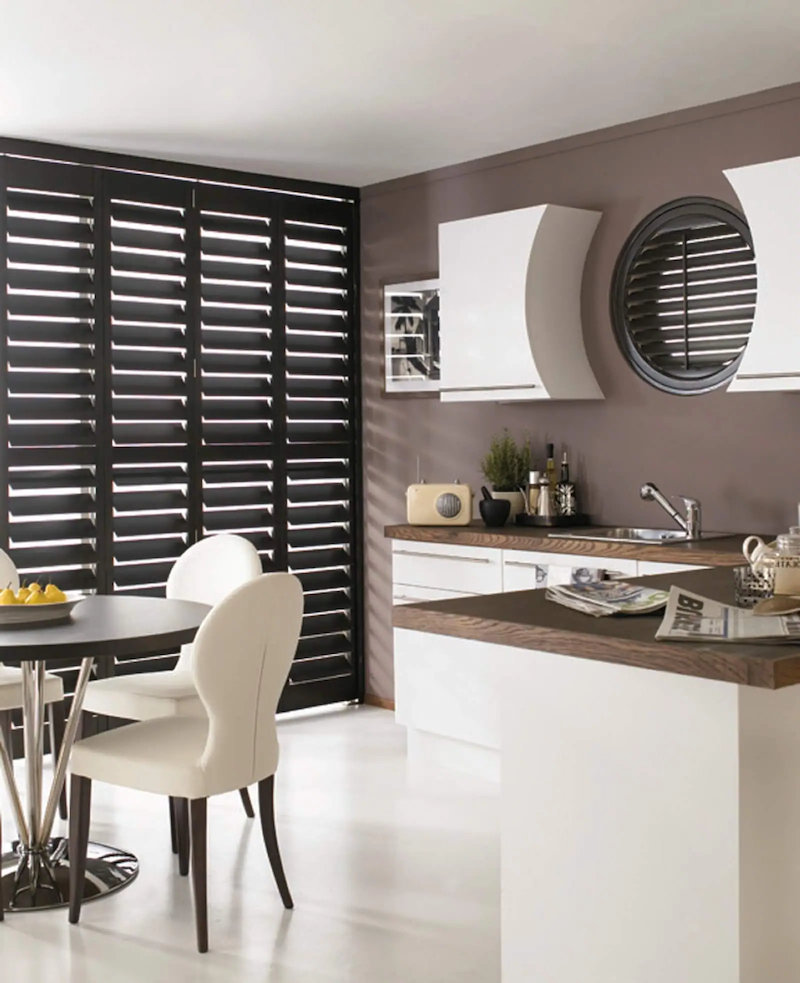 Simple Installation
Buying DIY online shutters takes the guesswork and hard labour out of adding plantation shutters to your home. Simply choose your style, measure the window it will be going on, order the plantation shutters online, and wait patiently. Once they come in the mail, follow the installation instructions and enjoy your DIY shutters. Don't find and call an installer while wondering if they actually know what they're doing. Or worse, get a set of plantation shutters you don't like because they're the only ones with the installer attached. Buying your shutters online saves you the effort of getting an installer since you're the installer. 
Durable
Plantation shutters will easily last many years. Their wooden composition and straightforward construction make them strong and able to withstand a long time. Exposure to sun, dust, and changing temperatures often cause problems for window coverings, but DIY plantation shutters are built to withstand all these things for a long time. They also have low maintenance required. The occasional dusting, and maybe a new coat of paint every few years if you like a fresh look. Because of their sturdy construction, you can easily use a vacuum attachment to clean the dust from them. Outside of that, your DIY plantation shutters won't need any maintenance. 
Configured
Getting your shutters online lets you specify your size and colour ahead of time, so they are manufactured to be perfect for your window right from the beginning. No cutting, sanding, or other carpentry projects are needed, just the ideal DIY plantation shutters for your home.
Child Safety
Fabric and plastic blinds can pose a hazard to children. The little ones don't understand how dangerous wrapping a cord around their neck can be, and as a parent, you never stop contemplating it. DIY plantation shutters don't have any cords or fabrics your child can get tangled up in or hurt on. Their installation close to the window means you can tuck them safely out of the way so no one gets caught on a sharp edge. Plantation shutters are a safe and effective option for homes with kids.

Online Shutters In Australia
Much like the American South that first made plantation shutters so famous, summers in Australia are hot and humid. Buying online shutters in Australia is an excellent way to keep your house cool in a functional and aesthetically pleasing way. Online plantation shutters are affordable and accessible ways to keep your home protected and cool. Visit this store to find your DIY plantation shutters online that fit your life.