---
Summer is here! Naturally, during the summer we are all trying to show off our beach bods and lead a healthier lifestyle. What's more, because of the super hot weather we usually choose cold drinks and light foods. Veggies and fruits are definitely the preferred choice when it comes to eating in the summer. That is exactly why, today we have chosen to share with you 8 zucchini recipes, which are going to help you on your healthy lifestyle journey during summer 2021.
Let's start with some baked zucchini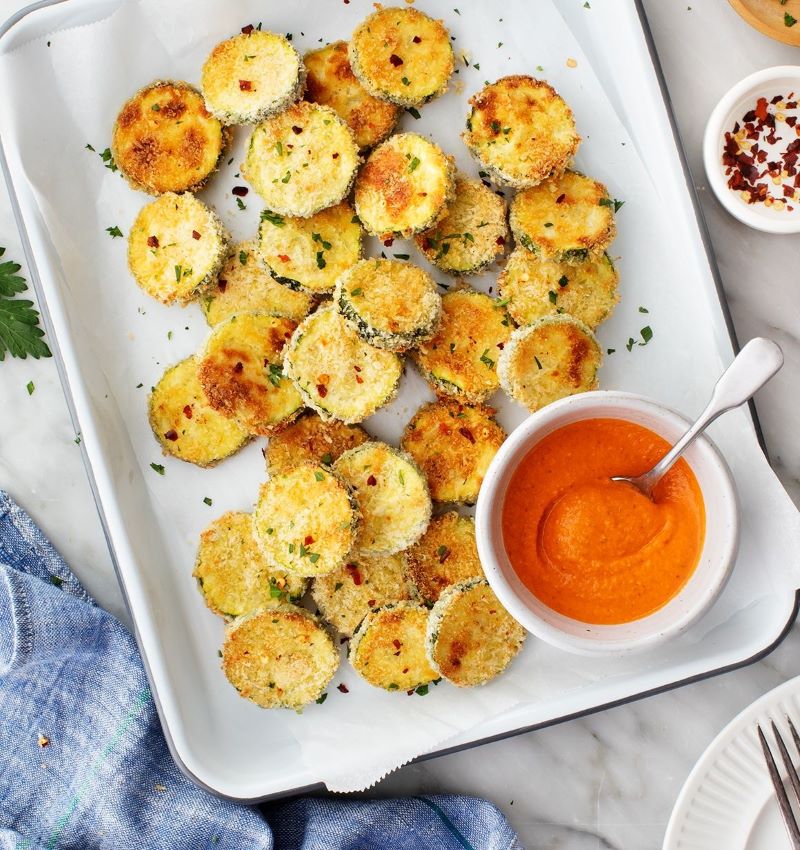 ---
Baked zucchini recipes
Ingredients:
2 medium zucchini
1 egg
1/2 cup bread crumbs
1/2 cup almond flour
1/4 cup parmesan cheese
1/2 tsp salt
black pepper
olive oil
marinara sauce, for serving
Instructions:
Preheat the oven to 425°F.
In a small bowl mix the bread crumbs, flour, parmesan cheese, salt and pepper.
Slice the zucchini into rounds.
Whisk the egg. Dip the zucchini into the egg first, then into the flour mixture.
Place onto a paper lined baking sheet and drizzle with the olive oil.
Bake for about 18 minutes, flipping halfway.
Serve with marinara sauce.
Source: Love & Lemons
Delicious zucchini soup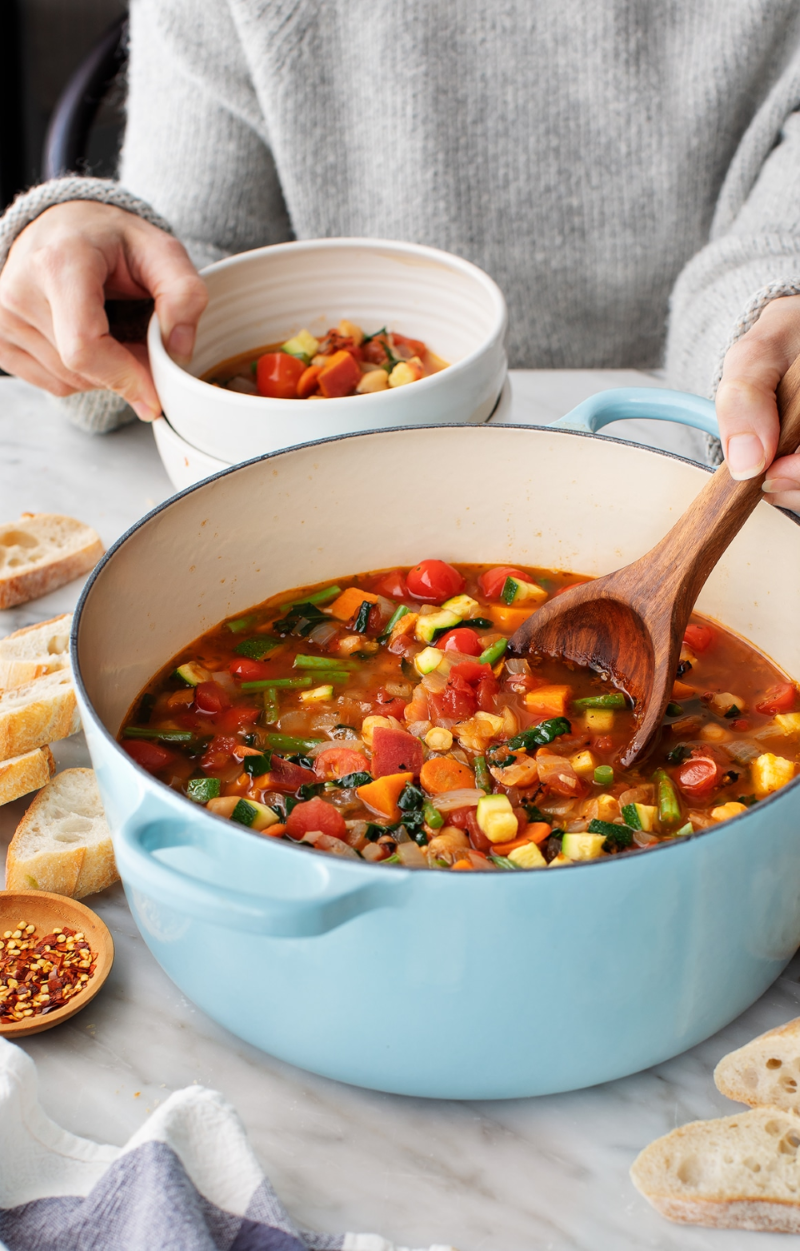 Veggie soup recipe
Ingredients:
2 tbsp olive oil
1 yellow onion, diced
salt and pepper
1 carrot, diced
1 sweet potato, diced
1/4 cup white wine
4 garlic cloves, chopped
2 tsp dried oregano
1/4 tsp red pepper flakes
4 cups veggie broth
1 cup cherry tomatoes, halved
2 bay leaves
1 cup green beans, chopped
1 zucchini, diced
12 tbsp white wine vinegar
1 15-oz. can chickpeas, drained and rinsed
1 1/2 cups kale, chopped
Instructions:
In a large pot, heat the oil over medium heat. Cook the onion, seasoned with salt and pepper, for 8 minutes. Add the sweet potato and carrot and cook for additional 2 minutes.
Then, add the wine and cook for about 30 seconds. Add the tomatoes, red pepper flakes, garlic and oregano. Then, add the broth and bay leaves. Bring to a boil and cook covered for 20 minutes.
Stir in the green beans, zucchini, cherry tomatoes and chickpeas and cook for about 15 more minutes.
Finally mix in the kale along with some more salt and pepper to taste.
Source: Love & Lemons
Ready for the next recipe?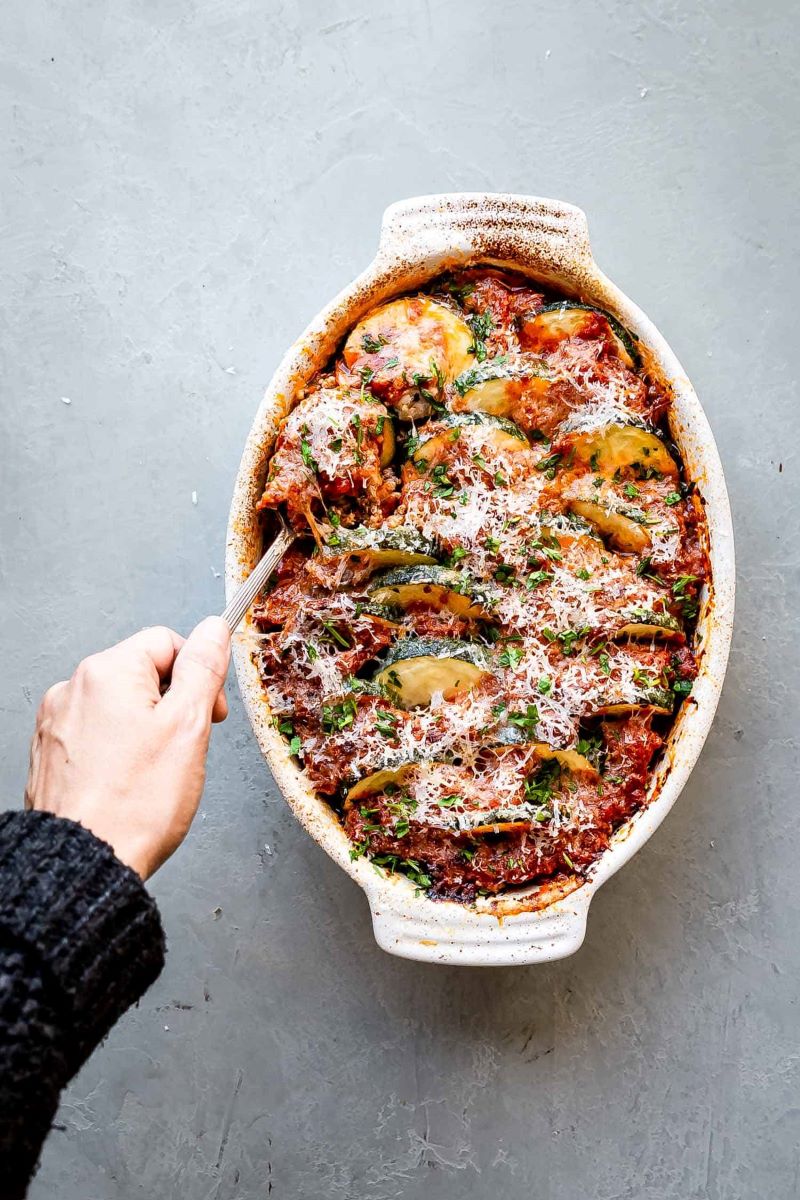 Sausage and zucchini casserole
Ingredients:
2 large zucchinis, cut into rounds
2 tbsp avocado oil
1/2 onion, sliced
2 tsp Italian seasoning
1 1/2lbs Italian sausage
4 garlic cloves, minced
1 can artichoke hearts, drained and chopped
salt and black pepper
1/3 cup chicken broth
1 1/2 cups red sauce
1/4 cup parmesan cheese, grated
1/4 cup fresh parsley, chopped
Instructions:
Season the zucchini with salt and let sit for 30 minutes, drain and pat dry.
Preheat oven to 400 degrees.
Heat the oil in a skillet, then add the onion with the Italian seasoning and cook for 5 minutes.
Add the sausage to the skillet and break it down for about 8 minutes. Then, add the garlic and cook for an additional minute. Transfer to a bowl and add in the artichoke hearts, season with salt and pepper.
Add the mixture to a baking dish and layer the zucchini in between. Distribute the broth on top and cover with red sauce and cheese.
Bake for about 25 minutes. Sprinkle with parsley and serve.
Source: The Movement Menu
Time for a healthy twist on a classic
---
Zucchini recipes – spinach and ricotta cannelloni
Ingredients:
500gred wine and garlic pasta sauce
80g salad mix
4 large zucchini, trimmed
450g fresh ricotta
1 egg yolk
1 garlic clove, minced
1/4 cup basil leaves, chopped
1 tsp lemon zest
1/4 cup mozzarella, grated
2 tbsp parmesan cheese, grated
olive oil
Instructions:
Preheat the oven to 200C.
Place the salad mix into a bowl and microwave until wilted. Cool for a bit and then chop.
Use a peeler to cut the zucchini into ribbons.
In a bowl mix the egg yolk, ricotta, garlic, lemon zest, basil and chopped salad. Season with salt and pepper and mix well.
Layer 4 zucchini slices on a surface overlapping them slightly and spread 2 tbsp od the ricotta mixture on them. Roll up.
Grease a baking dish and spread pasta sauce on the bottom.
Place the zucchini cannelloni on top. Sprinkle with parmesan and mozzarella, spray with the oil and bake for about 30 minutes.
Source: Taste
More recipes to come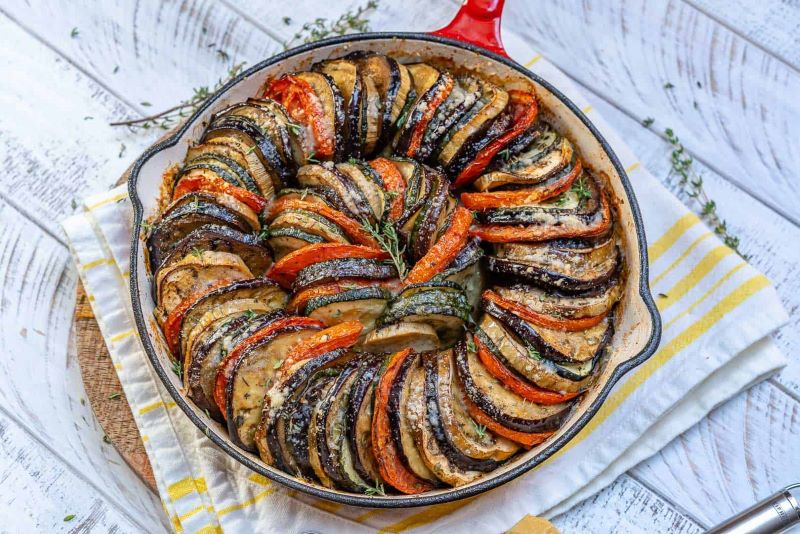 Eggplant and zucchini gratin recipe
Ingredients:
2 zucchini, sliced
2 eggplants, sliced
1lb vine tomatoes, sliced
1 tbsp Italian seasoning
1/3 cup parmesan cheese, grated
1 tbsp garlic powder
2 tbsp oilve oil
salt and pepper
Instructions:
Preheat the oven to 375F.
In a bowl add the veggies, sprinkle with the seasoning, garlic powder, parmesan, salt and pepper. Drizzle with olive oil and toss well.
Arrange the veggies alternatively into a greased baking dish, making a spiral.
Bake for 40 minutes.
Source: Healthy Fitness Meals
One of our favorite Greek recipes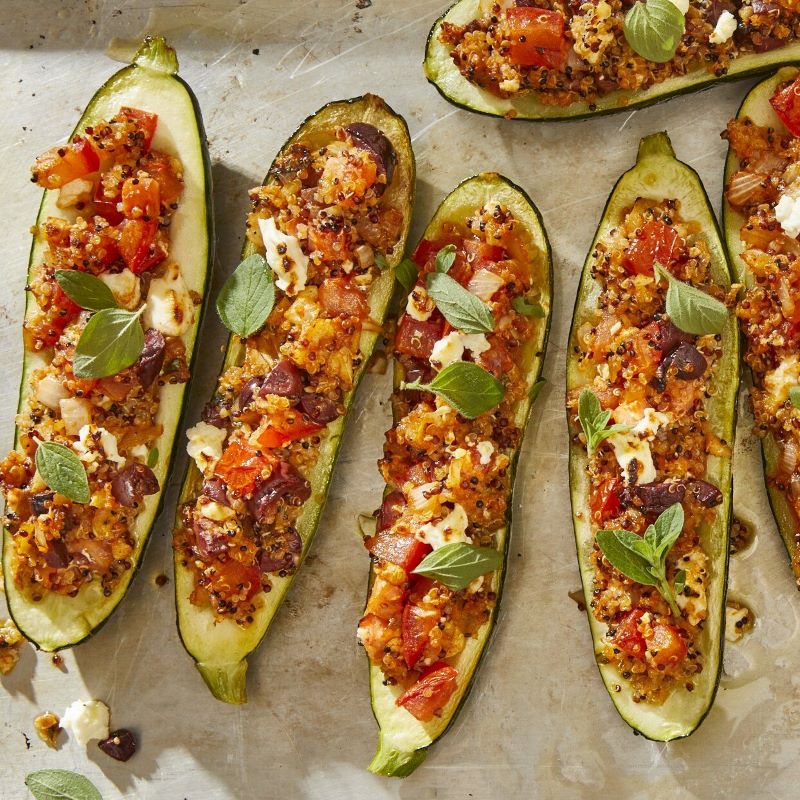 Stuffed zucchini recipes
Ingredients:
4 zucchini
salt and pepper
1 tbsp olive oil
3/4 cup onion, chopped
1 tbsp garlic, chopped
3.4 tsp smoked paprika
1 tbsp fresh oregano, chopped, divided
1 cup quinoa, cooked
8 pitted Kalamata olives, chopped
1 cup plum tomatoes, diced
1/2 cup crumbled feta cheese
Instructions:
Preheat oven to 350F.
Cut the zucchini in half and remove the flesh. Place on a baking sheet and sprinkle with salt and pepper. Bake for about 12 minutes.
In a skillet, heat oil. Add the chopped flesh from the zucchini, garlic, onion, paprika and 2 tsp oregano. Cook for about 4 minutes and remove from heat.
Stir in tomatoes, olives, quinoa and feta. Divide the mixture evenly into the zucchini shells.
Place in the oven and broil for about 5 minutes. Sprinkle with the remaining oregano.
Source: Eating Well
And our final recipe for the day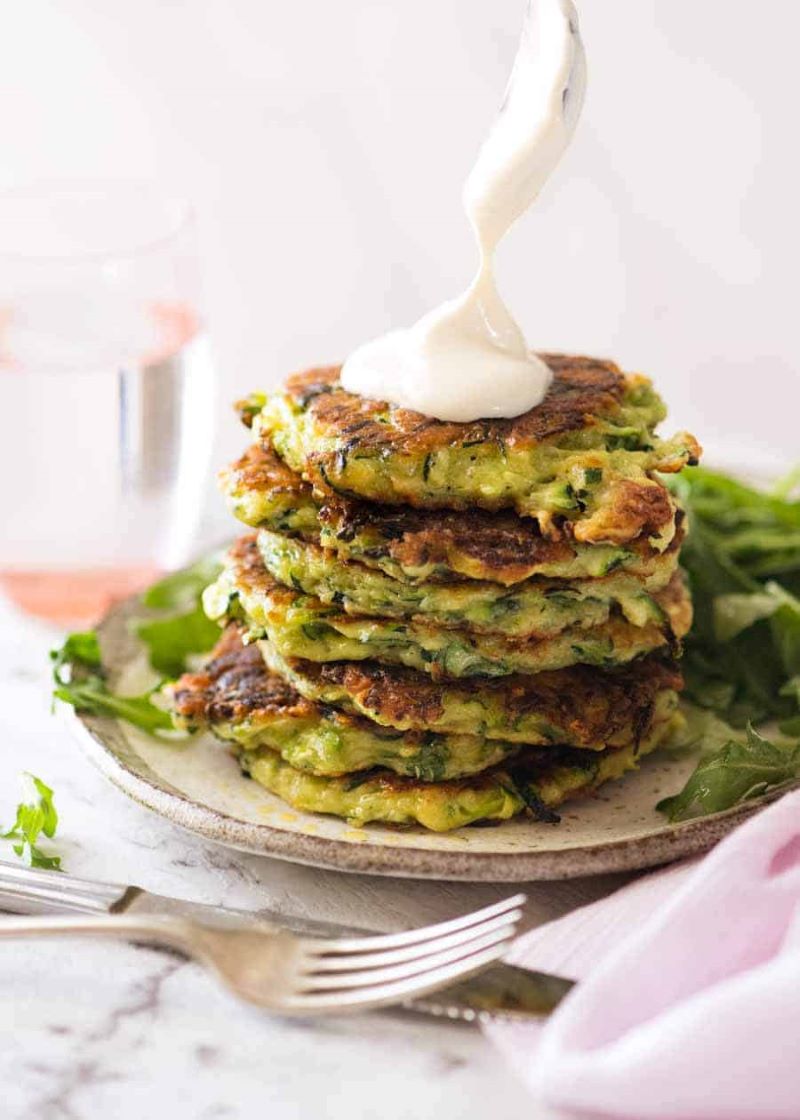 Zucchini fritters
Ingredients:
For the batter:
1 egg
2 green onions, sliced
1/4 cup parmesan, grated
1 garlic clove, minced
1/2 cup flour
1/2 tsp baking powder
pinch of pepper
4 tbsp olive oil, separated
Instructions:
Grate the zucchini,place in a bowl and sprinkle with salt. Let sit for about 15 minutes, drain and place in a bowl.
Preheat the oven to 200F.
In the zucchini bowl add the onions, egg, parmesan and garlic. Mix well.
Spread over flour with baking powder, add a pinch of pepper and mix until the flower is incorporated.
In a pan heat 2 tbsp olive oil. Place a scoop of the batter into the pan, flatten with a spatula and cook for about 3 minutes. Flip and cook additional 3 minutes.
Source: Recipe Tin Eats
Grilled zucchini are also super tasty, just serve them with some garlic yogurt sauce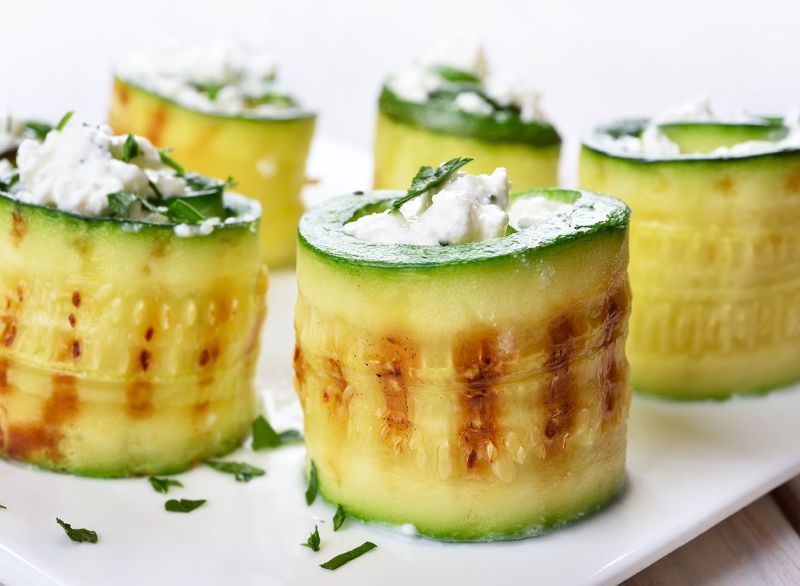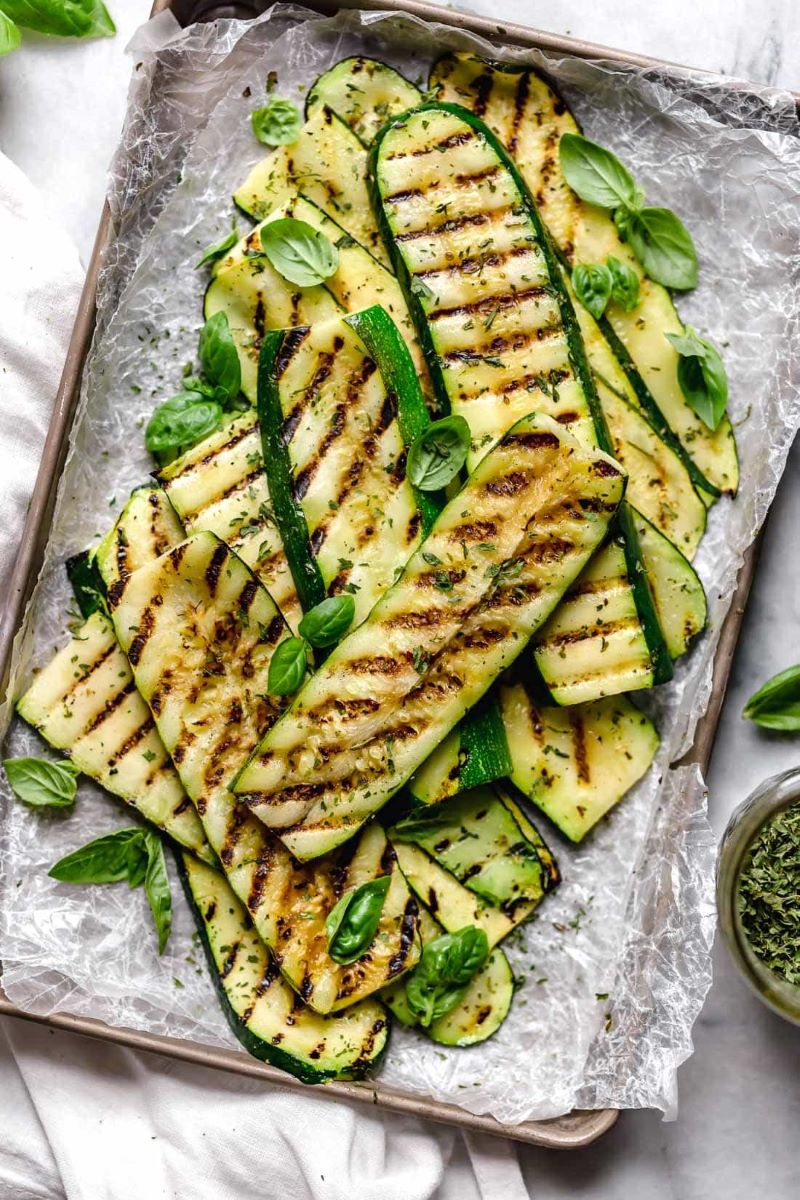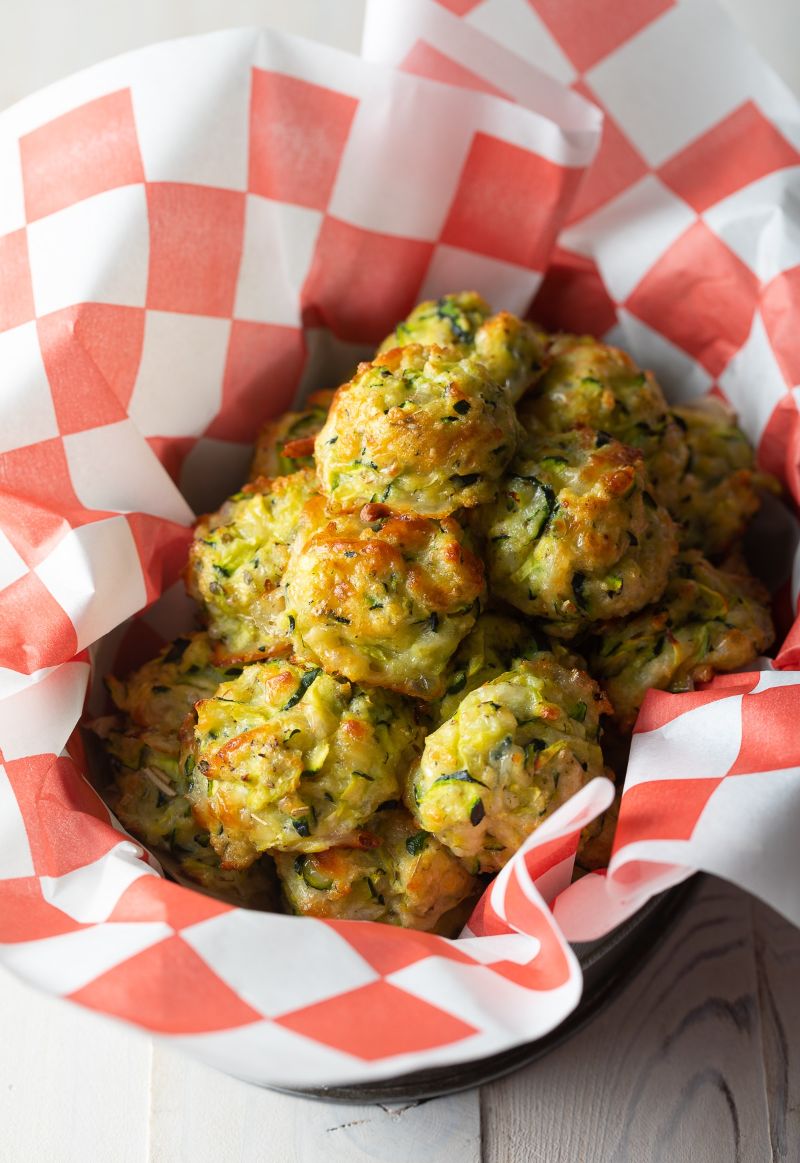 Make a dip out of the zucchini flesh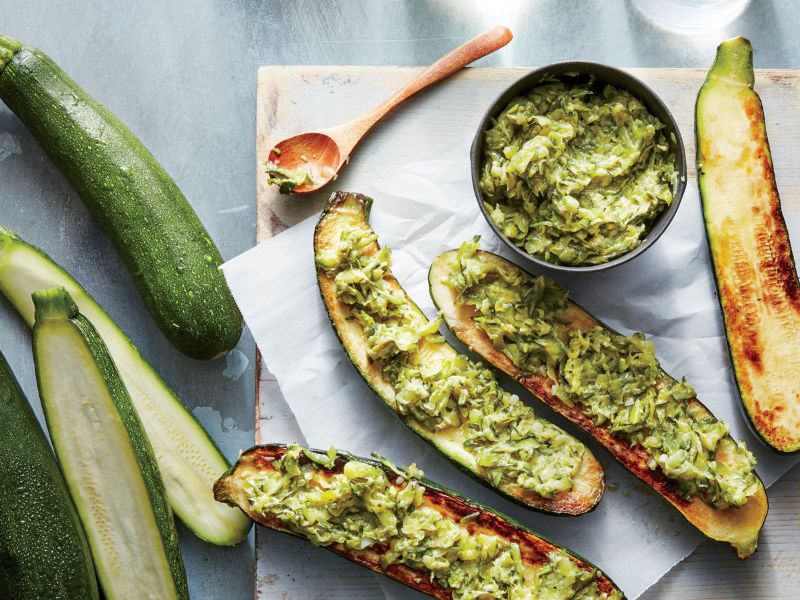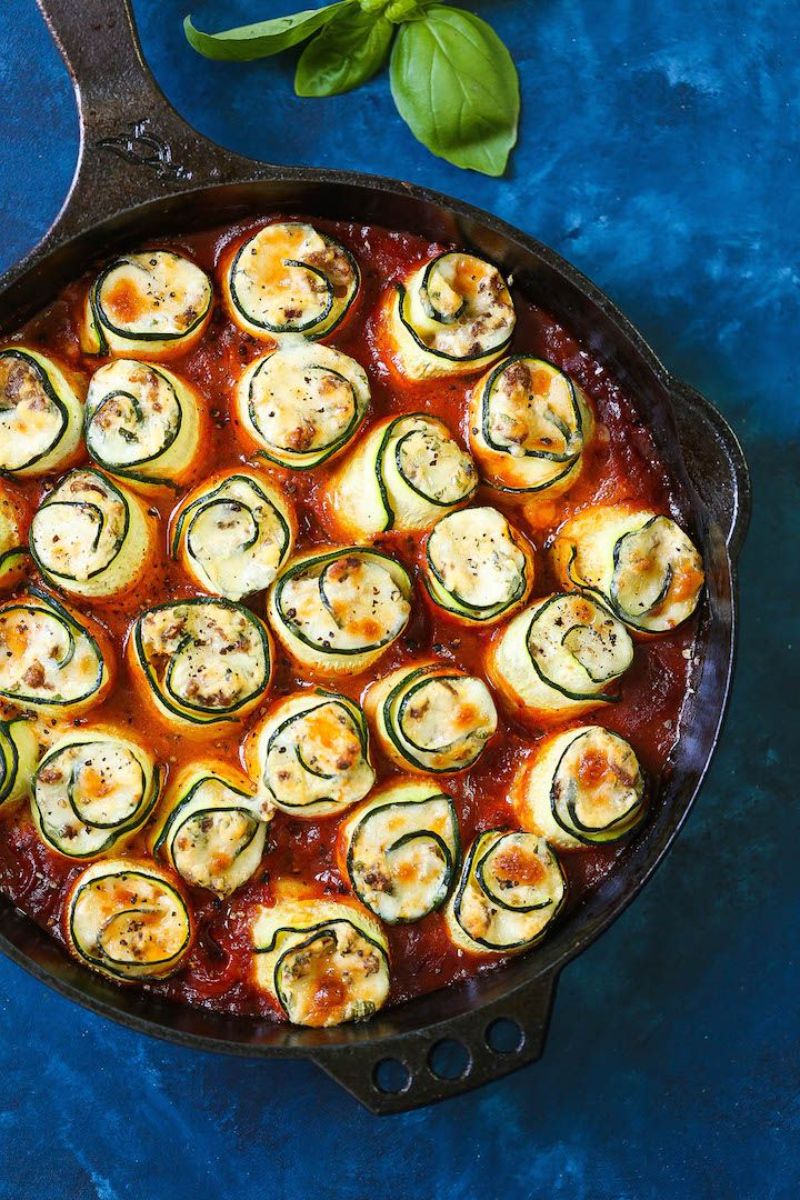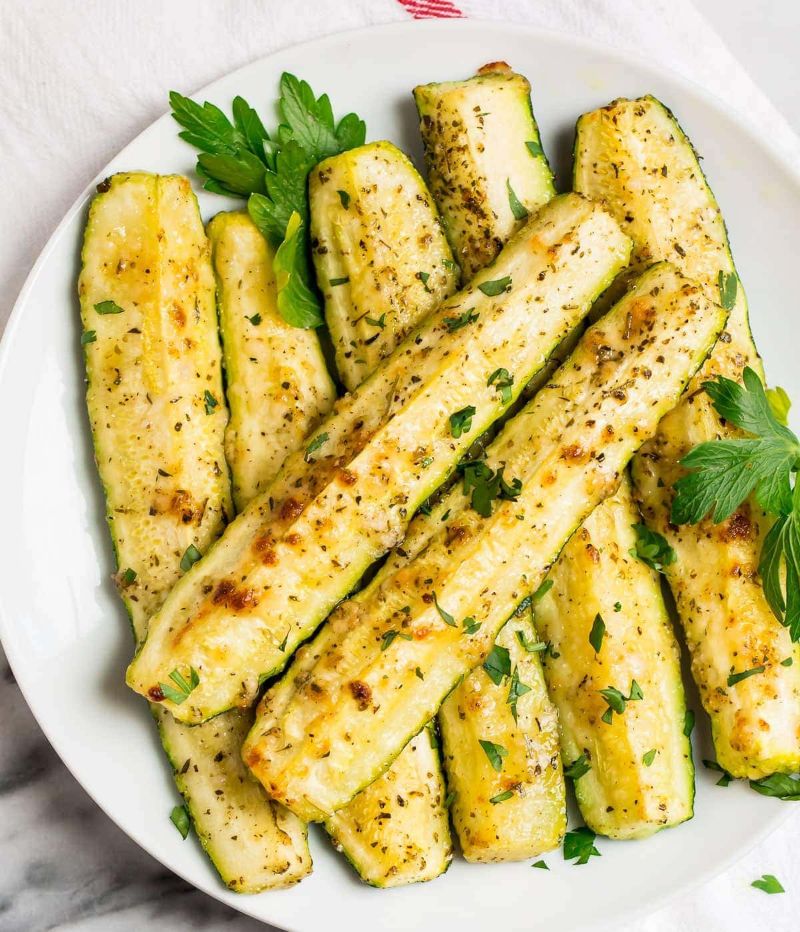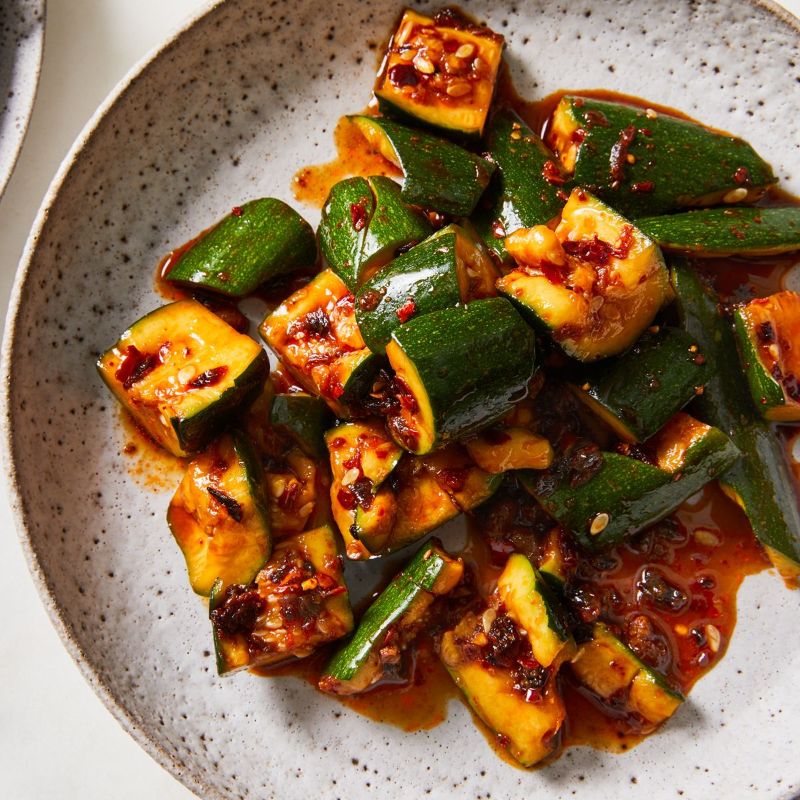 These zucchini recipes look so tasty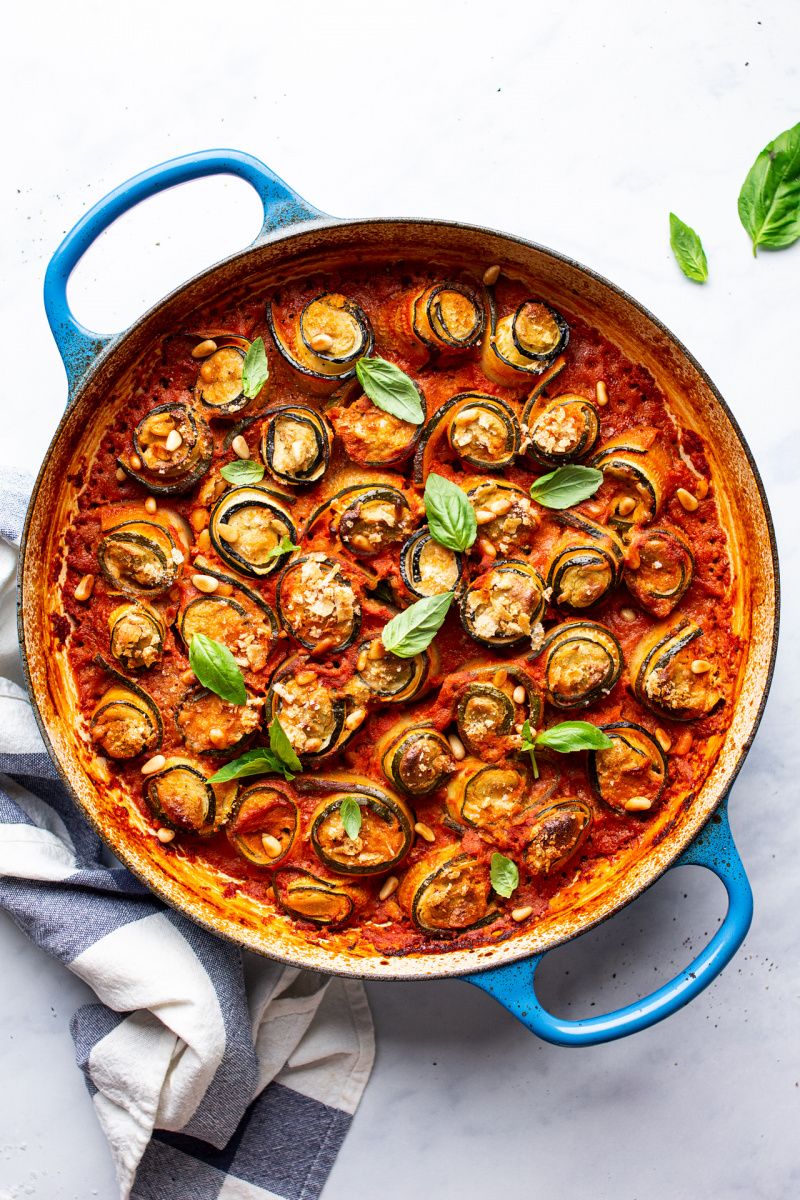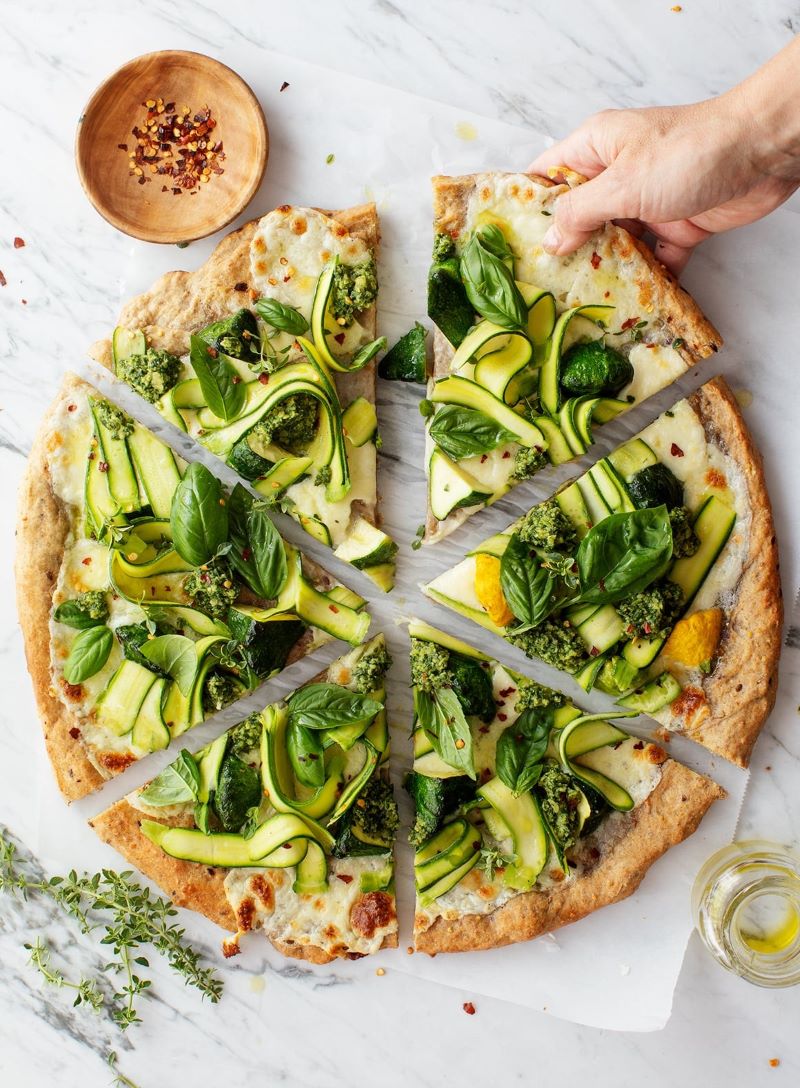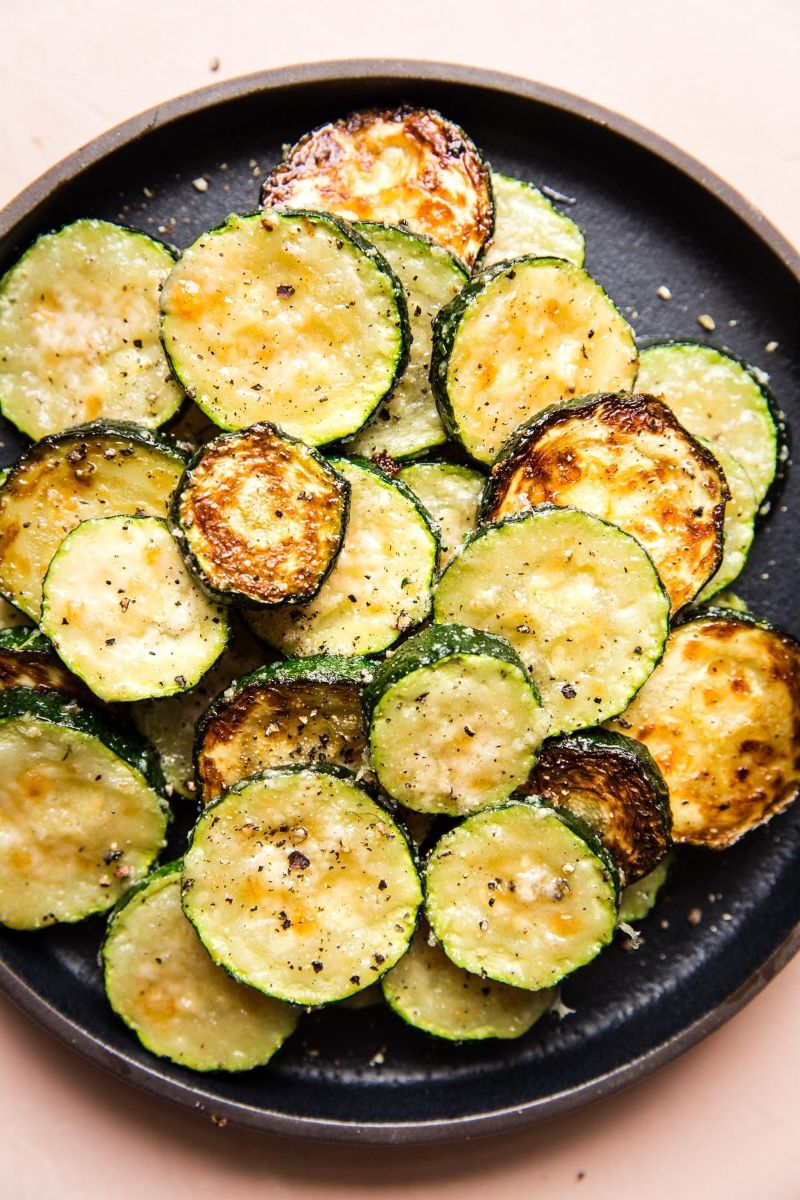 Healthy zucchini tart