Delicious seafood boil recipe perfect for a summer backyard party
Now that summer is finally here it is time for your backyard to turn into the perfect party destination for your friends group. And because you always have to be the best hostess we have a few ideas for you. For one, we all know that there is nothing better than a good family barbecue, however, everyone does that. You want to stand out, right? Well, we have a pretty interesting idea for you today! Pick a seafood boil recipe to throw the best backyard party and surprise all of your friends with an unconventional menu. After all, it is always good to try new things. That is why, we have prepared a few different, easy and simple recipes for you to try!
Throw the best seafood boil backyard party this summer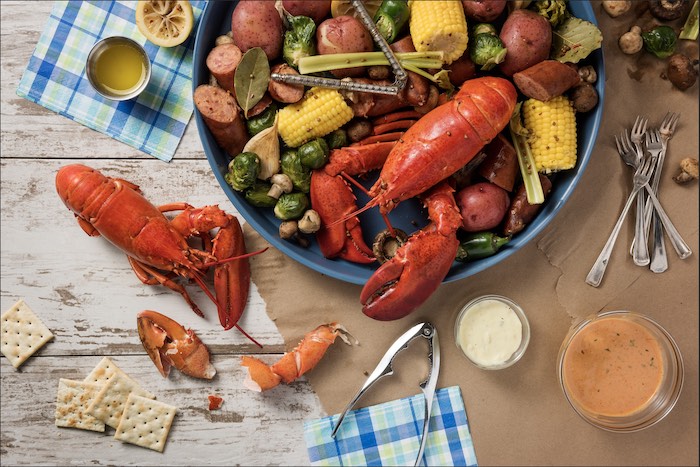 Recipe #1 for the perfect seafood backyard party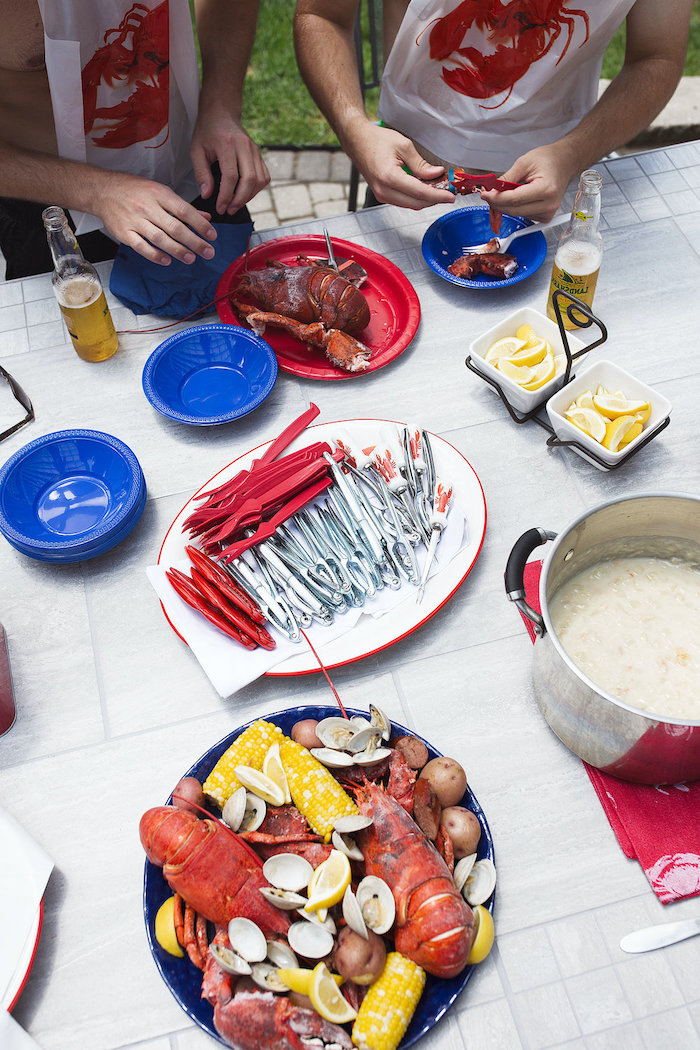 How to make a seafood boil?
Ingredients:
1lb kielbasa, sliced
1 1/2lbs small red potatoes
1/2 cup salt
1 head garlic, top sliced off
1 bunch fresh thyme, tied together with string
3 whole Maine lobsters
2lbs scrubbed littleneck clams
5 ears sweet corn, shucked and halved
Be careful not to burn yourself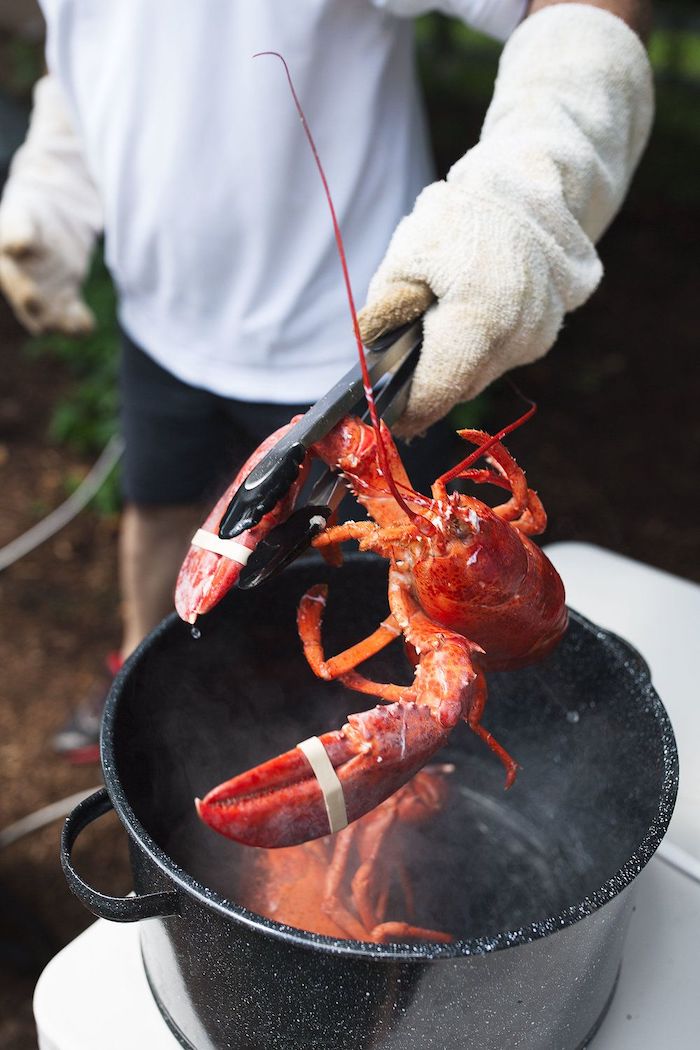 Instructions:
Bring water to a boil in a large stockpot. Add the salt and stir in until it is fully dissolved, then add garlic and the thyme.
Then, add the potatoes and cook for 6 minutes. Add the kielbasa and lobsters one at a time. Cook for 12 minutes.
At the 7 minute mark add the clams to the stockpot and then at the 4 minute mark add the corn.
Drain the water and place the boiled veggies and seafood onto a large tray or plate.
Serve on a plate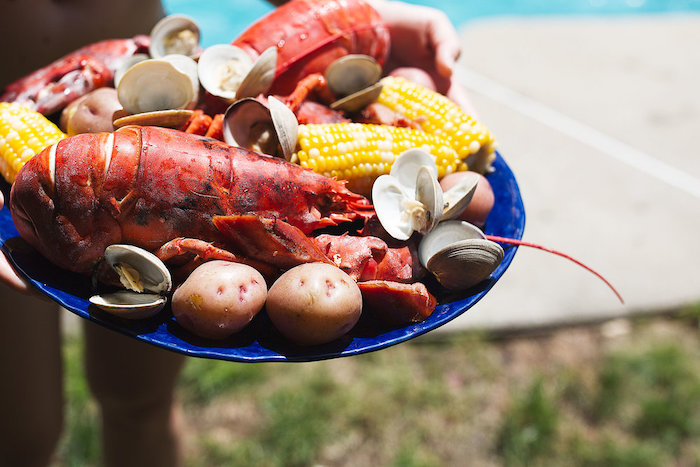 Source: Cooking With Cocktail Rings
Rеаdy for recipe#2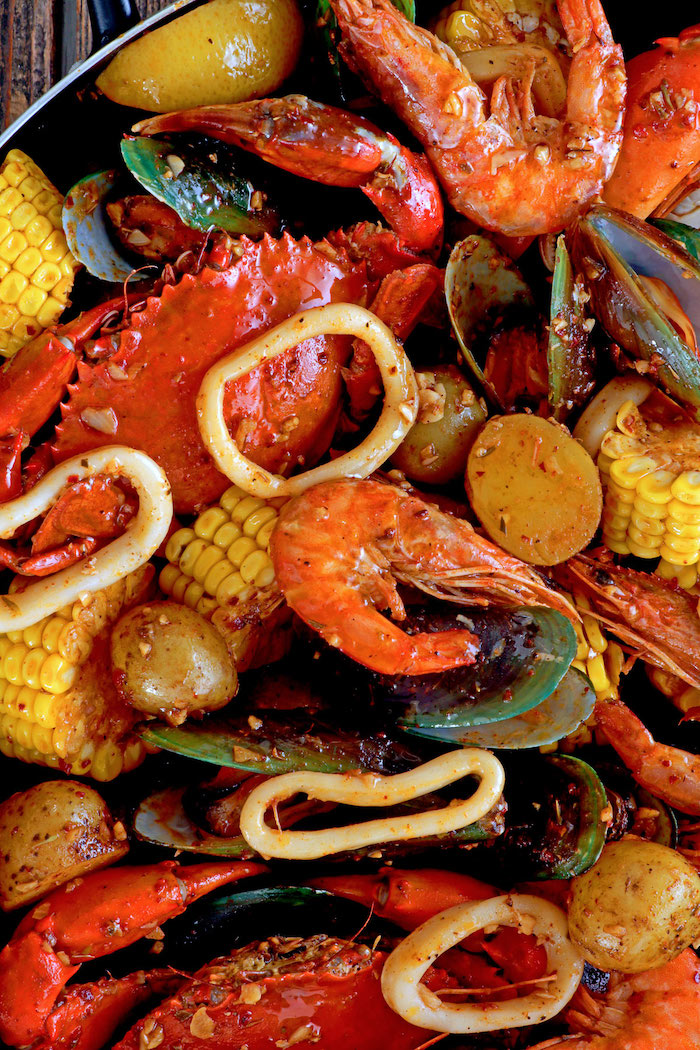 Delicious Cajun seafood boil recipe
Ingredients:
4-6 small crabs
500gr shrimp
500gr mussels
300g squid rings
2 lemons (1 cut into wedges, another one for the juice)
2-3 piece sweet corn, cut into 4
500gr potatoes
2 sticks butter
1/2 cup vegetable oil
2 heads garlic, minced
1/2 cup Cajun Seasoning
1 tbsp sugar
salt
These are the ingredients you are going to need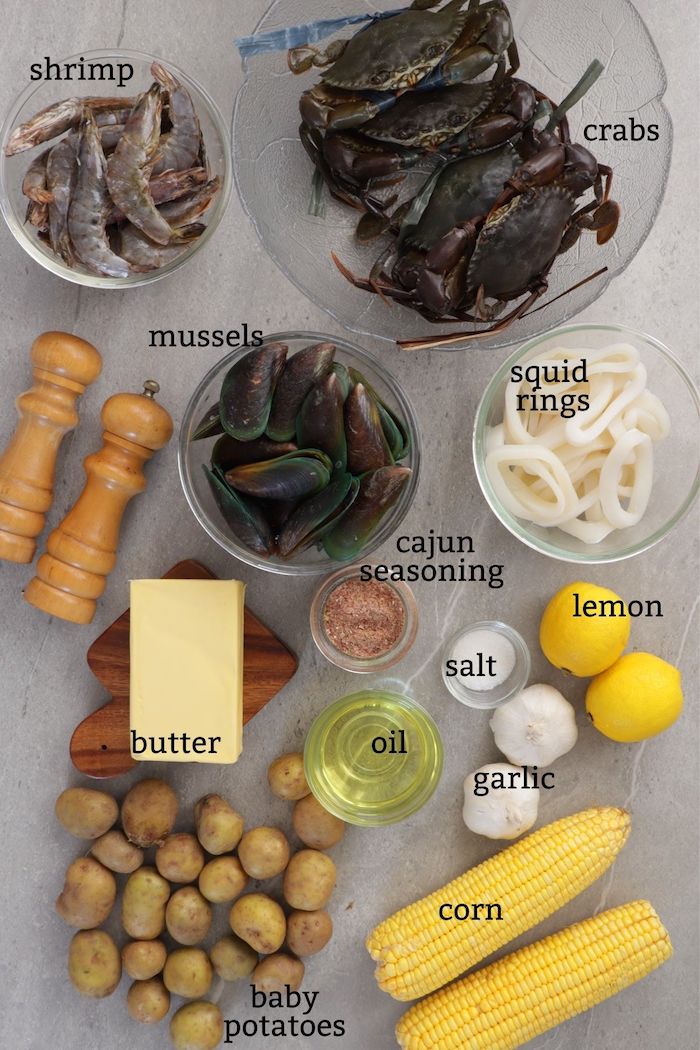 Instructions:
Prepare the seafood for cooking.
In a large stockpot boil water and add the potatoes. Cook for 5 minutes.
Then, add the corn, crabs, mussels, shrimp and lemon wedges and season with salt. Cover and cook for 3 minutes.
Heat the butter and oil in a deep pan. Add the garlic and cook for a few seconds, then add the cajun seasoning, lemon juice and sugar. Stir well and cook for 2 minutes. Add the squid rings, cook for 1 minute and add the rest of the seafood, lemon wedges, corn and potatoes. Season with salt, cook for a minute and turn off the heat.
Transfer to a platter and serve.
So delicious!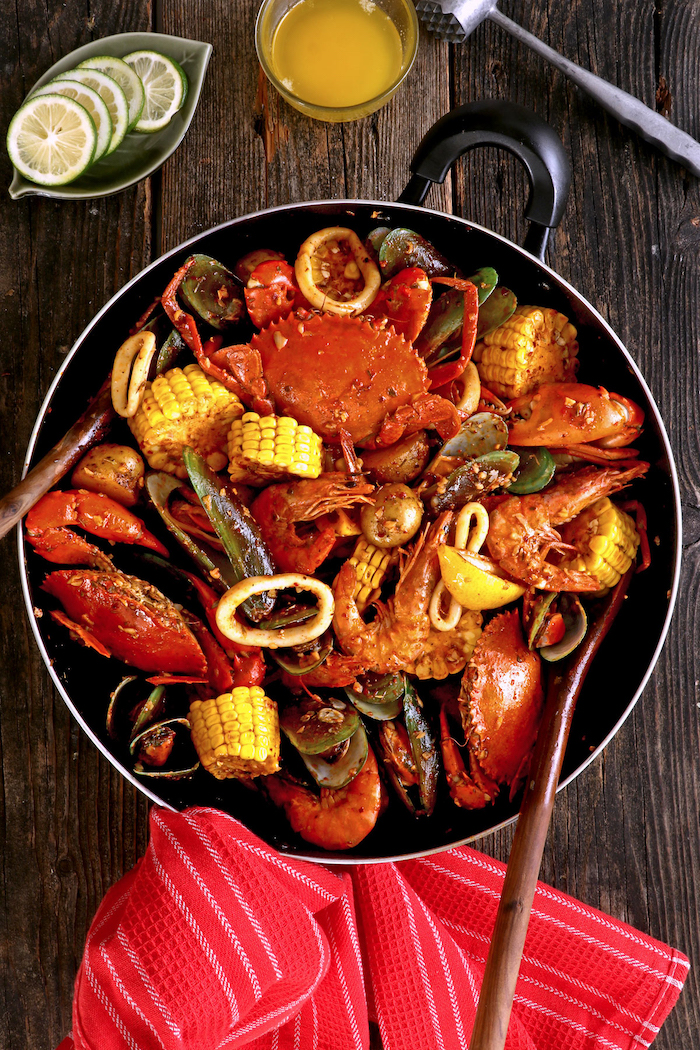 Source: Foxy Folksy
Yes, we do have more recipes for you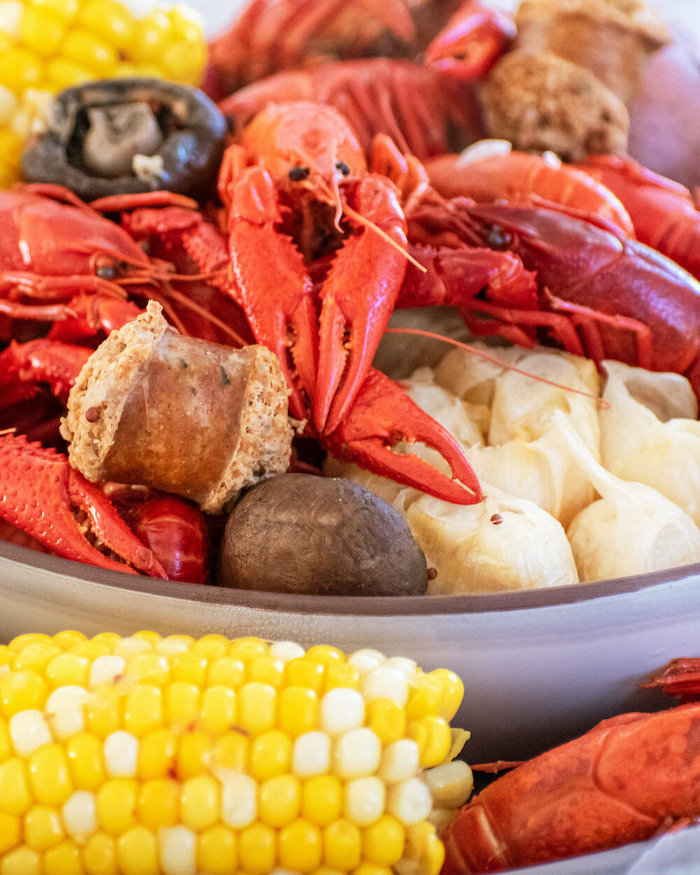 Louisiana crawfish boil recipe
Ingredients:
4lbs live crawfish
1 bag in box Zatarain's crab boil seasoning
1 4oz. liquid Zatarain's crab boil
1/2 cup cajun seasoning
2 oranges, halved
2 lemons, halved
8 ears of corn
2 garlic bulbs
1lb chopped andouille sausage
2 dozen bella mushrooms
large boiling pot with steam basket
It is easier to make it with a boiling pot with steam basket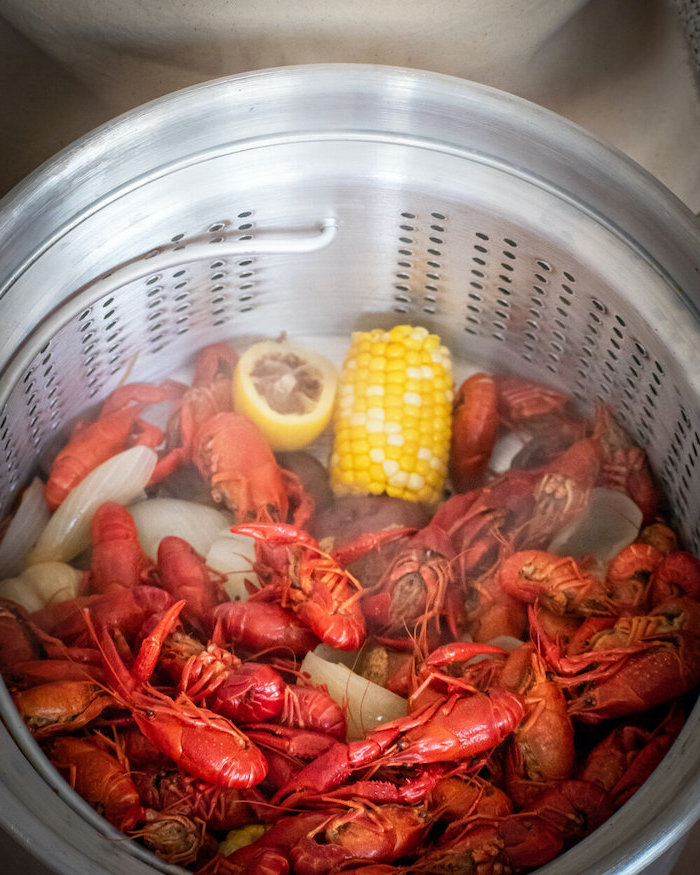 Instructions:
Fill the boiling pot with water to the top of the steam basket. Let boil.
Add in both of the Zatarain's seasonings and stir well. Squeeze the juice of the lemon and oranges and drop them in the water as well. Then, add the corn, garlic, mushrooms, potatoes and sausage. Cover and boil for 20 minutes.
Finally, add the crawfish and boil, covered for 15 minutes.
Just lift the basket and enjoy!
A meal every seafood lover can enjoy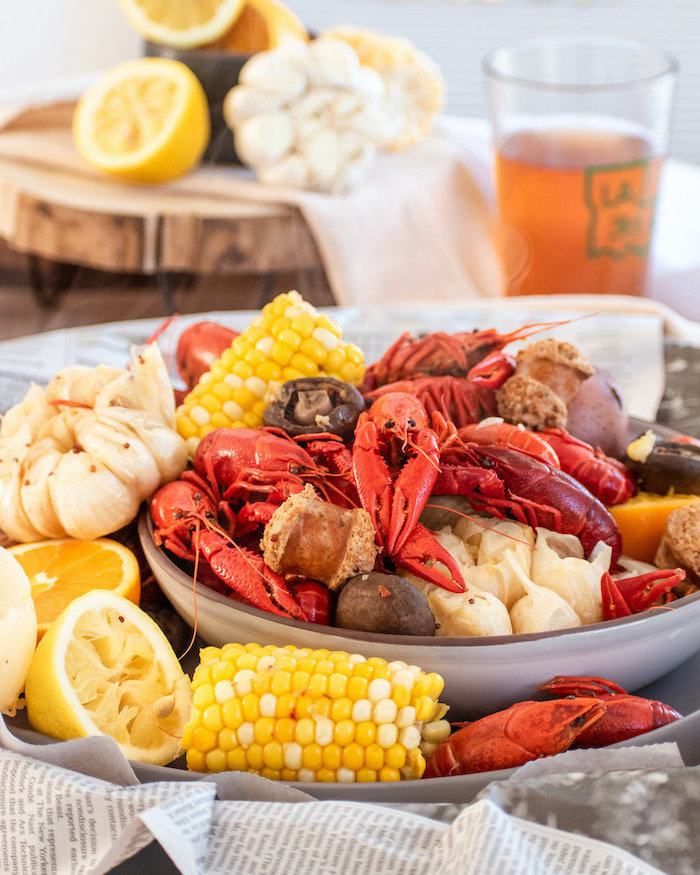 Source: Plate and Pen
Now it is time for a recipe with crab legs and mussels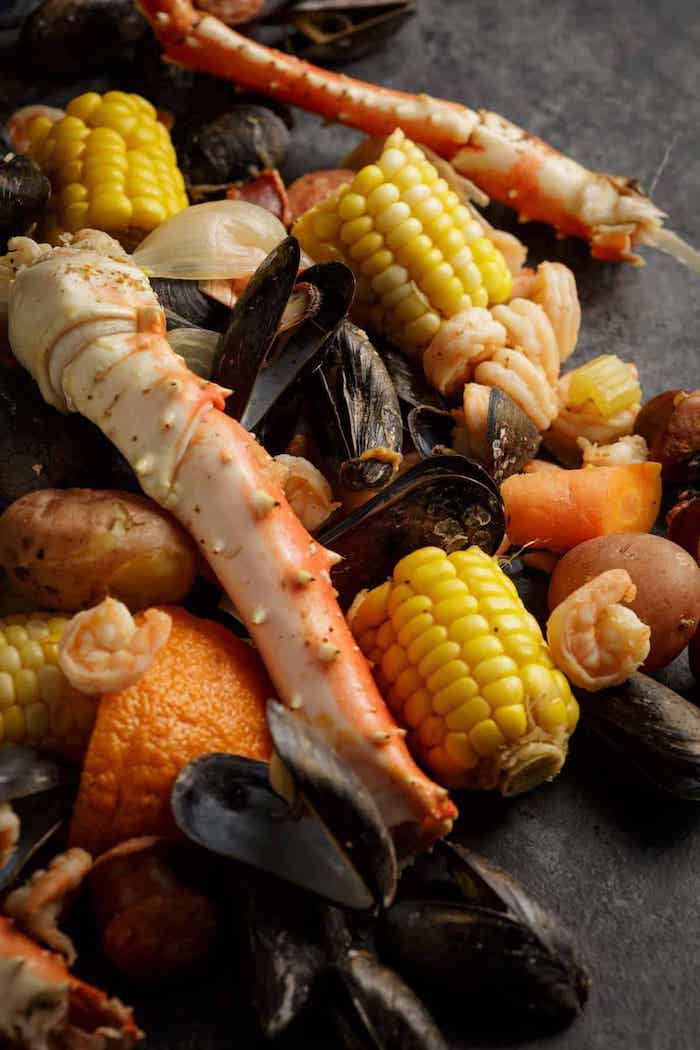 Delicious crab boil
Ingredients:
4-6 quarts water
1 bottle of wine
1 orange, cut into quarters
2 carrots, cut into pieces
2 stalk celery, cut into pieces
1 vidalia onion, cut into chunks
2 head of garlic, sliced in half
3-5 tbsp Old Bay Seasoning
1 tbsp salt
1 tbsp smoked paprika
2 bay leaf
1/4 cup Worcestershire sauce
4 ears corn on the cob, cut into thirds
2lbs potatoes
12 oz andouille sausage, cut into 1-inch slices
1lb shrimp
1lb crab legs
2lbs mussels/clams
The orange brings so much flavor to this dish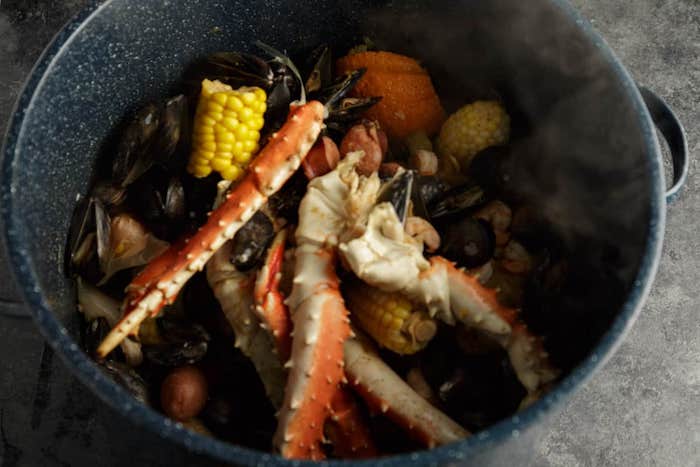 Instructions:
In a large stockpot bring water to a boil. Add the wine, orange, carrots, celery, onion and garlic. Then, add the seasoning as well and boil additional 10 minutes.
Add the potatoes, cover and keep boiling. You need to boil for a total of 25 minutes. At the 15 minute mark add the corn and sausage.
At the 10 minute mark if the potatoes are done add the crab legs. Then, at the 5 minute mark add the mussels. When there is just 2-3 minutes left add the shrimp.
Drain the water and serve on a platter.
Enjoy it with family and friends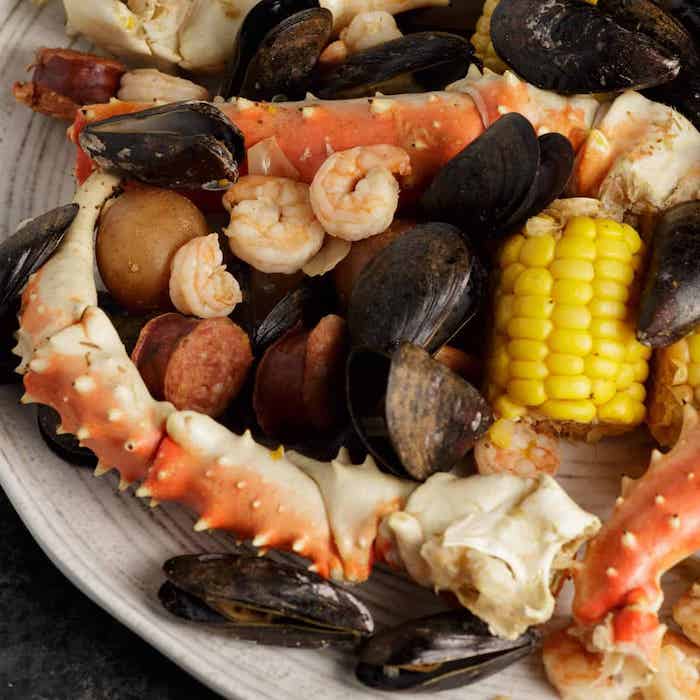 Source: Butter & Baggage
Recipe #5 is for a buttery delight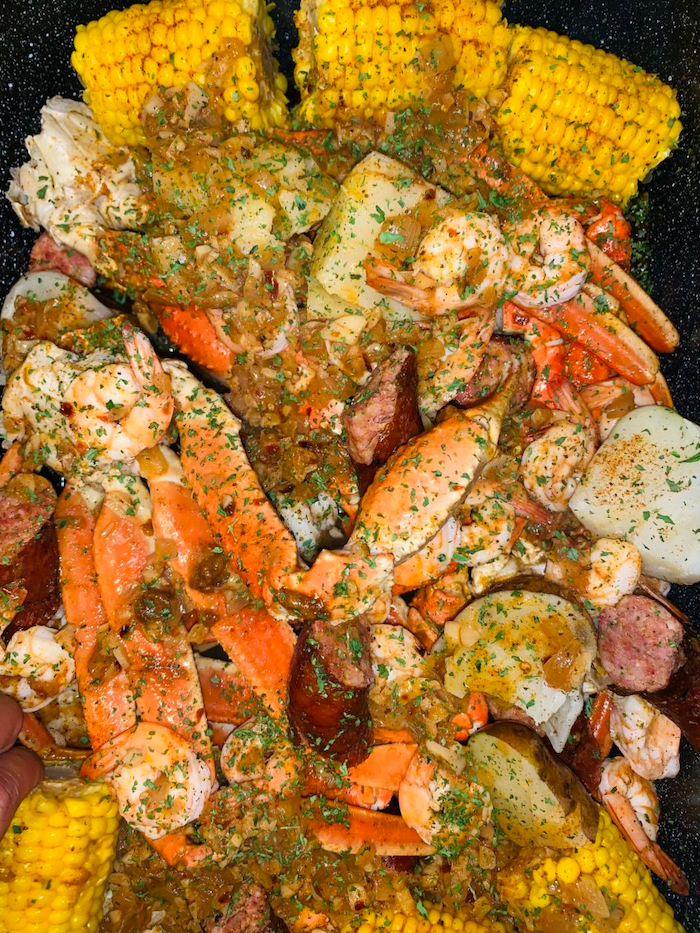 Garlic butter seafood boil recipe
Ingredients:
5 clusters Snow crab legs
1lb shrimp, deveined, tail on
1lb Andouille sausage, cut into slices
6 corn on the cob
6 red potatoes
3 tbsp garlic, diced
1 onion, diced
1 lemon, juiced
4 sticks butter
1/4 cup olive oil
2 cups chicken broth
1-2 dashes Tabasco sauce
For the seasoning for the boiling water:
5 tbsp Old Bay seasoning
1 lemon, juiced
3 bay leaves
For the seafood boil sauce:
4 sticks butter
1/4 cup oilve oil
1 onion, diced
3 tbsp garlic, diced
1 lemon, juiced
2 cups chicken broth
1 tbsp red pepper flakes
3 tbsp Old Bay seasoning
1 tbsp Lemon pepper seasoning
3 tbsp paprika
1 tbsp Cayenne pepper
1-2 dashes Tabasco sauce
Fresh from the pot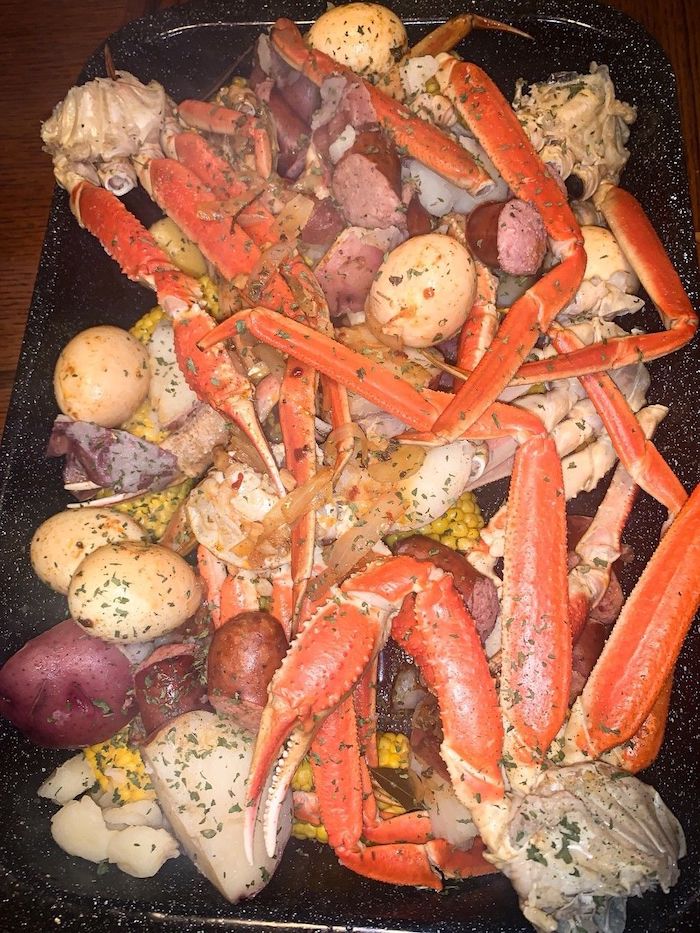 Instructions:
Fore the seafood boil:
In a large stockpot boil water along with the old bay seasoning, lemon and bay leaves.
Add the corn and potatoes and boil for 10 minutes. Then add the sausage and crab legs. Cover and boil for 15 minutes.
Add the shrimp and boil for 5 minutes, drain the water and remove the bay leaves.
Serve on a platter with the garlic butter sauce poured over it.
For the garlic butter sauce:
Melt 1 stick of butter and olive oil in a skillet, saute the onions for a couple of minutes. Then, add the garlic and sautee additional 30 seconds. Add the lemon juice and all of the seasonings.
Then, add the other 3 sticks of butter and simmer, stirring constantly.
Stir in the chicken broth and pour over the seafood.
The garlic butter sauce just makes everything better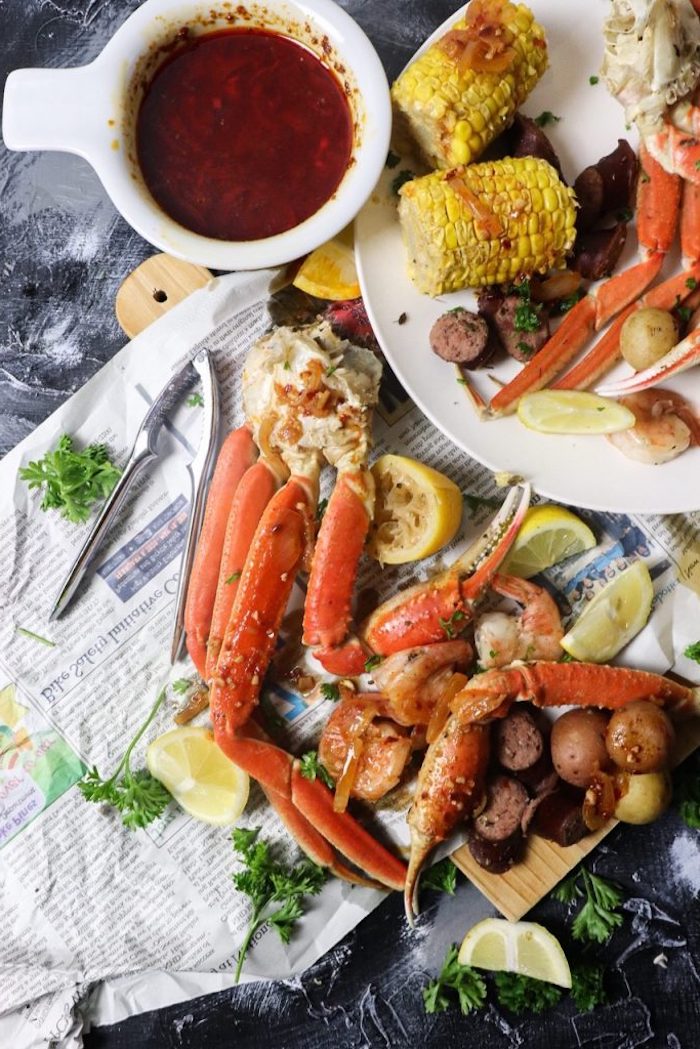 Source: Razzle Dazzle Life
If you love shrimp, this recipe is just for you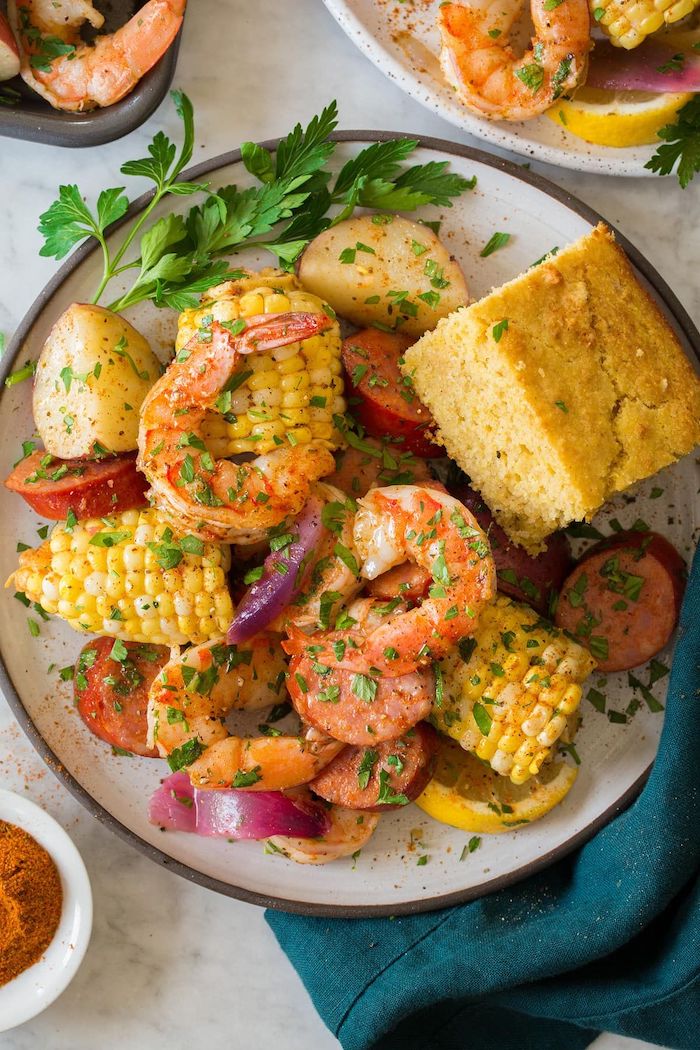 How long to boil shrimp?
Ingredients:
4 quarts hot water
1 onion, sliced into wedges
1 garlic bulb, halved
1/2 cup Old Bay seasoning
1 1/2 tbsp fresh thyme
1 1/2lbs red potatoes, cut into fourths
4 ears corn, cut into fourths
14oz. andouille sausage, sliced into 1-inch pieces
1 1/2lbs shrimp, deveined
6 tbsp butter, melted
2 tbsp fresh lemon juice
2 tbsp minced fresh parsley
salt and pepper
There is even a step by step photo tutorial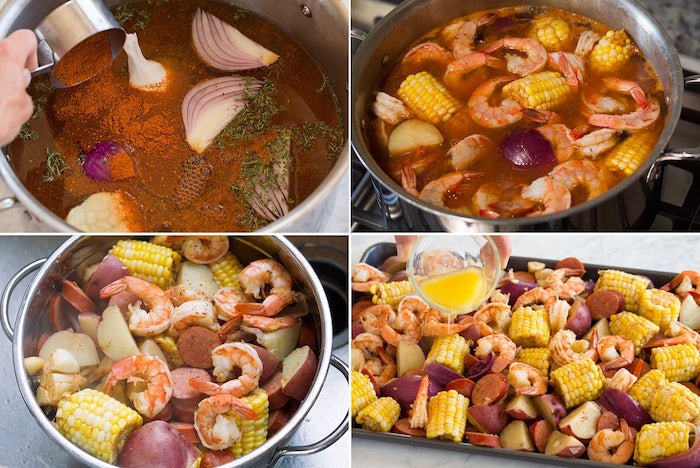 Instructions:
Fill a large stockpot with the water, onion, garlic, old bay seasoning and thyme, then bring to a boil.
Add the potatoes and season with salt. Let cook for about 15 minutes.
Then, add the corn and cook for additional 3 minutes. Add the sausage and cook for 4 more minutes.
Stir in the shrimp and cook for about 2 minutes.
Drain the water and serve on a platter. Drizzle with butter and lemon juice, garnish with parsley, old bay seasoning and pepper.
Delicious and healthy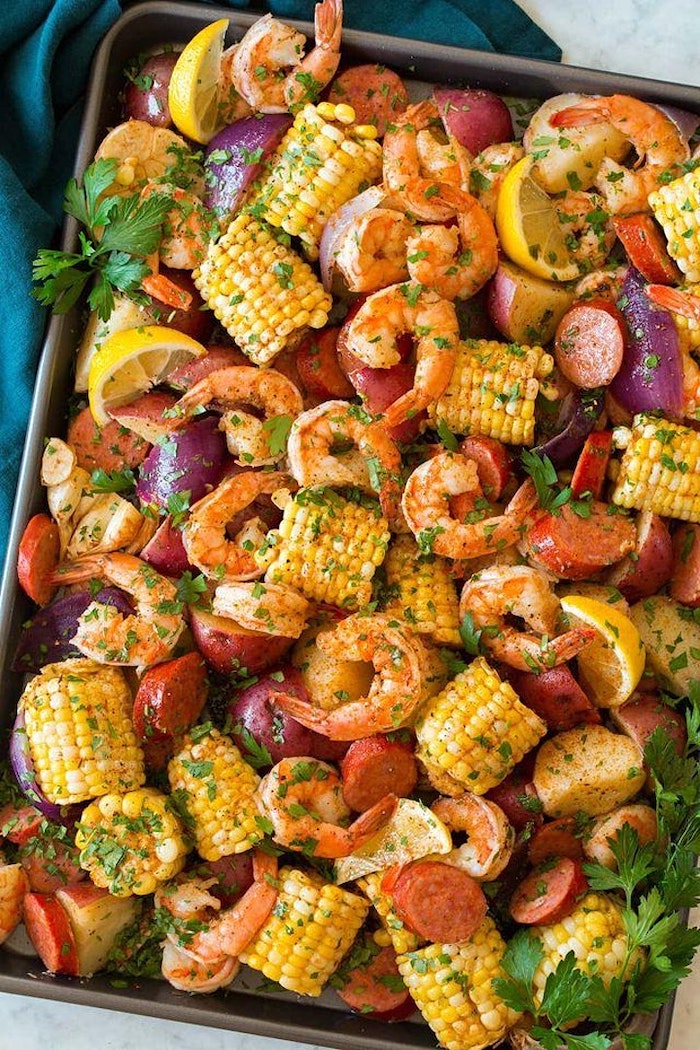 Source: Cooking Classy
Everything is better with a bit of freshly squeezed lemon juice on top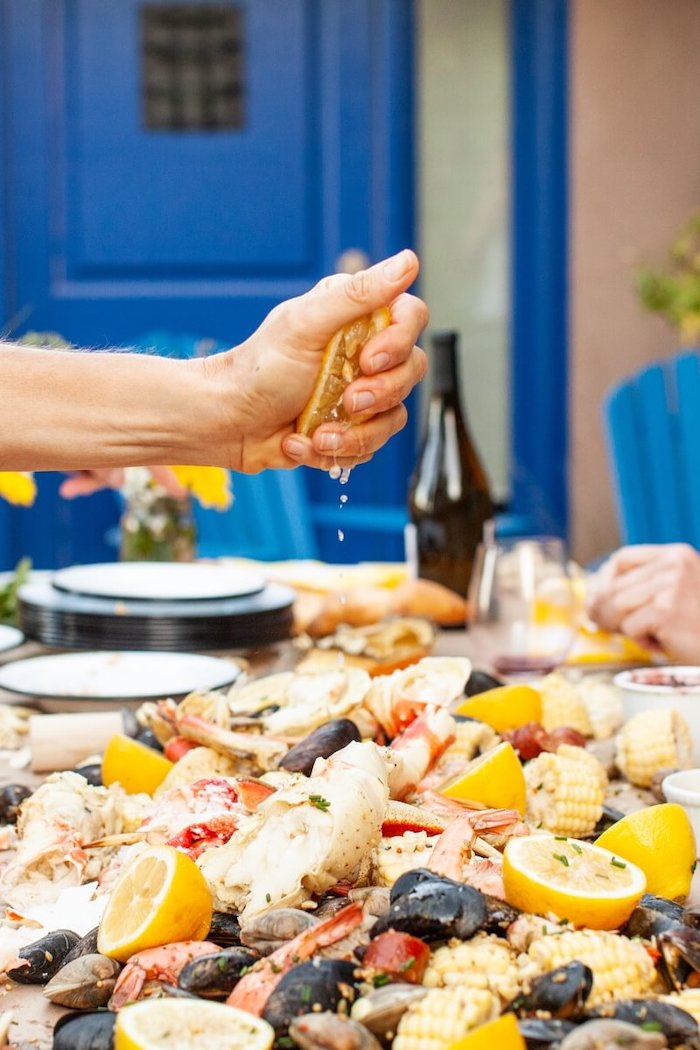 A good seafood boil can bring the whole family together
Your guests will definitely enjoy these meals
Seafood boil recipe for everyone
If you are wondering how to boil shrimp, usually up to 4-5 minutes are enough
How to make a seafood boil
Add some lemon wedges in your seafood boil recipe
Garnish with parsley for extra flavor