---
Ah, cheese. Any kind of cheese is a gift from God, from homemade mozzarella to store-bought brie. It's all good. But do you know what can make any cheese even better? Pair it with some delicious whole wheat pasta and oh boy do you have a slice from Heaven. We are talking about one of the best food combinations out there. That's right – macaroni and cheese. It's one of the greatest dishes out there. Considered by many as soul food, this dish is easy to make and enjoyed by many. Some fancy mac and cheeses use expensive and exotic cheeses, but that doesn't necessarily make them the best tasting. The same goes for store-bought boxes. Sometimes the simplest, cheapest and most importantly homemade recipes are the best. Mac and cheese is a real classic.
Considered by many as soul food, this dish is easy to make and enjoyed by many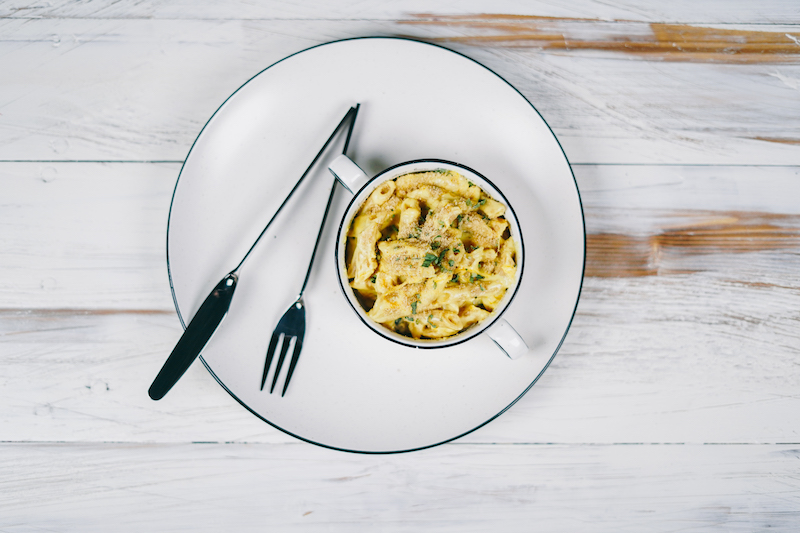 ---
This quick, easy, and delicious dish is the choice for any weeknight dinner. You don't need to do something overly complicated or expensive to achieve an amazing meal. This recipe is proof of this statement. And one of the best parts about it is how customizable it is. Don't like cheddar? No problem, try Monterey jack. Don't want to use full fat milk? Change it with skimmed milk. Add in as much cheese as you like, make it as thick as you prefer, use your favorite form of pasta. Go wild with it. Another bonus is that it's generally inexpensive, depending on what cheese you choose, but still stays very tasty. Not only that but this meal is ready in less than an hour. What more can you want from a recipe. So, without further adieu, let's see how to make this delicious soul food.
You don't need to do something overly complicated or expensive to achieve an amazing meal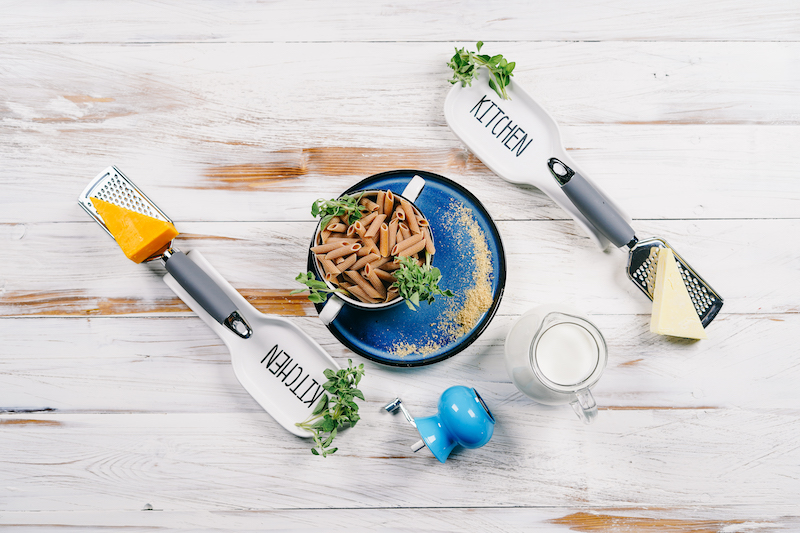 Watch our video for visual instructions on this delicious, homemade mac and cheese. This recipe takes no more than thirty minutes, so you can make right after work without having to slave on over the stove. This delicious soul food is the perfect weeknight dinner meal. Make sure to check out the video and let us know what you think of this amazing dish in the comments!
Here is an easy-to-follow, simple video tutorial for this incredible soul food!
Mac and Cheese Recipe
This mac and cheese will surely become a family favorite. Once you've made it once, you won't be able to stop. It's super easy to make, delicious, creamy and once you've had a bite, you won't be able to stop. Make this recipe for yourself, for your family, or for a gathering. Either way, you won't regret it.
Equipment:
Stove Top
Pot
Spatula
Bowl for serving
Ingredients:
500 ml Milk
Salt
250 grams Whole Wheat Penne Pasta
50 grams Unsalted Butter
100 grams Yellow Cheddar
100 grams Red Cheddar
Fresh Oregano
Breadcrumbs
Black Pepper
Step-by-Step Instructions:
Place a large pot onto the stove top.
Turn the heat to medium.
Pour in the milk and season it with salt based on your preferences.
Make sure to stir occasionally.
When the milk has reached a boiling point, pour in the whole wheat penne pasta.
Throw in the butter as well. Mix everything together and let the butter melt.
Let the pasta cook until al dente. Check the instructions on the box to see how long it will take. On average, it takes around seven minutes.
After the pasta is done, throw in the yellow cheddar and the red cheddar.
Mix everything well until all the cheeses have melted.
Sprinkle with fresh oregano and black pepper.
Transfer a portion to a bowl and sprinkle some breadcrumbs on top.
First step: Place the pot on the stove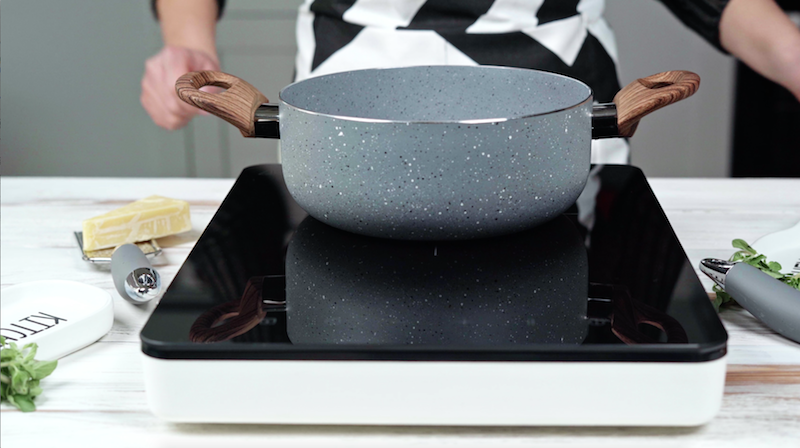 Second step: Pour the milk and add salt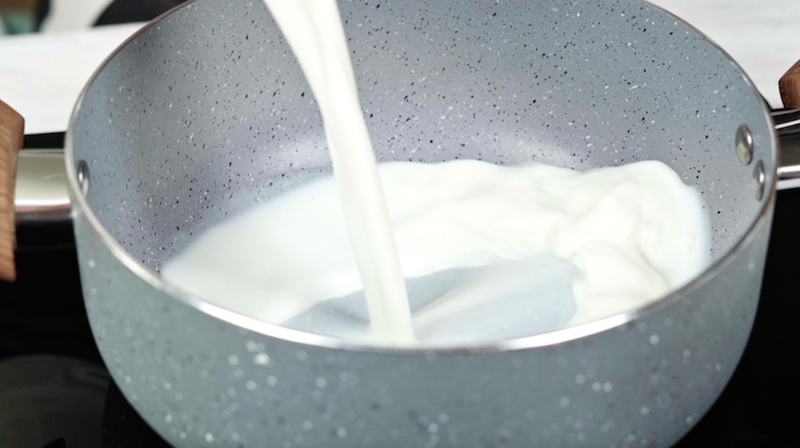 ---
Third step: Stir occasionally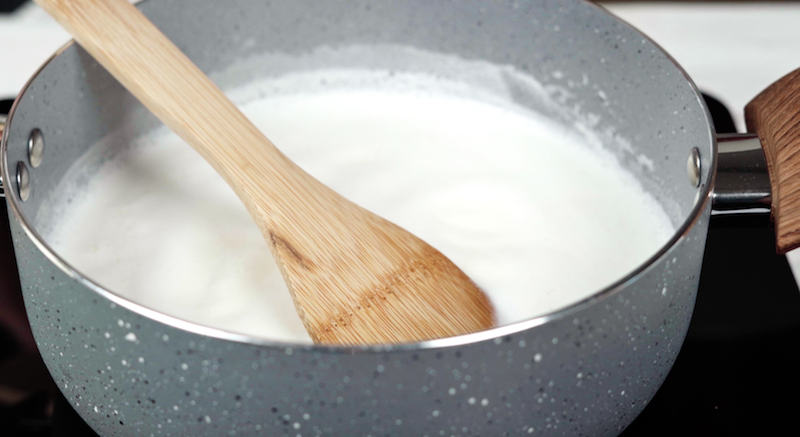 Fourth step:  When it's reached a boiling point, pour in the pasta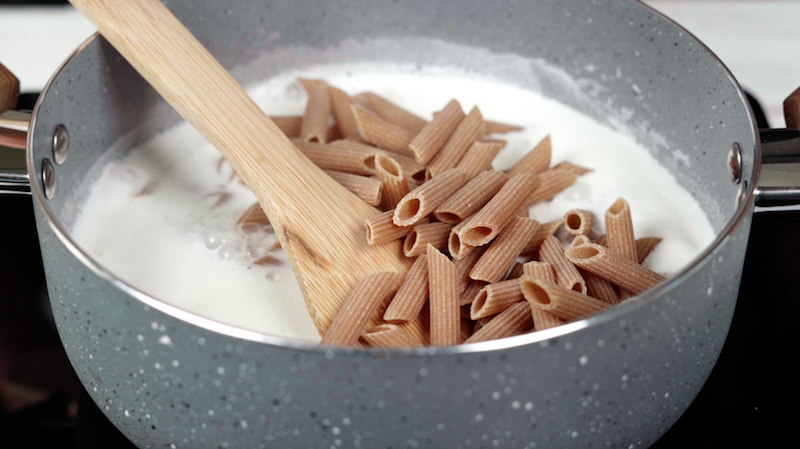 Fifth step: Add in the butter and mix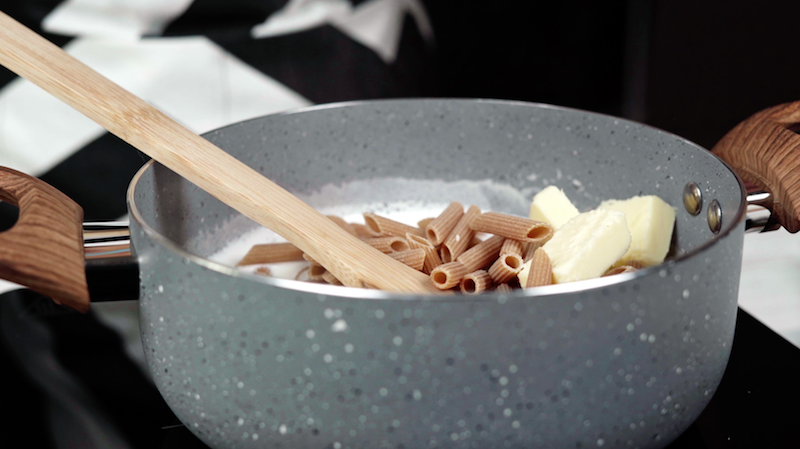 Sixth step: Cook the pasta until al dente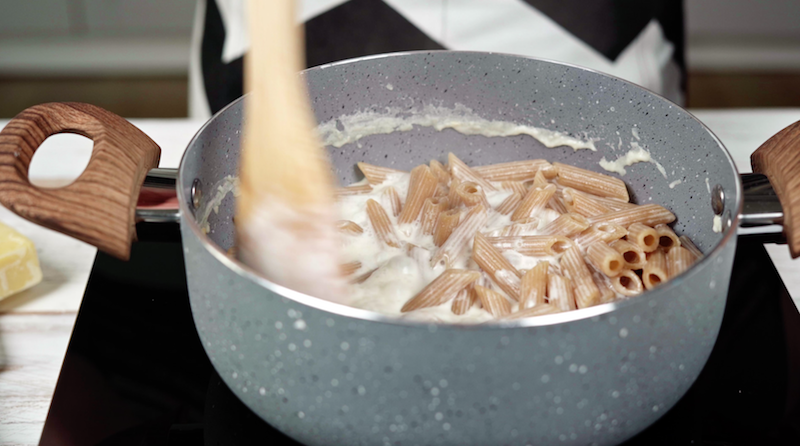 Seventh step: Add in cheddar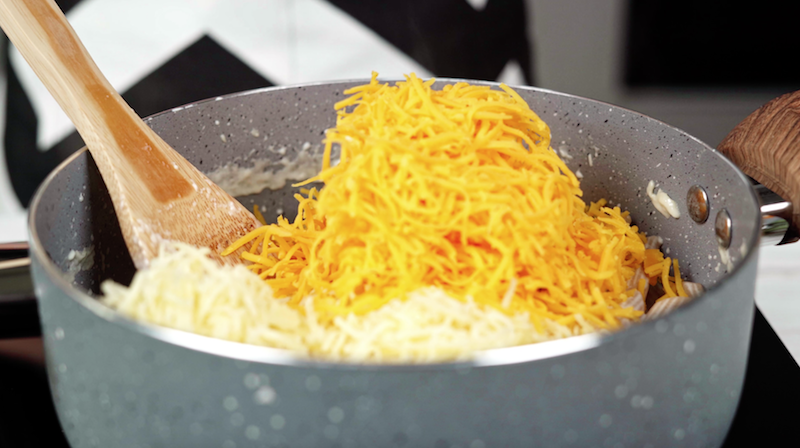 Eighth step: Mix until the cheese has melted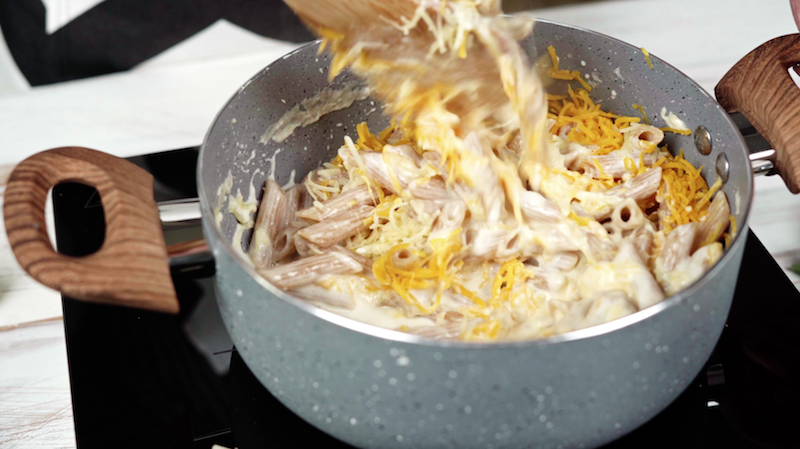 Ninth step: Sprinkle with fresh oregano
Tenth step: Enjoy!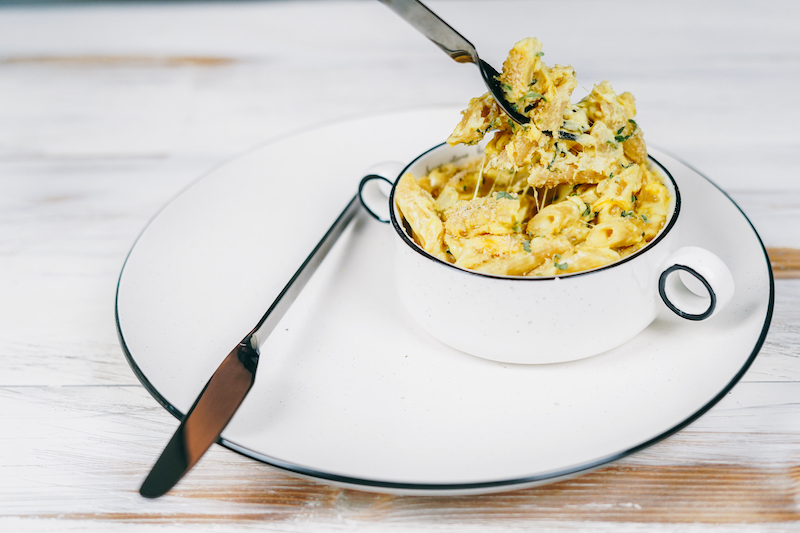 Tips and Tricks
Here are some helpful tips and tricks to make this cooking experience as easy and pleasant as possible! These are all the homemade mac and cheese secrets you need.
Some helpful tips and tricks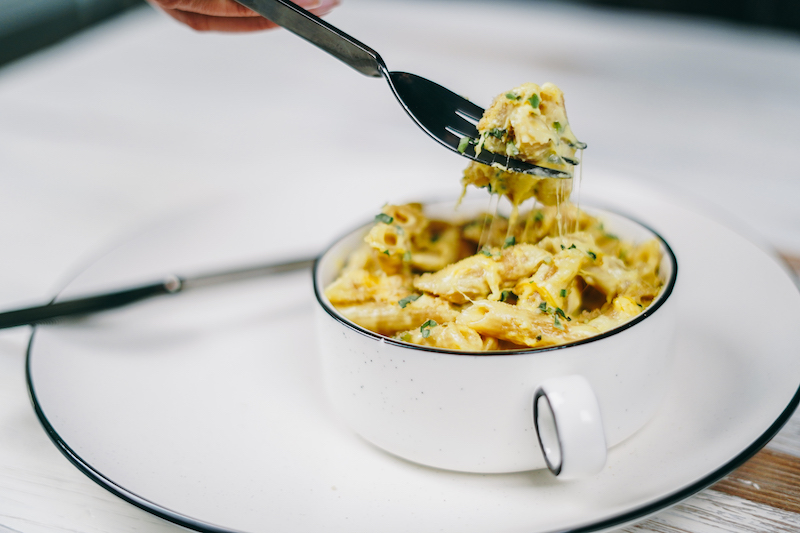 Do not forget the salt
Salting the milk is an essential part of the recipe. It helps give it taste beforehand without having to salt anything afterwards. So, make sure to remember this step. When it comes to how much salt you require, it all depends on your personal taste. Just make sure to not over salt it.
You can use low fat milk
If you are sticking to a diet, or just prefer skimmed milk, feel free to swap it out based on your preferences. However, keep in mind that if you use the lower fat milk, the sauce will not be as creamy.
Garlic powder
Adding just a pinch of garlic powder can add amazing flavors to the homemade mac and cheese. However, this isn't necessary to do. But if you do enjoy some garlic tastes in your dishes, give it a try.
Use freshly ground black pepper
Why not add an incredible final touch, by cracking and adding some freshly ground pepper. While it isn't a must-have, it does give a great flavor to the dish.
You can add in some flour
If you feel like the mixture isn't thick enough, or you just prefer your mac and cheese much thicker, add in some flour. Add in tablespoon by tablespoon, so you can achieve the desired thickness.
Change up the cheeses
If you don't enjoy cheddar, you can swap it out for other cheeses. Other than cheddar, some great cheeses you can try are Monterey jack, Colby, Colby-Jack, Gruyère cheese, Havarti, Fontina, Parmesan, and American.
Pot size
Do not underestimate the amount of mac and cheese. Make sure to use a large pot, so you can easily mix around everything. In a smaller pot it may get crowded, and it is going to be much harder to let everything melt if it doesn't have the space.
Homemade mac and cheese ingredients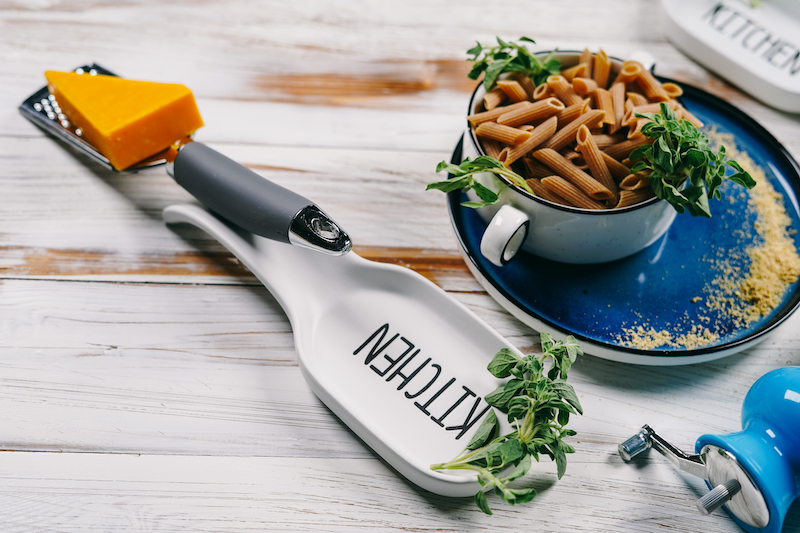 Make sure to check out the rest of our recipes on our YouTube channel! There you can find other yummy food recipes, such as easy, gluten-free strawberry shortcakes. Let us know what you think of this delicious recipe in the comments and what else you would like to see from us!
Let us know what you think of this delicious recipe