Hair Transplant in Istanbul: Information, Methods, Cost
Hair loss is a condition that can severely impact both men and women. Hair is a symbol of youthfulness and health, and losing it can start causing people their confidence, self-esteem, and mental health. So, what can you do to manage hair loss?  Mild hair loss can be covered up with a different hairstyle or accessory, for example. When it comes to more severe balding, however, the answer is medical intervention. Nowadays, hair transplants are becoming more and more popular and in demand, especially in Turkey. In this article, we will show you one of the best hair transplant clinics in Istanbul and what you need to know about the procedure:
Turkey is the best place to receive a quality hair transplant at affordable prices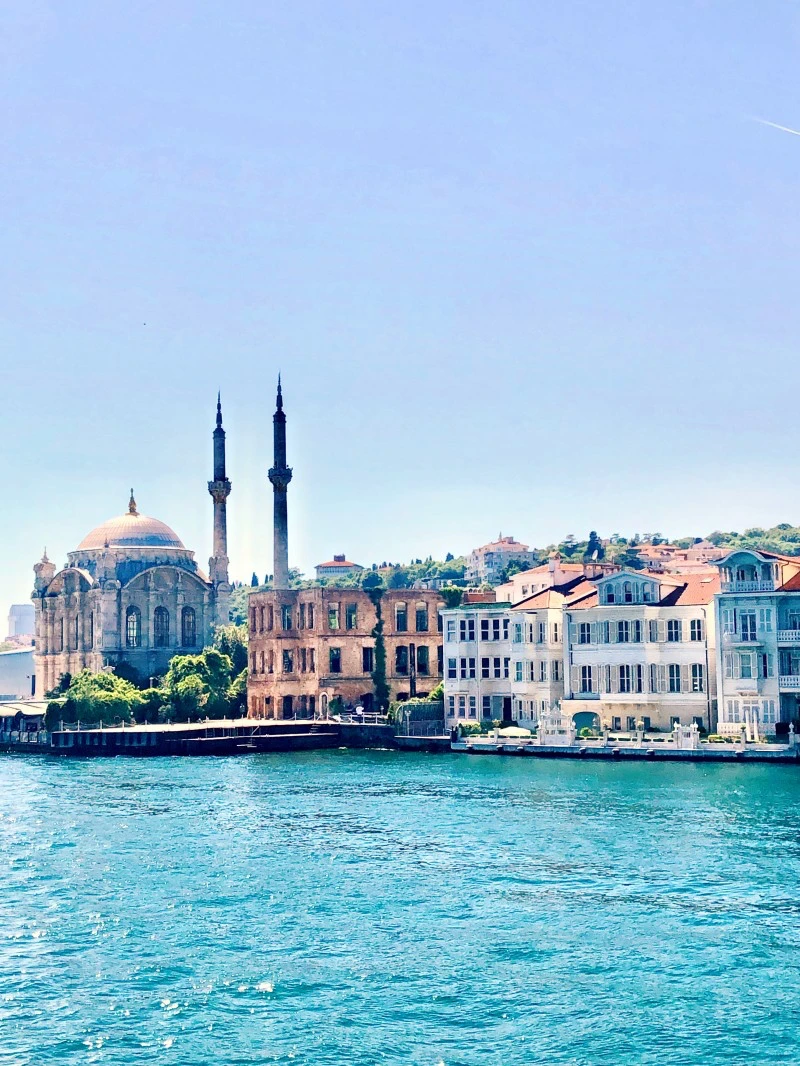 Sapphire Hair Clinic Specialists
Sapphire Hair Clinic in Istanbul is one of the best hair transplant clinics in Istanbul, Turkey. They have years of experience under their belt, and they offer a wide range of hair transplantation procedures. Sapphire Hair Clinic's team consists of highly-qualified and experienced doctors and medical professionals with a lot of recognition and achievements. Two of them are Dr. Okan Morkoç and Dr. Esin Eğilmez. These skilled professionals have gone through numerous hair transplants with amazing and consistent results. What's more, they have both helped thousands of international patients regrow their natural hair, restore their youthful looks, and bring back their confidence and self-esteem.
Sapphire Hair Clinic has a renowned team of skilled professionals with experience and achievements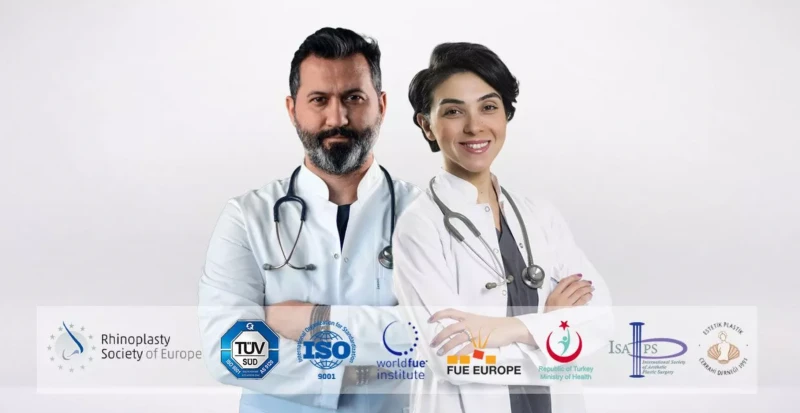 Hair Transplant in Turkey vs The US
The main reason why hair transplants in Turkey are so popular is the cost of hair transplants. In the US, hair transplants are not medical treatments, so you will need to cover all of the expenses out of pocket. Moreover, no insurance company will offer financial coverage for such a procedure. Compared to the US, the hair transplant Istanbul cost is just a fraction of the price, even in the most reputable hair transplant clinics. That is why in Turkey you can schedule surgery with a top hair restoration expert, and have the treatment at a well-equipped, modern clinic, without spending a fortune!
Hair transplant clinics in Turkey offer the best hair transplantation treatments

Sapphire Hair Clinic All-Inclusive Packages
Doctors at Sapphire Hair Clinic do their best to ensure their international patients' comfort, experience, and safety. That is why the clinic offers all-inclusive packages, designed to maximize their patient's comfort. International patients receive needle-free local anesthesia, post-op shampoos, lotions, medications, interpreters speaking their native language, a 3-night stay at a 5-star hotel, and transfers from the airport to the hotel, clinic, and back. The transplant cost in Turkey depends on the number of hair grafts the surgeon needs to extract from the donor area and insert into the recipient area. A higher number of grafts offers more aesthetic results. Nevertheless, patients on a tighter budget can still eliminate hair loss problems with a lower number of grafts and therefore a lower transplant cost.
Sapphire Hair Clinic brings back their patients' confidence thanks to the amazing results

Services
Now some more information about the services at Sapphire Hair Clinic. Doctors at the clinic specialize in two hair restoration techniques – FUE hair transplant and DHI hair transplant. The FUE hair transplant, also known as the sapphire FUE, allows the surgeon to first examine the donor area and then strategically extract each individual hair graft to ensure that the donor area keeps its natural thickness. Then, using a sapphire blade, the surgeon will make small incisions in the recipient area to open channels where the transplanted hair will be inserted.
Here are the main characteristics of the FUE procedure
The second hair transplantation method, DHI, works slightly differently. Instead of making incisions, the surgeon will actually load the individual hair follicles into a specialized Choi pen that automatically opens channels in the recipient area and inserts the grafts. That means that there is no need for any incisions, so the recovery process is quicker and easier.
These are the main characteristics of the DHI procedure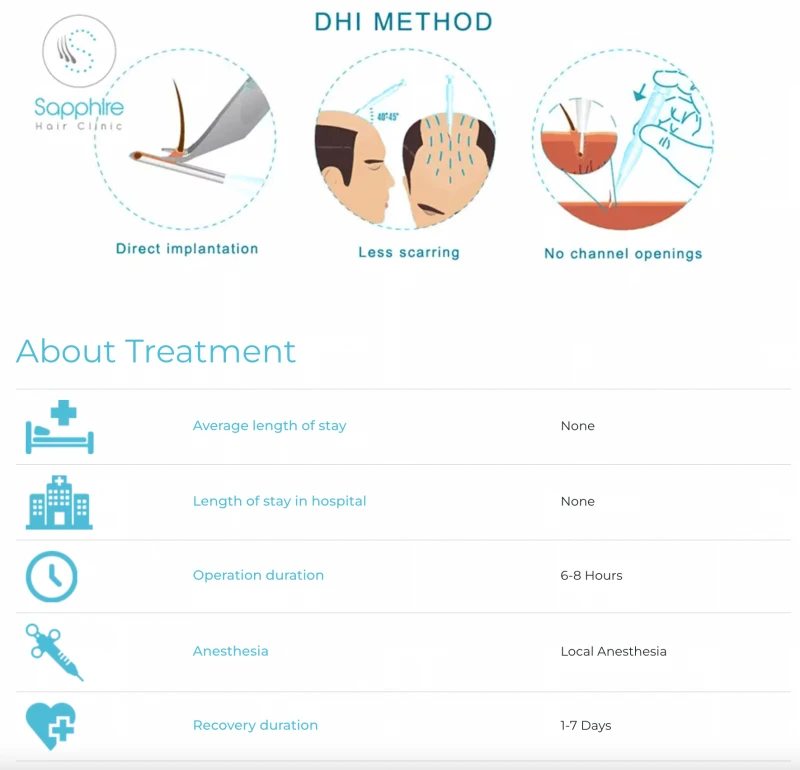 Both hair restoration methods give amazing results. You can consult your surgeon to find out which method will work best for your needs. What's more, in Sapphire Hair Clinic, you can also receive a quality beard hair transplant!
Conclusion
In conclusion, Sapphire Hair Clinic has proven its expertise and results throughout the years. They are a highly-renowned hair restoration clinic that can bring back your smile and confidence. So, get closer to your dream look and book a free consultation on Sapphire Hair Clinic's website!
Make sure to take advantage of the free consultation the clinic offers