Here's What to Look Out For as a First-Time Home Buyer
Are you in the market for your first home? If so, congratulations! It can be an exciting and sometimes overwhelming experience. But don't worry, we're here to help. Of course, the best way to start your home buying journey is by finding a home loan that offers a low-interest rate. This will help keep your monthly payments down and give you some breathing room in your budget. But there are many other factors that can help you during the home buying process. In this article, we'll look into the best counties for first-time homebuyers, as well as what you should look for when choosing a country to purchase property to avoid hidden costs, scams, and delayed processes. So, whether you're still doing your research or are ready to make a move, read on for insights that will help you find the perfect location for your first home.
Top Five Countries for First Home Owner Buyers
If you're looking to buy your first home in a new country, check out this list of the top five best countries for first-time buyers by comparing the market. Many people dream about owning their own home, and these are some great places where you can achieve that.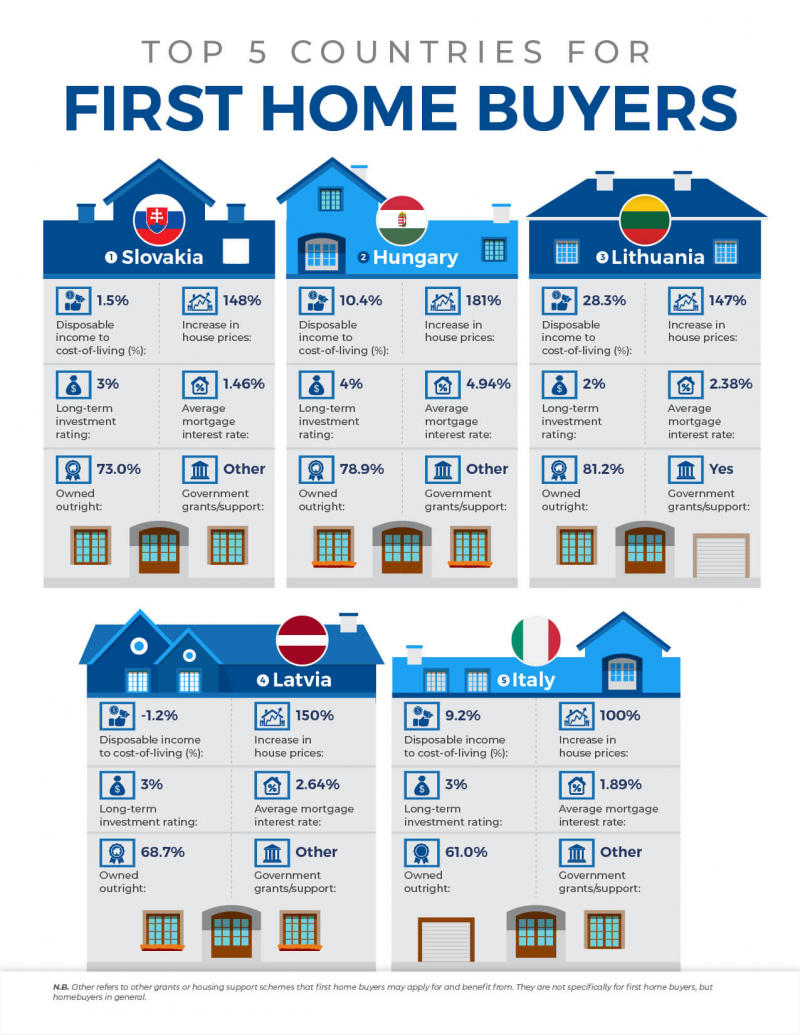 Slovakia
Slovakia has many benefits for first home buyers. One of the main reasons for this is that housing prices are low in Slovakia, making it a great place to buy your first home. The Slovakian economy is stable and offers job opportunities in various industries such as IT, Telecommunications, Textiles, and Clothing or Finance & Insurance. These are just some of the jobs available in Slovakia that could be perfect for you. Another reason why Slovakia would be an excellent country to purchase your first home is that there are no taxes on properties under 54 square meters (600 sq ft), meaning you can buy small apartments without paying taxes. If you plan to buy more than one apartment at a time, only one will need to pay these taxes. It's a good idea to look into purchasing multiple properties. Slovakia is also an excellent country for first home buyers because it has easy access to the EU and offers visa-free travel, making travel much more accessible to many countries in Europe. Slovakia is in Central Europe between Austria, Hungary, Poland, and Ukraine. It'll only take you about two hours to fly to most major European cities.
Hungary
Hungary has always been a great country for first-time homebuyers. There are many factors to consider when buying your first home, and Hungary has some great benefits that make it an attractive option. For one thing, Hungary has a low cost of living compared to other developed countries, making it an affordable option for those on a budget. The Hungarian government offers subsidies and tax breaks for homeowners, which can save you even more money in the long run. Hungary's breathtaking scenery and historic architecture also make it a desirable place to live. From the vibrant capital city of Budapest to the charming villages tucked in the hills, Hungary has something for everyone. Hungary is an excellent choice for those looking to purchase their first home with its stable economy and many job opportunities.
Lithuania
If you're looking for an affordable European country to buy your first home, look no further than Lithuania. Lithuania is a great place to start a family, with plenty of opportunities for children to get a good education and grow up in a safe environment. It's also an excellent option for retirees who want to move abroad with plenty of scenic landscapes, beautiful cities, and low retirement costs. The average mortgage rate is currently at an all-time low of just over two percent, with local banks offering some great rates on loans if you have been pre-approved, making it an excellent option for first-time buyers on a budget. Lithuania's government also supports first-time buyers by offering grants for those who qualify.
Latvia
Latvia is a small country in the Baltic region and has been called "the newest and most dynamic member of the European Union." It has one of the fastest GDP growth rates in Europe. Latvia's economy is driven by exports, especially to Scandinavia and Western Europe. Its natural resources rely on agriculture, forestry, fishing, and manufacturing industries for economic stability. Latvia should be your destination as a first home buyer looking for an affordable property with good investment potential. With its rapidly growing economy and many job opportunities, now is an excellent time to invest in property in Latvia. The country offers many subsidies and grants for first-time buyers, making it an ideal option for those just starting their careers or families. Latvia is quickly developing with many job opportunities available.
Italy
Italy has an excellent economy and robust job market, making it easy for new residents to find work. It also offers access to quality healthcare and public transportation systems, as well as excellent schools for children of all ages. For those who prefer to live near the water, many coastal towns with beautiful beaches offer an ideal place to relax on vacation or spend your retirement years. Italy has some of the world's most famous art museums and galleries, filled with priceless works from Michelangelo and Leonardo da Vinci. There are countless opportunities to explore Italian food culture by sampling regional dishes made from fresh ingredients at any of the numerous eateries found throughout the country. While Italy may not offer the most inexpensive housing options, it's one of the best countries for first-time homebuyers who can take on a mortgage. There are many new developments and some older homes that have been renovated or restored to draw more tourists and keep up with modern living trends. If you're looking for a picturesque and culturally rich destination to purchase your first home, then look no further than Italy.
As a first-time homebuyer, it's important to do your research before making any decisions. These are just a few of the many countries that offer great opportunities for those looking to purchase their first home. Each country has its unique benefits, so be sure to consider all your options before making a final decision. What are you waiting for? Start your research today and find the perfect place to call home!