80+ ugly Christmas sweater ideas for a funnier (and weirder) party season
Christmas is mere weeks away so it's time to get into the holiday spirit! Buying a tree, decking the halls, and sending out festive greeting cards to your family and friends is nice and all, but it can't hold a candle to our favorite tradition – the ugly Christmas sweater (or UCS for short)! There are so many reasons to love this adorkably tacky garment. It makes everything a lot more fun and lighthearted, and you can compete with your friends and coworkers to see who will come up with the best (a.k.a. most outrageous) design. Not to mention that adding a dose of humor to your family get-together or Xmas party is always a good idea. So, in today's article we will explore 80+ mind-bogglingly amazing ugly Christmas sweater ideas. After all, nothing says Christmas cheer like a good old tacky holiday jumper!
Feel the festive cheer with our ugly Christmas Sweater Ideas!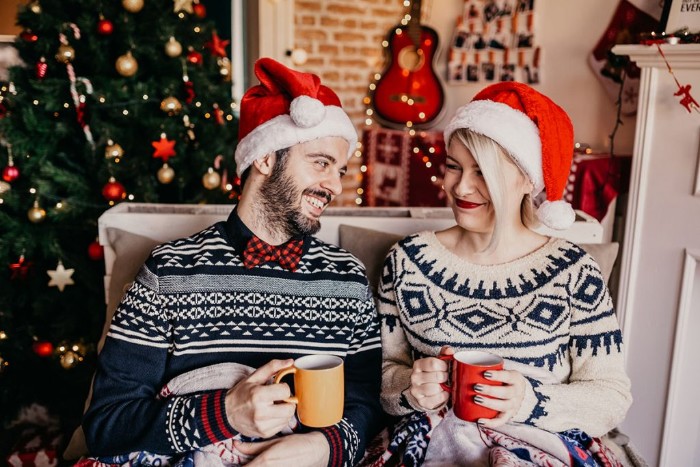 Funny and ugly Christmas sweater ideas
Ever wondered how ugly Christmas jumpers came to be? At first glance they may seem like an ironic statement devised by a bunch of hipster millennials. And while that's not exactly far from the truth, it's worth pointing out that the UCS's roots go much further back than that – as far as the distant 1950s, to be precise. Of course in those days people didn't think of the jumpers as ugly, and wore them without a hint of sarcasm. Your grandparents, for example, probably saw these iconic knitted garments as nothing more than a quaint and cozy expression of holiday cheer.
However, all this changed in the 80s and 90s. The sweater generation of the 50s had already reached middle and old age, and their fashion sense became the subject of jokes and ridicule among the hip youngsters of the day. Elderly people wearing UCSs began appearing in holiday films and comedy shows, and many viewers found this hilarious. Some began copying the style for fun, but it wasn't until the 2000s that the UCSs' popularity truly exploded. According to some sources, the first ugly Christmas sweater party was held in 2001, and people absolutely loved it. Clothes manufacturers got a hint of this, and quickly started churning out a variety of quirky and garish designs. Today, there are companies specialized exclusively in ugly Christmas sweaters that rake in tens of millions of dollars every year! However, in our humble opinion, the best UCSs are the handmade ones. And in that line of thought, we present to you:
Ugly Christmas Sweaters DIY Tutorial!
DIY ugly Christmas sweater ideas
Now that you are familiar with the wonderful history of the ugly Christmas sweater, you are probably excited to make, or buy one of your own. Choosing a design may be a bit tricky because when it comes to UCSs, only the sky's the limit. You can transform yourself into a Christmas tree or a fireplace, opt for a design inspired by your favorite film or TV series, become a human present, or even a walking beer pong table – yes, absolutely anything goes! And to better demonstrate this point, we invite you to take a look at our gallery. It features some amazing ugly Christmas sweater ideas that will have you rolling with laughter and/or scratching your head. Enjoy, and don't forget to keep an eye on our webpage for more amazing (and fun) Christmas articles!
You don't say!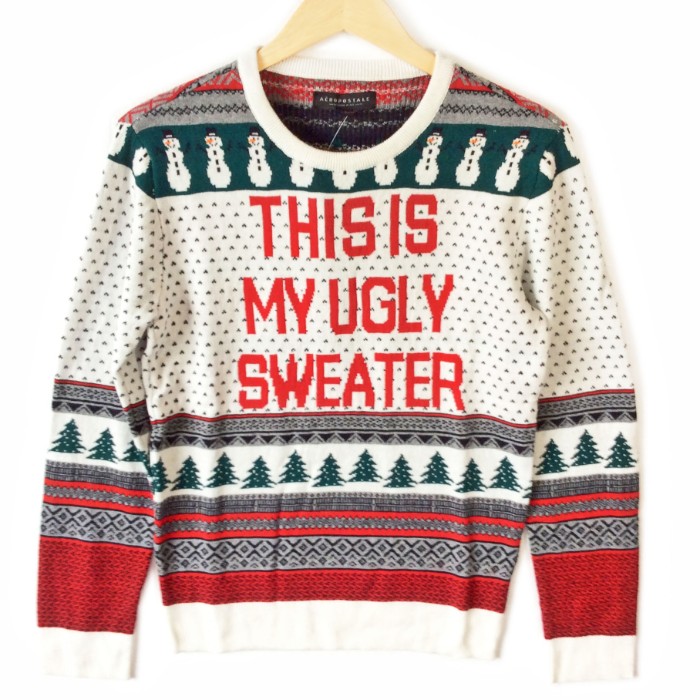 Plain white sweater with applique detail, shaped like Christmas lights – this design may be simple, but it nevertheless succeeds in being super tacky!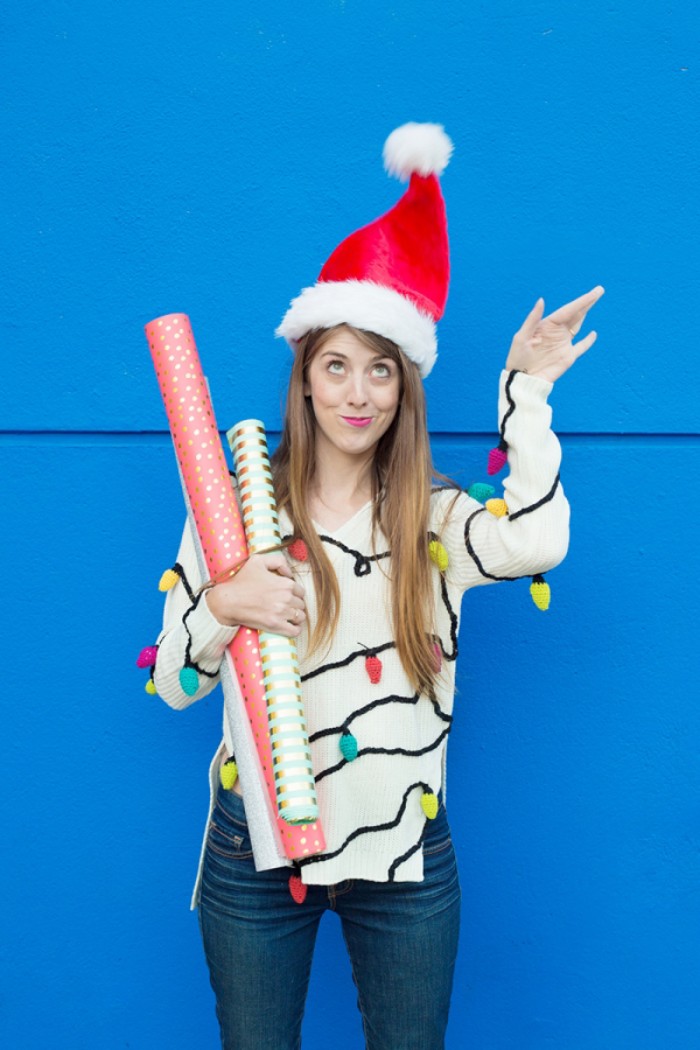 This image is worth a thousand words…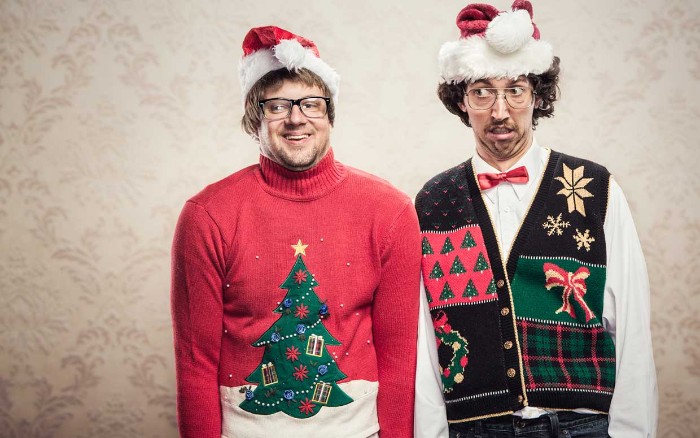 Have you been naughty or nice this year?
More cool DIY ideas
A match made in heaven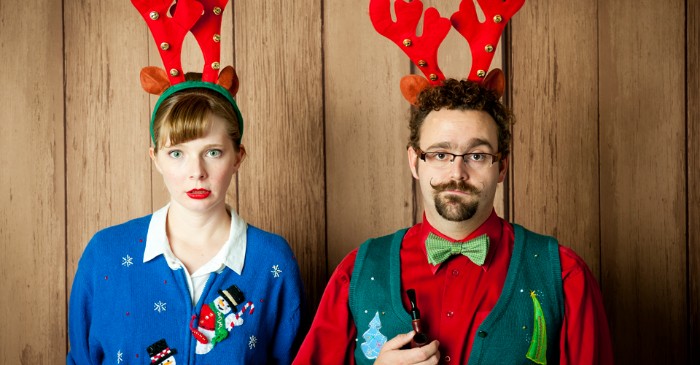 Transform yourself into a human present with this amazingly ugly sweater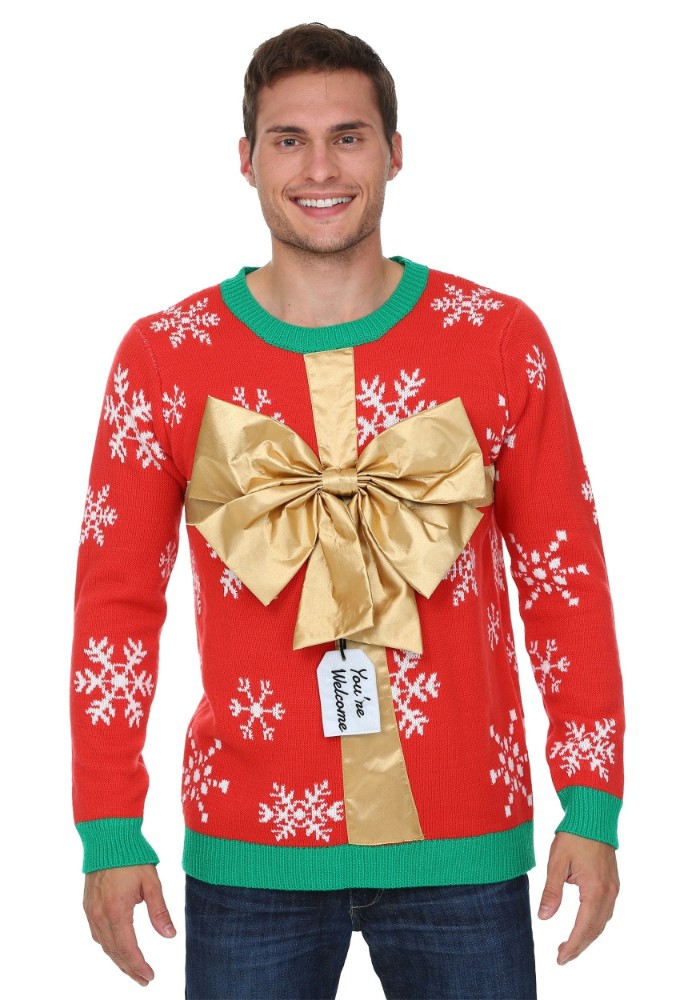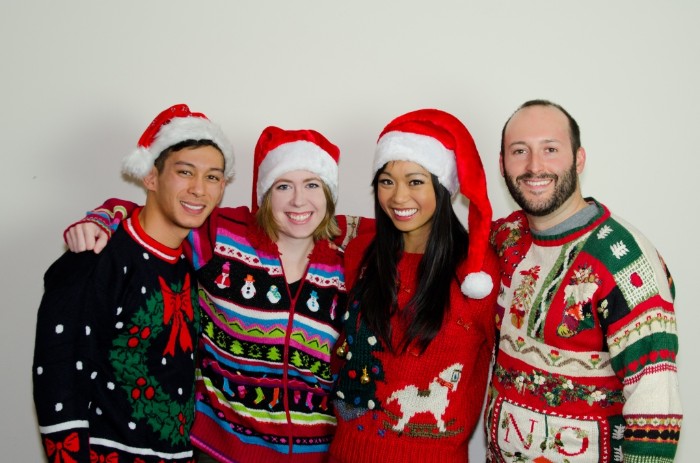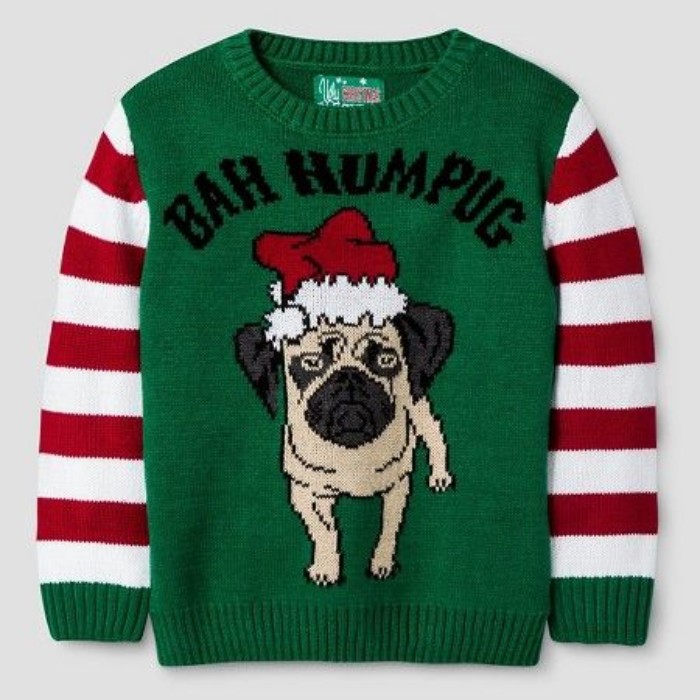 Going the extra mile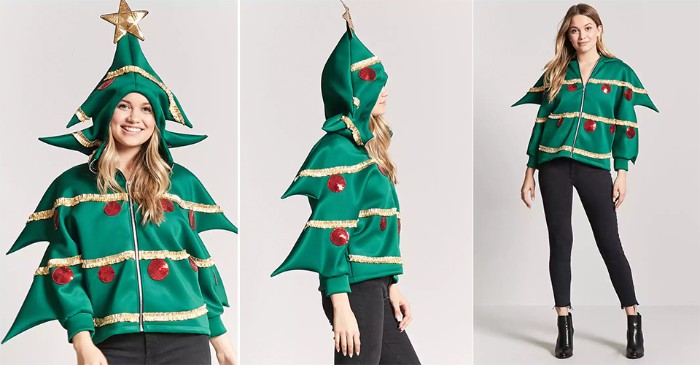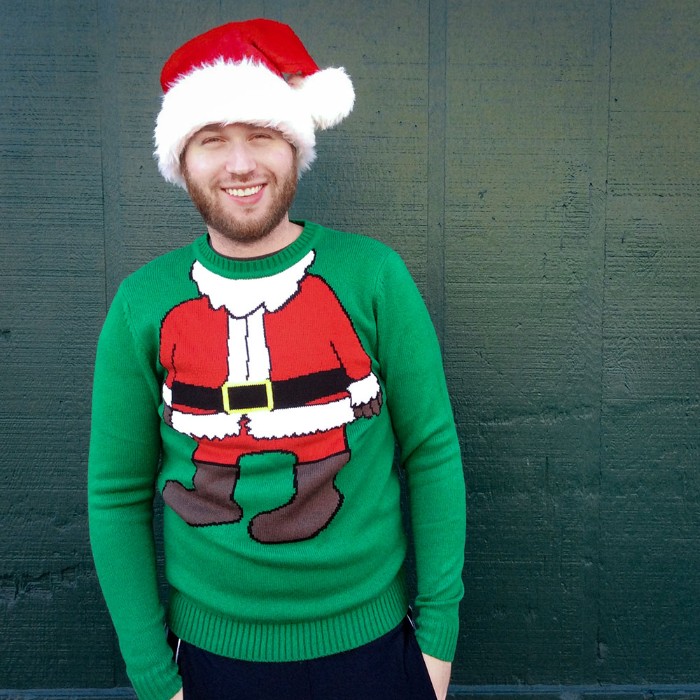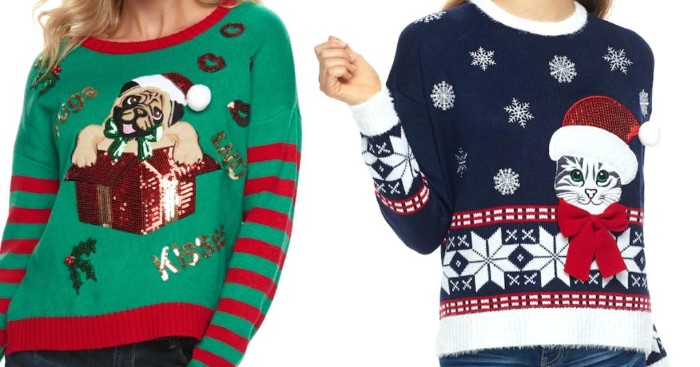 Ugly Christmas sweater and drinking game, all in one. The dream of every stereotypical alfa male and/ or party animal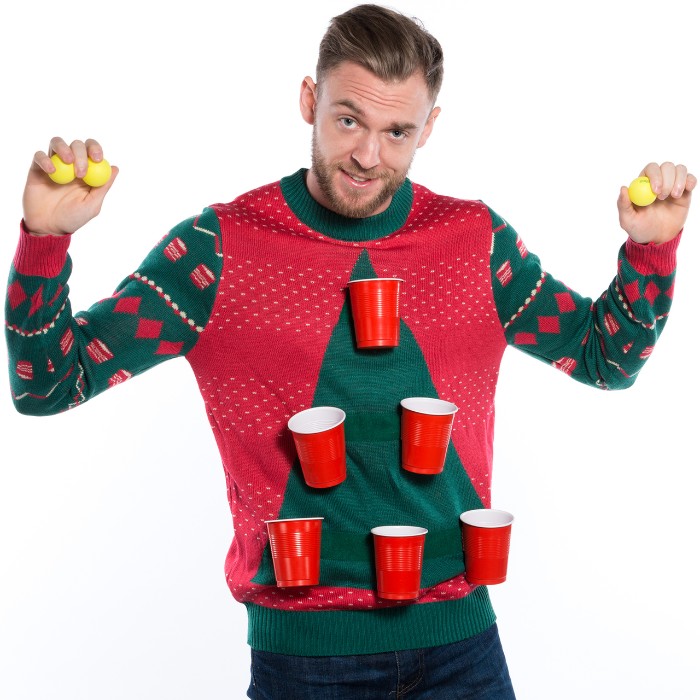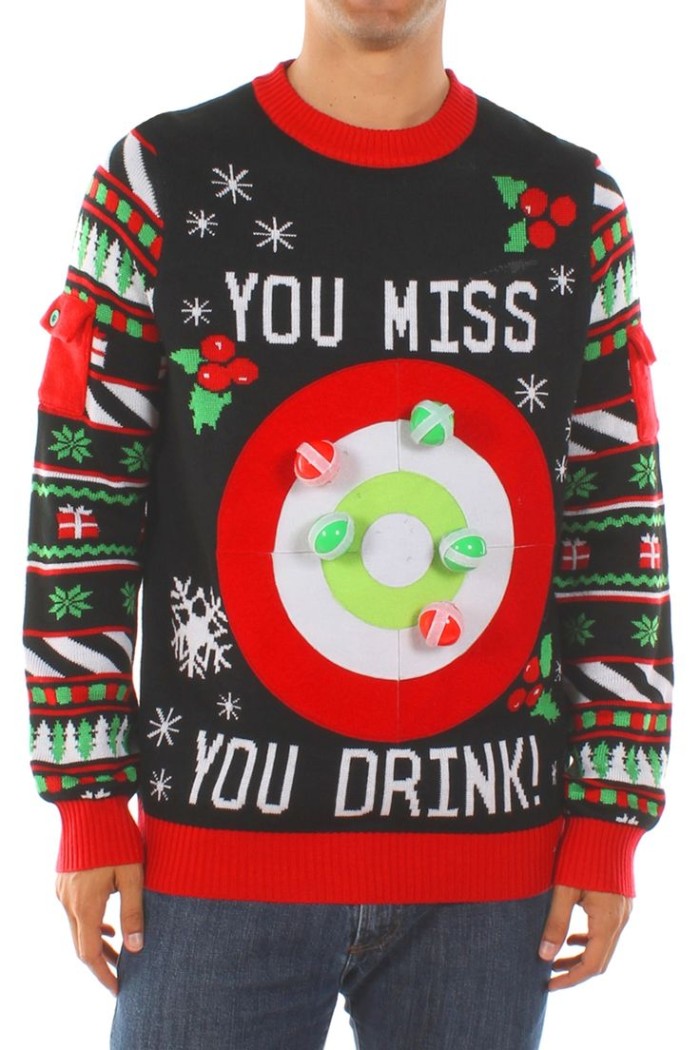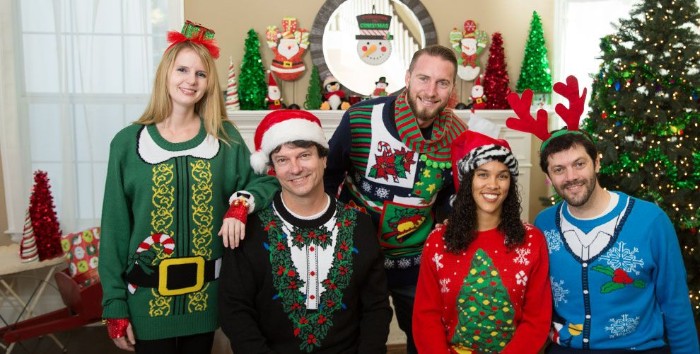 Relationship GOALS.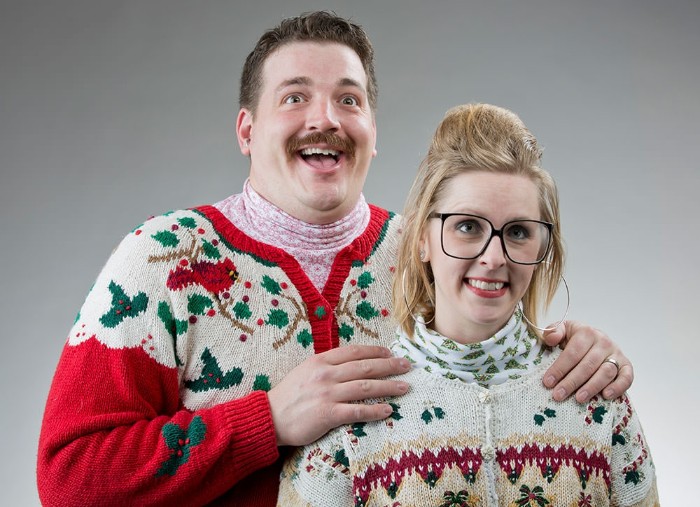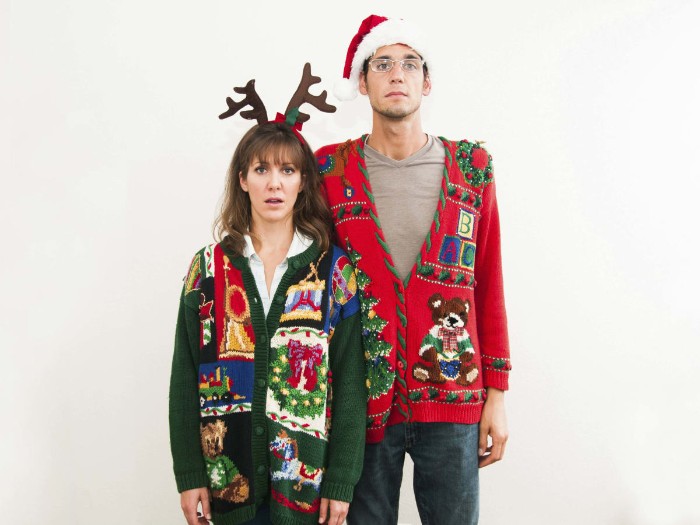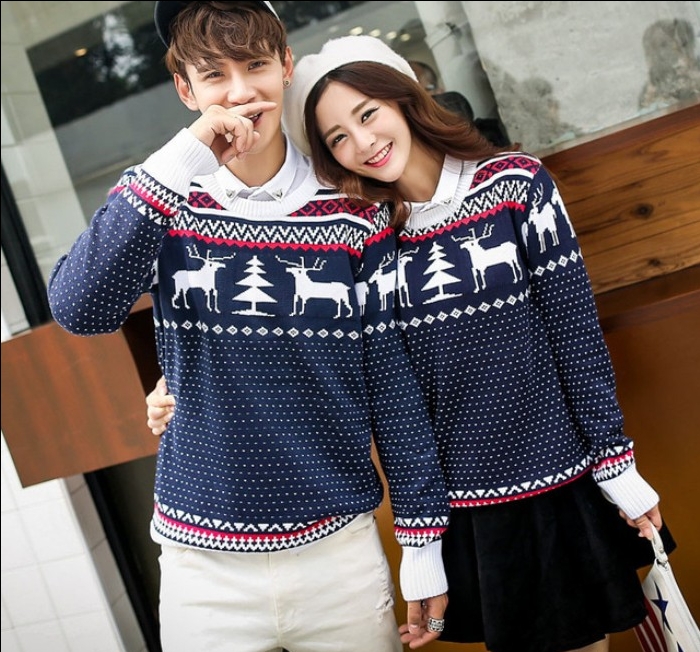 A Dragon Ball inspired UCS? Sign us up!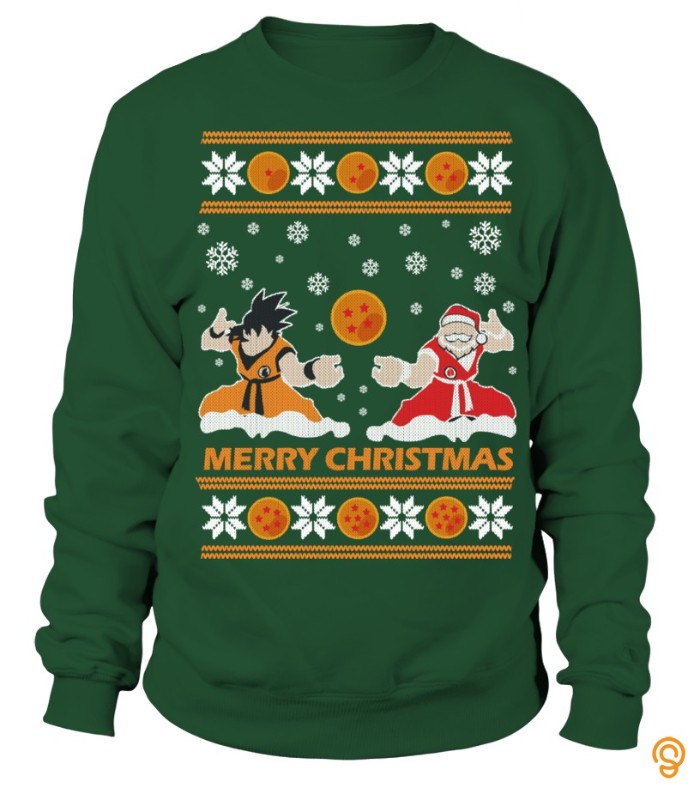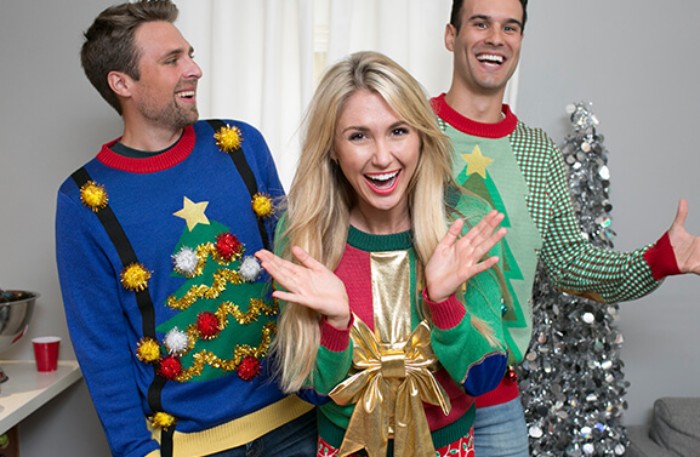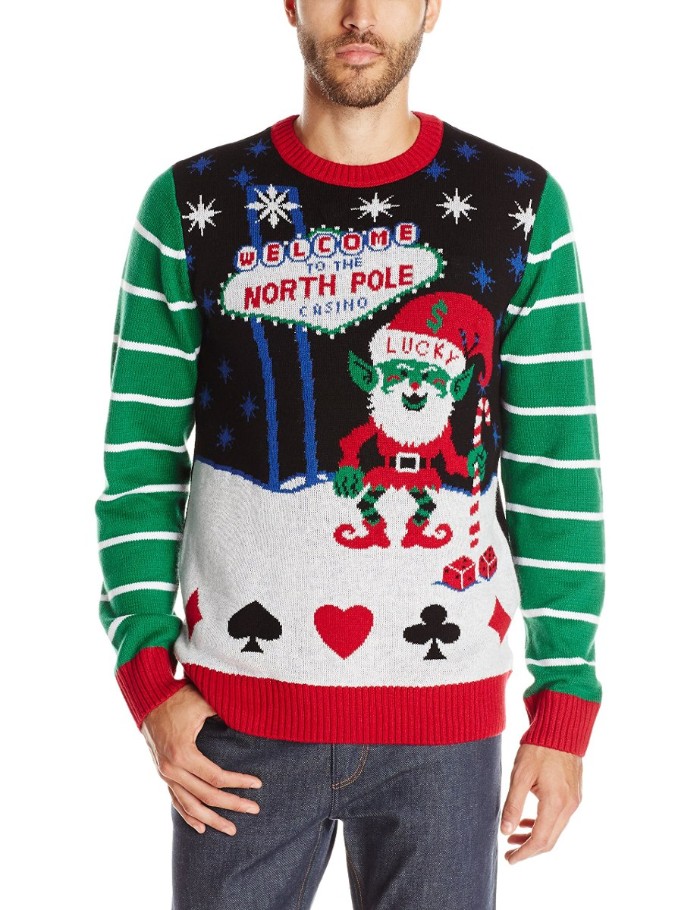 Why embarrass yourself on your own, when you can get ugly Sweaters for your pets too?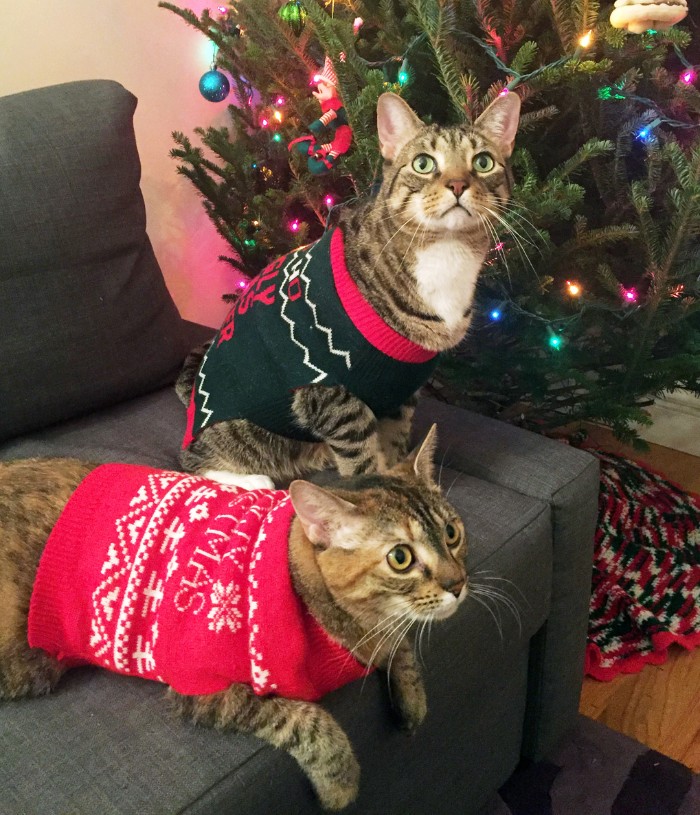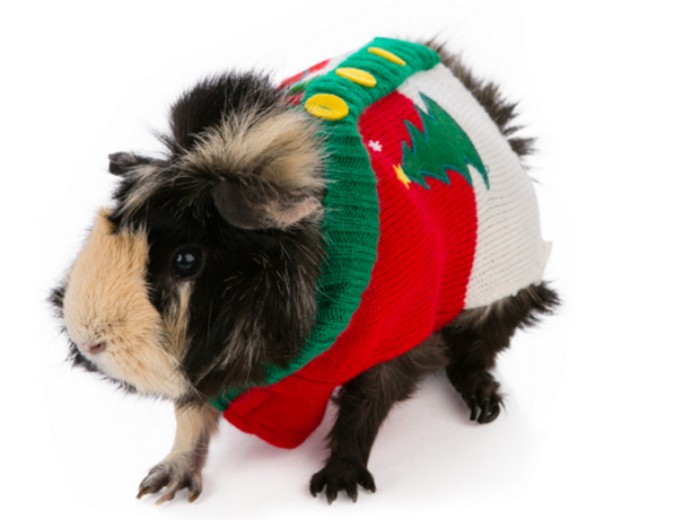 "Why, human, why? Why must you mock me?"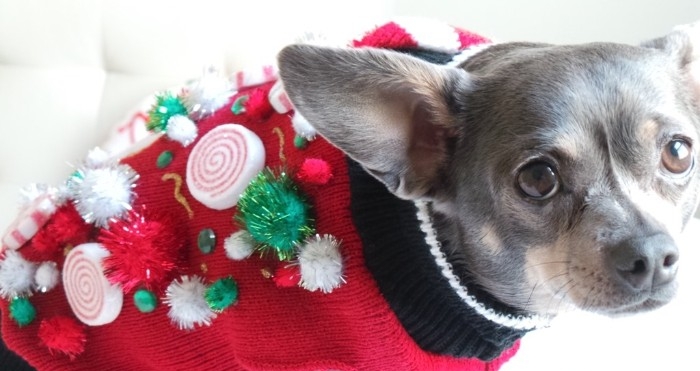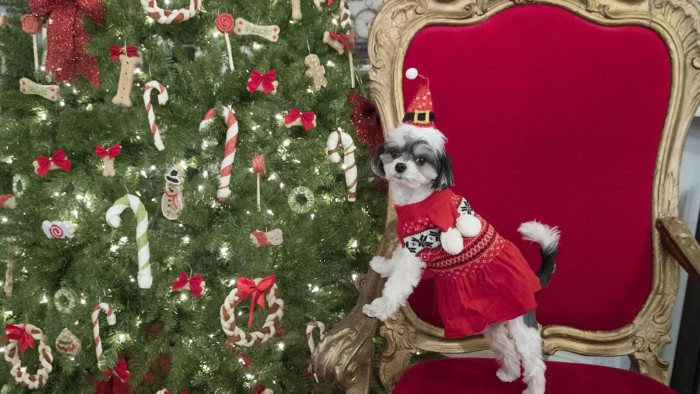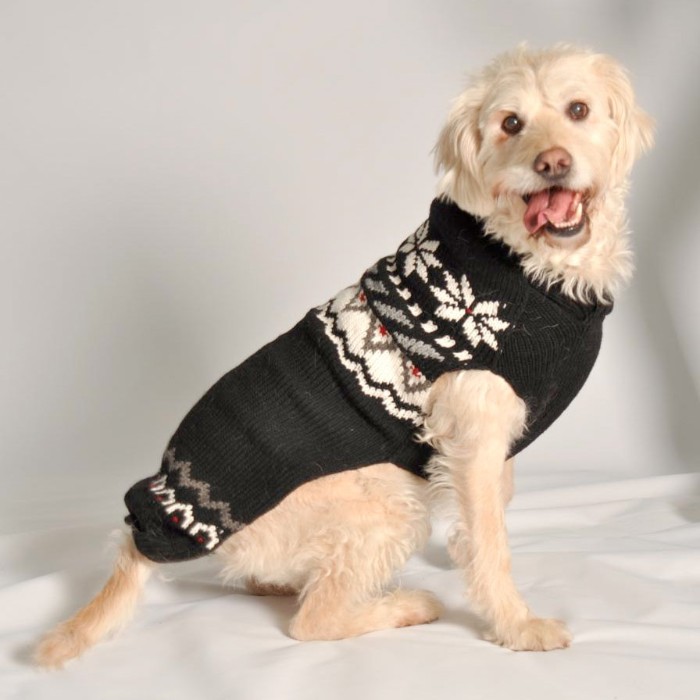 With a jumper like this who needs a Christmas tree?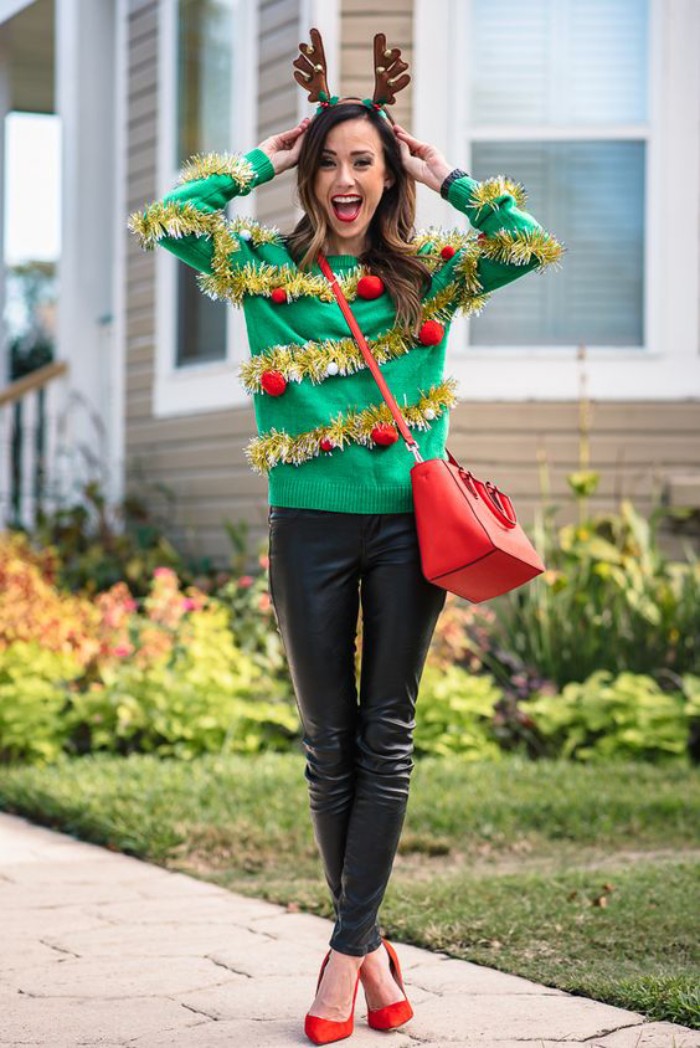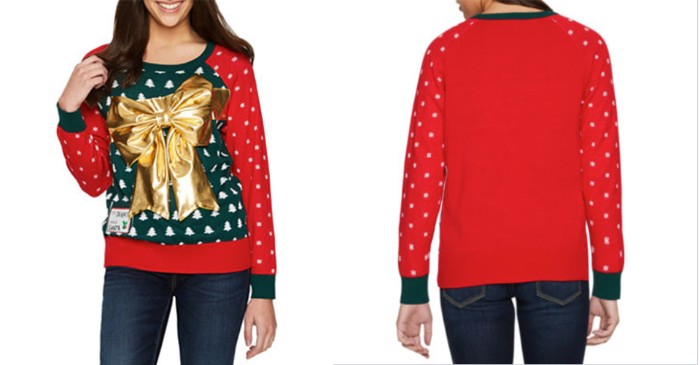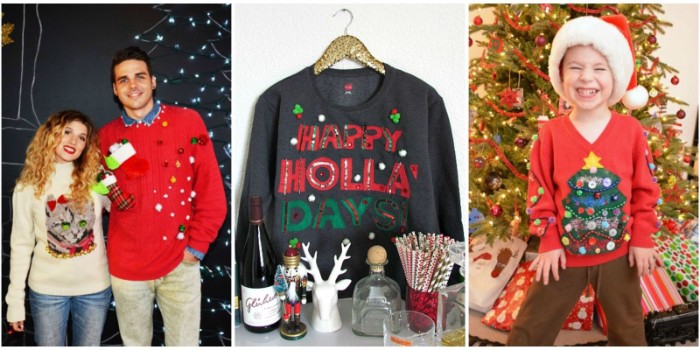 For extra close friends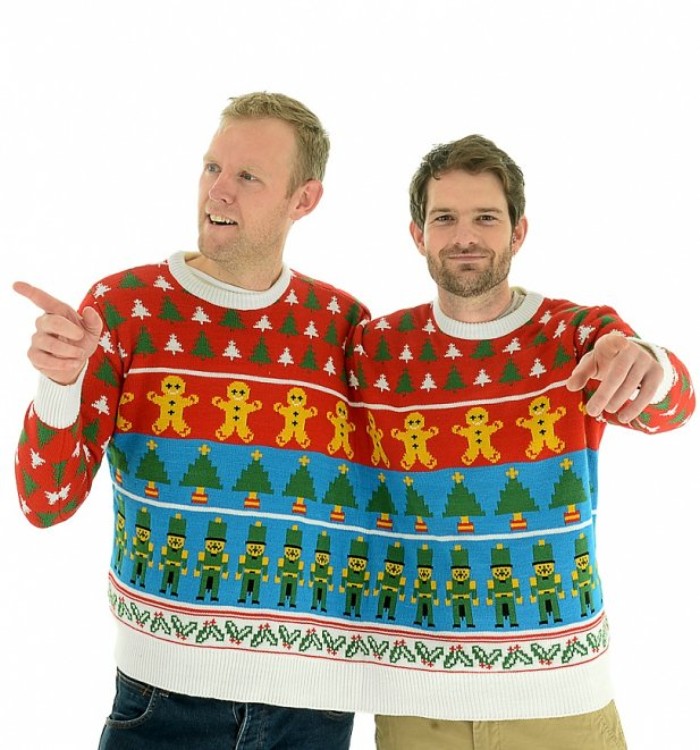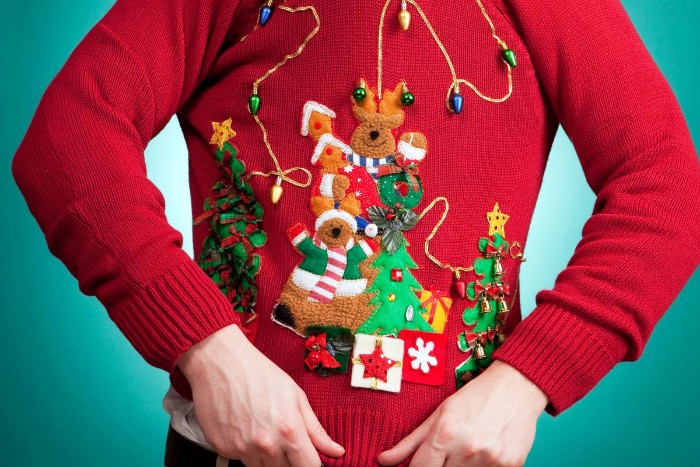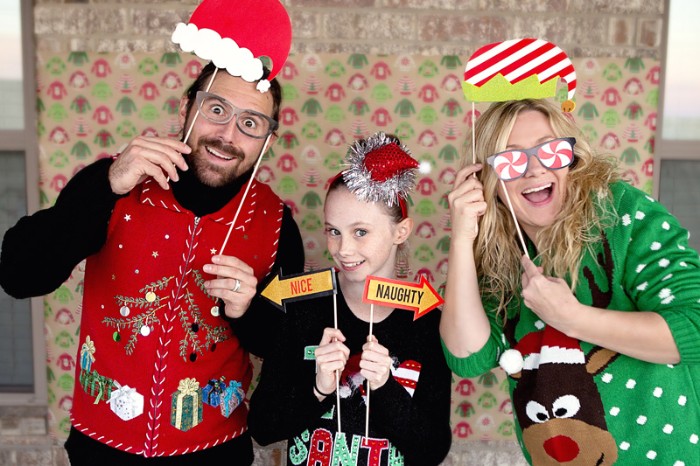 And here are some awesome suggestions inspired by popular films and TV series: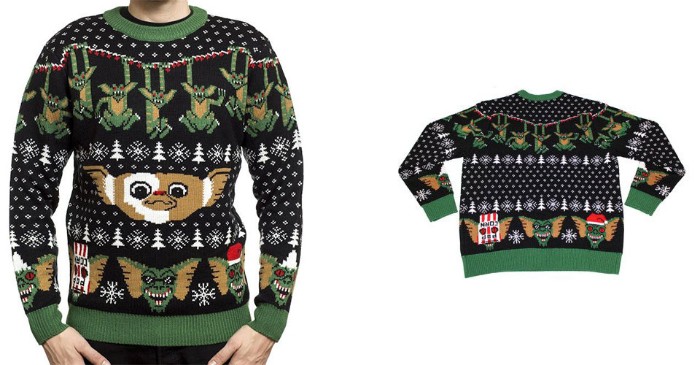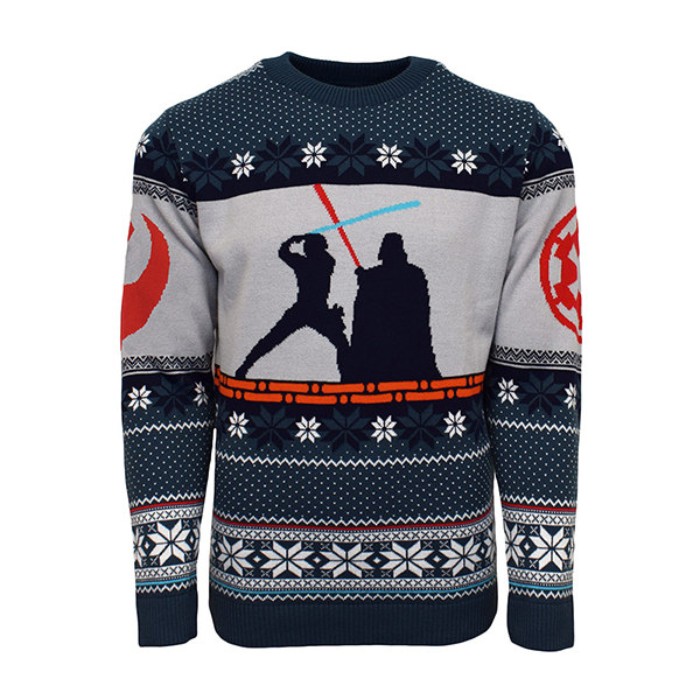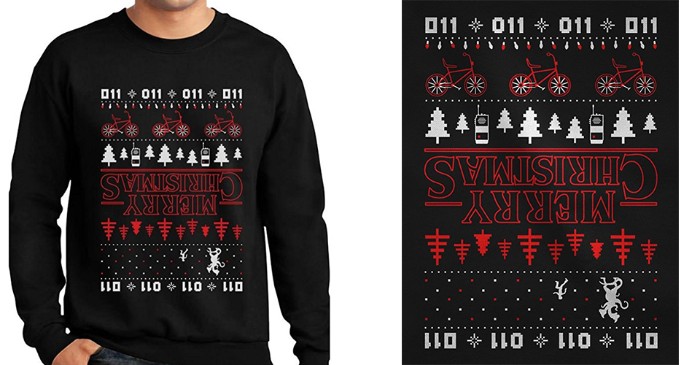 Especially for Rick & Morty fans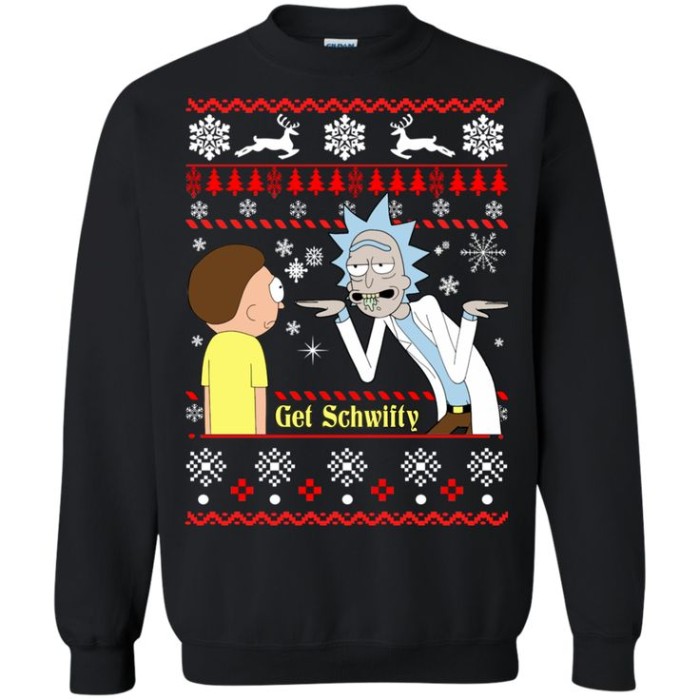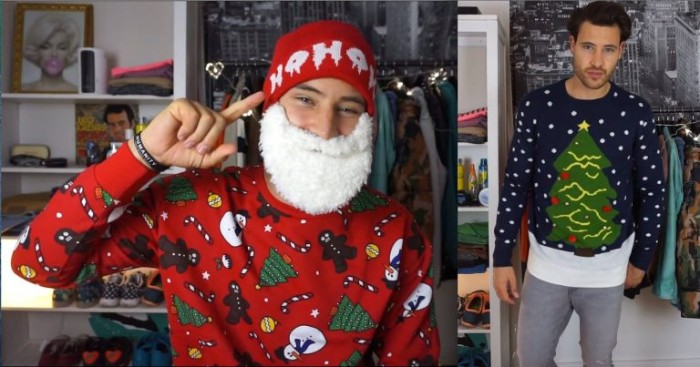 We love this jumper, we really do. But please don't wear it to your super religious uncle/grandma/friend's Christmas dinner! 😀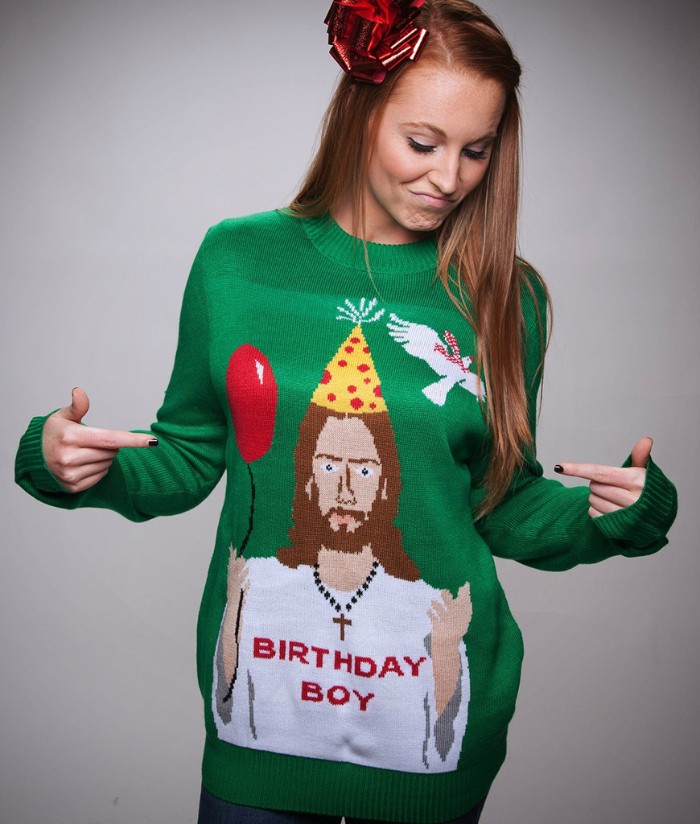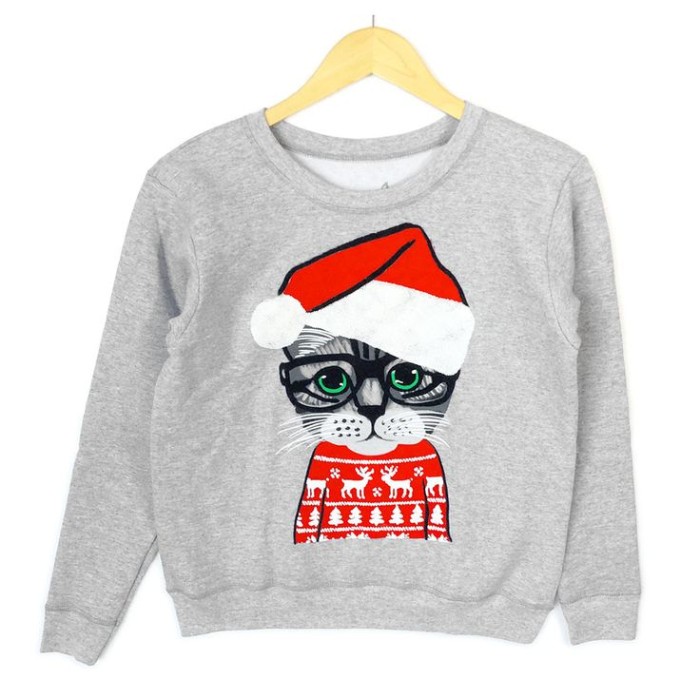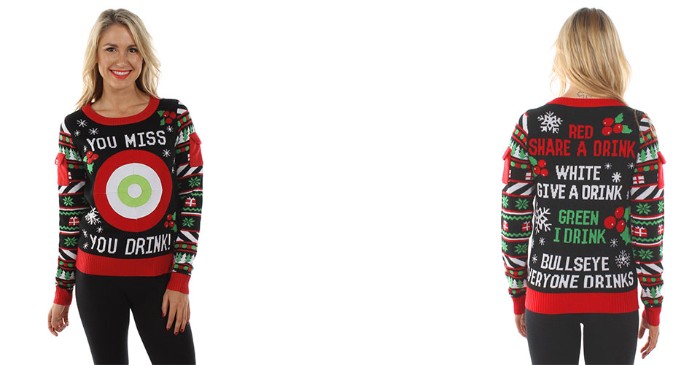 Fun for all the family!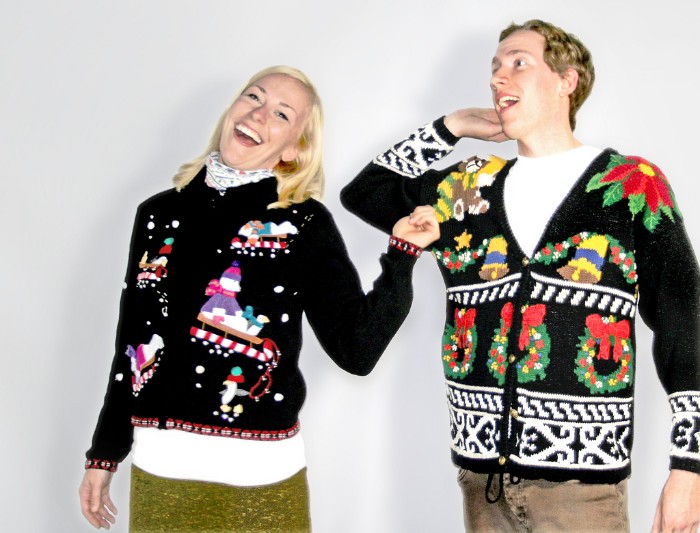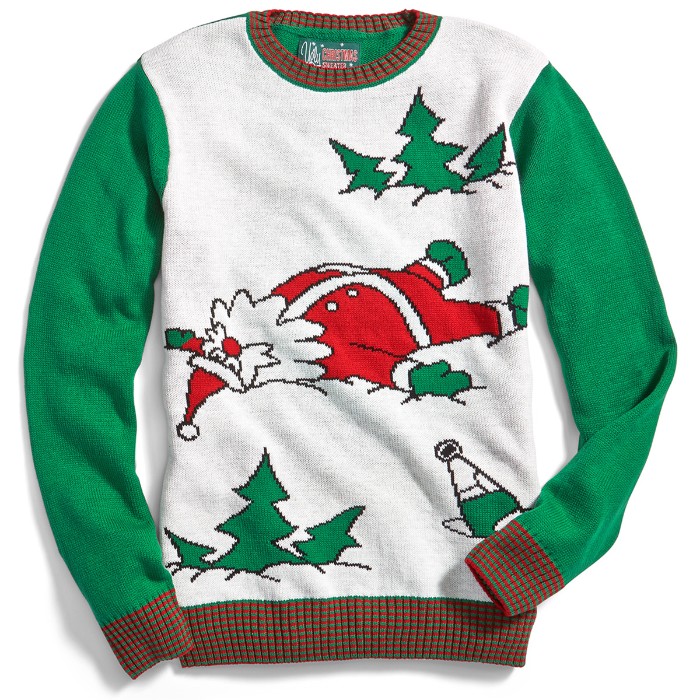 No one is safe from the ugly Christmas sweater craze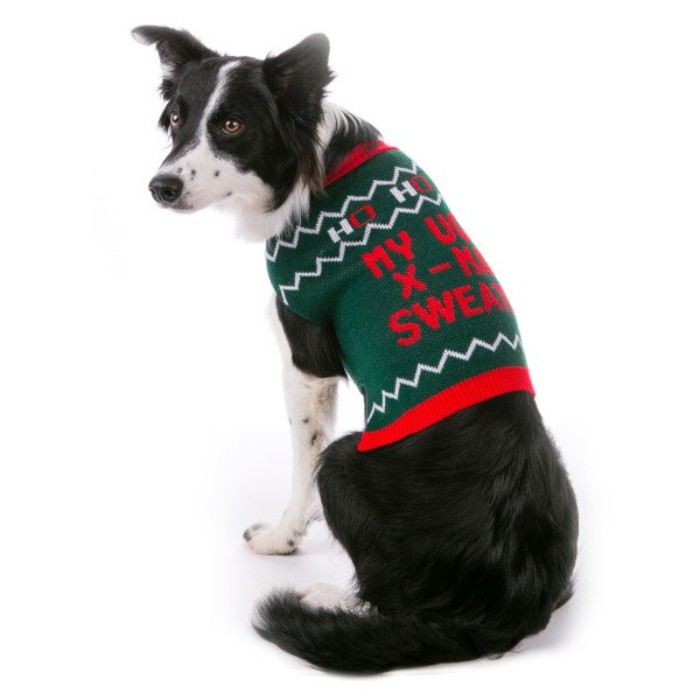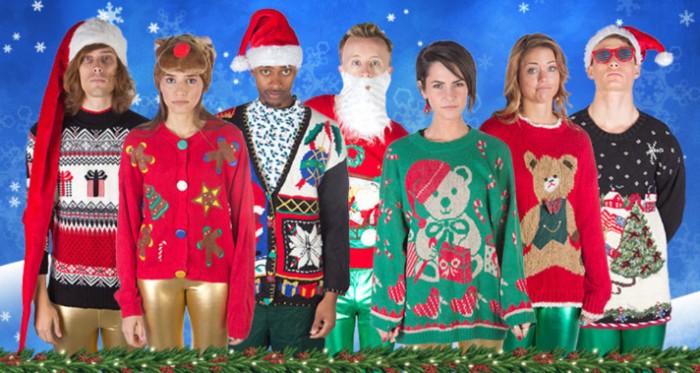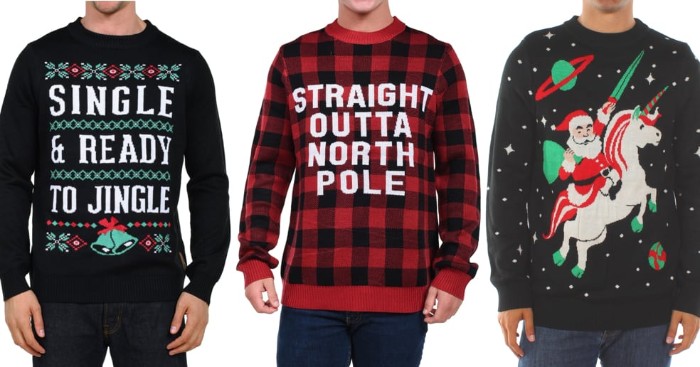 We love these witty and creative ideas!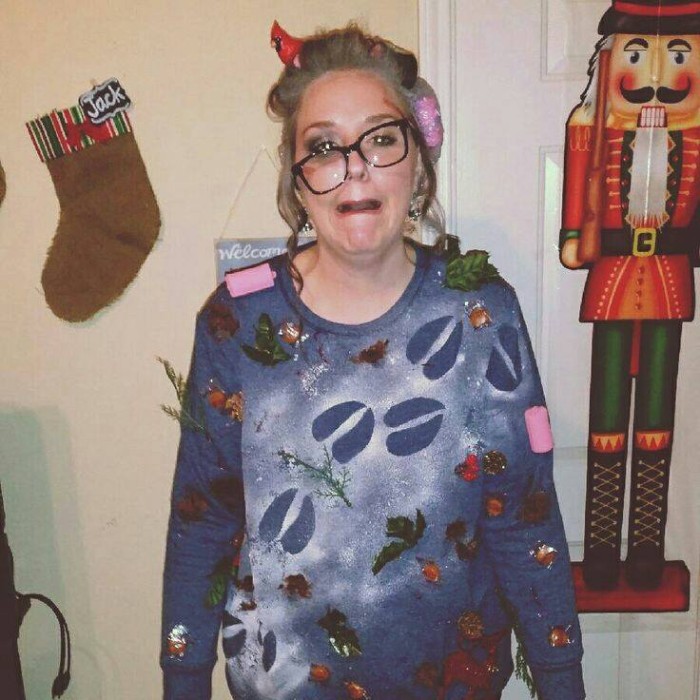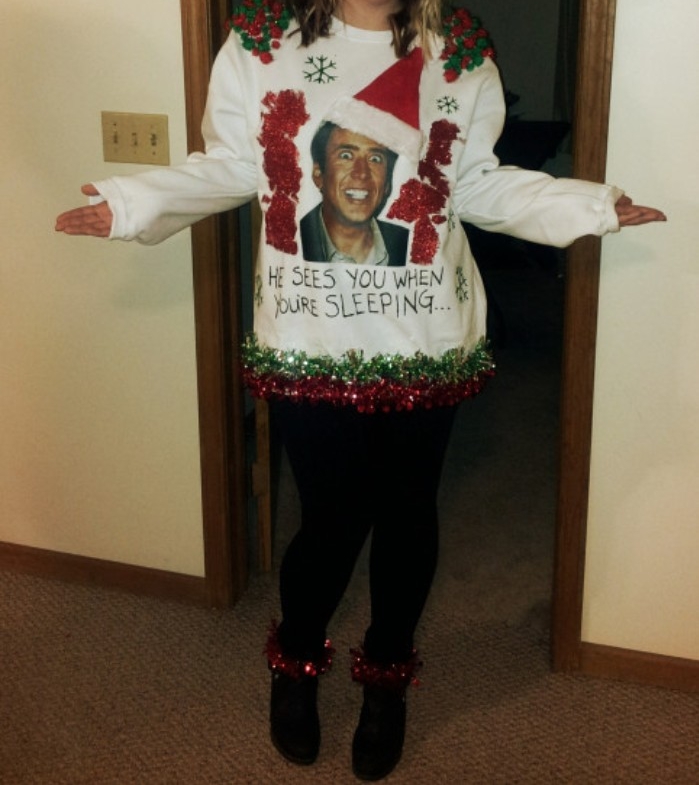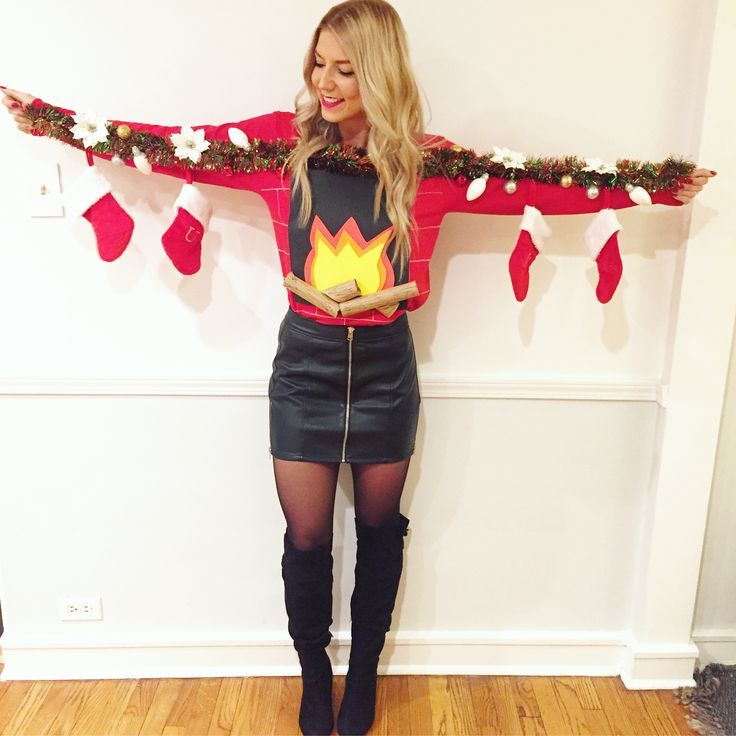 Robot VS Raptor – a Christmas classic (not really)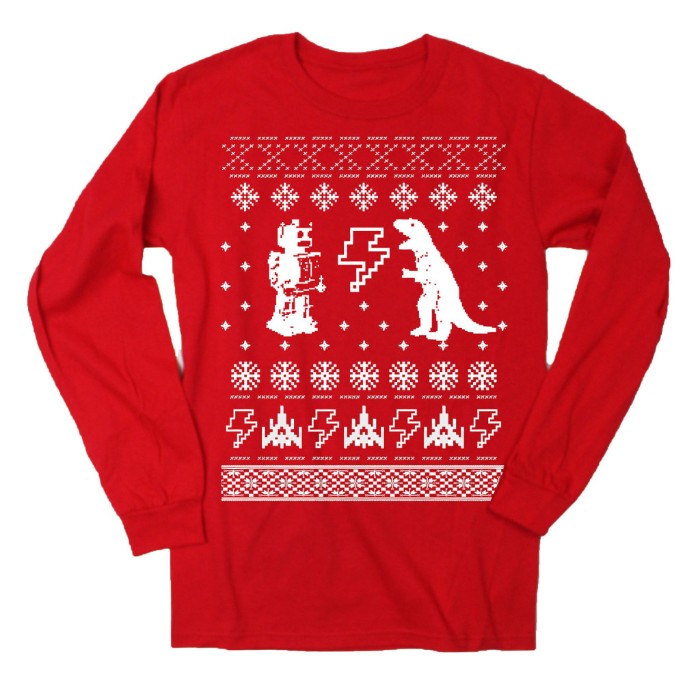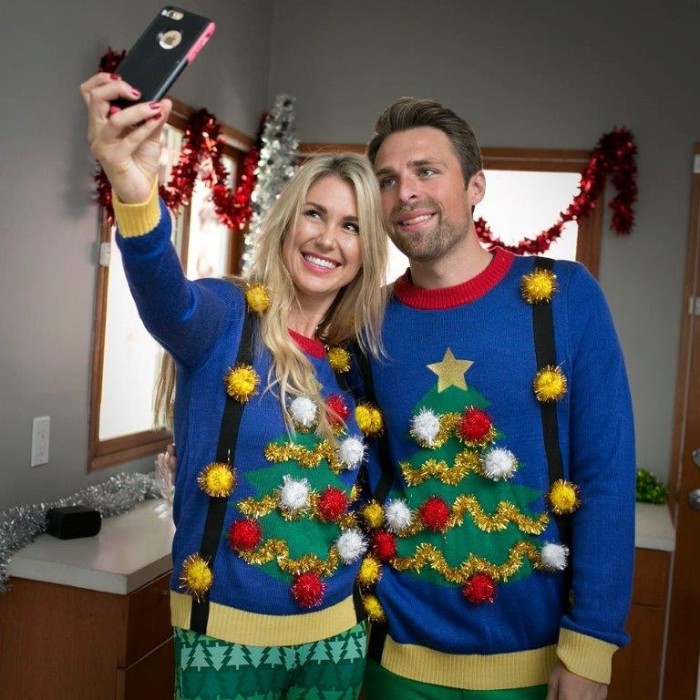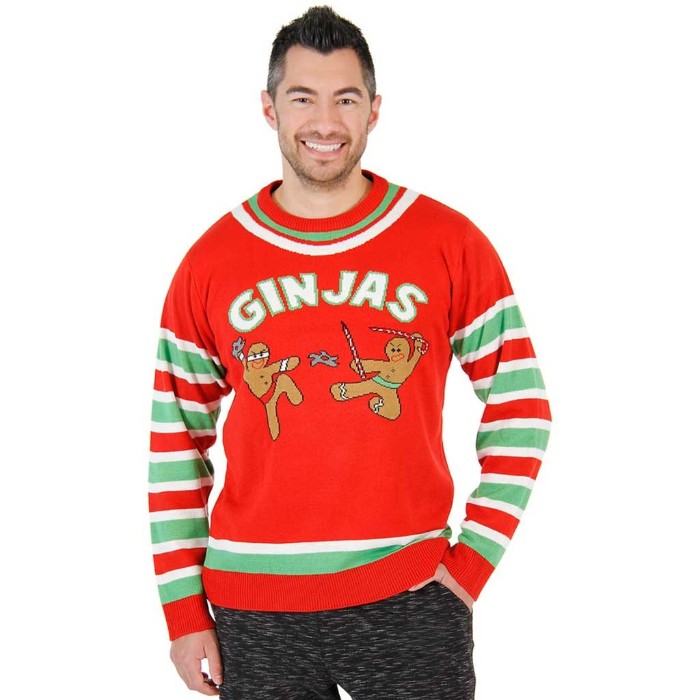 An excellent suggestion for Trekkies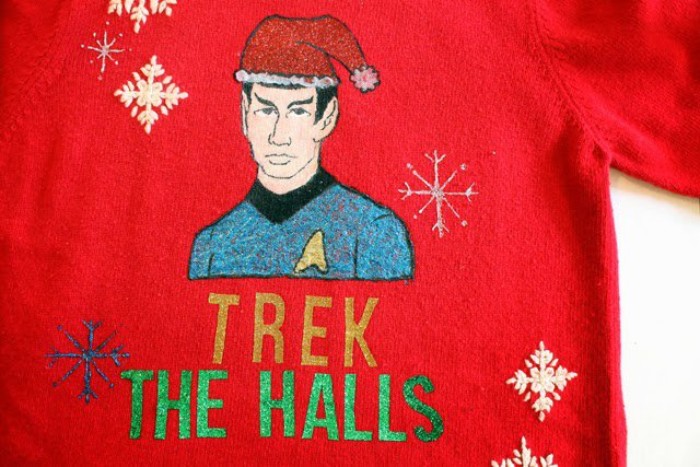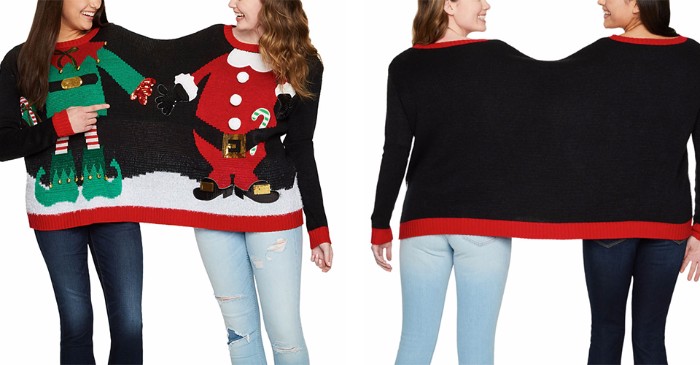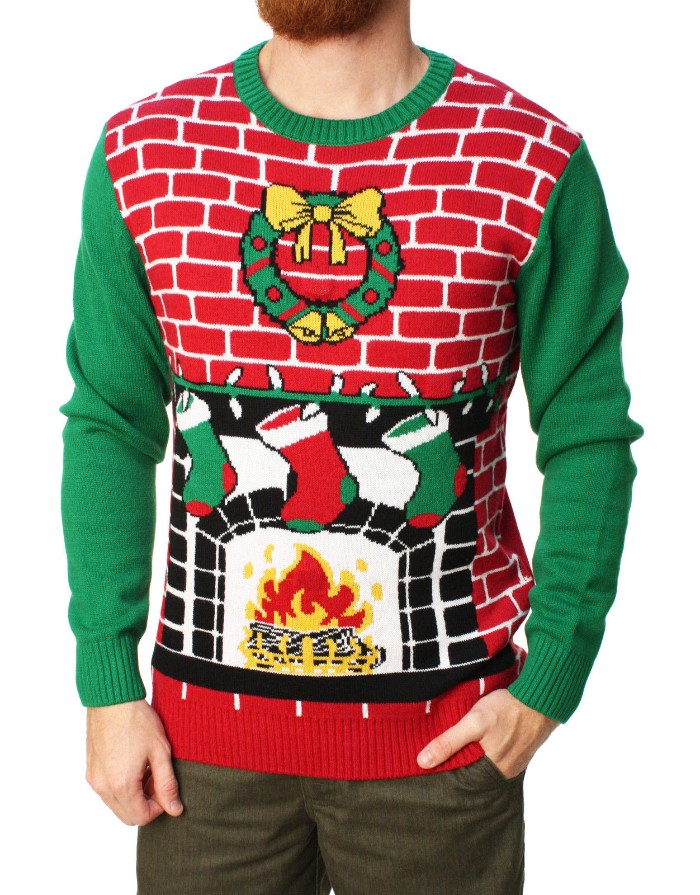 More adorable animals in ugly Christmas jumpers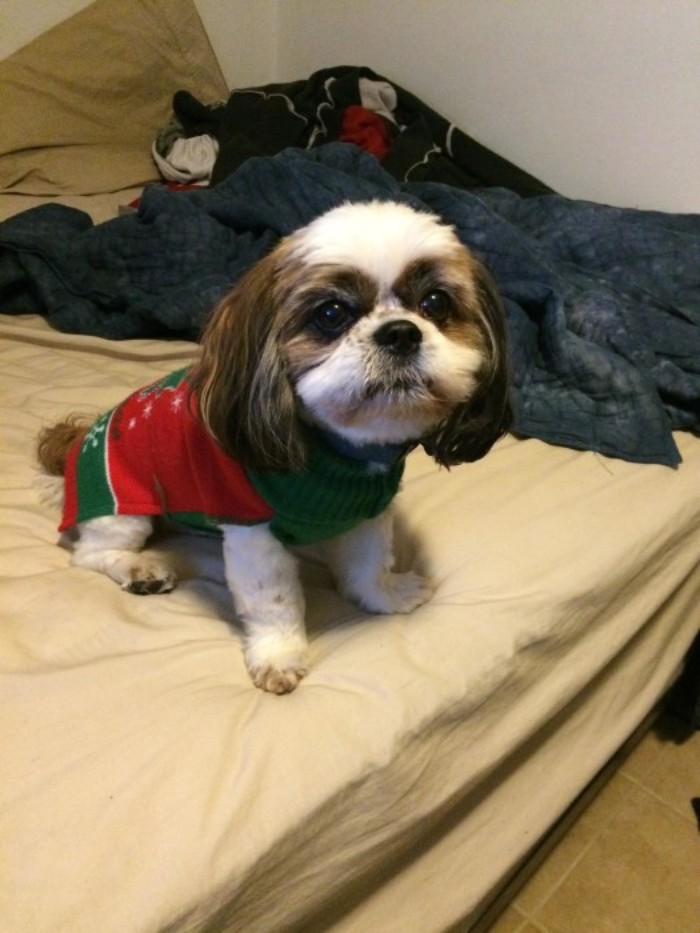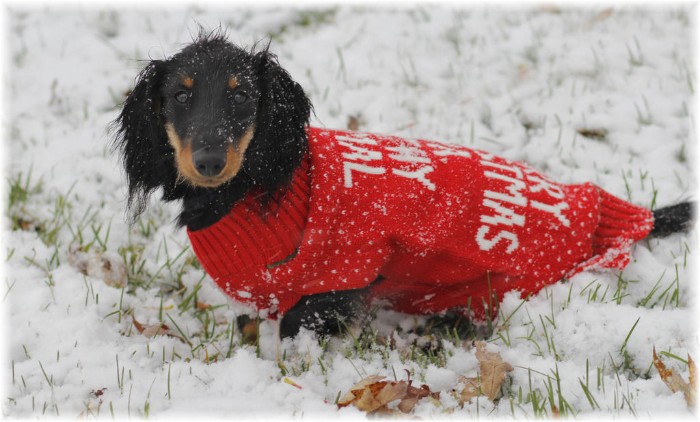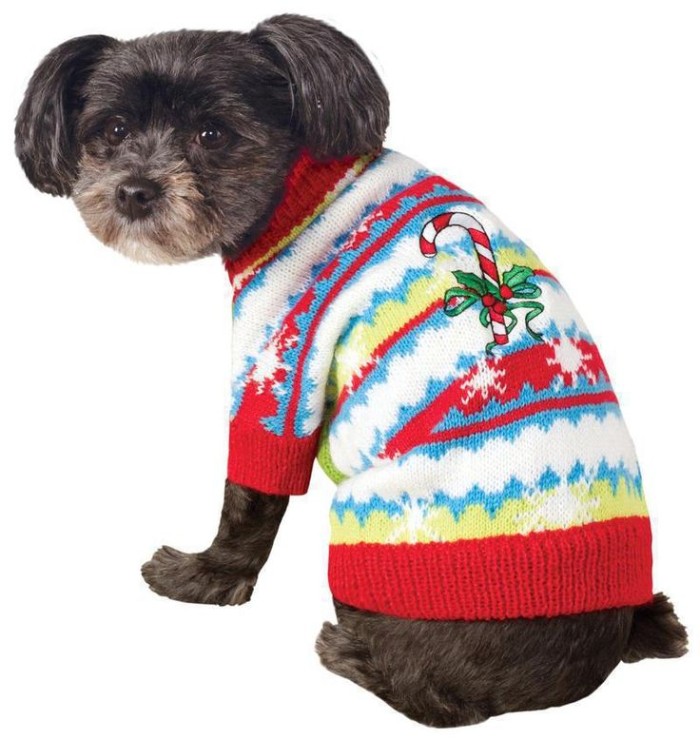 How cute is this?!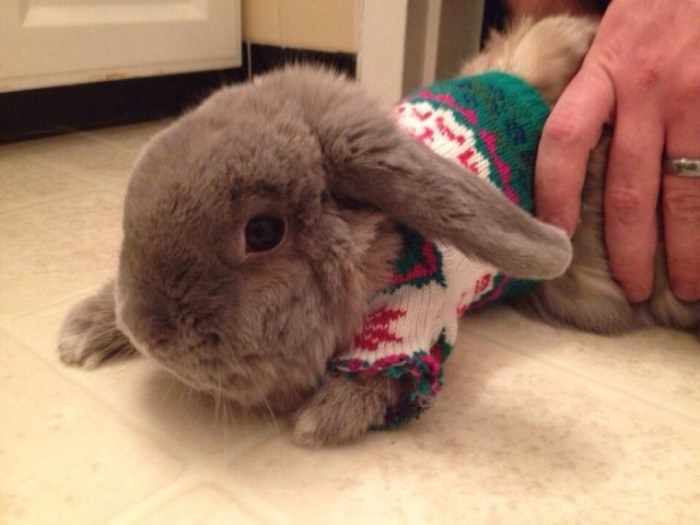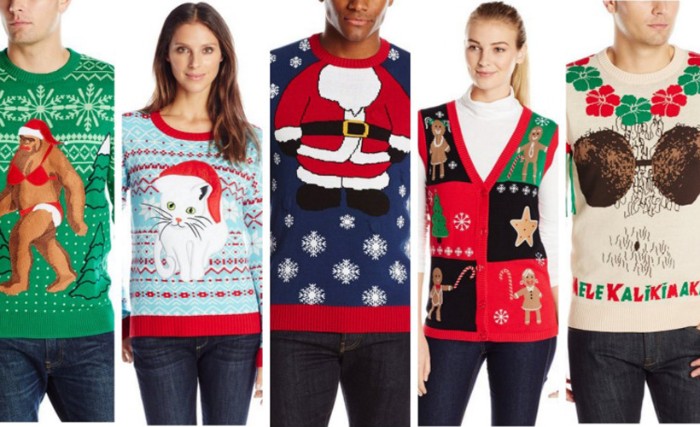 There is no such thing as "too tacky" when it comes to UCSs!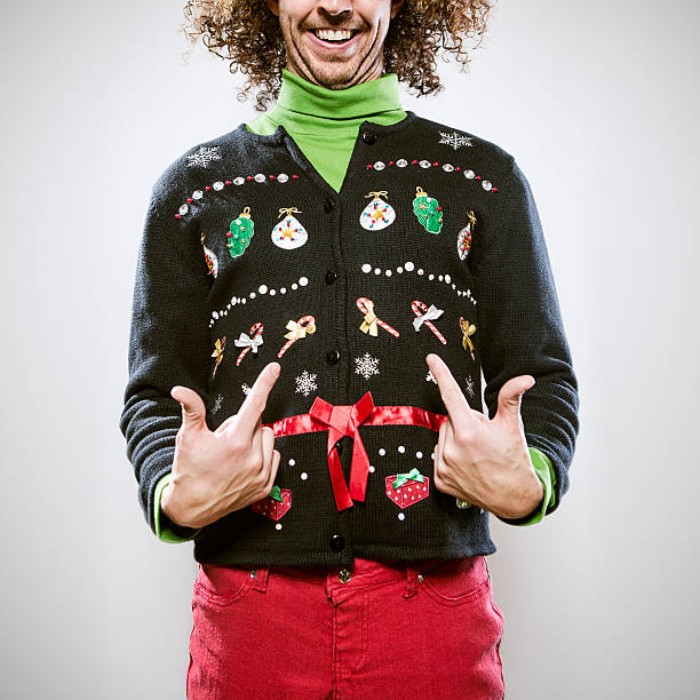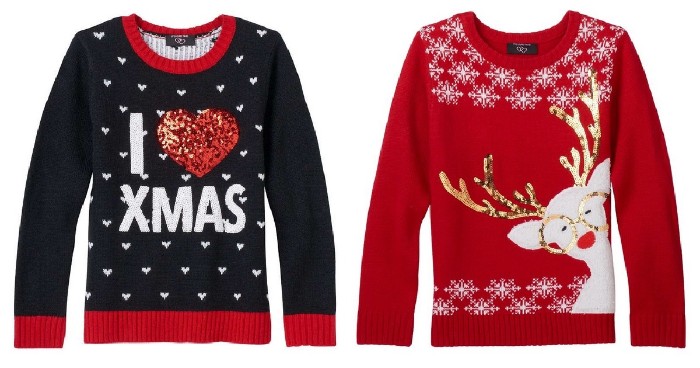 And because it's 2018, and internet memes have officially taken over the world, this "most interesting Santa in the world" sweater is a thing that exists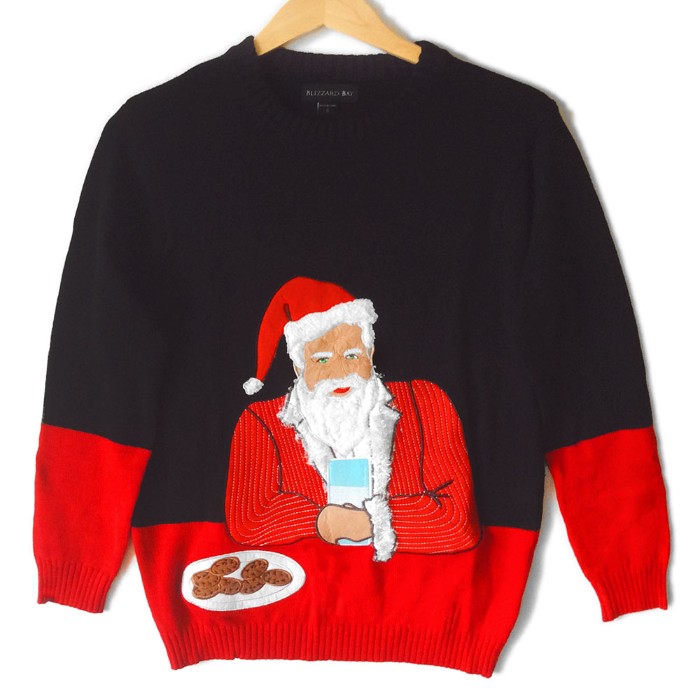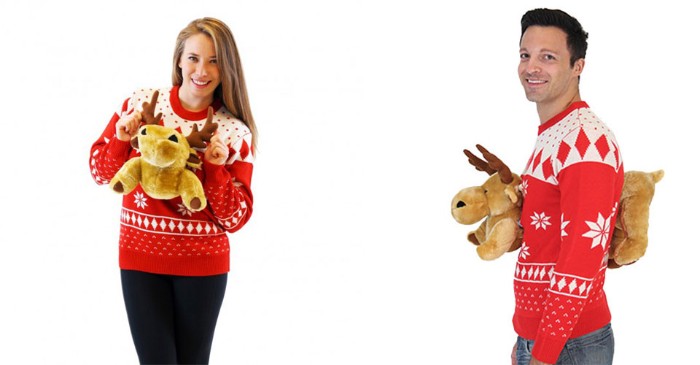 We are at a loss for words here…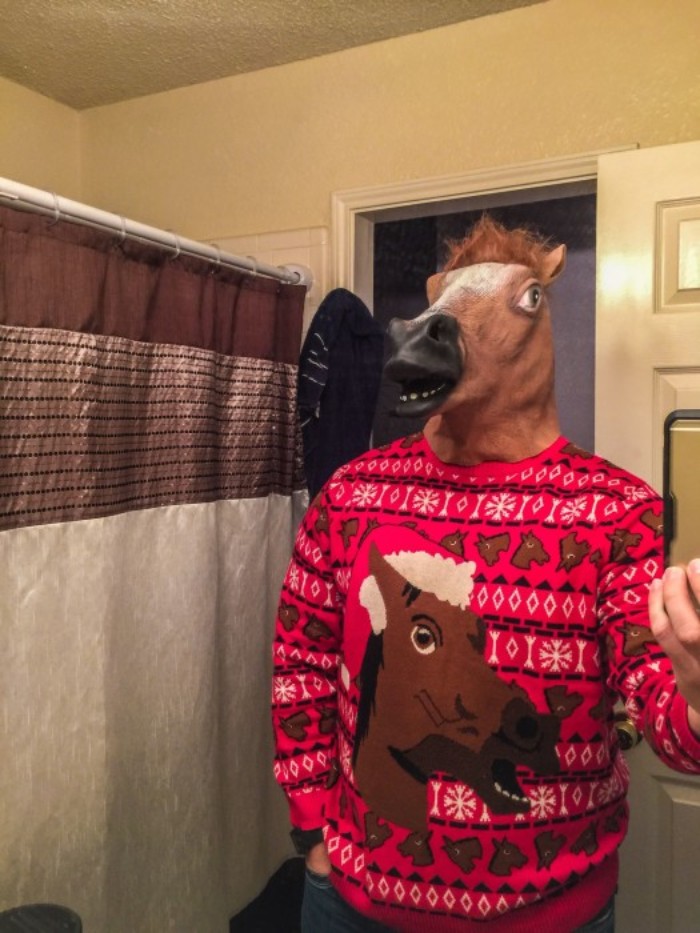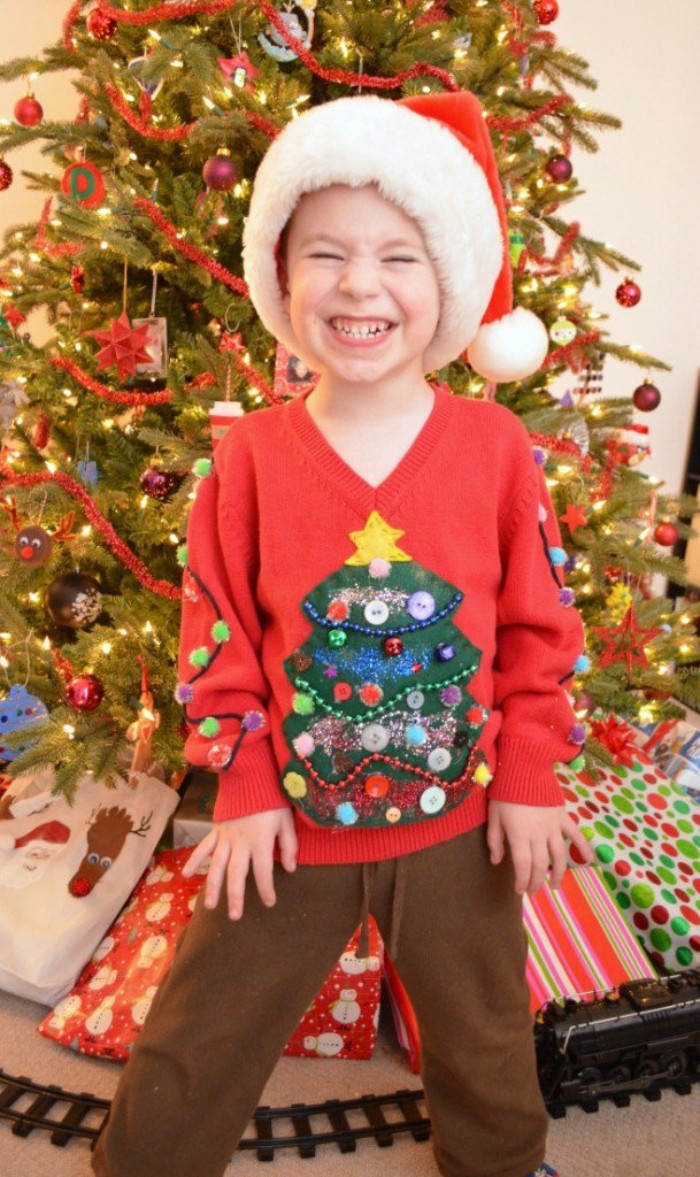 This lady is way ahead in the ugly Christmas sweater game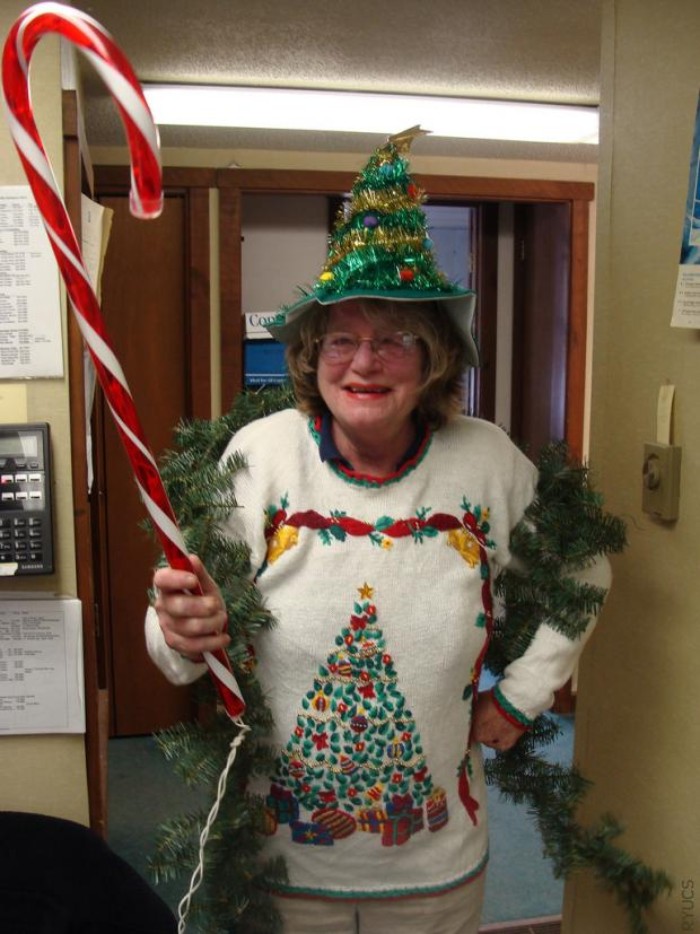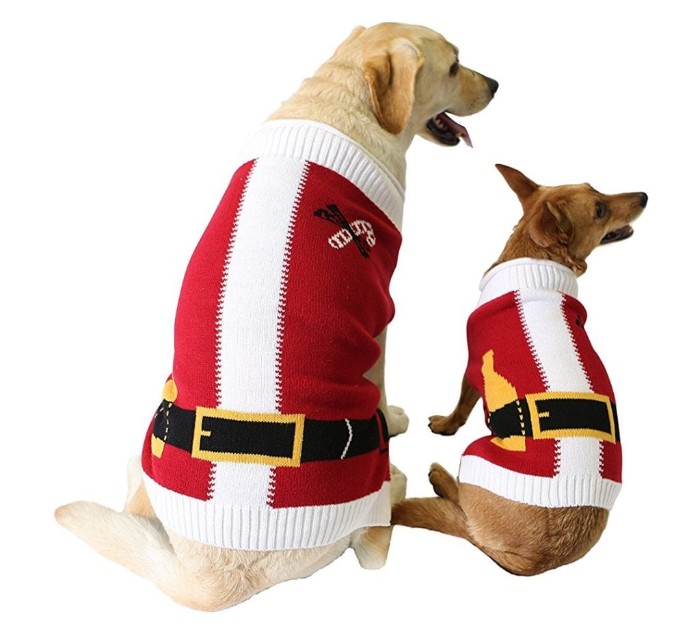 A true masterpiece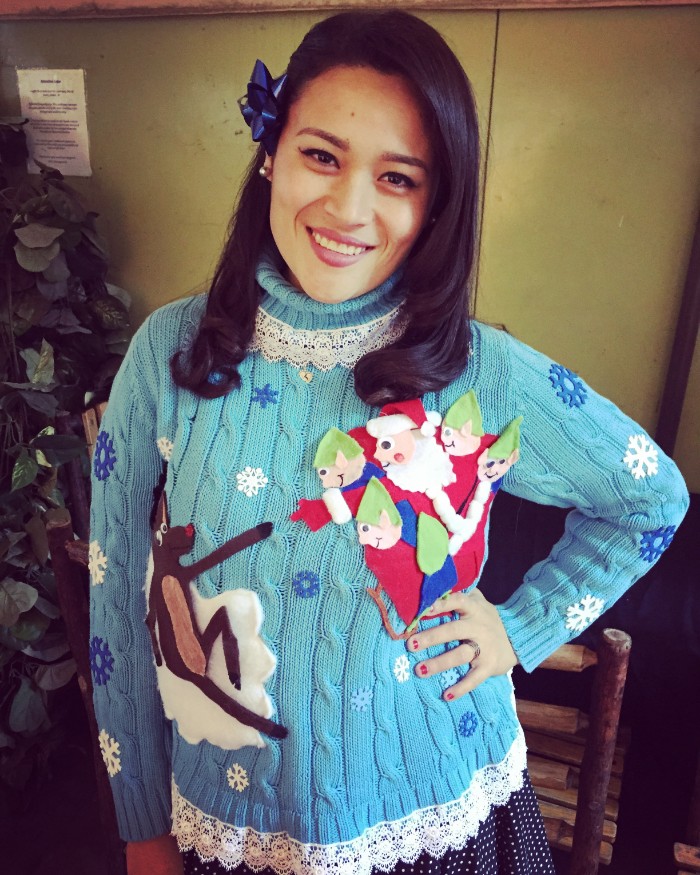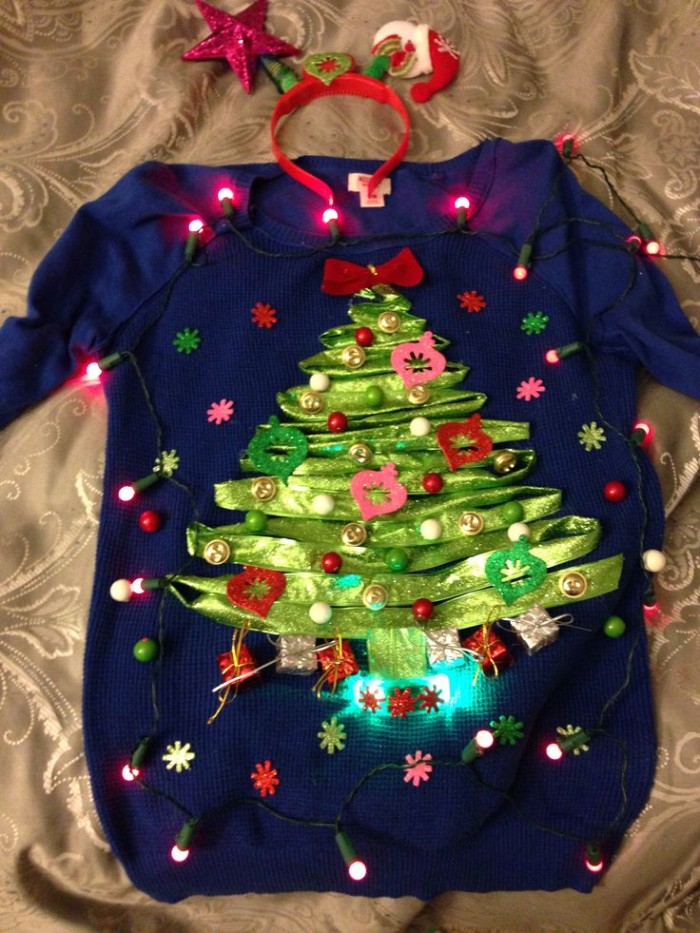 It's hard not to be impressed by this lady's creativity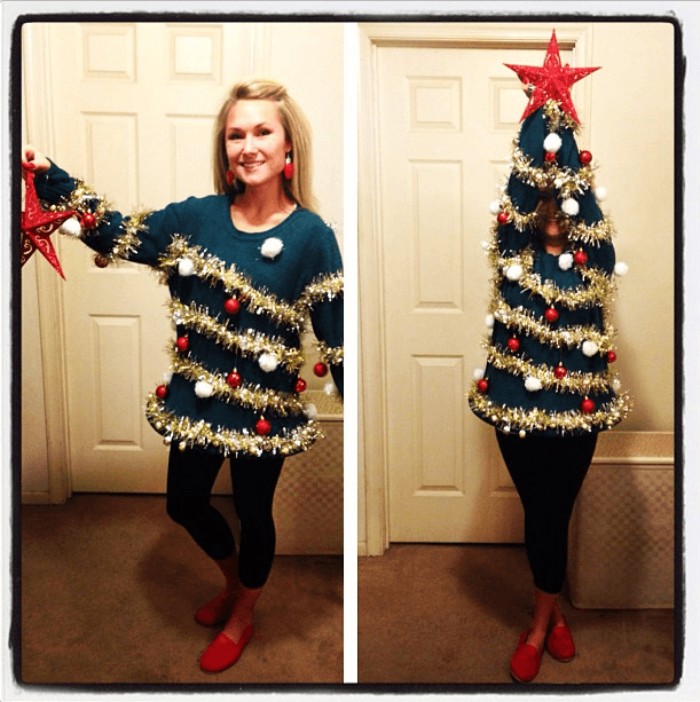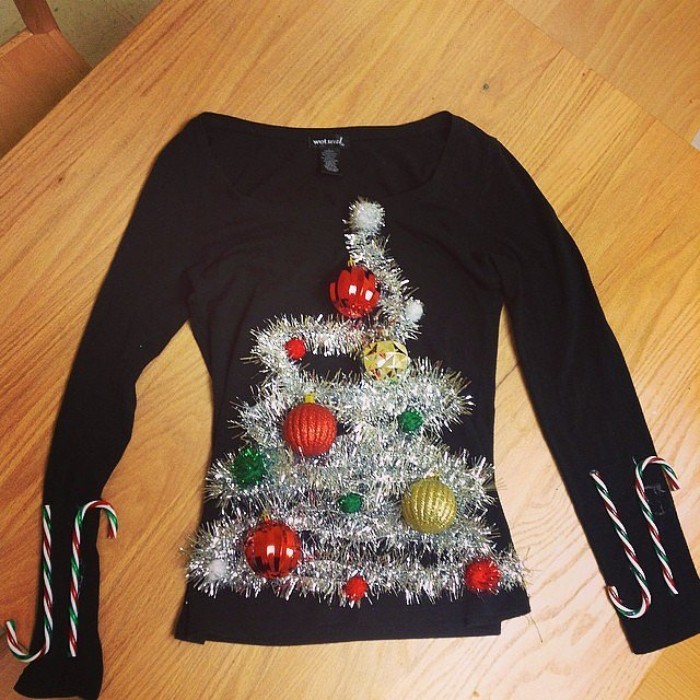 Ugly Christmas sweaters have officially jumped the shark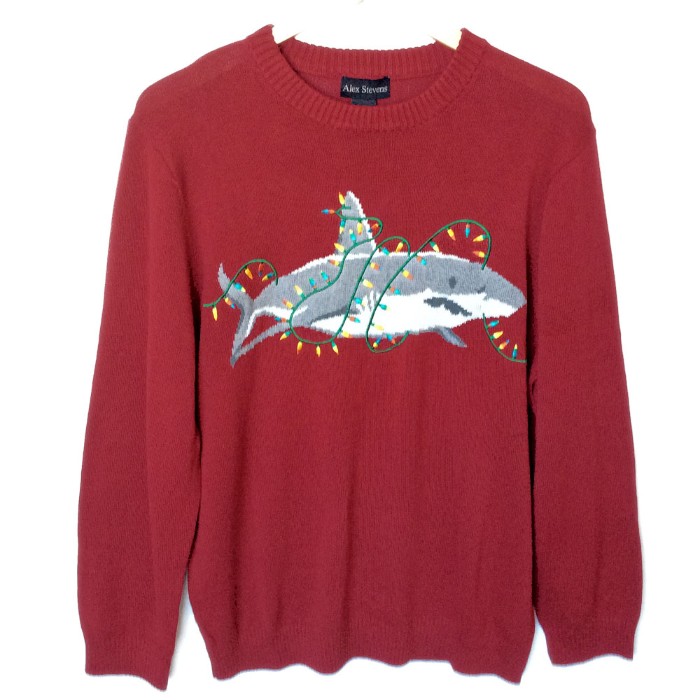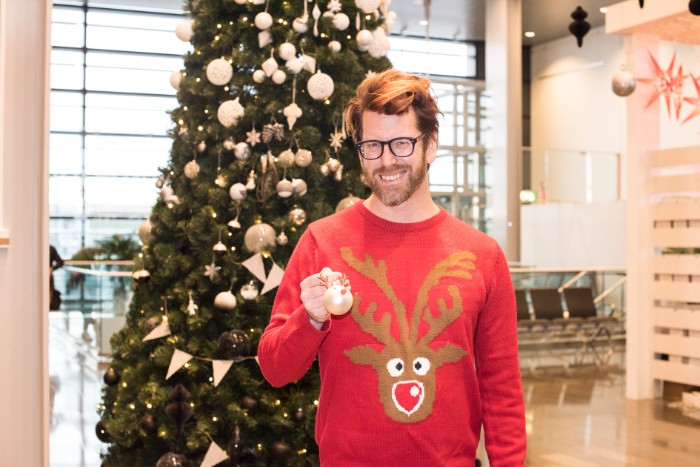 Let's not forget the ugly Christmas sweater's cousin – the tacky holiday vest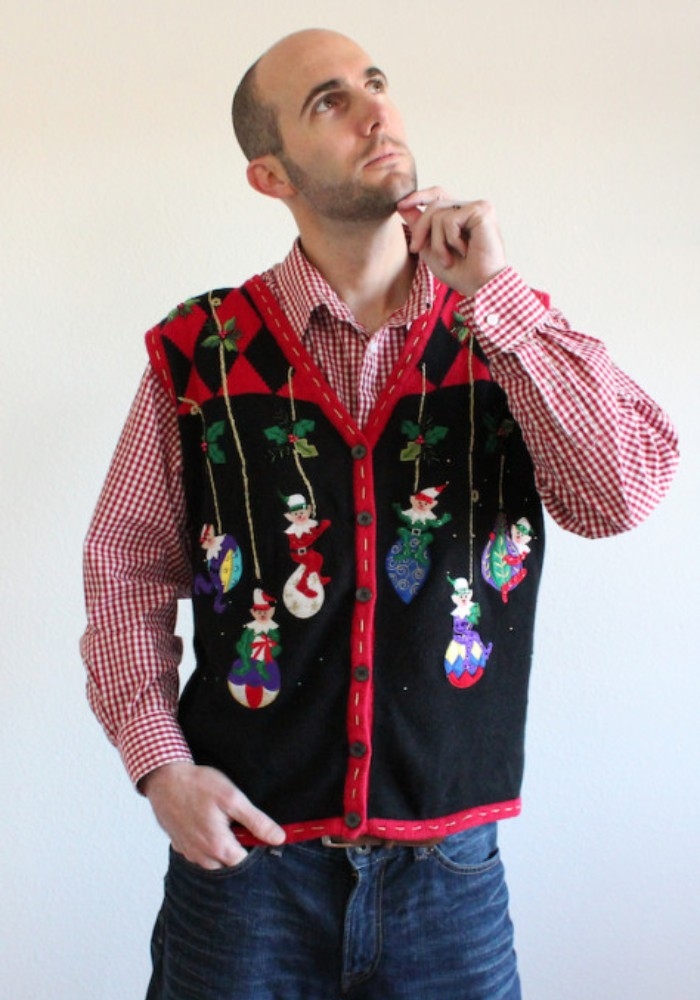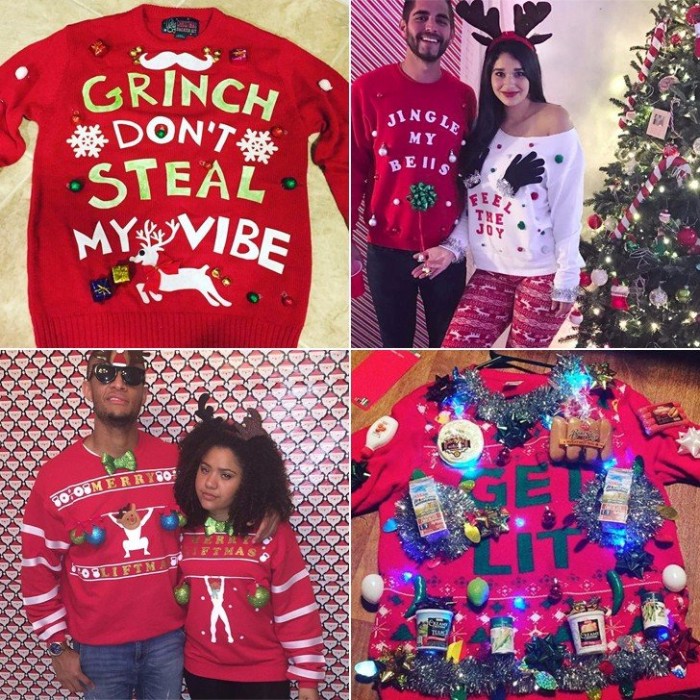 We hope you've enjoyed our ugly Christmas sweater ideas!