100+ Christmas cupcakes with recipes, tutorials and more!
The festive season is almost upon us and if you like baking you're probably looking forward to preparing (and devouring) some yummy Christmas treats! Cookies are an easy and popular choice but if you want to try something a bit more original and indulging, there is hardly a better option than cupcakes. They come in an almost endless variety of tastes and colors, and you can use your imagination to decorate them in cute, fun and unique ways. To help you get started, we have collected over 100 suggestions for delicious and beautiful Christmas cupcakes. Tasty and gorgeous, they are guaranteed to bring lots of cheer and holiday flavor to your festivities!
Scroll down for inspirational ideas, nifty recipes and fun tutorials.
Christmas cupcakes are versatile and easy to make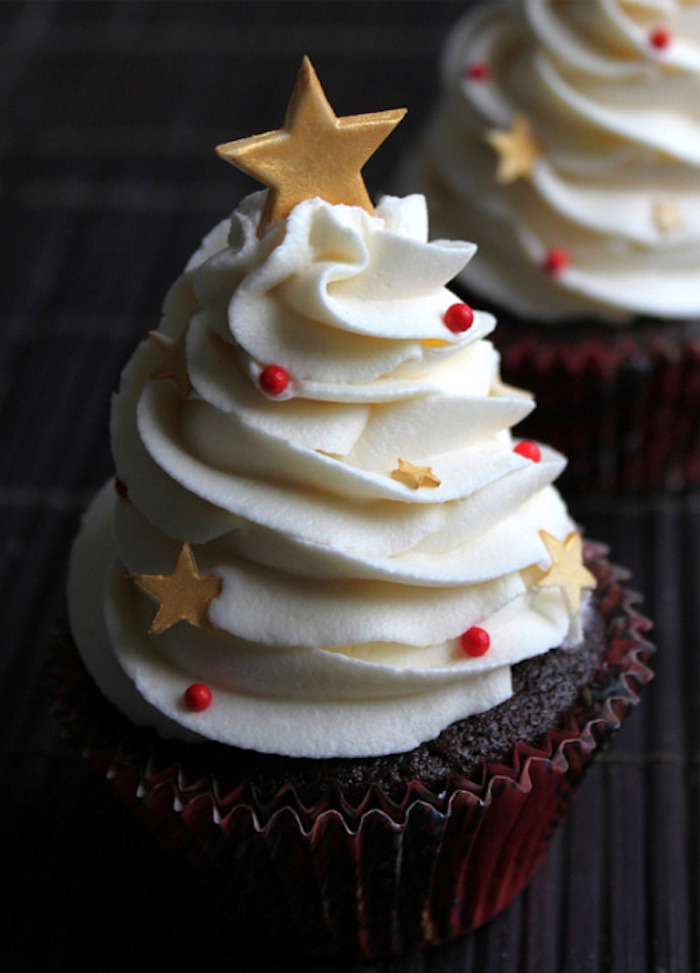 Would you like to create beautiful Christmas tree cupcakes? Watch the video below to find out how!
Hot chocolate is a classic Christmas treat, loved by young and old. Capture its festive flavour in cupcake form with this easy recipe!
Peppermint Hot Chocolate Christmas Cupcake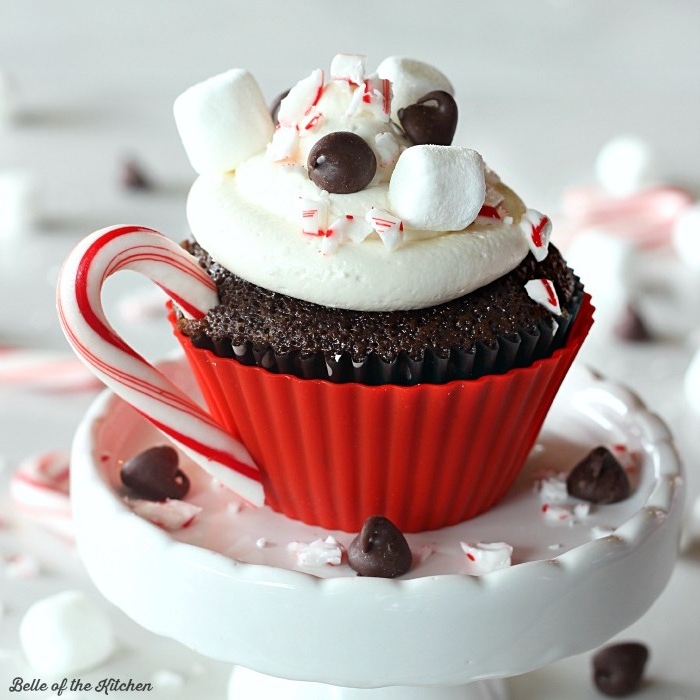 Peppermint Hot Chocolate Christmas Cupcake
What you'll need for a batch of 12 cupcakes:
a cup of all-purpose flour
a cup of sugar
one large egg
1/4 cup of cooking oil
1/2 cup of cocoa powder (unsweetened)
1/2 cup of water (warm or room temperature)
1/2 cup of buttermilk
1/2 teaspoon of baking soda
1/2 teaspoon of baking powder
1/2 teaspoon of vanilla extract
a pinch of salt
baking tray
12 cupcake wrappers
Instructions:
First, preheat the oven at 350°F while preparing a muffin mould tray and some cupcake wrappers.
Mix the flour, sugar, cocoa powder, baking powder, baking soda and salt in a large bowl.
Add the cooking oil, buttermilk and water and mix well.
Now, add the egg and vanilla extract, whisking the mixture until it becomes smooth and creamy.
Pour the mix in the cupcake wrappers, filling each about 2/3 of the way.
Bake for 20 minutes and set aside to cool.
What you'll need for the frosting:
13 oz of marshmallow creme
2 cups of butter
2 1/2 cups of powdered sugar
Several peppermint candy canes
Mini marshmallows, chocolate chips and chocolate syrup to decorate (if desired)
Instructions:
Using a mixer, cream the butter until smooth. Then, carefully and gradually add the powdered sugar, without switching the mixer off. Finally, add the marshmallow creme to the mix.
Put the finished mix into a pastry bag and pipe the icing on your cupcakes.
Finally, crush the candy canes into tiny bits and sprinkle them on top of the icing. If you wish you can add mini marshmallows, chocolate chips, chocolate or caramel syrup, sprinkles, or anything else that you usually put in your hot chocolate.
Enjoy!
If you prefer, you can add a few spoonfuls of cocoa to the icing mix for a double-chocolate delight…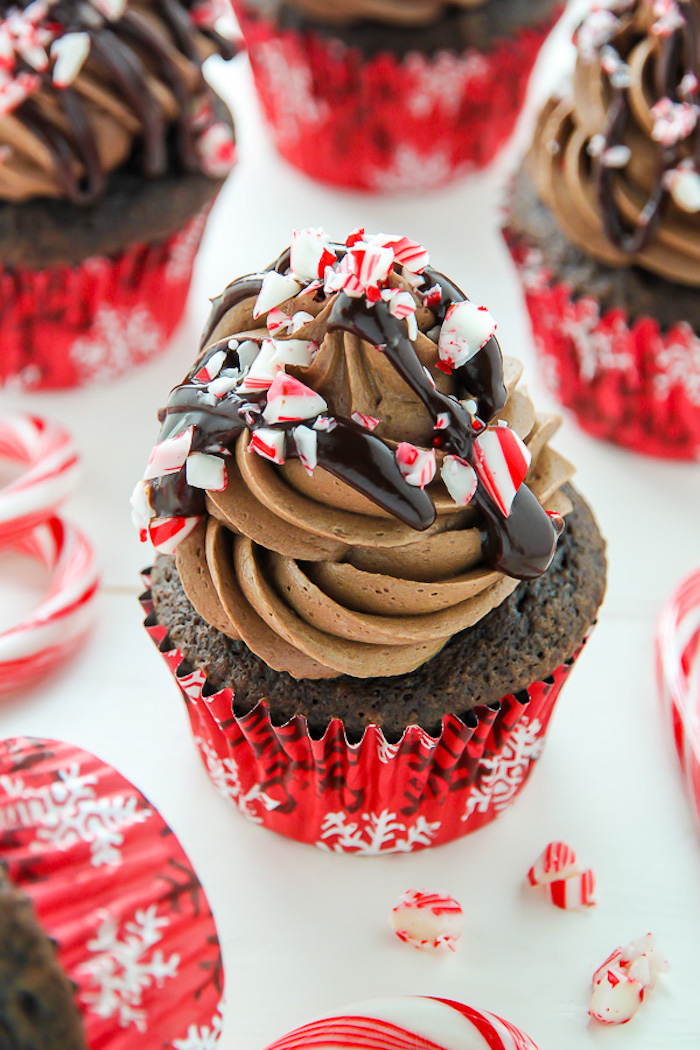 …or keep it nice and simple by substituting the icing with whipped cream and chocolate syrup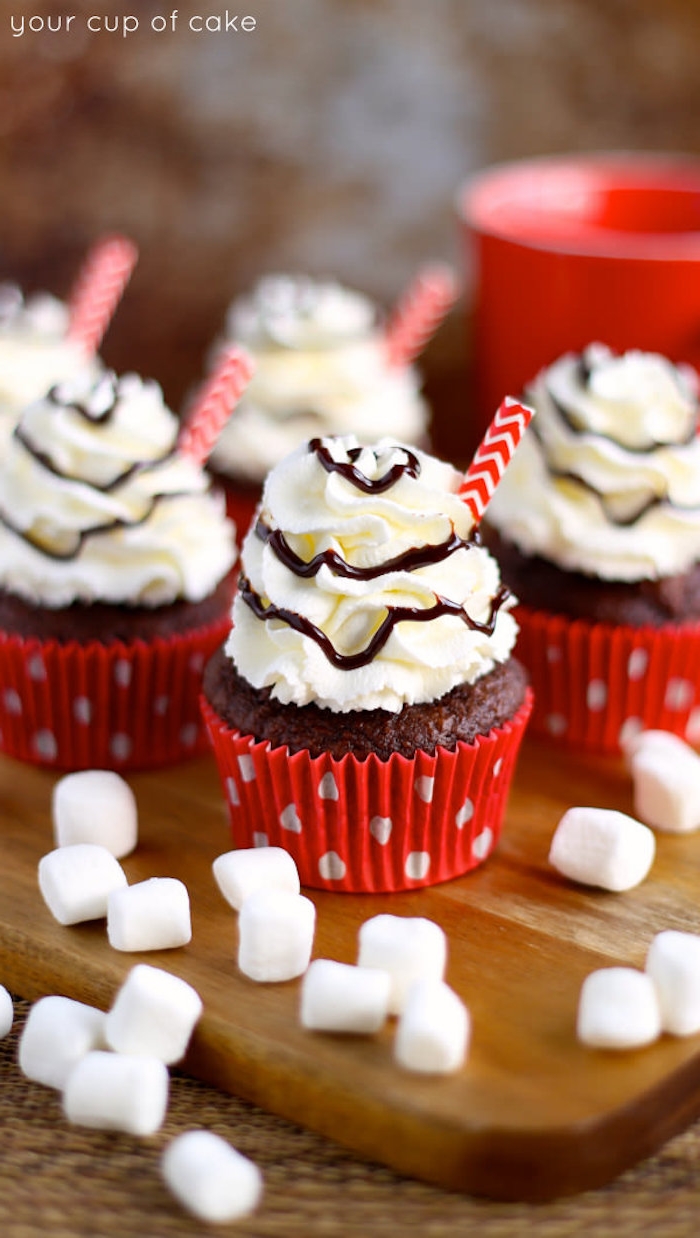 Alternatively, you can drop the peppermint altogether, and indulge in a pure and smooth chocolaty taste
Our second suggestion is delicious gingerbread Christmas cupcakes with caramel creme. Yum!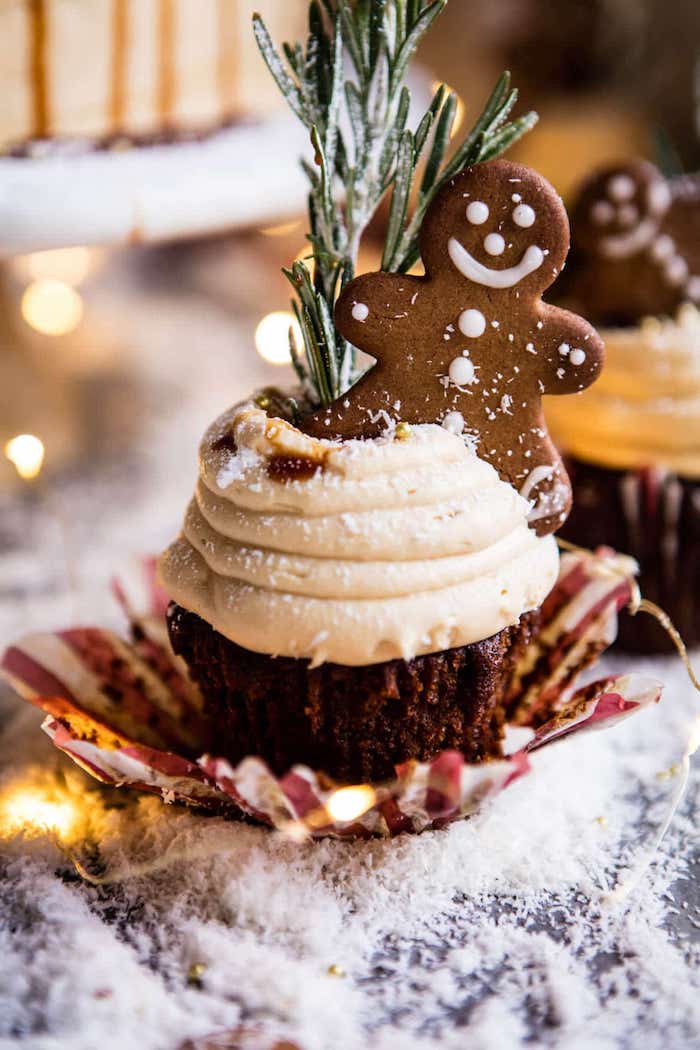 Gingerbread Christmas cupcakes
What you'll need for a batch of 36 cupcakes
3 1/4 cups of all-purpose flour
1 cup of brown sugar
1 1/3 cups of molasses
3 eggs (kept at room temperature)
16 tablespoons of softened salted butter
1 tablespoon of baking soda
1 tablespoon of baking powder
2 teaspoons of ground ginger
1 1/2 teaspoons of ground cinnamon
3/4 teaspoon of nutmeg
3/4 teaspoon of ground cloves
1 1/2 cups of hot water
a pinch of salt
baking tray(s)
cupcake wrappers
Instructions:
First, preheat the oven at 350°F while preparing a muffin mould tray and some cupcake wrappers.
Combine the flour, baking powder, ground ginger, cinnamon, nutmeg, cloves and salt in a large bowl and mix well.
In a separate bowl, mix the baking soda with the hot water.
Use a mixer to beat the butter and sugar until fluffy. Then add the molasses, while still whisking with the mixer. Slowly and gradually, pour the baking soda and water mixture, alternating with the flour mixture. Add the eggs, one by one, still mixing, until everything is combined.
Pour the finished mix into 36 cupcake wrappers and bake for 15 minutes, then leave aside to cool.
What you'll need for the frosting:
16 ounces of softened cream cheese
20 tablespoons of butter
1 cup of plain white granulated sugar
2 cups of powdered sugar
3/4 cup of heavy cream
2 teaspoons of pure vanilla extract
Gingerbread men for decorating
Sprinkles and caramel syrup for decorating (if desired)
Instructions:
Pour the sugar in a large saucepan and cook on a preheated stove, stirring until the sugar melts into golden-colored caramel. Remove from the stove and add four tablespoons of butter, mixing them into the molten sugar one by one. Add the heavy cream and whisk.
Return the saucepan to the heat and cook until the mixture thickens (this should take about 5 minutes), stirring constantly.
Remove the caramel creme from the oven and set aside to cool.
Combine the cream cheese with the remaining butter using a mixer. Whisk until you get a light and soft texture. Add the powdered sugar, the vanilla, and thecooled down caramel creme, and keep mixing until everything is combined and fluffy.
Put the finished mix into a pastry bag and pipe the icing on your cupcakes.
Decorate each cupcake with a gingerbread man and add sprinkles or caramel syrup, if desired.
Chill the cupcakes until serving time but do remember to take them out of the fridge 30 minutes before consumption.
Enjoy!
Here are some photos of the process:
Make sure to pick cupcake wrappers in bright, festive colors!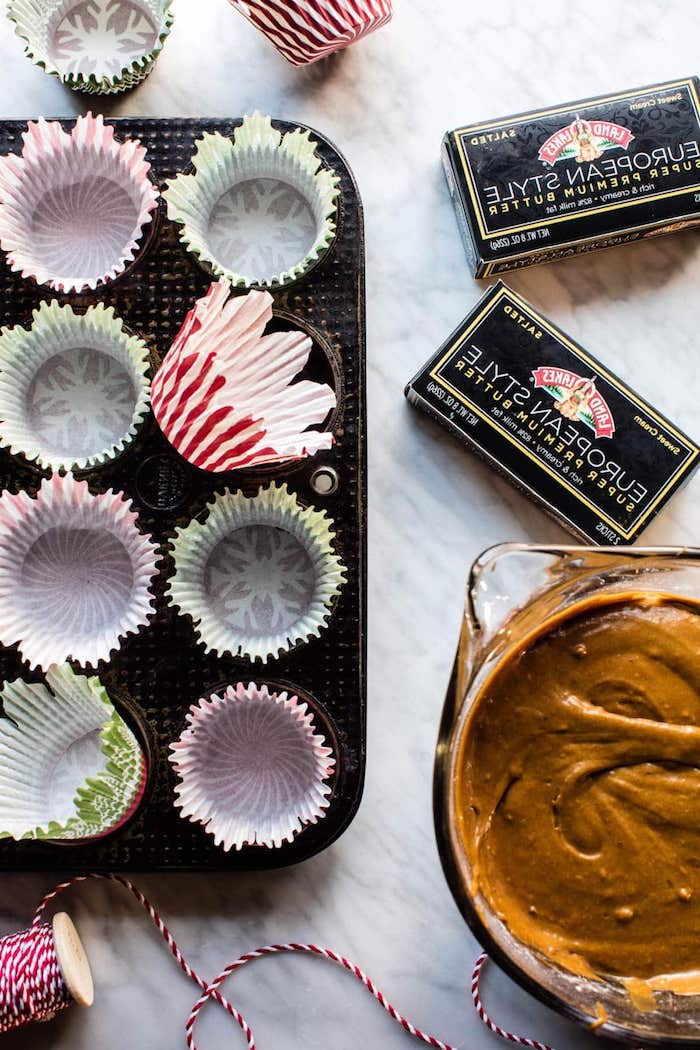 Distribute the batter evenly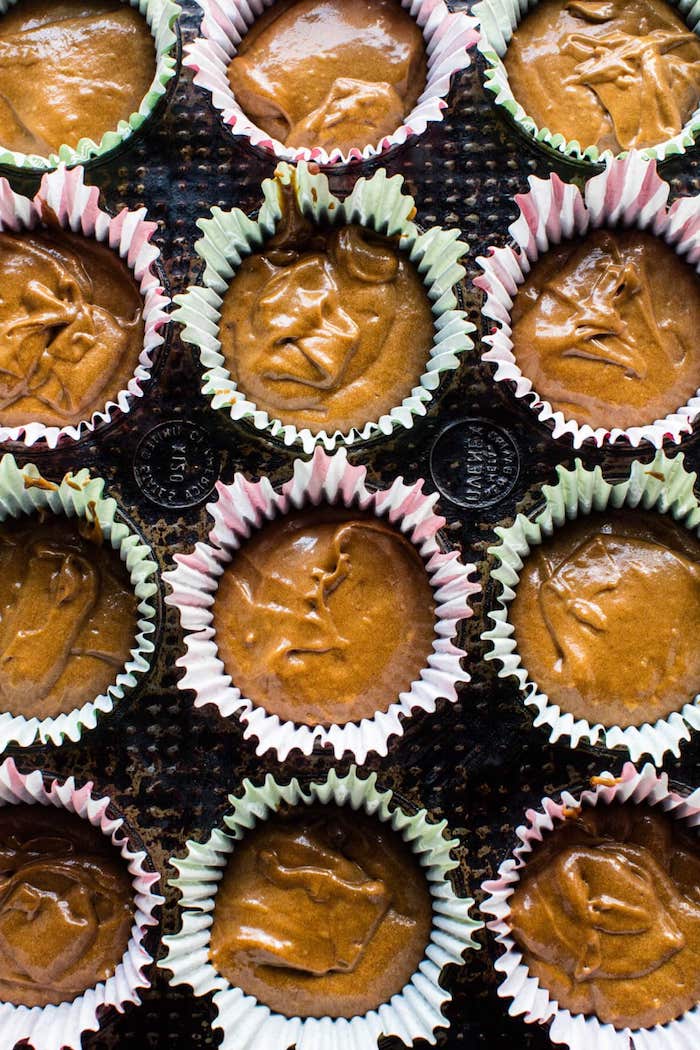 …bake, add icing and enjoy! Yum!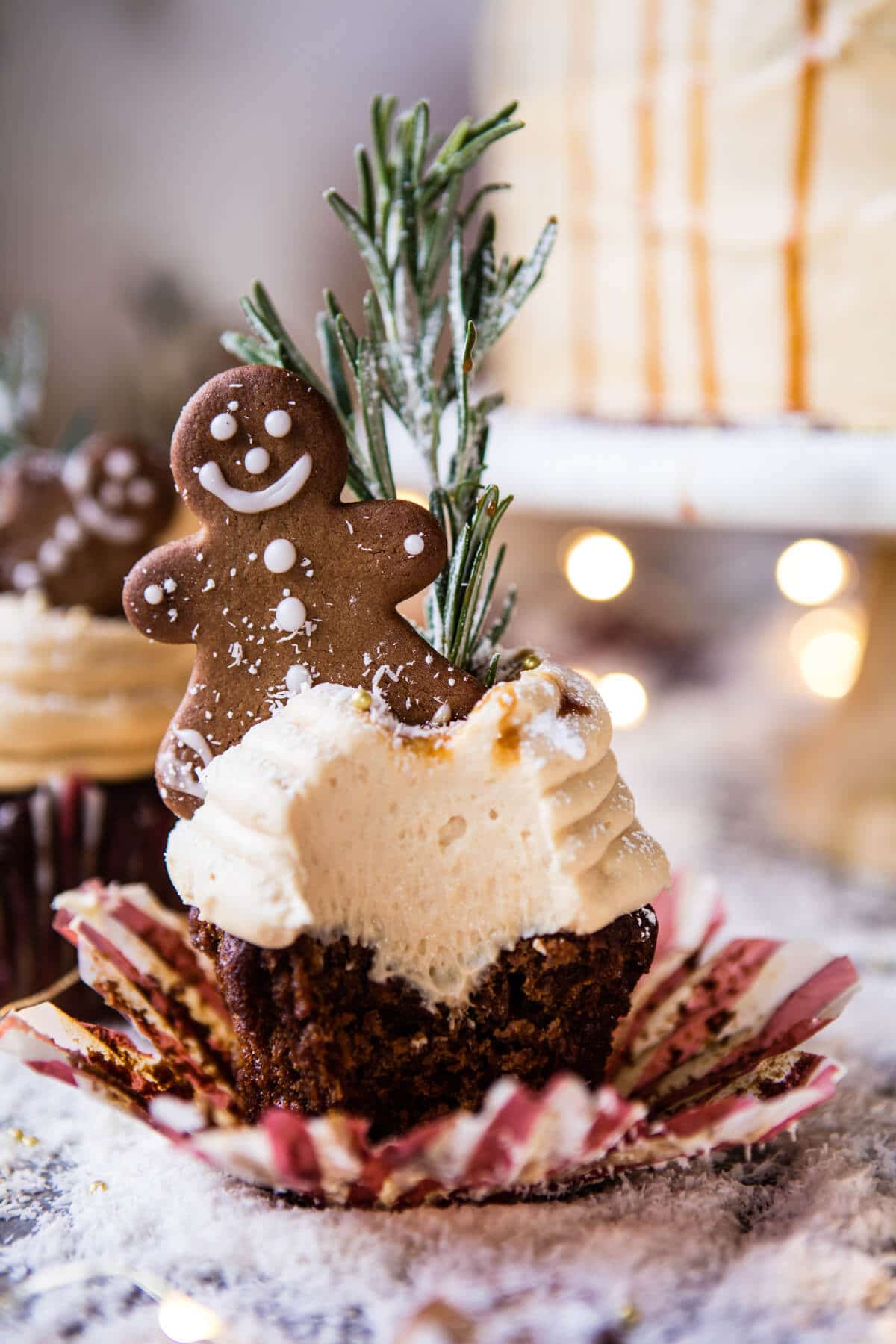 Here is a different version of the gingerbread and caramel Christmas cupcakes
And here is one with a simpler decoration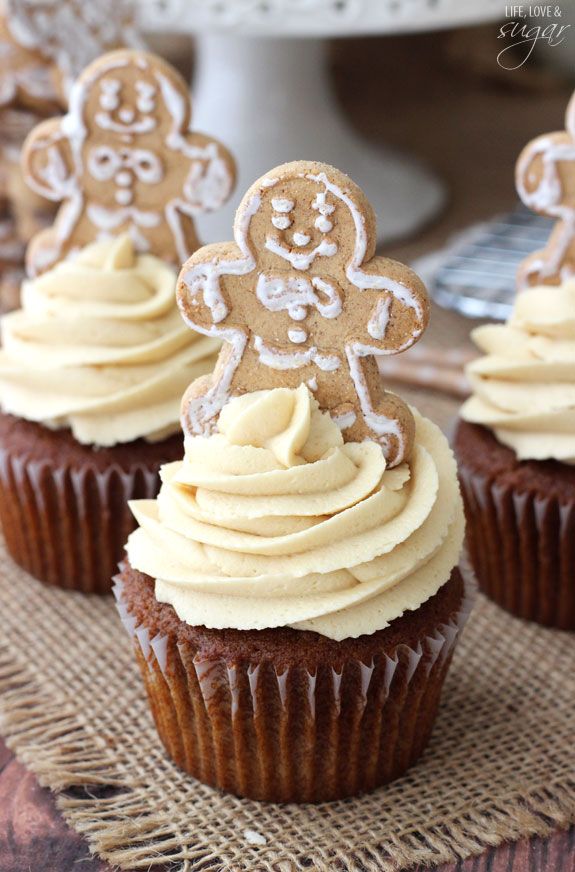 Do you want to build a snowman? Well, with our next suggestion you can do so without having to leave the warmth of your home!
Make these cute snowman Christmas cupcakes in just a few easy steps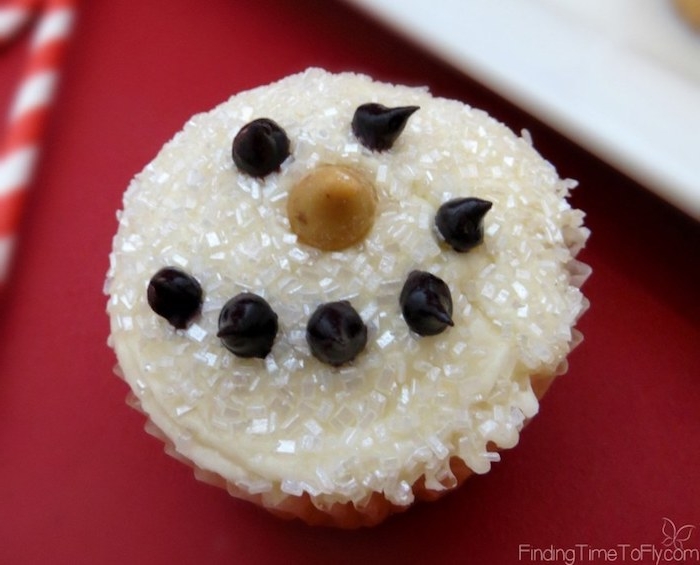 Snowman Christmas cupcakes recipes
What you'll need for a batch of 24 cupcakes
2 1/2 cups of all-purpose flour
2 cups of sugar
1 cup of milk
1/2 cup of cooking oil
2 large eggs (kept at room temperature)
3 teaspoons of baking powder
1 of pure vanilla essence
1 cup of water
a pinch of salt
baking tray(s)
cupcake wrappers
Instructions:
Preheat the oven on 350°F and prepare your cupcake mould and wrappers.
Mix the flour, baking powder, sugar and salt in a bowl.
In a different bowl, combine the milk, cooking oil, vanilla essence and eggs.
Add the milk mixture to the flour mixture, and whisk until they are combined.
Fill the cupcake wrappers halfway and then bake for 15 minutes. When done, leave the cupcakes aside to cool.
What you'll need for the frosting:
1/2 cup of softened salted butter
4 cups of powdered sugar
1/2 cup of shortening
1 1/2 teaspoons of vanilla essence
3 teaspoons of milk or water
a packet of white sparkling sugar sprinkles
chocolate decorative icing
caramel chips
Instructions:
Mix the butter and shortening in a bowl until you get a smooth, creamy substance.
Add 2 cups of powdered sugar and continue mixing.
Pour the vanilla essence along with 1 teaspoon of milk (or water).
Add the remaining powdered sugar and whisk until the mixture is smooth.
Pour the 2 teaspoons of milk (water) and mix.
Spread the finished frosting evenly on your cupcakes.
Pour the white sparkling sugar sprinkles in a bowl and carefully dip each frosted cupcake, ensuring its entire surface is covered in sprinkles.
Use the decorative icing to draw your snowman's eyes and mouth
Add a caramel chip for its nose.
Enjoy!
Here is a step by step photo guide to help you with the process:
First, the necessary ingredients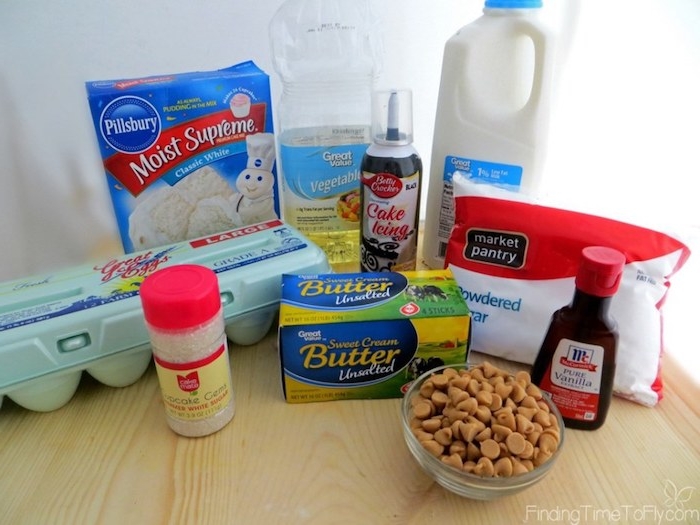 Make sure to spread the icing as smoothly as possible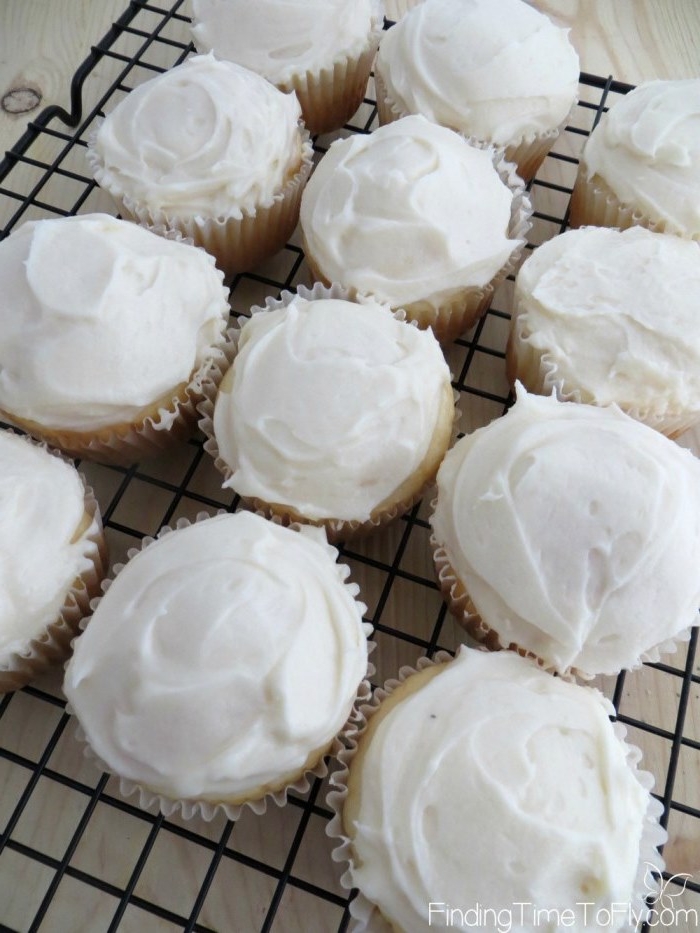 Now, add the sparkling sugar sprinkles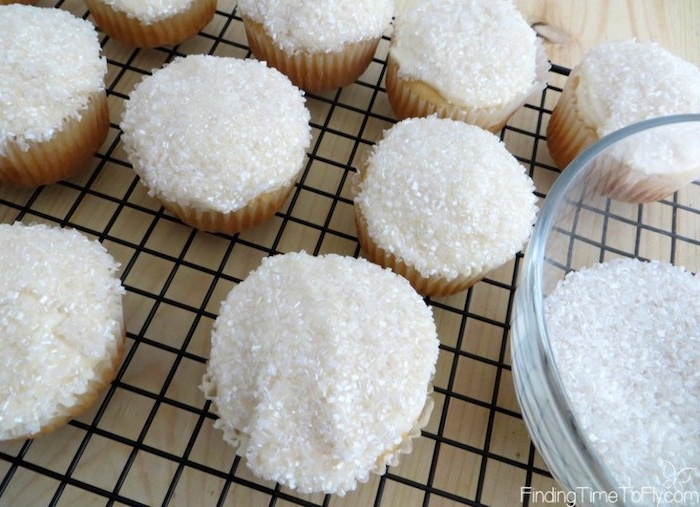 Time to get creative! Drawing the snowman's face can be a fun activity to do with your kids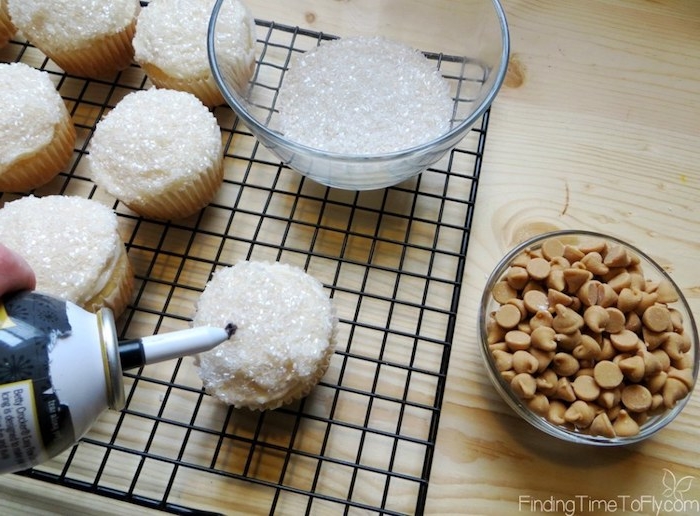 The sparkling white frosting can also be used to make cute polar bear cupcakes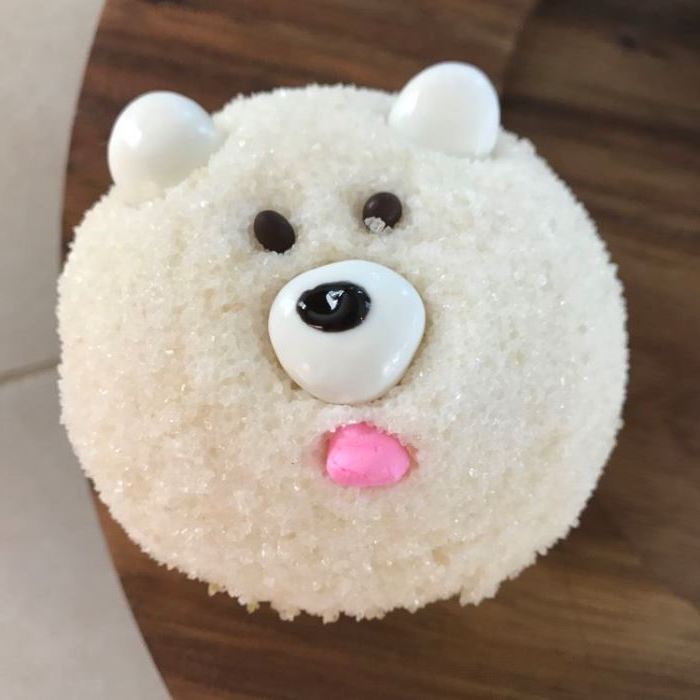 If you prefer to celebrate with exclusive, decadent and chic deserts, why not try these amazing champagne cupcakes?
 A delicious touch of glamour for your Christmas and New Year's celebrations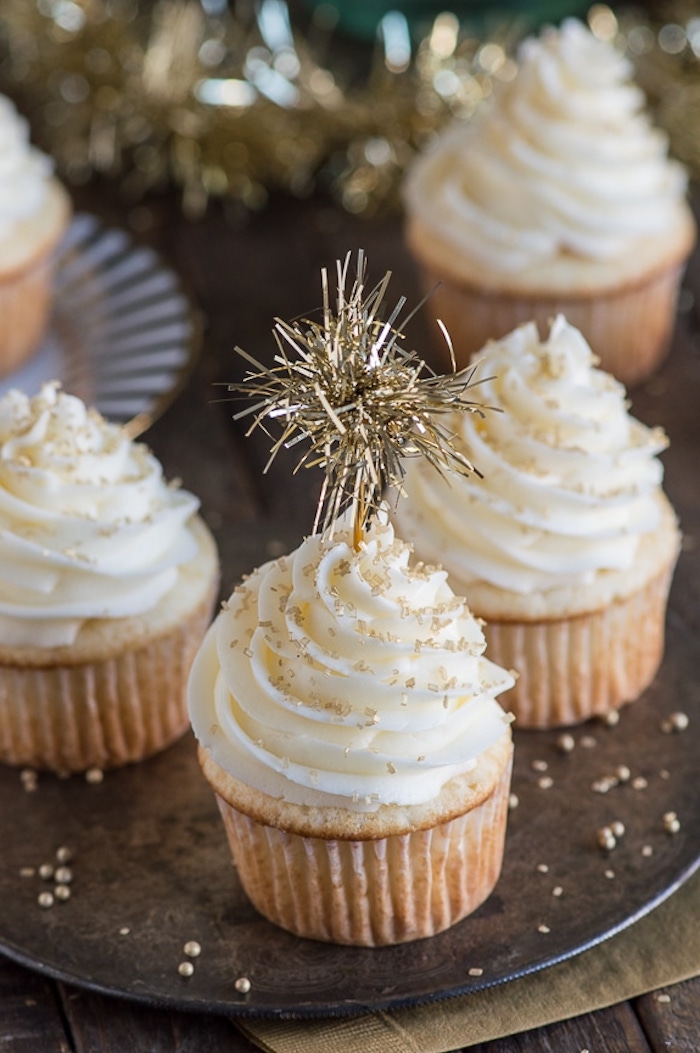 These colorful snowflake cupcakes capture the festive spirit of the season…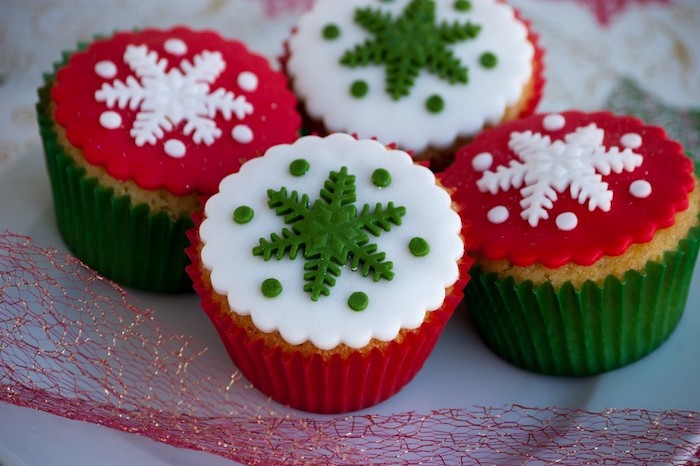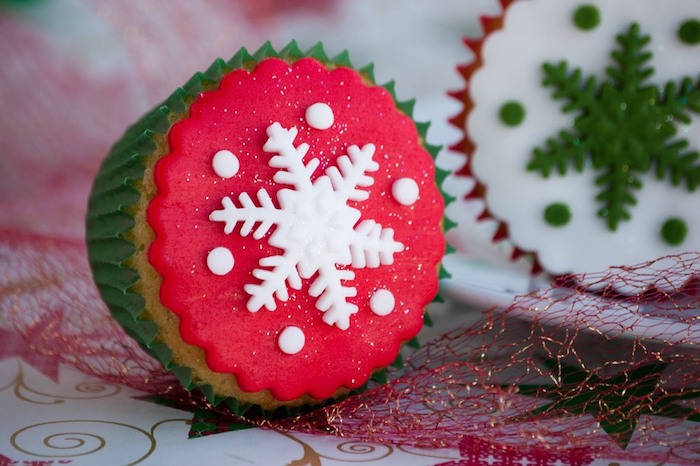 …as do these simple and understated frosty treats!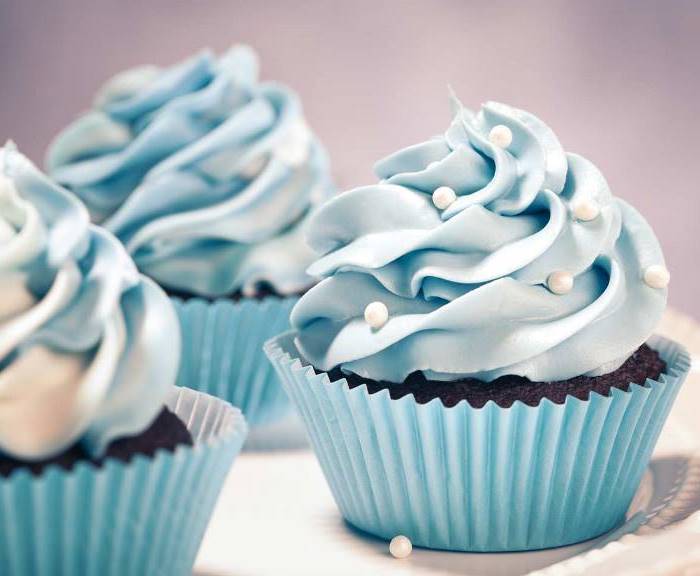 Show your sense of humor with a funny Santa frosting…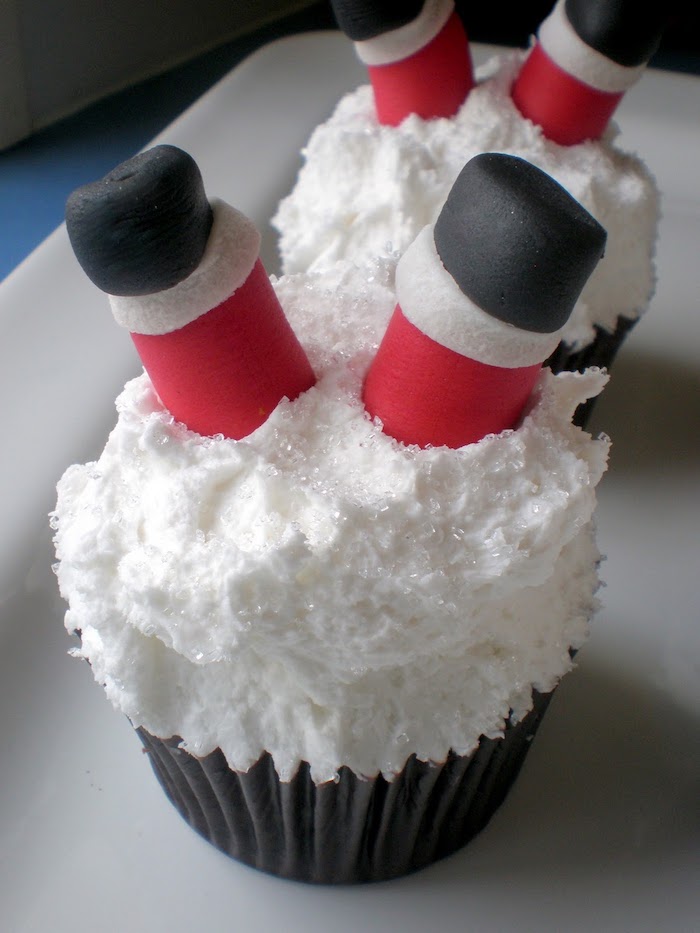 … or keep it traditional with plain vanilla icing, decorated with a dash of red and green sprinkles.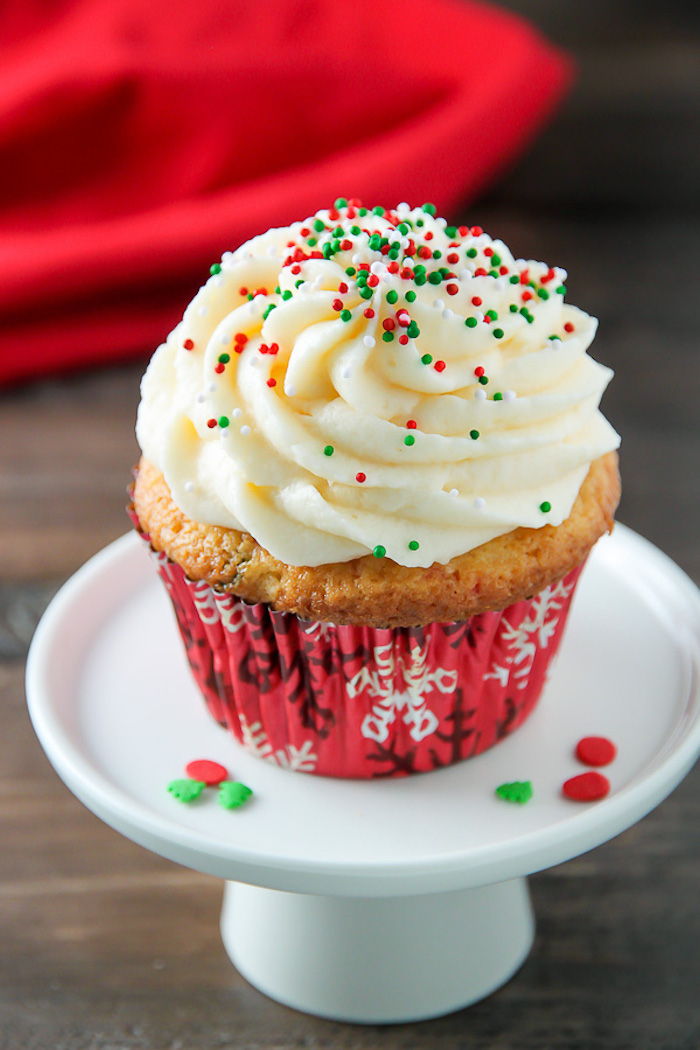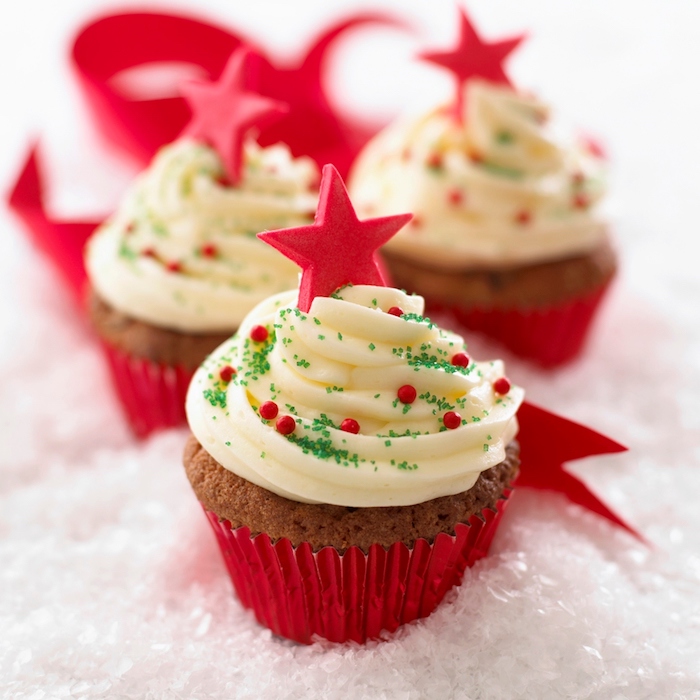 Christmas cupcakes don't get any more festive than this!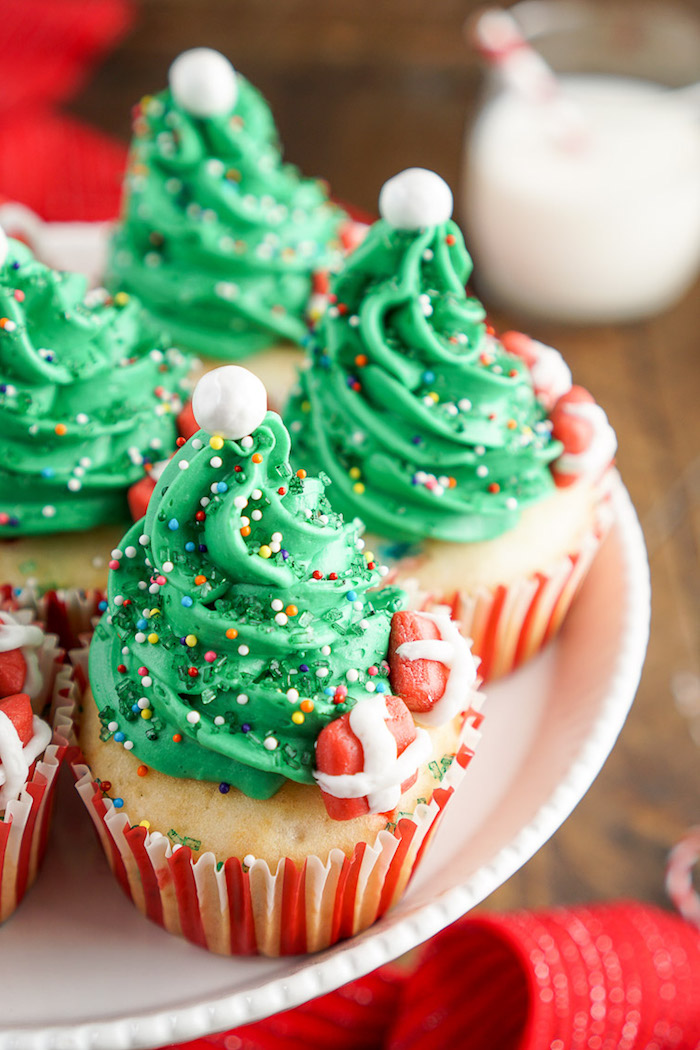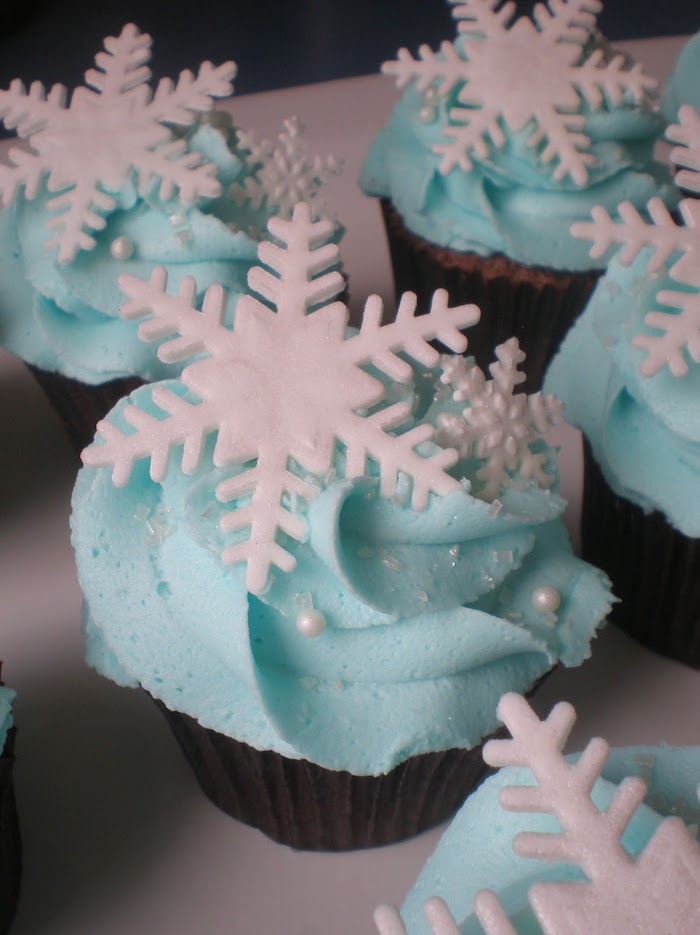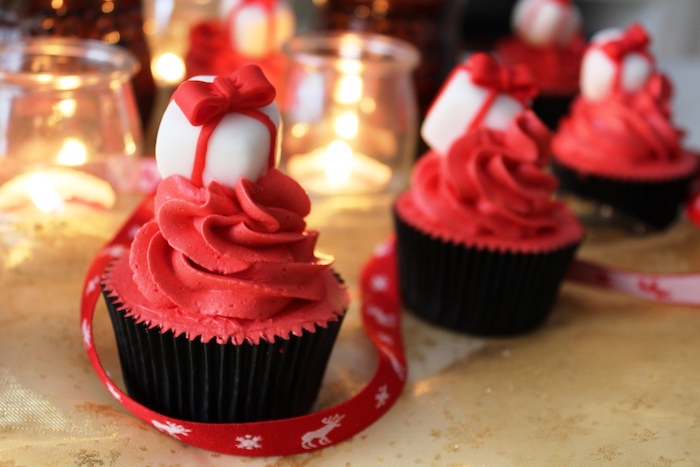 Even the biggest Grinch won't be able to resist taking a bite of these creamy strawberry-topped treats!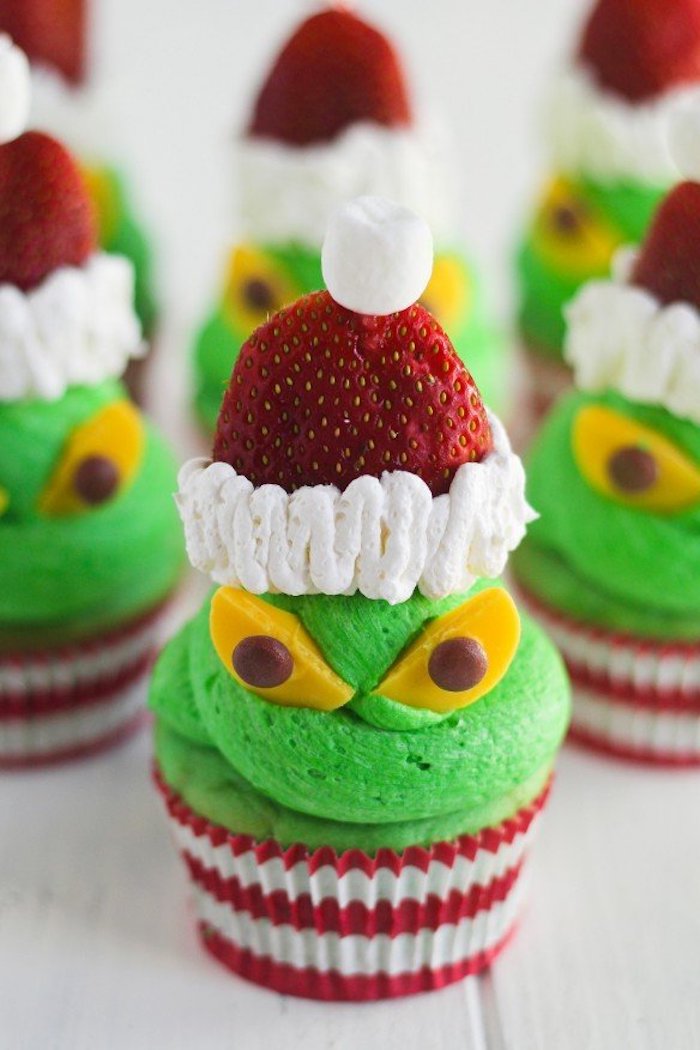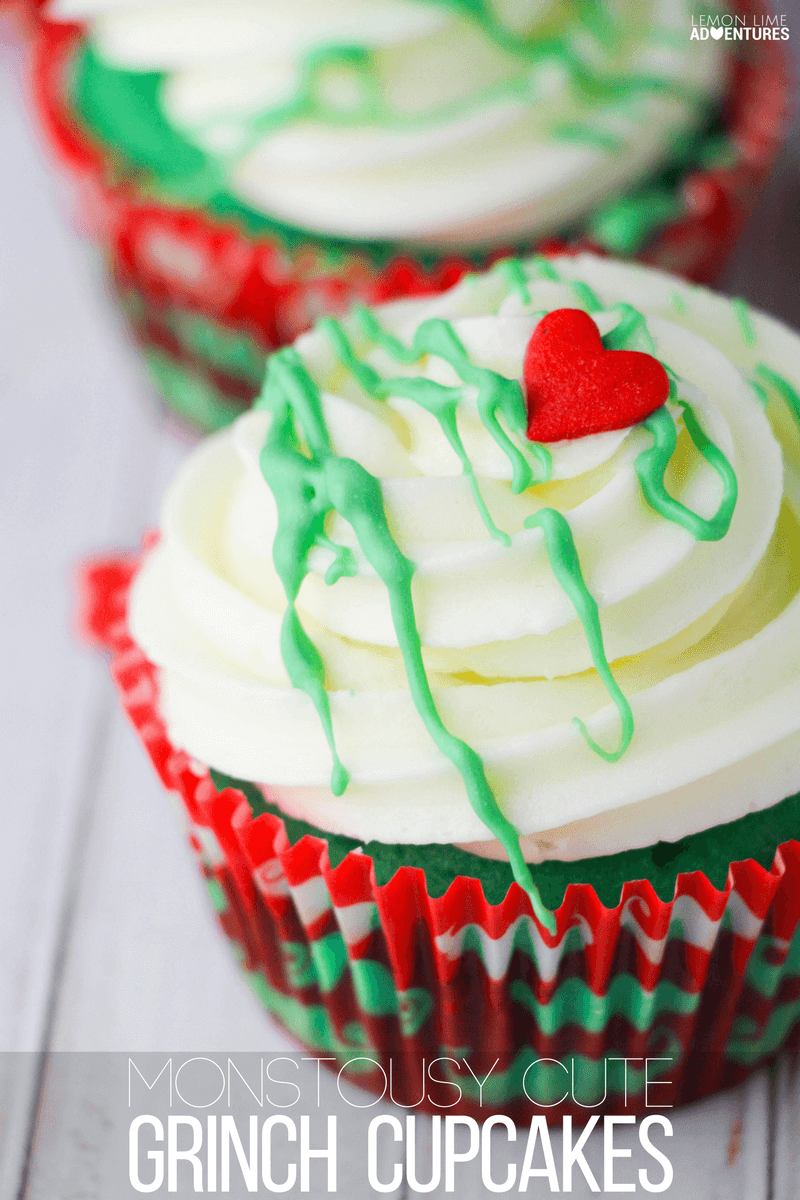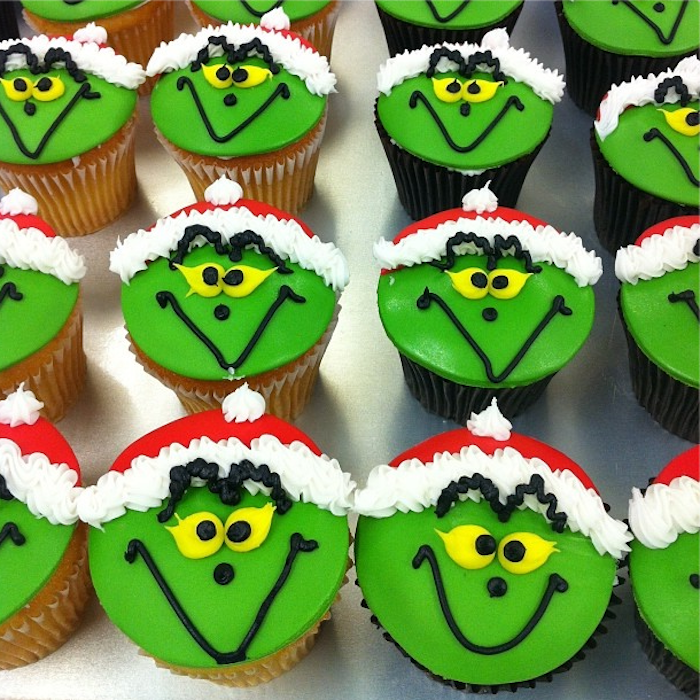 If your kids like baking and crafting, they'll enjoy making these simple, cute and yummy Rudolph Christmas cupcakes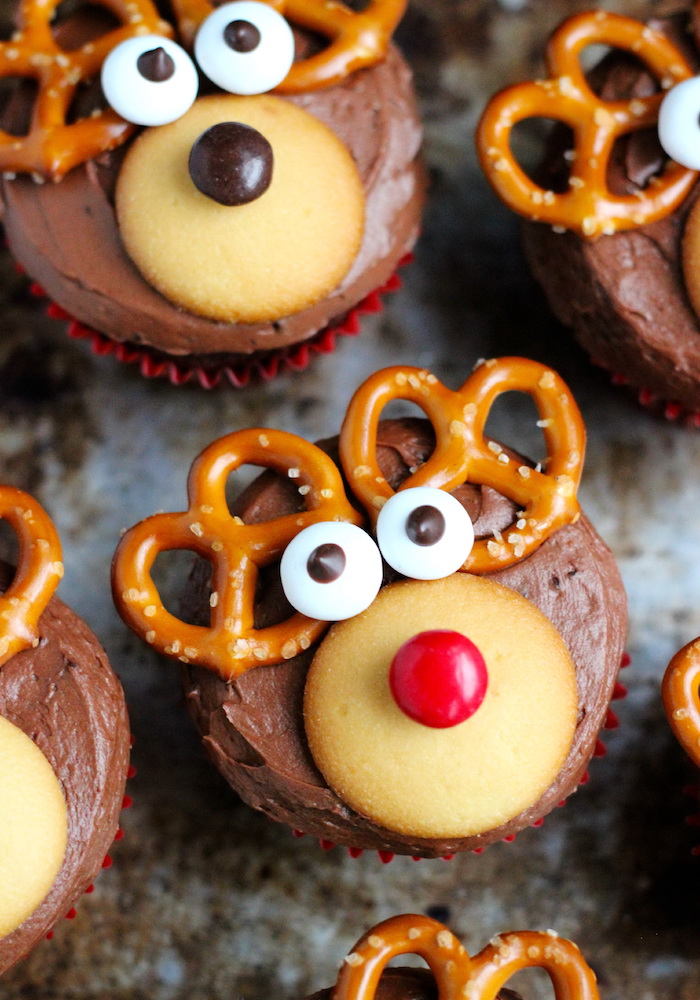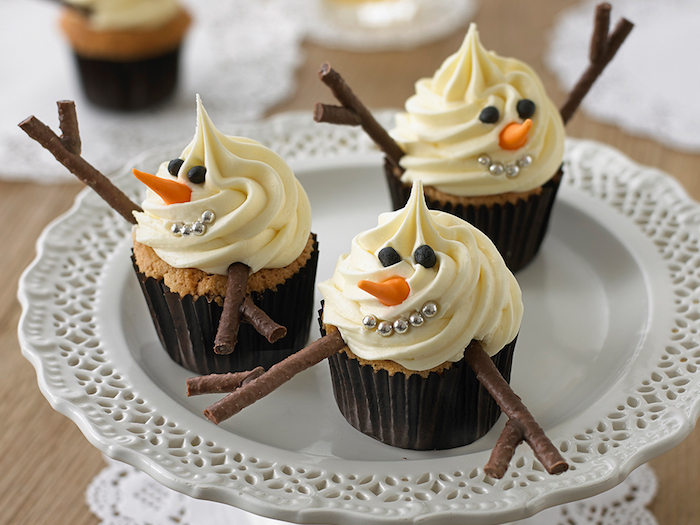 Aren't these Mickey Mouse Santa cakes just adorable?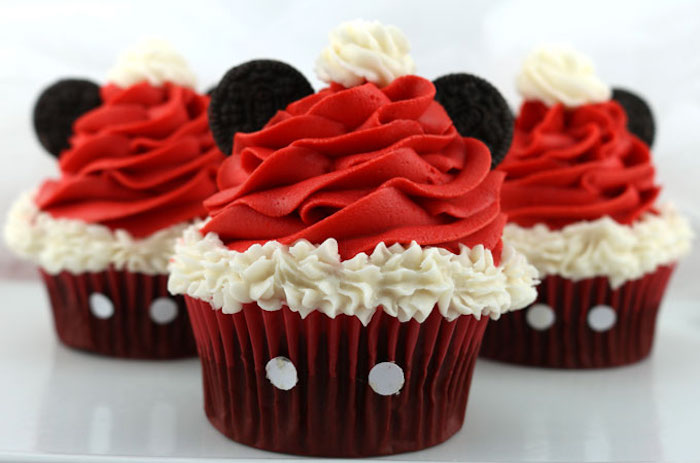 Delicate and classy, snowflake decorations always look festive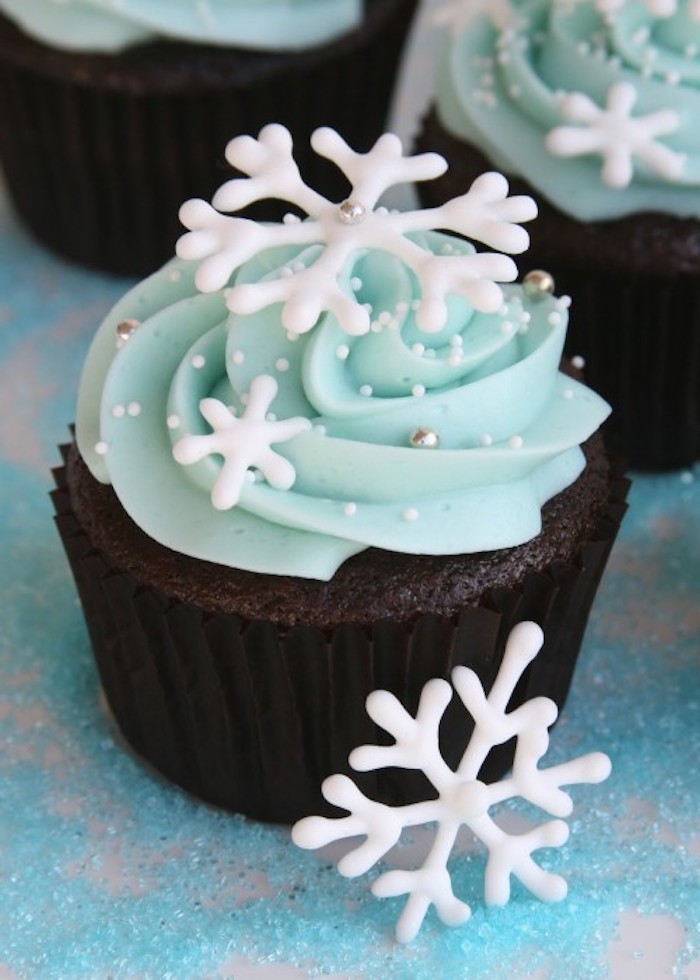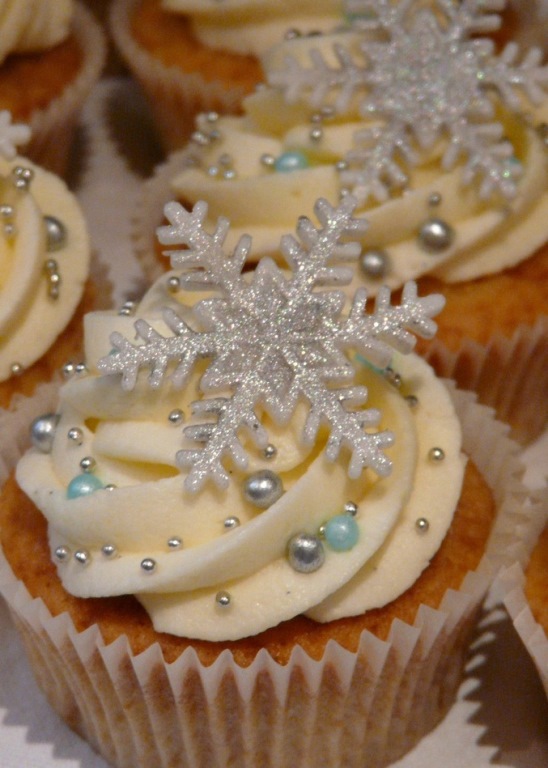 These beautiful Christmas cupcakes of Santa and friends are too cute to eat!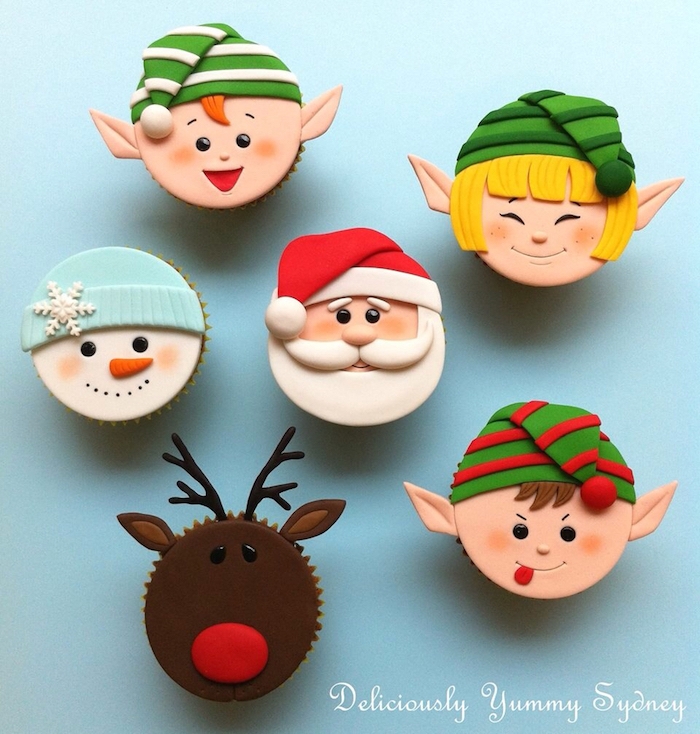 But we'd definitely love to munch on one of those peppermint frosted chocolate cupcakes!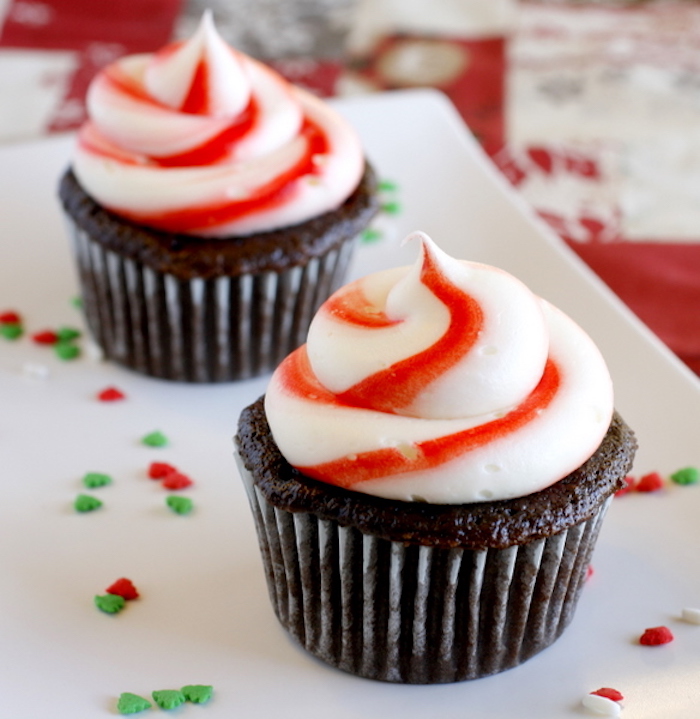 Try using fondant to make simple yet effective holly decorations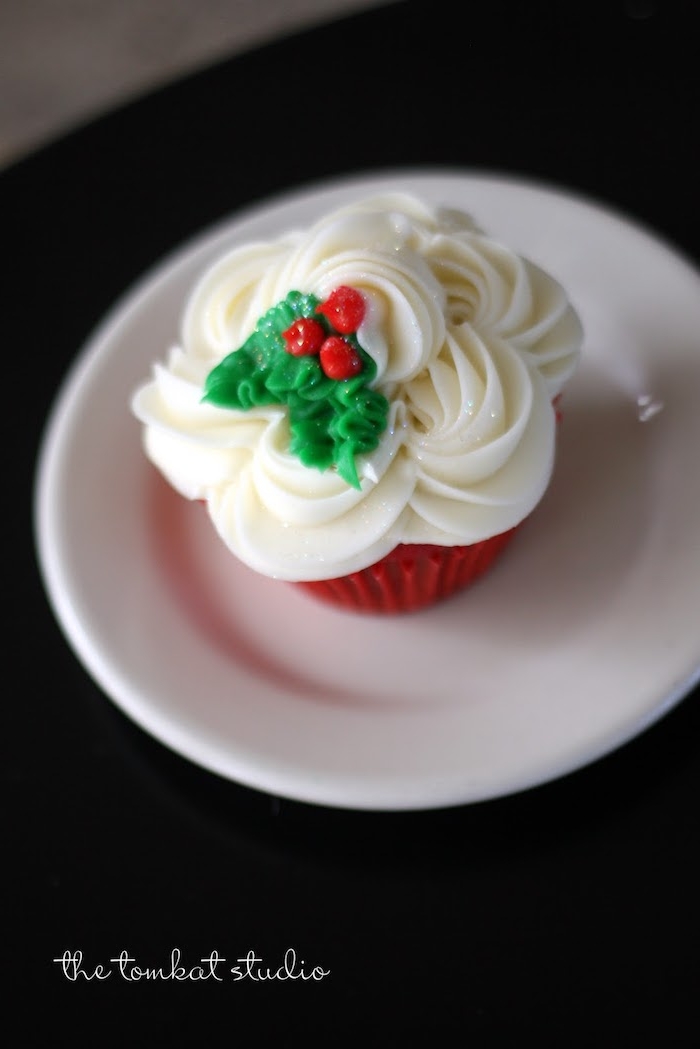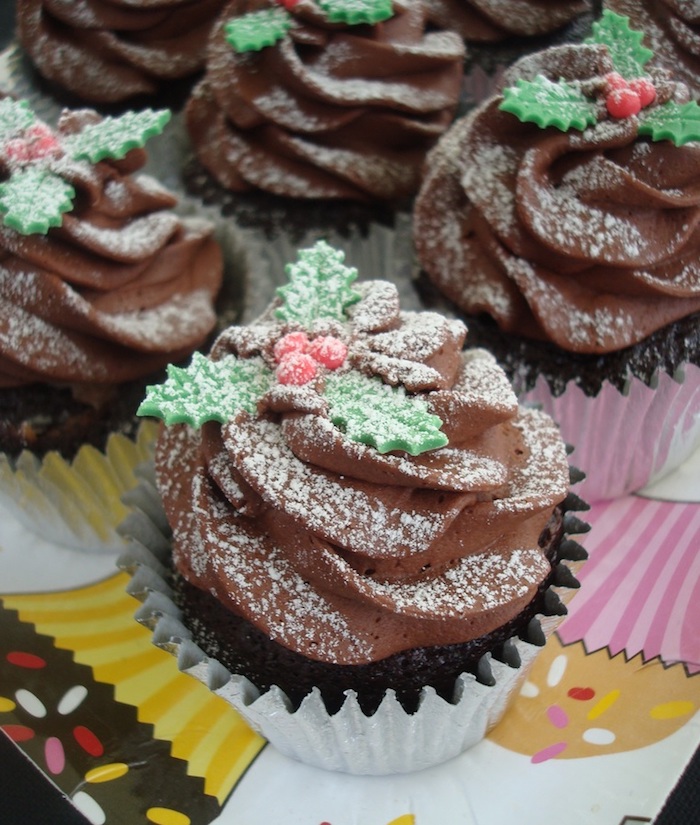 We love these amazing Christmas tree ornament cupcakes!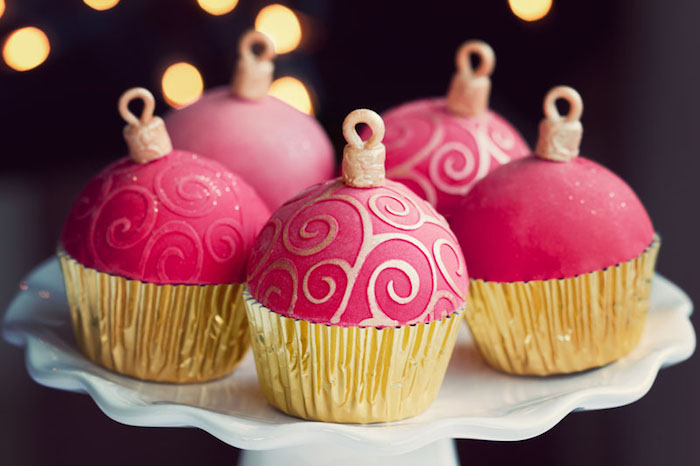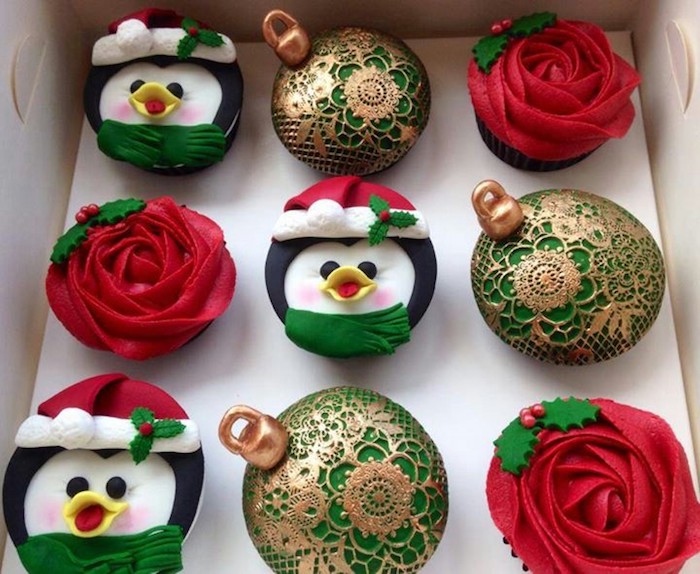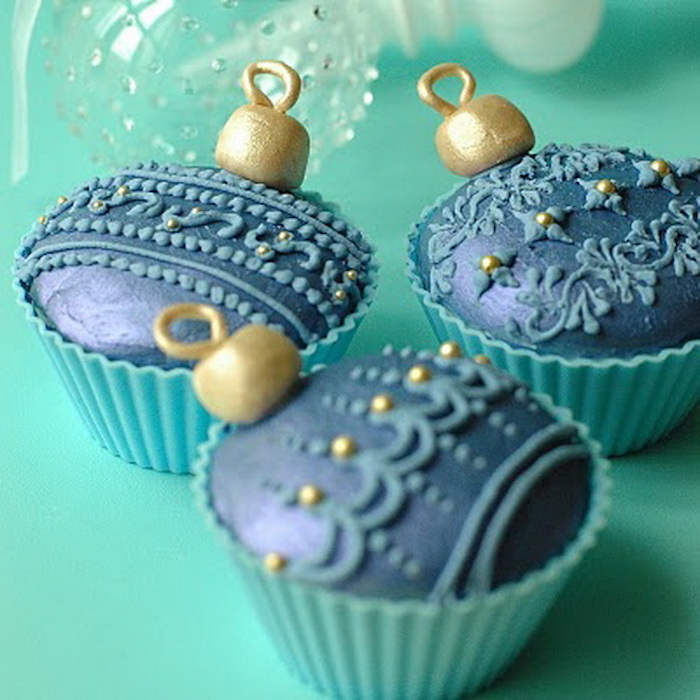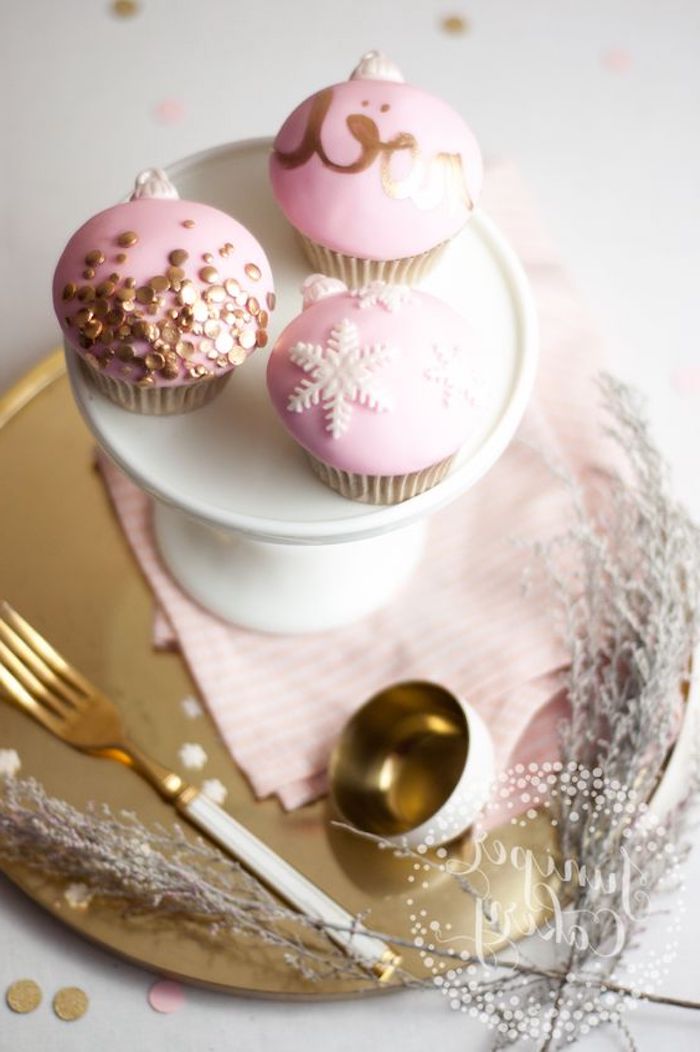 If you are looking for clever and creative ways to display your desserts, here are some suggestions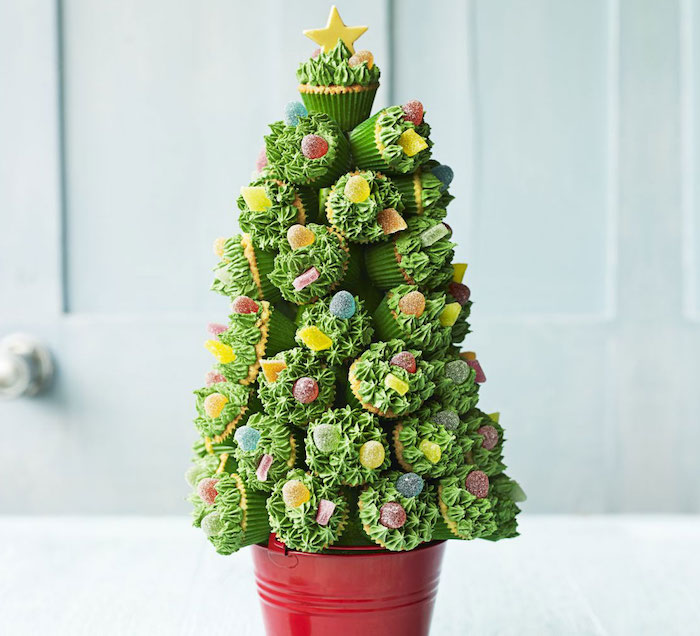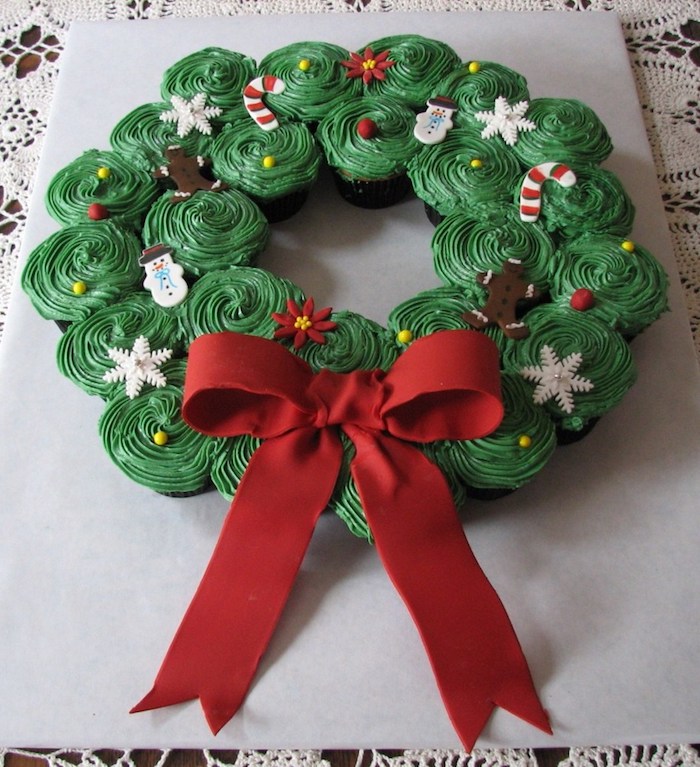 A festive reinterpretation of the beloved red velvet classic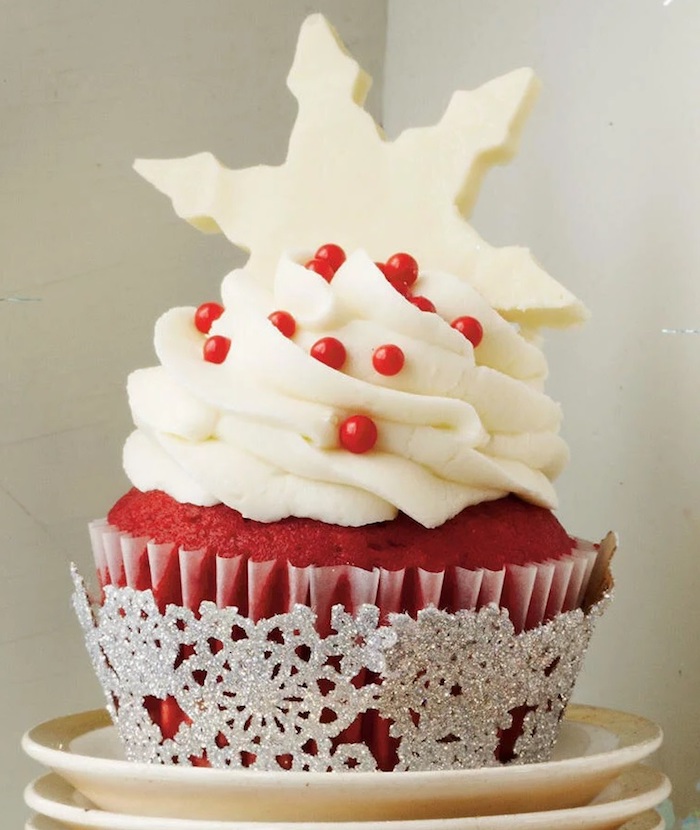 Make your own Christmas wreath cupcake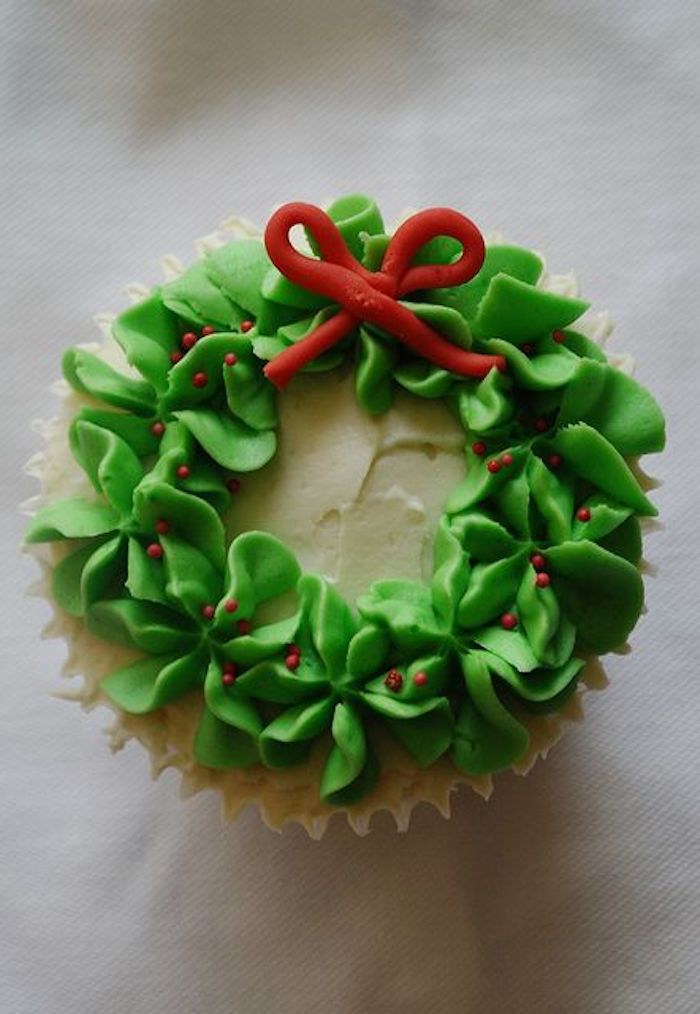 Your kids will love these cute Santa cakes!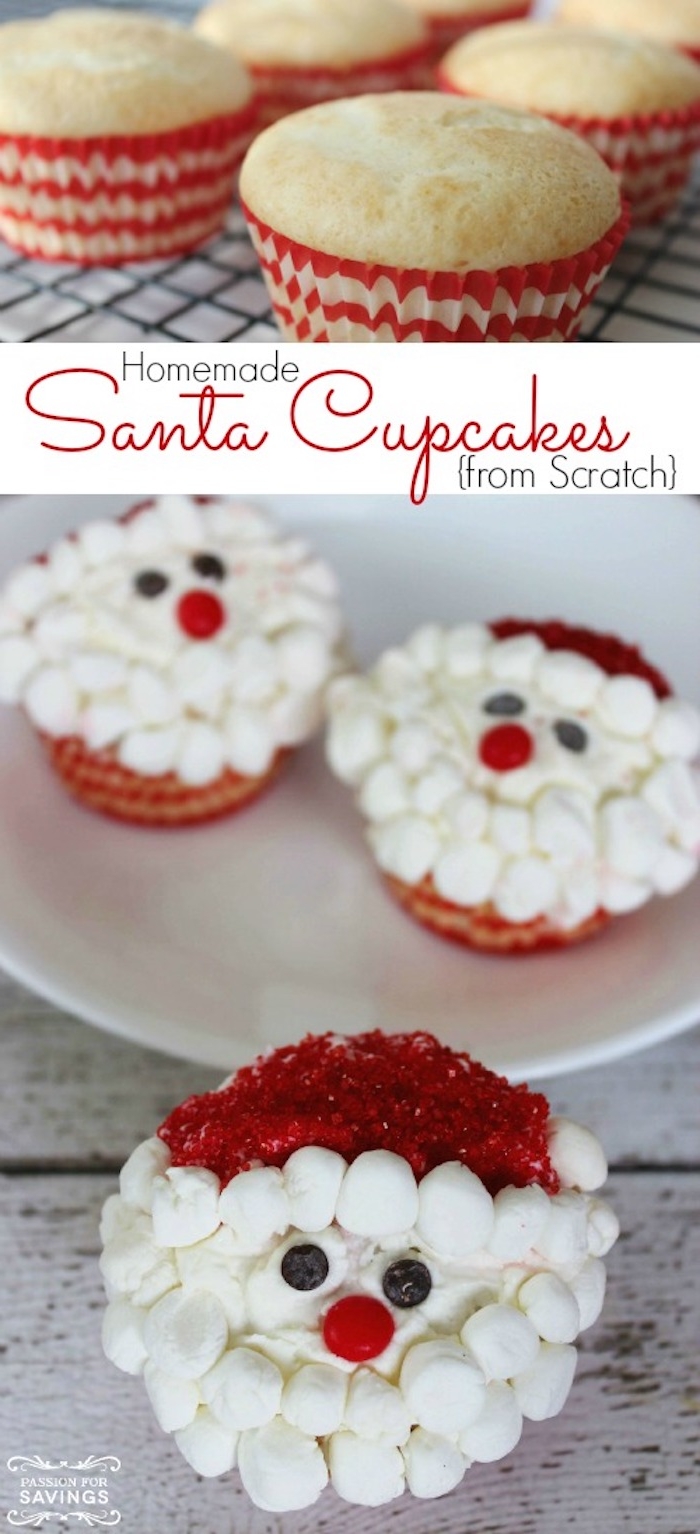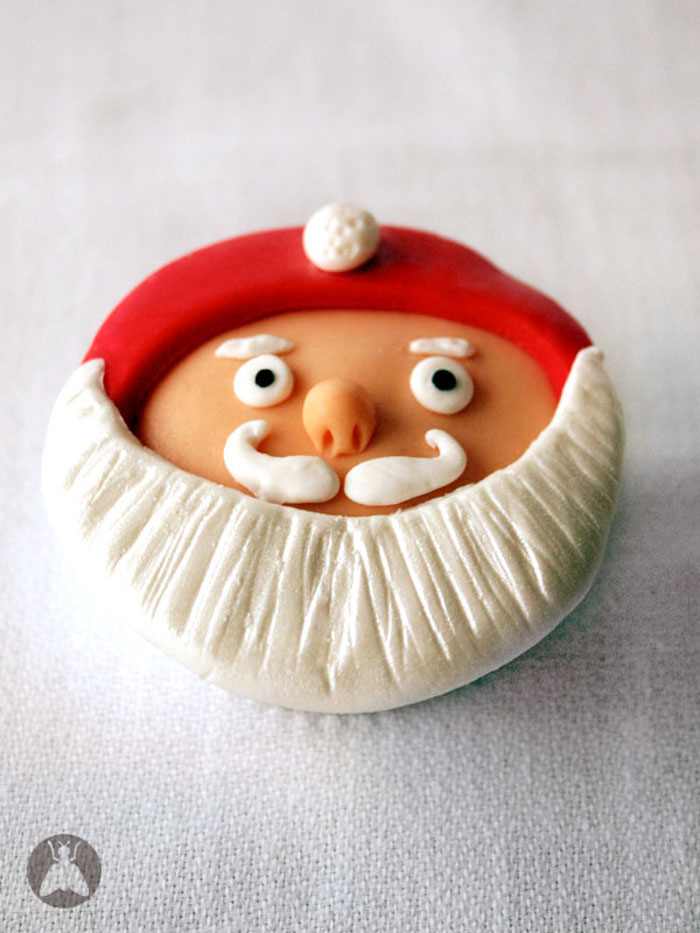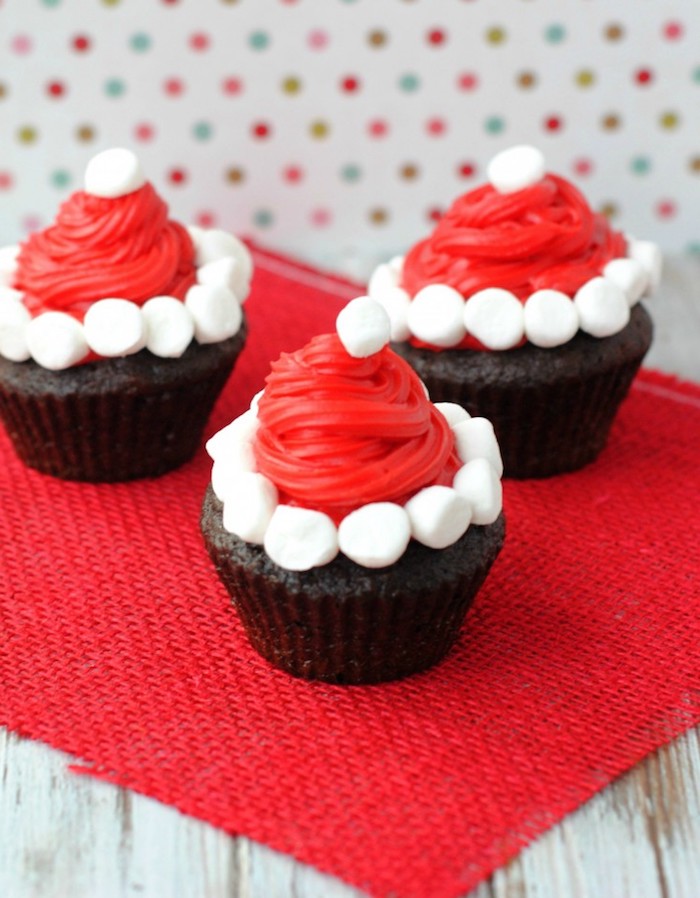 We always associate the taste of cranberries with Christmas and Thanksgiving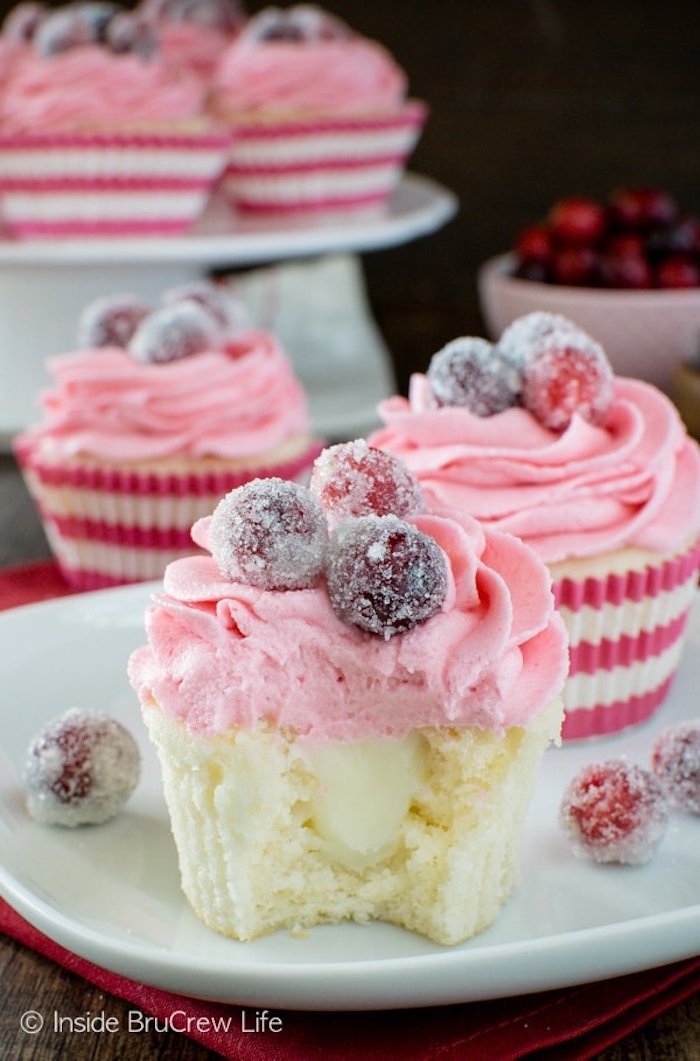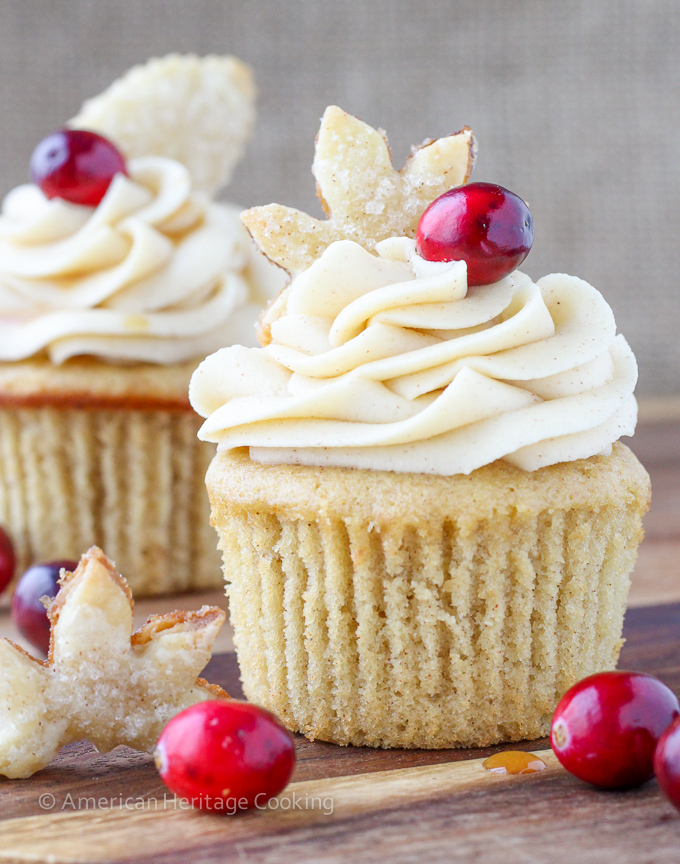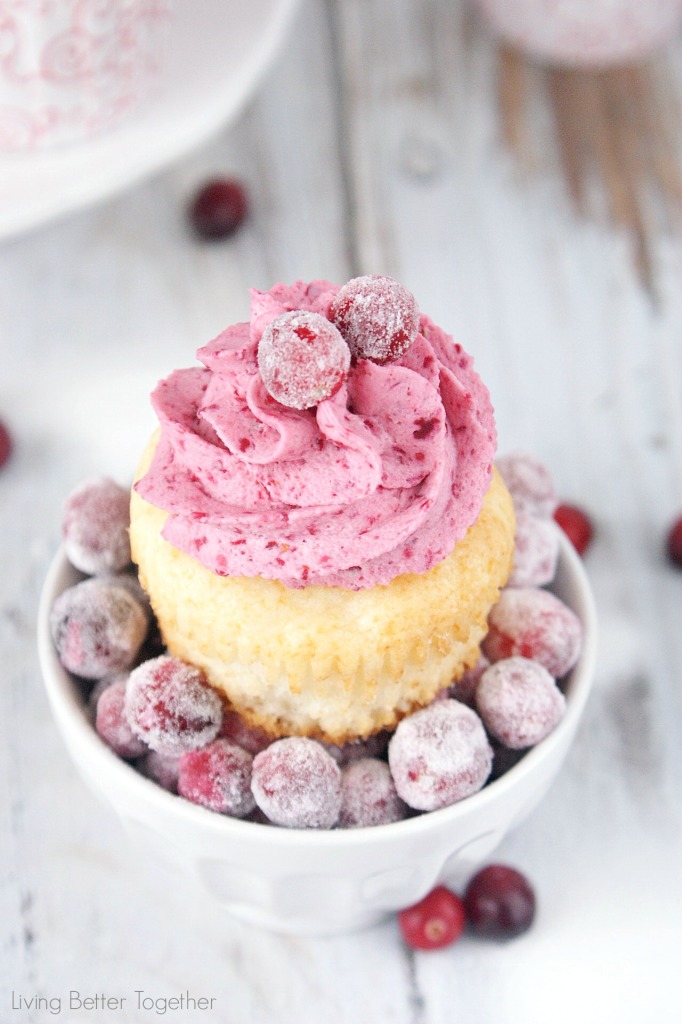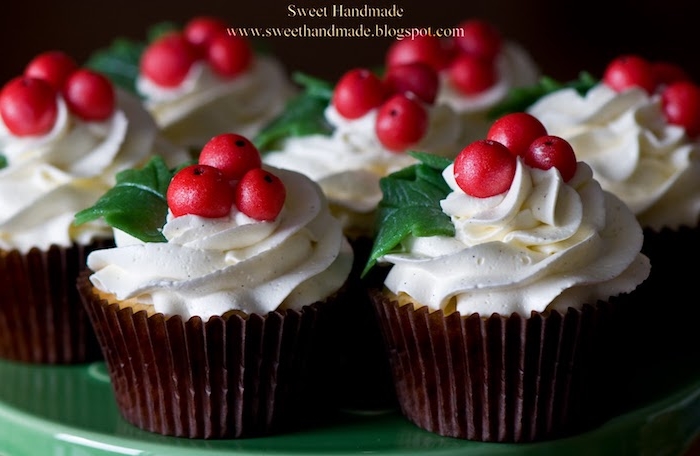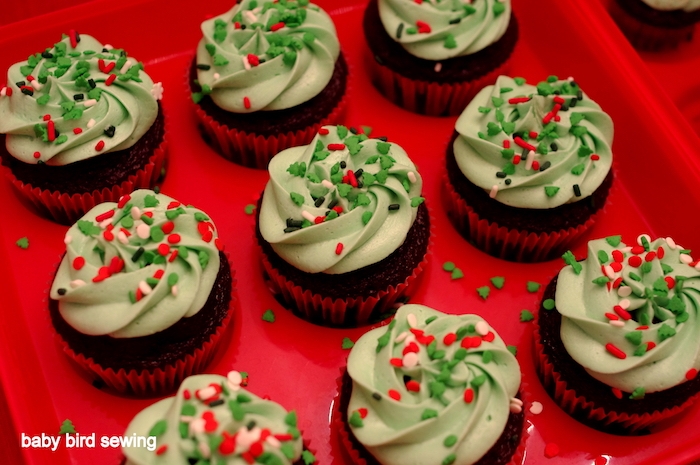 Let Rudolph and his friends bring festive cheer to your dessert table!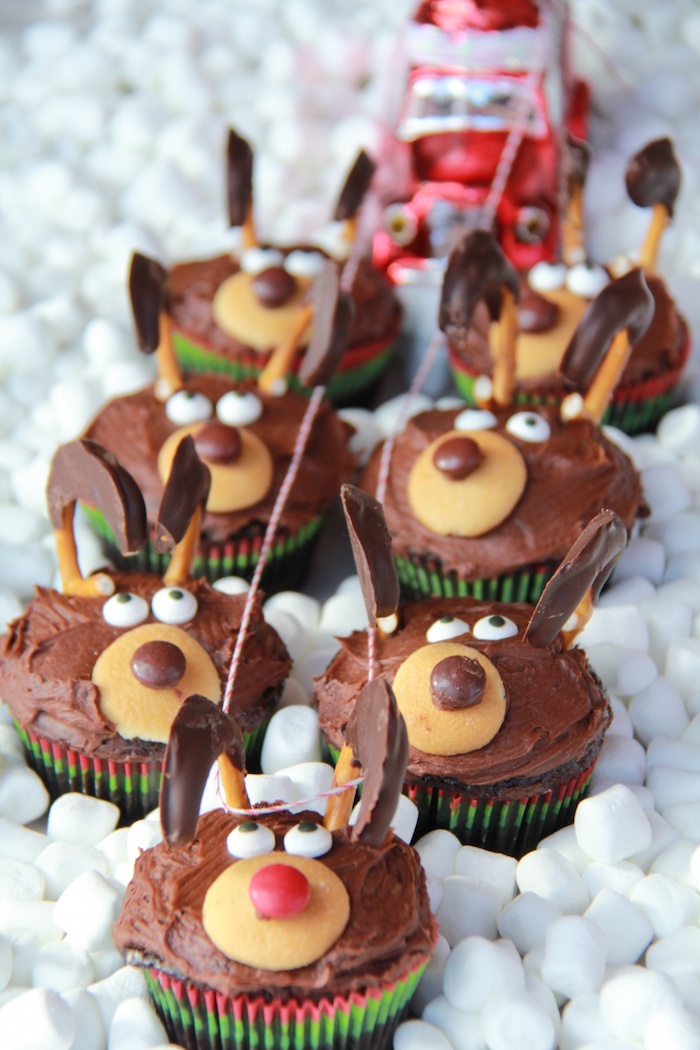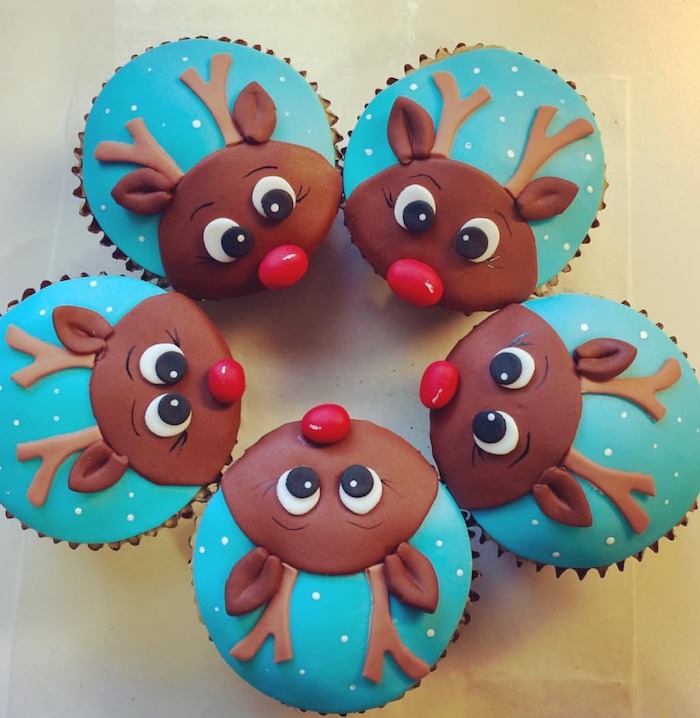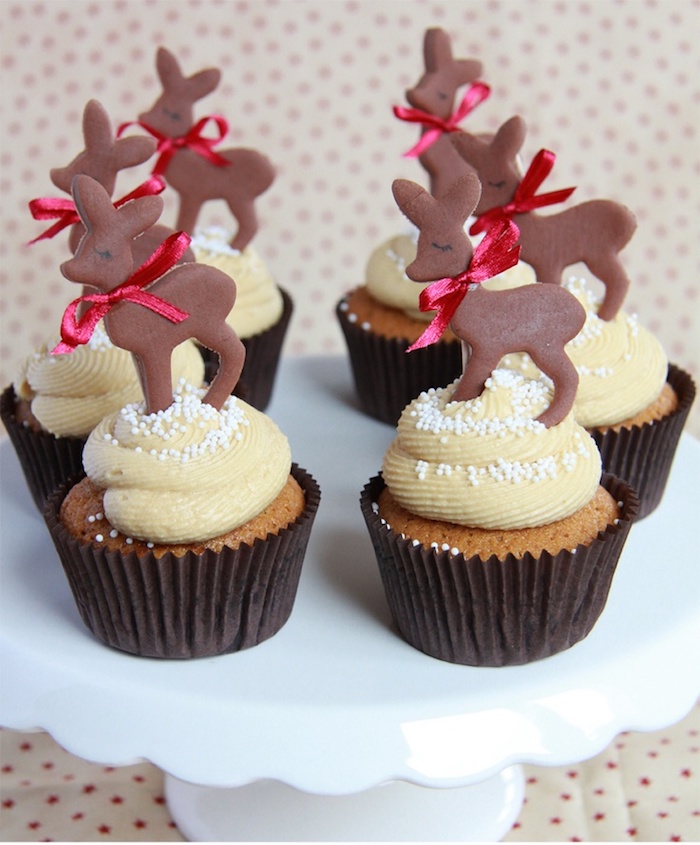 Here are some cute and easy Christmas cupcakes which you can make with your kids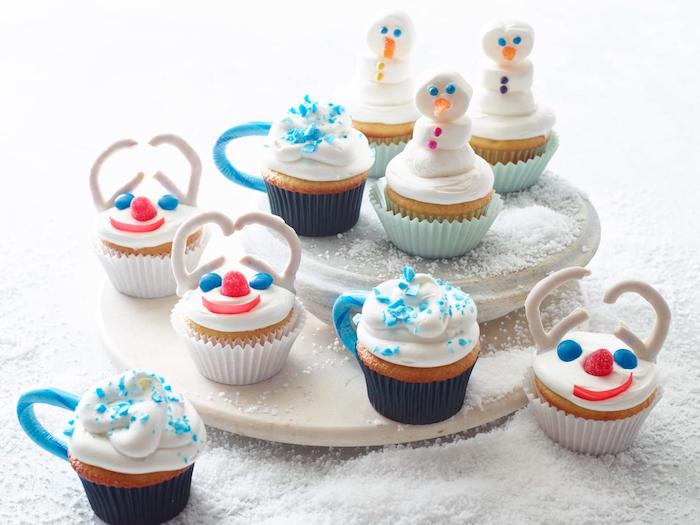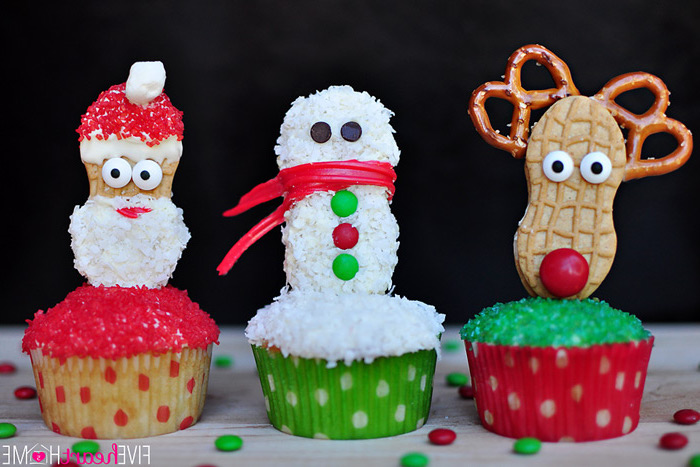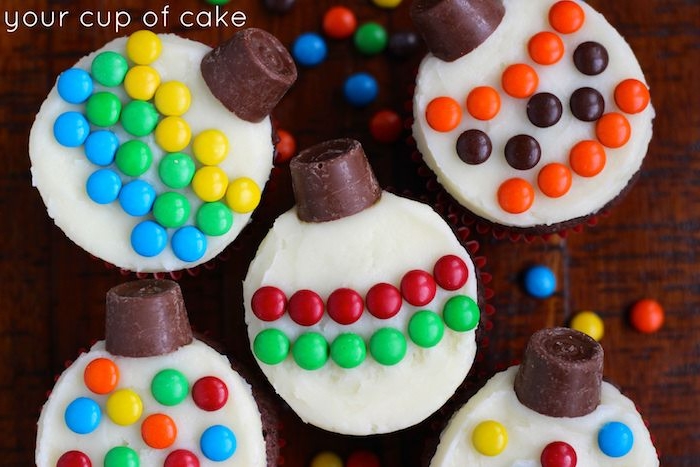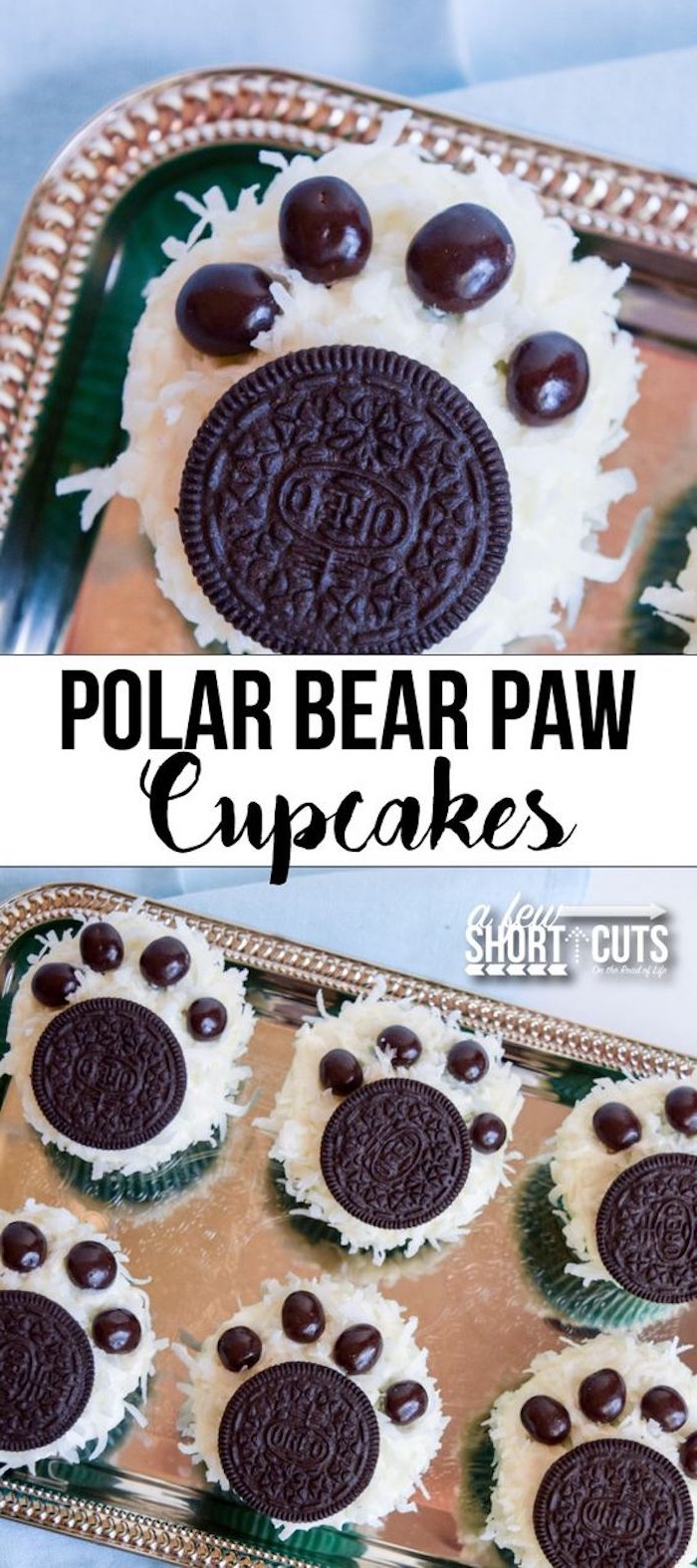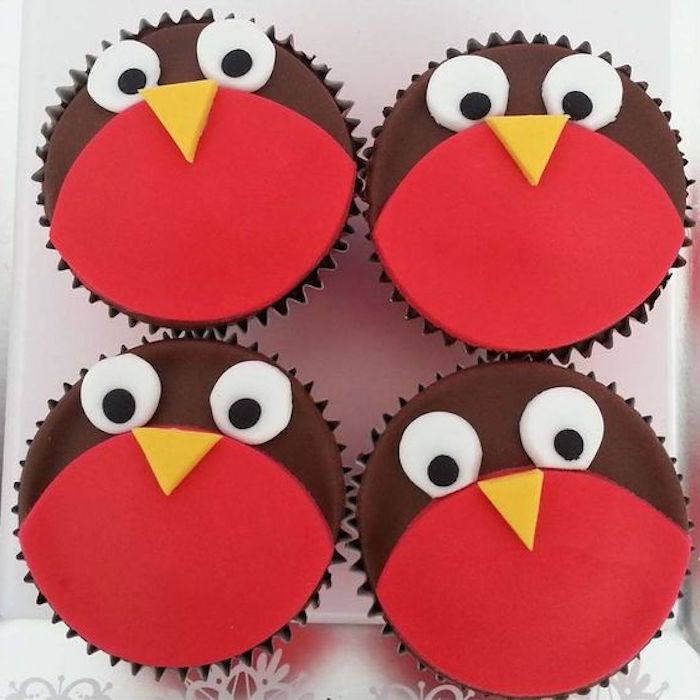 Yet another variation of the popular peppermint and chocolate cupcake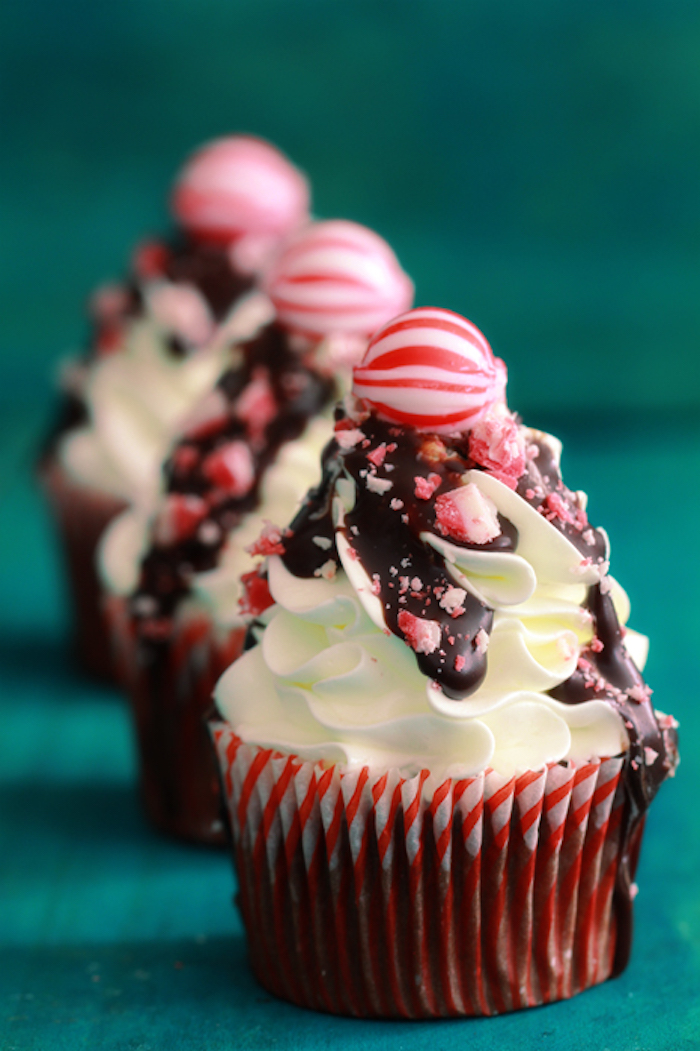 Okay, we know these are not technically cupcakes but we couldn't resist sharing them with you! Adorable strawberry Santa hat brownies!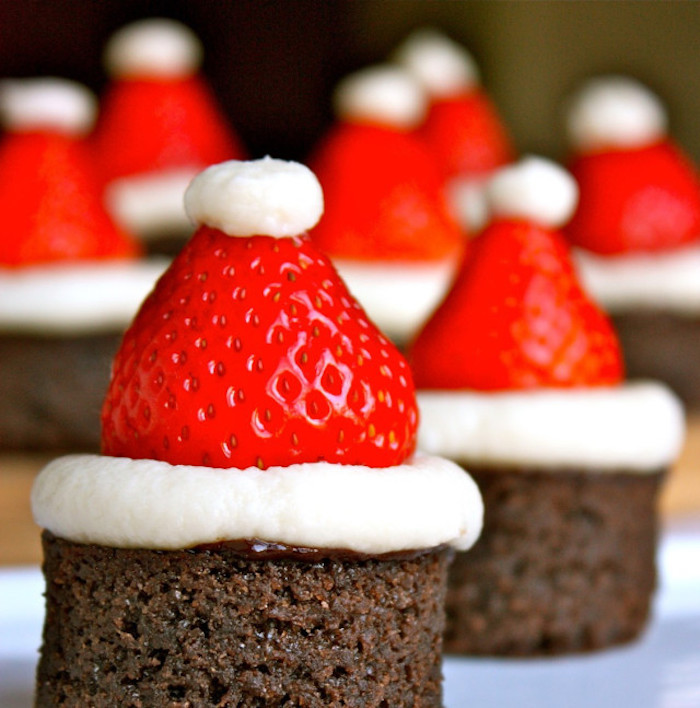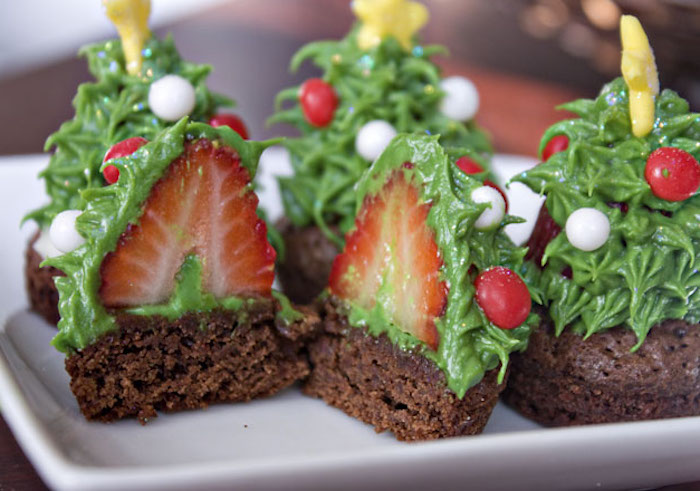 And here are some more cute suggestions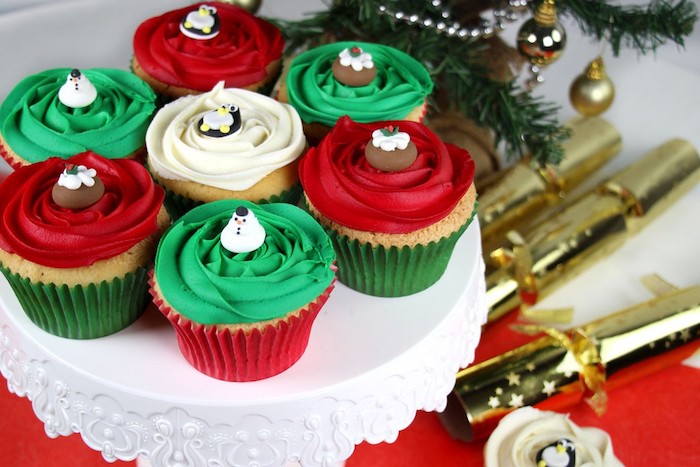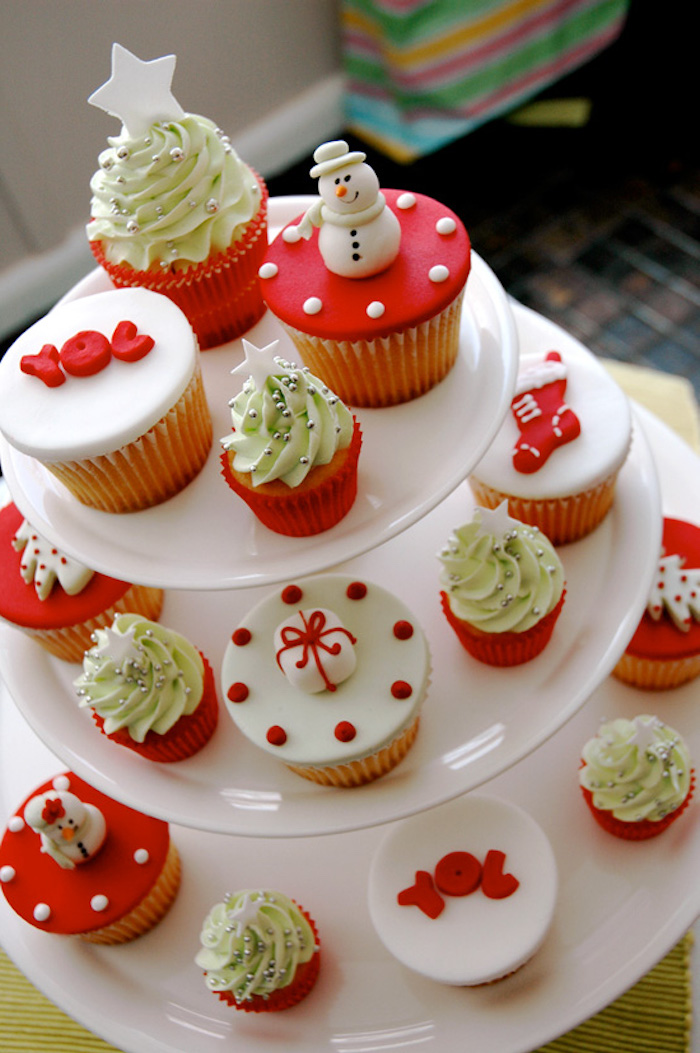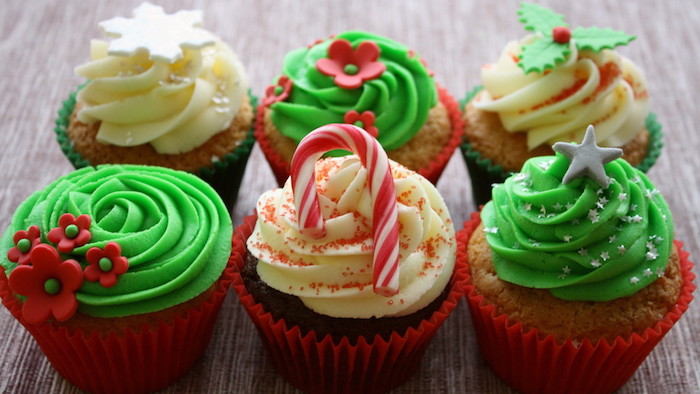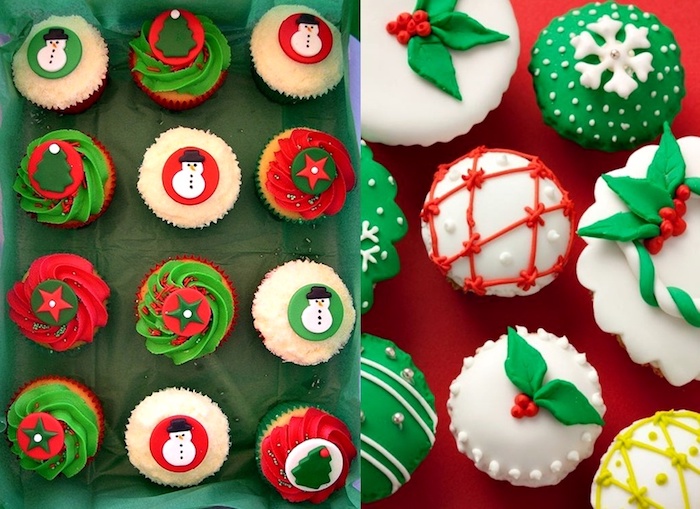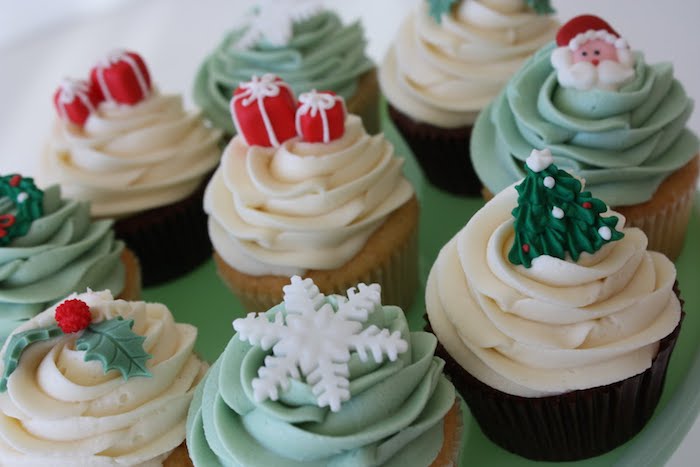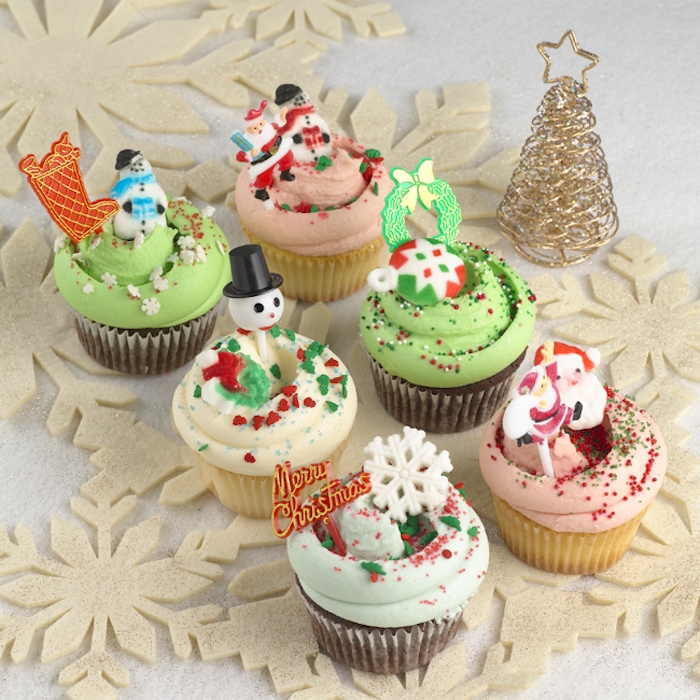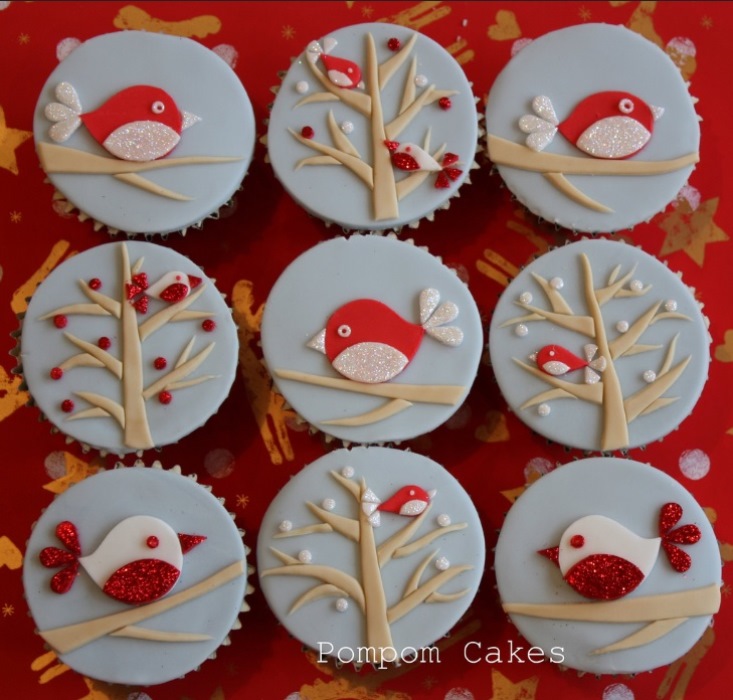 If you're looking for something less flashy but heavenly delicious, why not choose these raspberry cupcakes, dusted with a hint of snowy powdered sugar?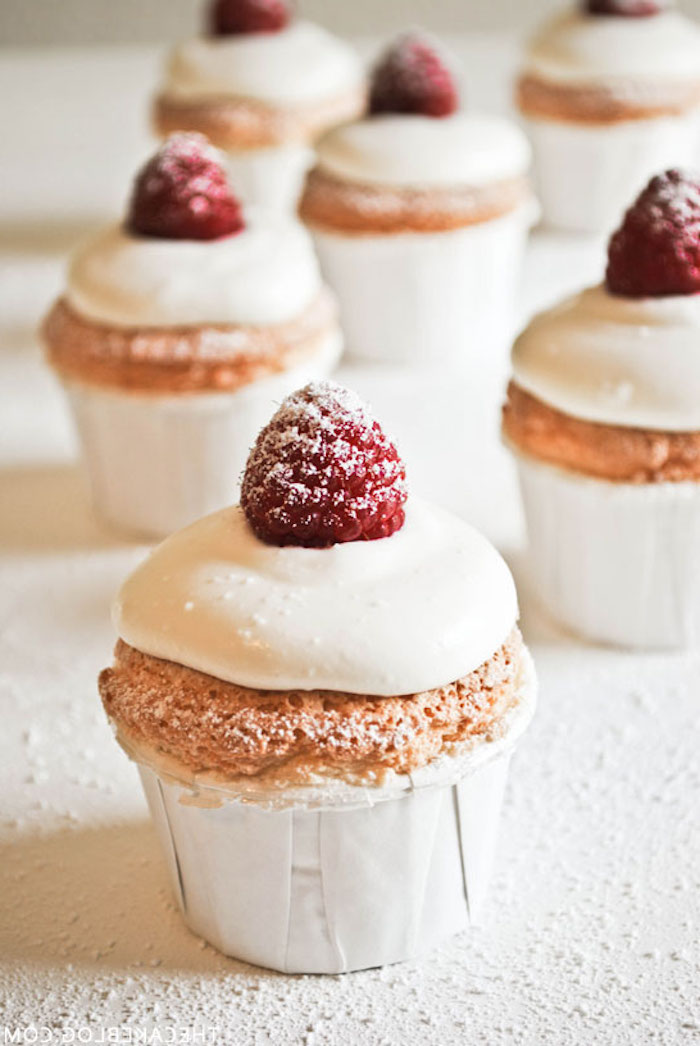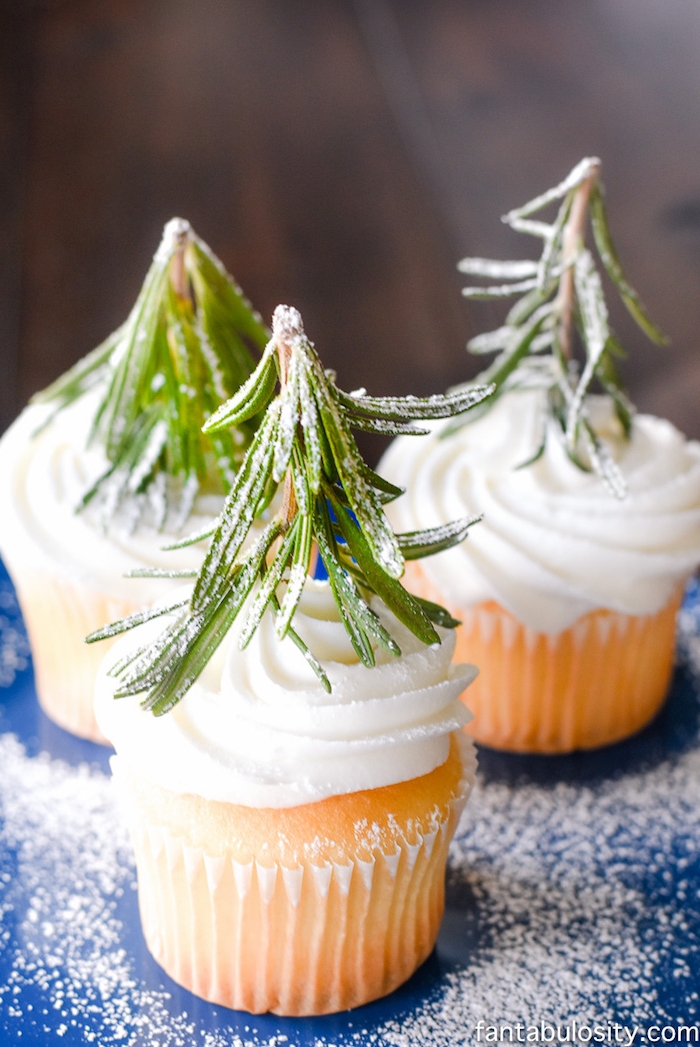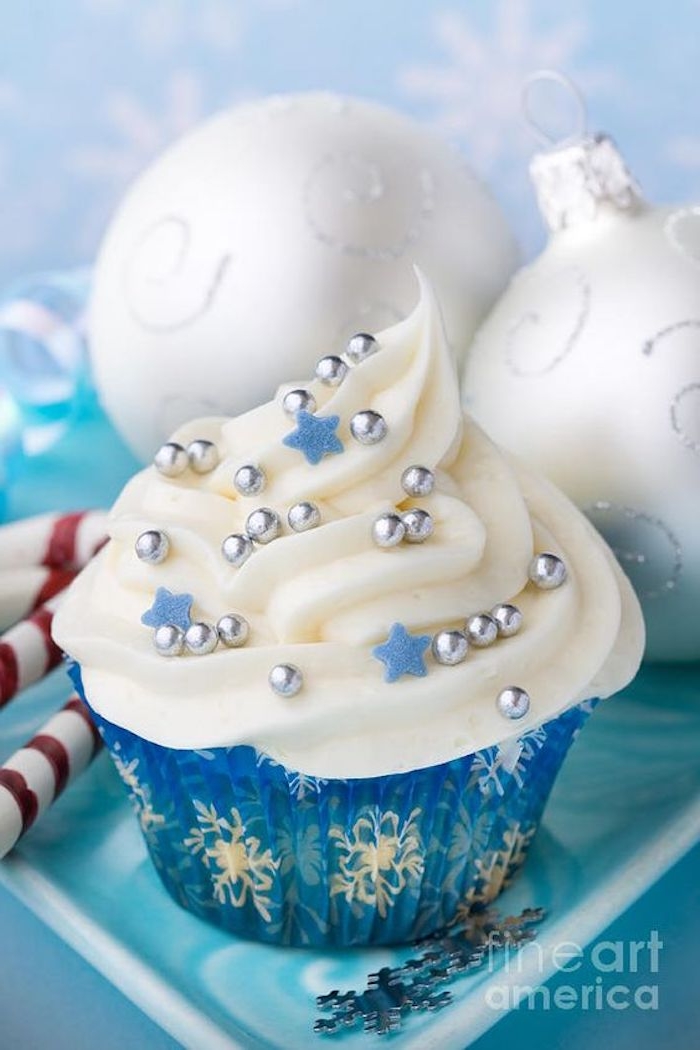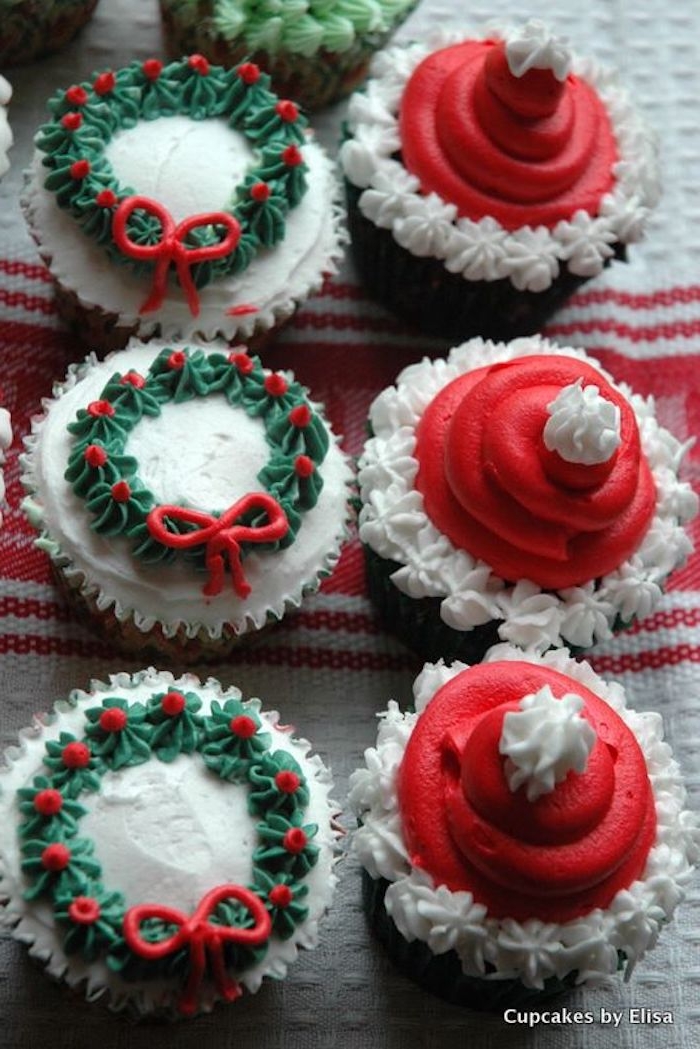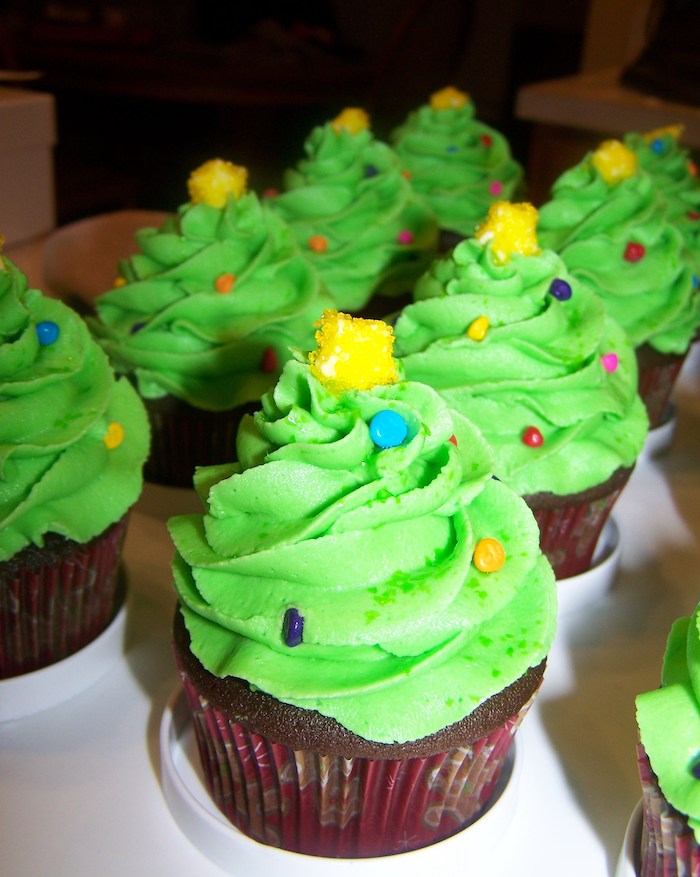 Fondant is really easy to use and can be moulded in amazing shapes!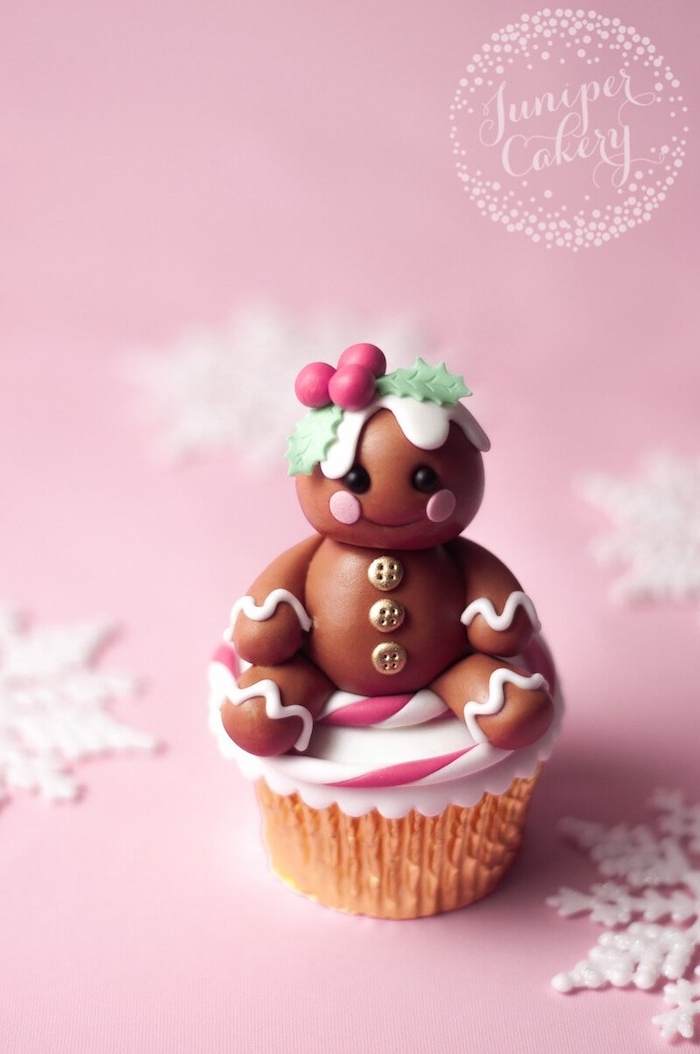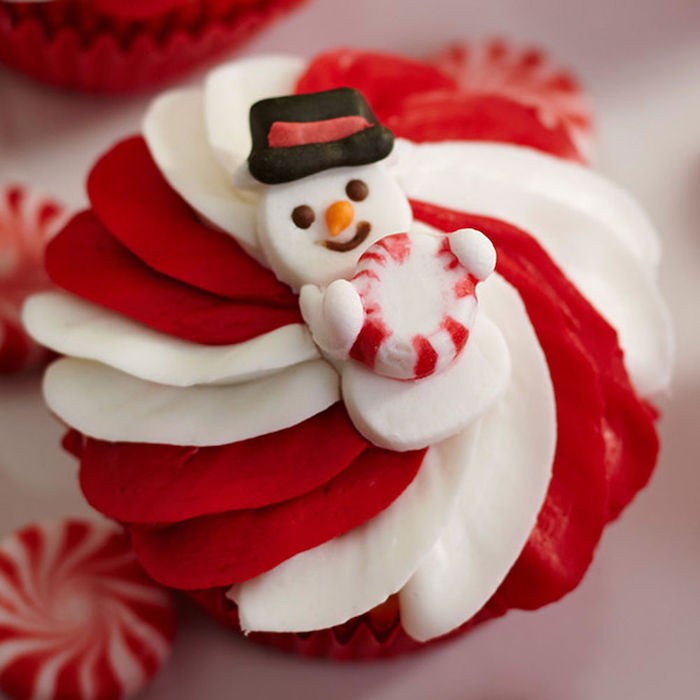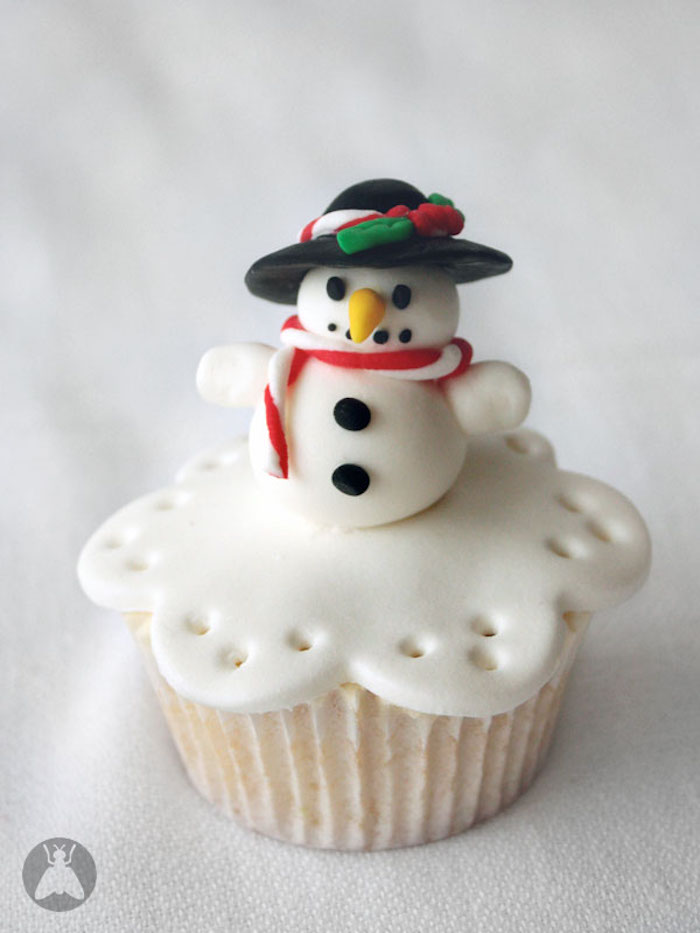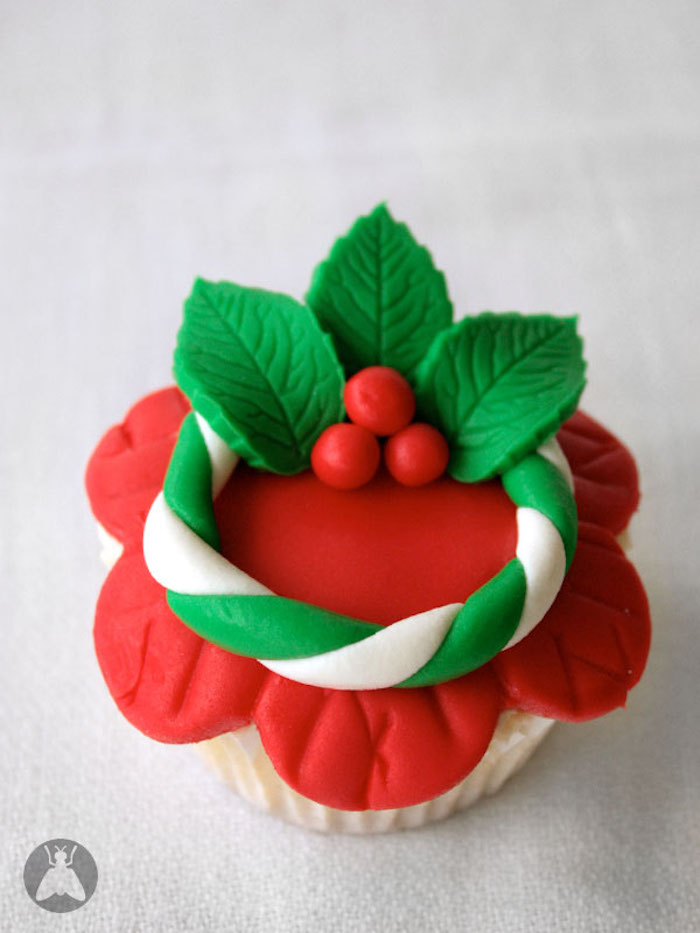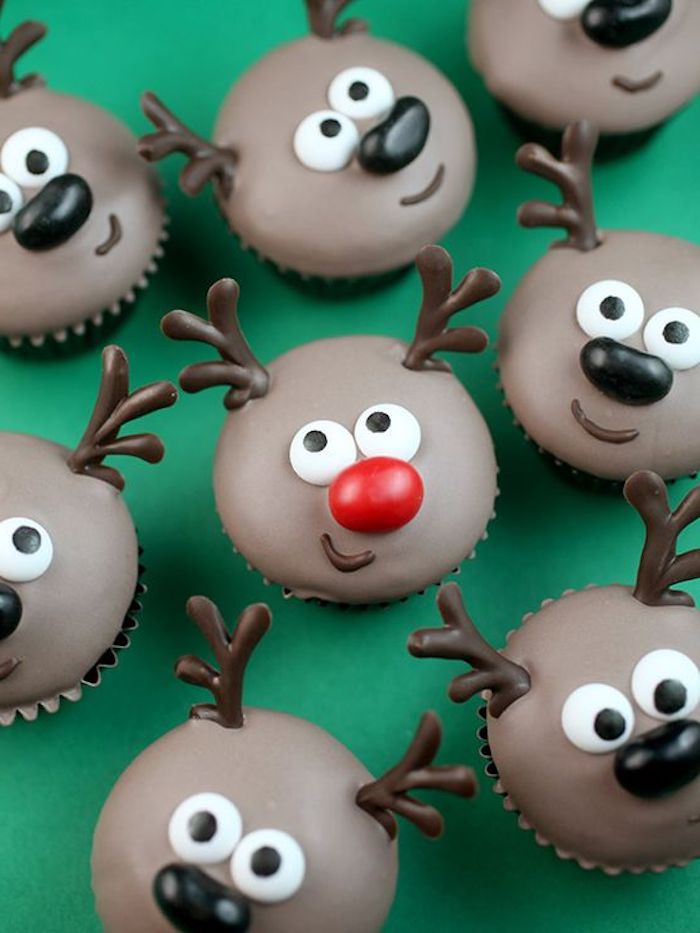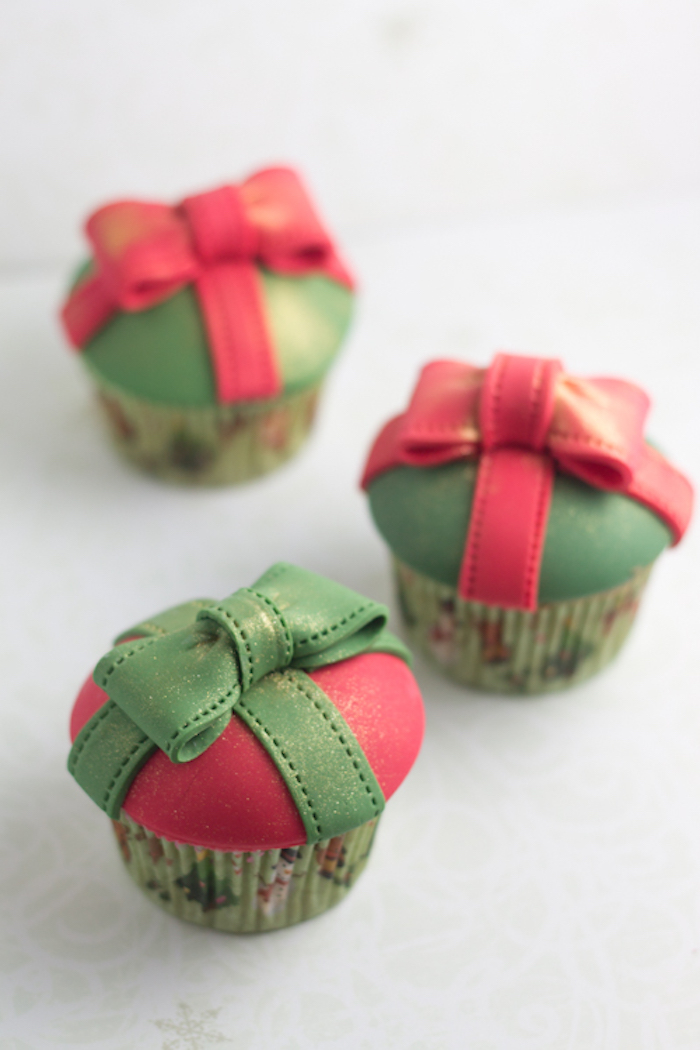 How cool is this Christmas tree effect?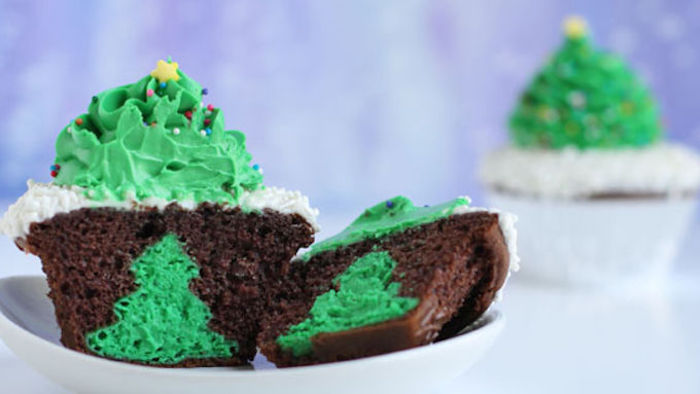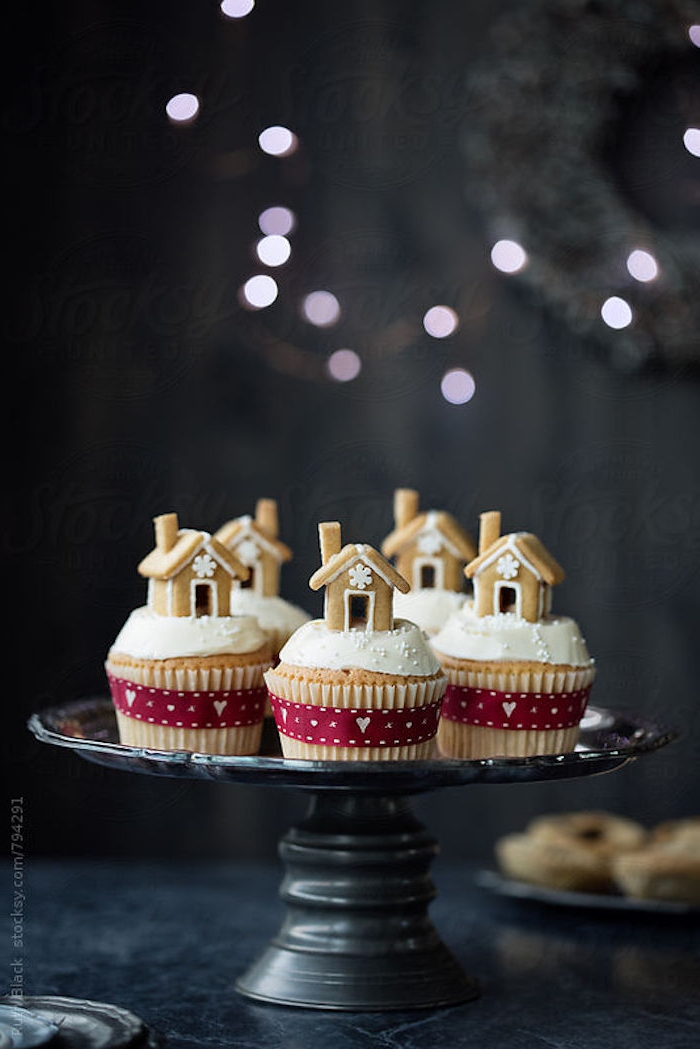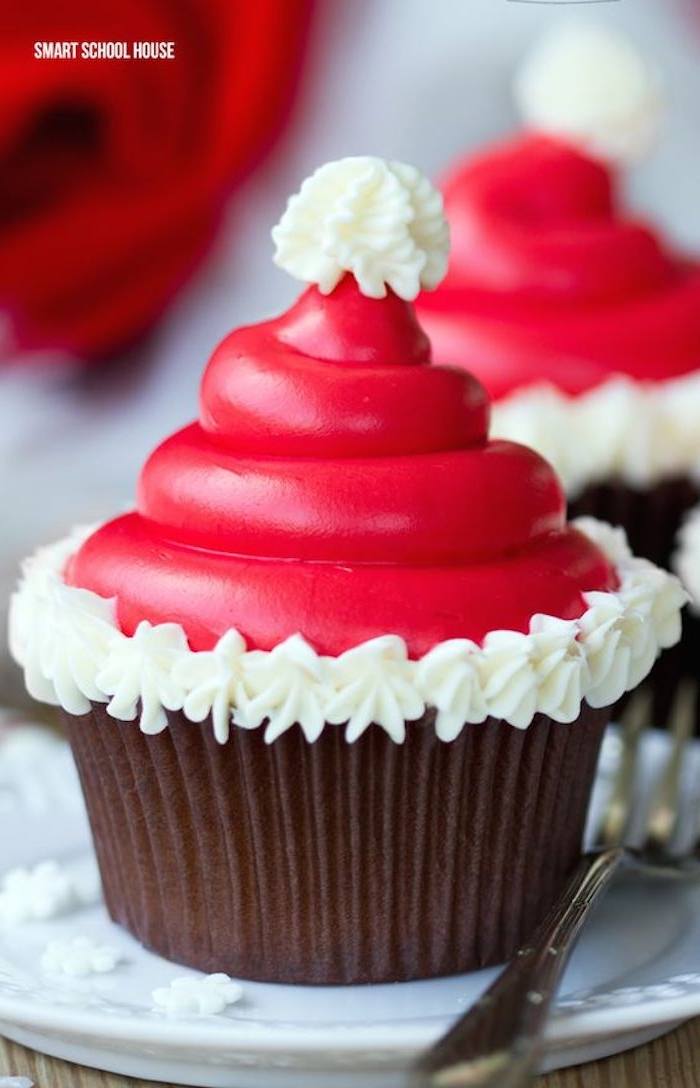 Finally, a few more cupcakes with adorable Christmas characters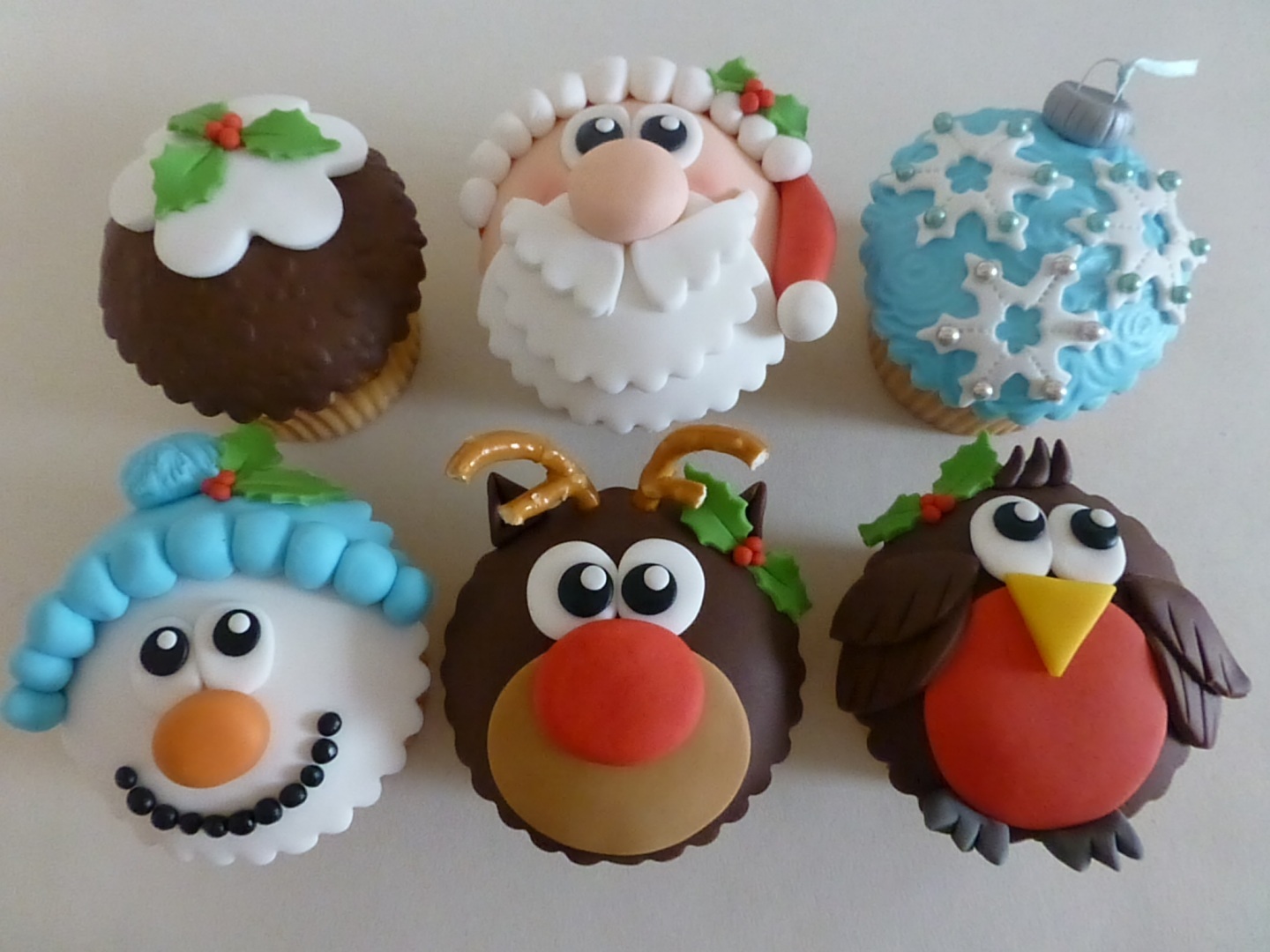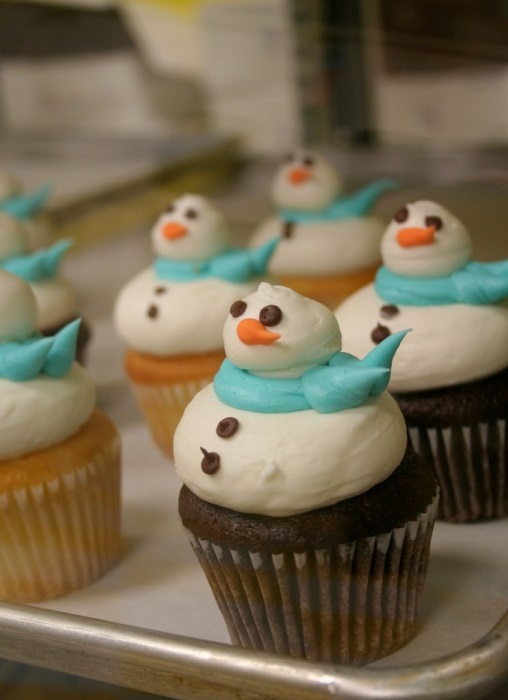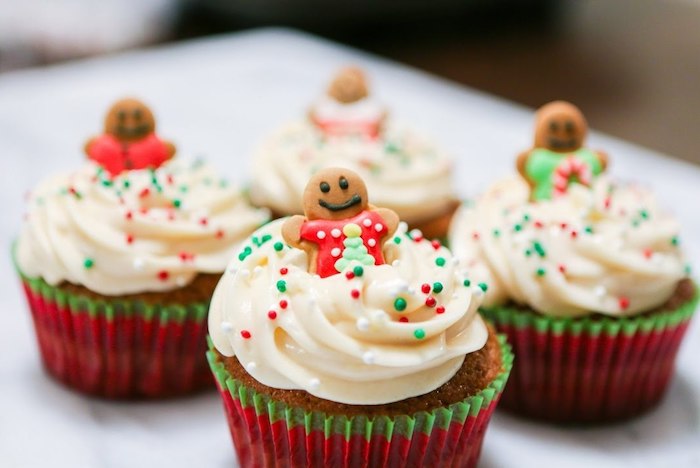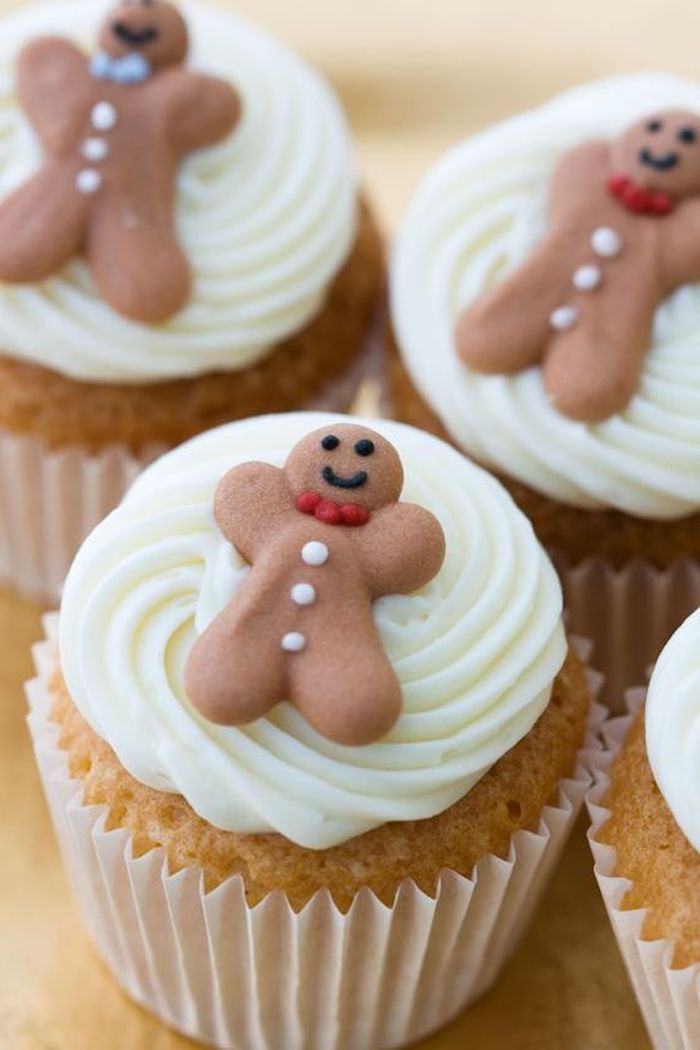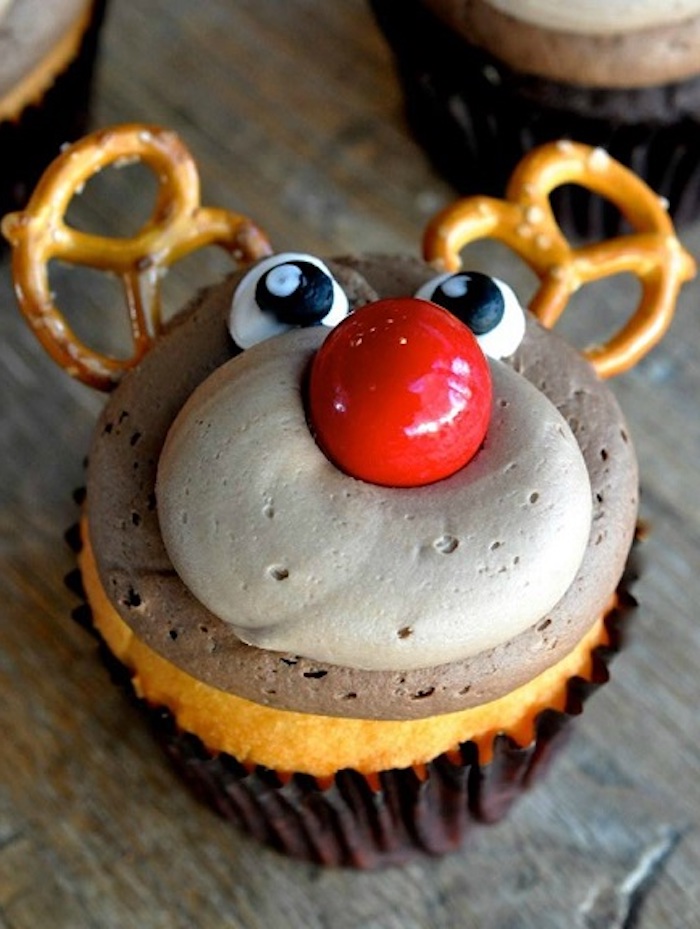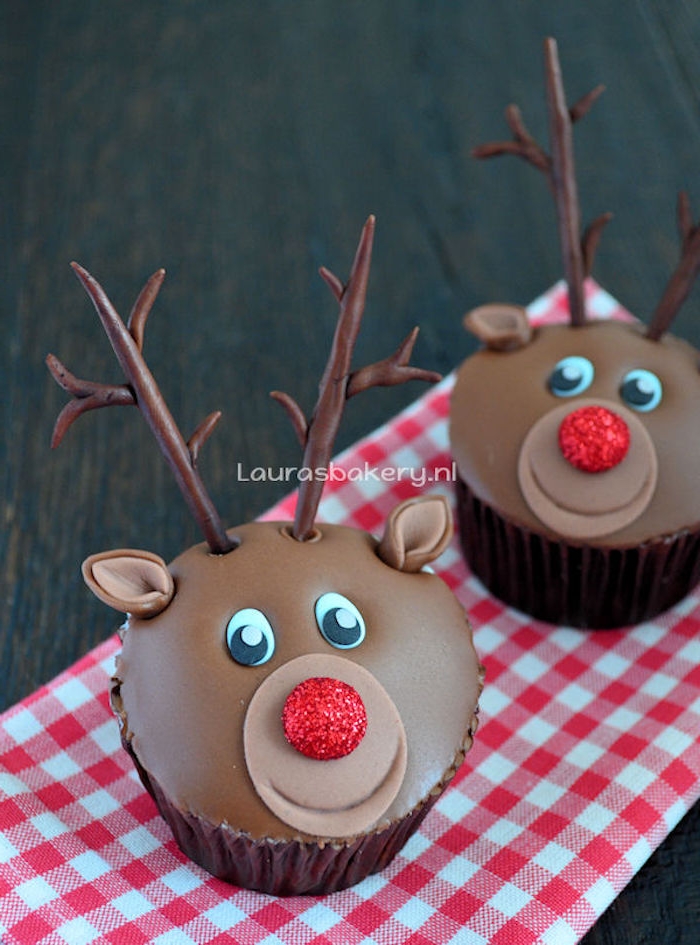 Enjoy!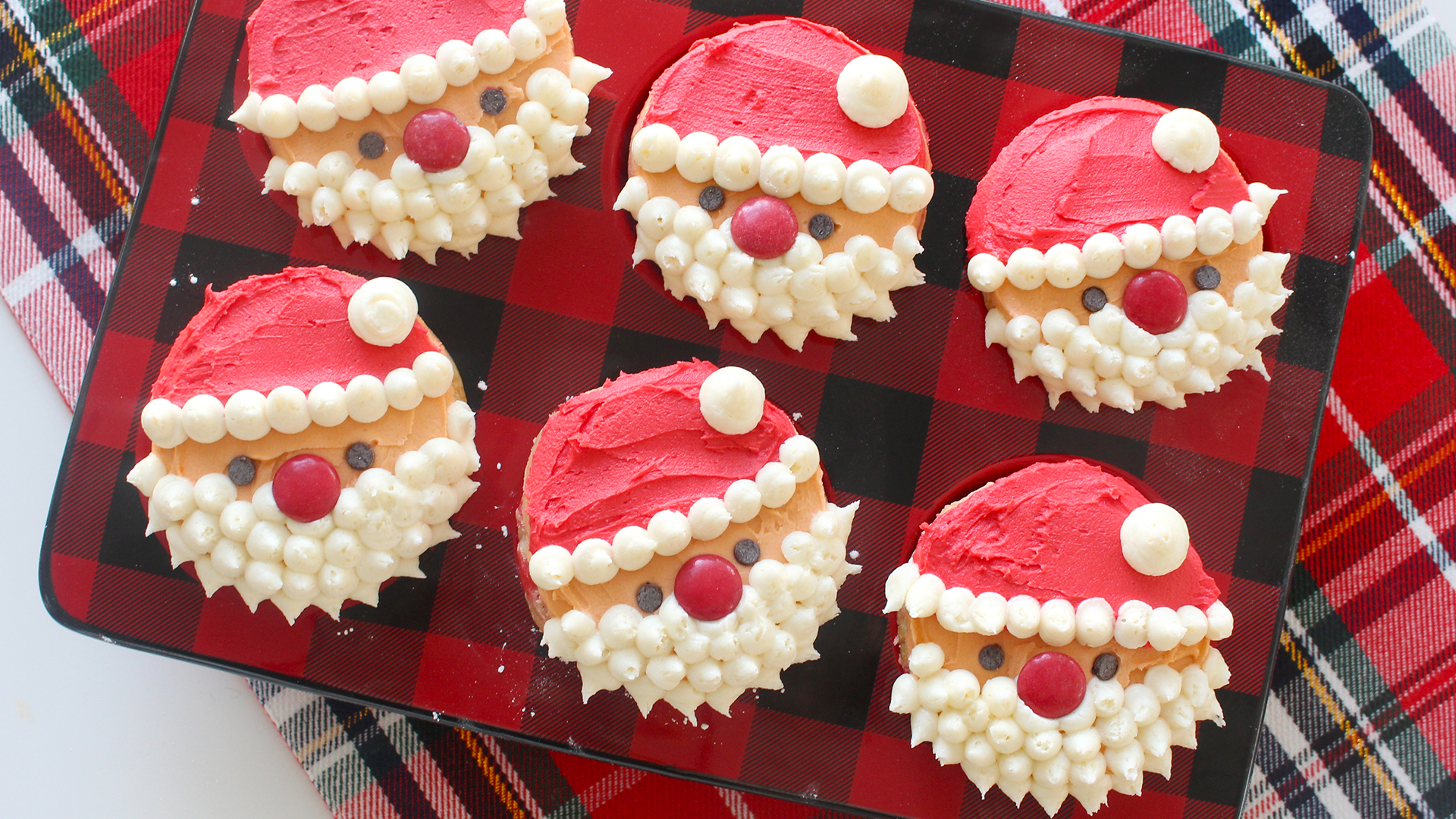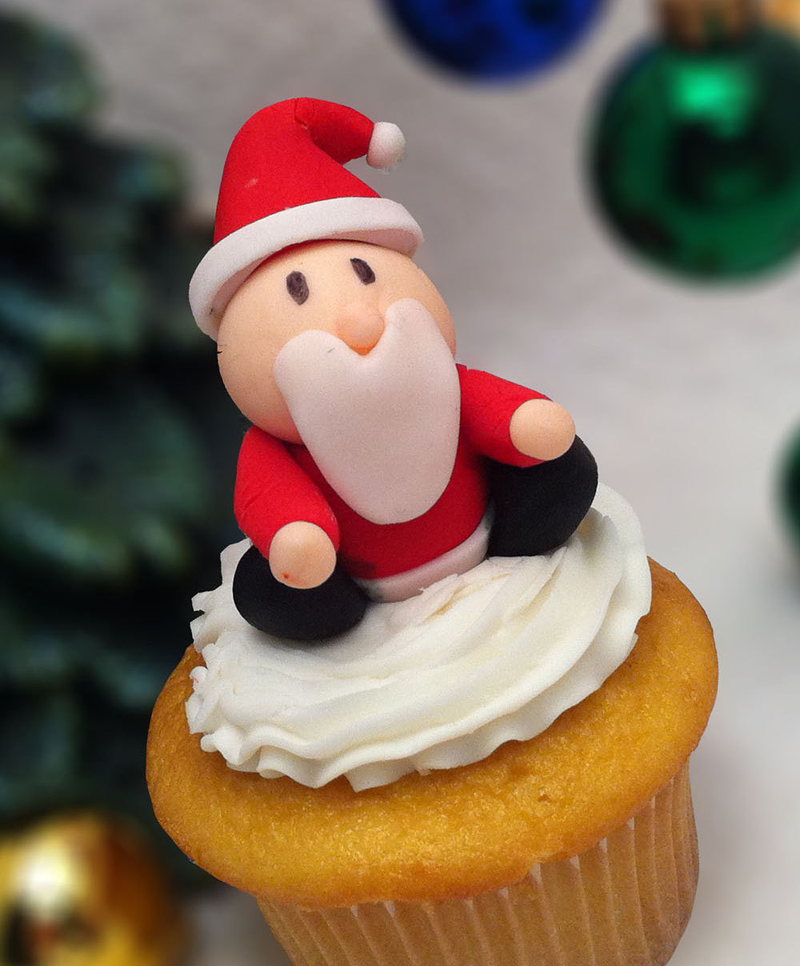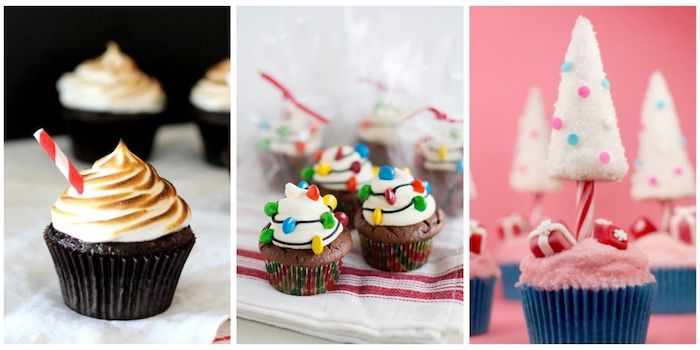 If are looking for more festive ideas, check out our DIY Christmas gift guide. We have tons of cool tips and suggestions!