Habitat 825 by Lorcan O'Herlihy Architects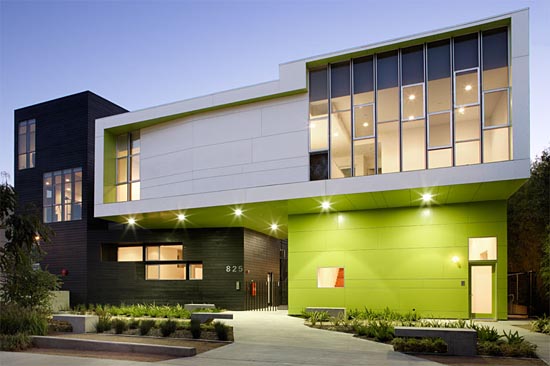 This 5000 square meter multi-family housing unit is located in West Hollywood, California. It is situated near a historical house that greatly affects the architecture of the Habitat 825 building.
From LOHA:
Located adjacent to Rudolf Schindler's Kings Road House. Habitat 825 draws inspiration from Schindler in developing new forms of contemporary lifestyle trough the use of light, materials, colors and common open space.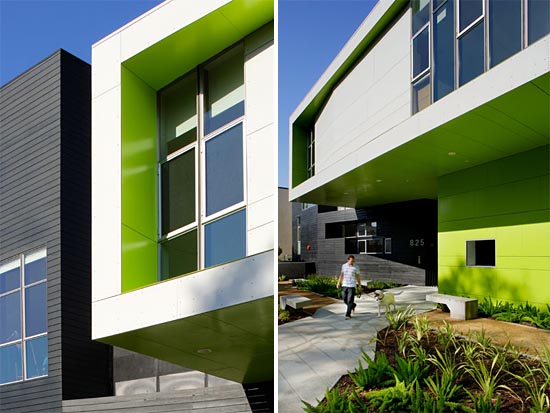 Massing is composed of two intersecting L's that result in a central common open space. Where the Kings Road House engages the property line. The courtyard carves a two story void on the north elevation promoting a physical link between sites. This centrally located space allows all units to have direct access from the exterior, while eliminating the need for mechanically climate controlled corridors. In addition, private open spaces are set within the common area through landscaping elements rather than "hard" boundaries.
Given the historic presence of the Kings Road House, several measures were taken to preserve the house's relationship to its surrounding landscape. To avoid casting shadows onto the adjacent property, the building was reduced to two stories on the north side adjacent to the Kings Road House. In addition, the form in plan bends inwards away from the house to allow more breathing room and to draw attention towards the central open space.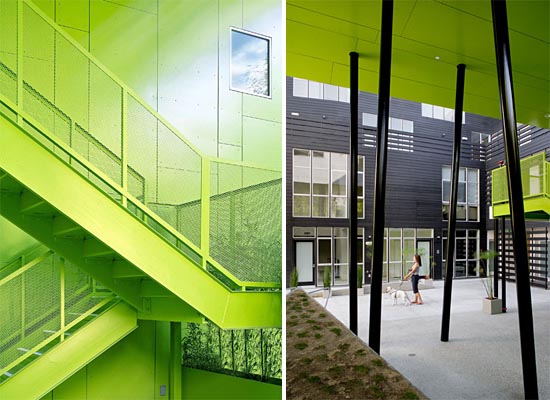 In an effort to extend the street into the building, the front yard cuts into the building to promote a semi-public zone between the building and the street. Scattered benches along landscaped walkways create a small urban park at the street.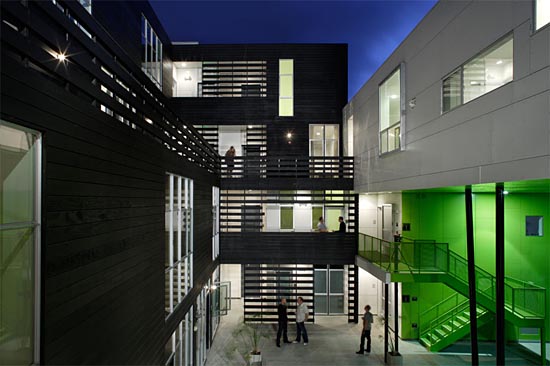 Internally, units are organized around light wells that filter light down into dwelling units from roof gardens above. All units are single loaded allowing for cross-ventillation and light to enter from multiple sides.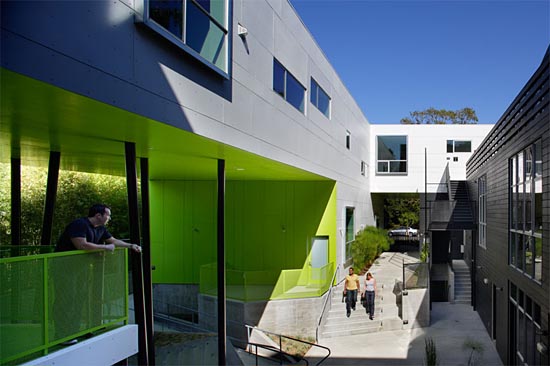 The bold black and white color scheme accentuates the interlocking volumes, black for the larger 4 story volume and white to allow light to filter to lower level units. Offsetting these colors, a striking lime green color, an abstract reference to the bamboo prominent in Schindler's landscape scheme, is used to define the subtractive nature of carved out open space.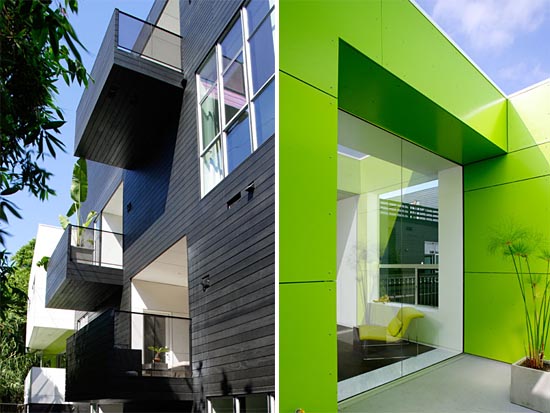 Materials are combination of non-combustible cement board and local forest managed dark walnut stained Redwood siding. The utilization of a rain screen system promotes a long life-cycle reducing the need for maintenance and repair. In addition, in Los Angeles' warm climate,  the movement of air between the building and the cladding cools the inner face of the exterior and reduces the demand for cooling energy.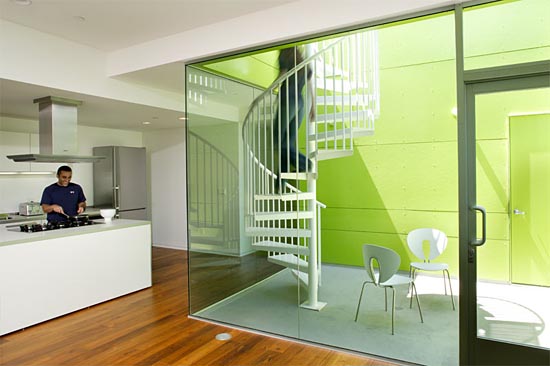 This project provided an opportunity to address the critical issues of density, site and the cultural and social impacts that arise from building adjacent to a historical landmark. Attempting to "kick down the bamboo wall", Habitat 825 and its expansive use of common open space creates an urban space without borders or property lines.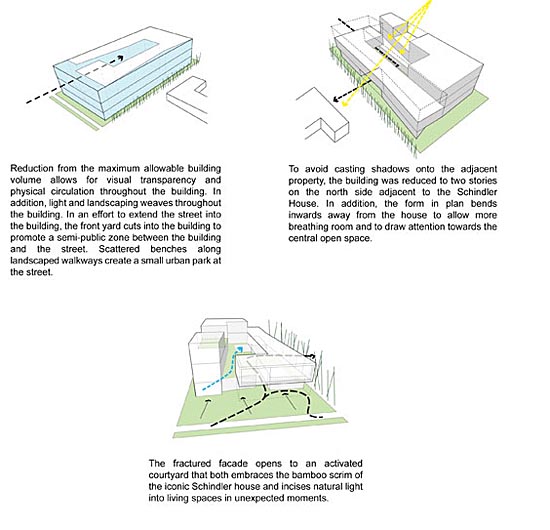 Size: 53 000 square feet
Program: 19 units
Project team: Lorcan O'Herlihy (Principal),
Pierre De Angelis (PD),
David Thompson,
Franka Diehnelt
Client: Habitat group LA
Location: 825 North Kings Road
West Hollywood, CA, 90069
Consultants:
Structural Engineer: Brian L. Cochran and Associates
Landscape Architect: Katie Spitz & Associates
Completion date: March 2007